I don't know about you, but for a while there, I went through a phase of purchasing just about every essential oil I could get my hands on. I would hear about all the wonderful benefits of a particular oil and would then proceed to add it to my collection.
However, if I had done even the tiniest bit of research, I would have realized just how versatile essential oils are and that I didn't need to own every oil under the sun—case in point: these 6 everyday uses for eucalyptus oil.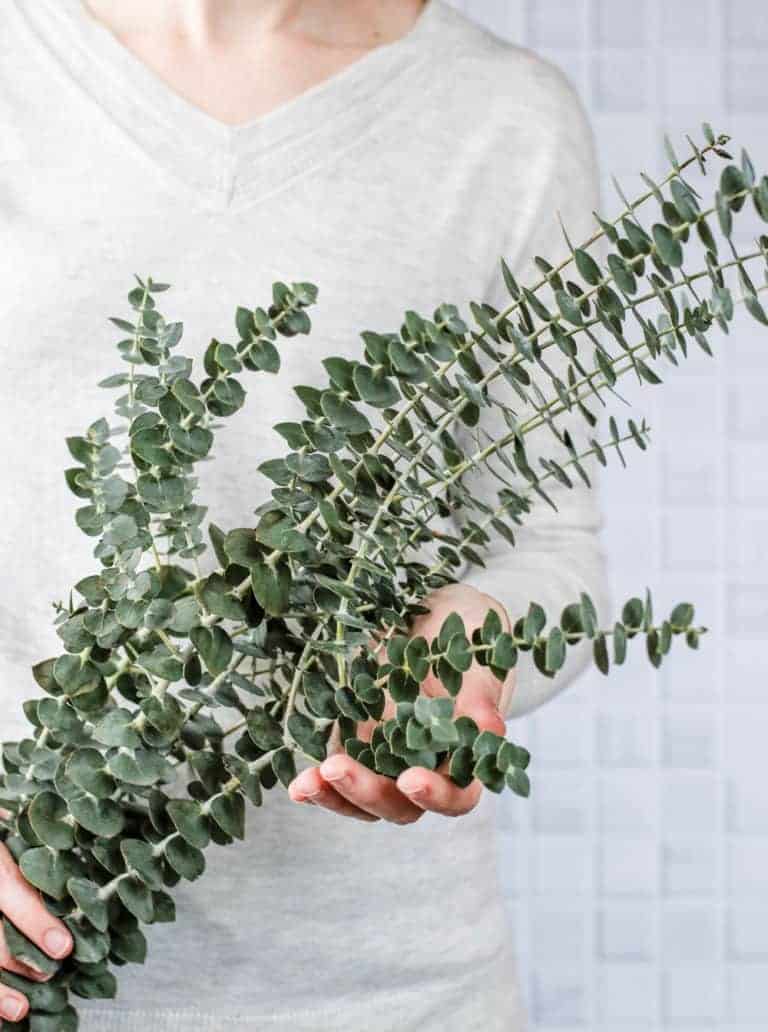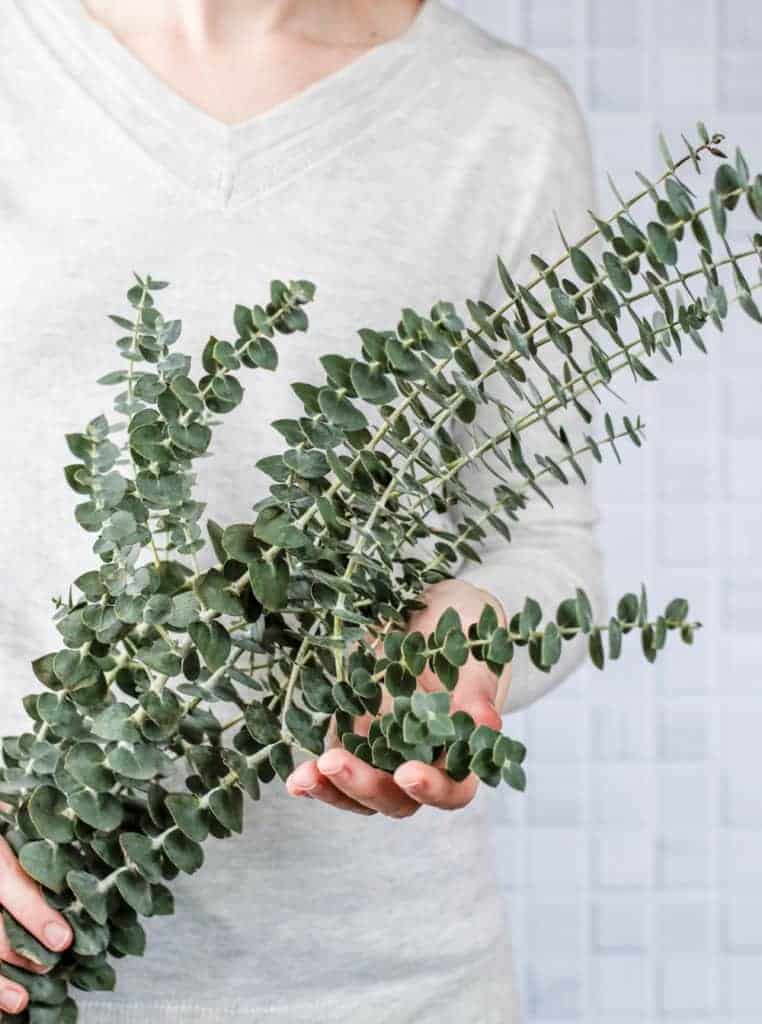 6 Ways to Use Eucalyptus Oil
You probably have a bottle of eucalyptus essential oil yourself, but if you're anything like me, you probably haven't appreciated just how versatile it really is. Originally grown in Australia, eucalyptus has long been used as a traditional remedy there.
Although there are several varieties of eucalyptus oils available, Eucalyptus globulus is the one most commonly known, and thus it's the one we'll be discussing today. But before we go any further, it's important to note that in his book, Essential Oil Safety, Robert Tisserand points out that because it has a high 1,8-cineole content, it should not be used on or near the face of children under 10.
So, without further ado, let's talk about 6 of the best uses for eucalyptus oil!
1
.
Respiratory infections
As an essential oil with antiviral, antibacterial, and anti-inflammatory properties [source], eucalyptus is a great option to consider when combating respiratory illnesses. Because of its ability to help increase air flow and clear up breathing passages, it can also help alleviate symptoms associated with respiratory illness [source].
When dealing with respiratory infections, consider diffusing eucalyptus throughout your home. A steam tent for more focused treatment can be made by putting 1 to 2 drops of the essential oil in a steaming mug of boiling water, placing a towel over your head, and inhaling. Another way to utilize the benefits of eucalyptus essential oil is to make your own shower vapor disks.
2
.
Coughs
Eucalyptus has long been used as a natural alternative for treating coughs. Its strong medicinal smell will no doubt remind you of a commonly used vapor rub, but don't be fooled—eucalyptus essential oil doesn't contain any menthol! With its numerous antimicrobial properties and its ability to help clear airways, according to The Fragrant Pharmacy by Valerie Ann Worwood, it can be an effective way to deal with pesky coughs.
When using it as a cough remedy, it is best to diffuse it into the air, on an inhaler stick, or even in a homemade chest rub. A simple chest rub can be made with your favorite carrier oil, beeswax, and essential oils. In no time at all, you can create a wonderfully effective homemade salve that can be rubbed on the chest or back to help alleviate symptoms. Here's an easy recipe to get you started.
3
.
Headaches
With its fresh medicinal scent and anti-inflammatory properties [source], one of the most common uses for eucalyptus oil is for relief of headaches, especially if they're due to sinus issues, because cineole helps to clear nasal mucus [source]. Not only can its crisp scent help perk you up mentally, but it can also help decrease feelings of sinus pressure.
By combining eucalyptus with other headache-relieving oils such as peppermint [source] and lavender [source], you can create an effective, customized headache blend for yourself. And by using a personalized essential oil inhaler, you can bring your headache blend with you wherever you go! Simply inhale the scent deeply a couple of times every few minutes as needed.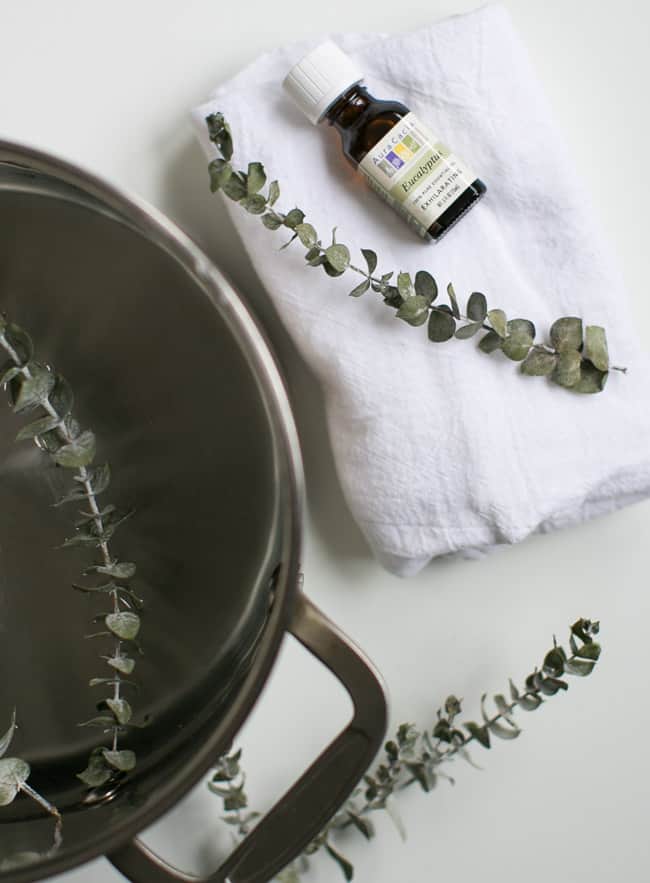 4
.
Muscle and joint pain
You may not know this, but due to its high 1,8 cineole content, eucalyptus is considered to be helpful when dealing with muscle and joint pain [source]. Even though it doesn't contain any menthol, eucalyptus can have a cooling effect, similar to that of peppermint. According to the Illustrated Encyclopedia of Essential Oils, eucalyptus is well known for its pain-relieving abilities, and research has demonstrated its effect on pain when used as aromatherapy after knee surgery [source]. So consider using it the next time you're dealing with sore muscles and joints.
Thoroughly combine 10–12 drops of eucalyptus essential oil with 1 tablespoon of your favorite carrier oil and 1–2 cups of Epsom salts for a relaxing and therapeutic bath. Not only will the warm water, eucalyptus, and Epsom salts be healing to your body, but they'll be extremely relaxing and beneficial for your mind as well.
Or, if you don't have enough time for a bath, combine 10–12 drops of eucalyptus essential oil with 1 tablespoon of carrier oil and gently massage it on sore muscles or joints.
5
.
Skin Issues
It may surprise you to find out that eucalyptus essential oil is commonly used for treating different types of skin ailments. It is considered to be beneficial for a myriad of skin issues, including wounds, blisters, burns, and bug bites [source]—particularly for any skin condition involving an allergic response [source]!
For relief from skin issues, use a 1%–2% dilution of eucalyptus oil with a skin-soothing carrier oil such as coconut or jojoba. Always do a small patch test first, as some people develop an allergic reaction when applying essential oils topically.
6
.
Boosting immunity
You know that feeling you get when you don't necessarily feel sick, but you don't really feel well either? It's just kind of…a blah feeling. It could be an indication that your immune system needs a boost, and your body is most likely trying to fight off an infection. Did you know that eucalyptus essential oil is considered to be beneficial for boosting the immune system [source]? It's true!
Next time you're not feeling 100%, grab the eucalyptus essential oil and diffuse it throughout your home to enjoy its many benefits and healing properties.
In Conclusion
As you can see, eucalyptus is a surprisingly versatile essential oil. So, next time you're dealing with any of the above-mentioned issues, I encourage you to give eucalyptus a try. You may be pleasantly surprised with the results!
This post was medically reviewed by Dr. Holly Smith, a board-certified physician in nephrology and internal medicine with a background in nutrition. Learn more about Hello Glow's medical reviewers here. As always, this is not personal medical advice, and we recommend that you talk with your doctor.
132