Roasted tofu bathed in a creamy, spicy tomato sauce over fluffy rice – this is our current idea of comfort food! How many times did you promise yourself you're going to try that butter sauce you loved so much at your favorite Indian restaurants? Today we encourage you to try our version of the butter paneer or chicken – it's creamy, it's spicy, and yes, it's vegan.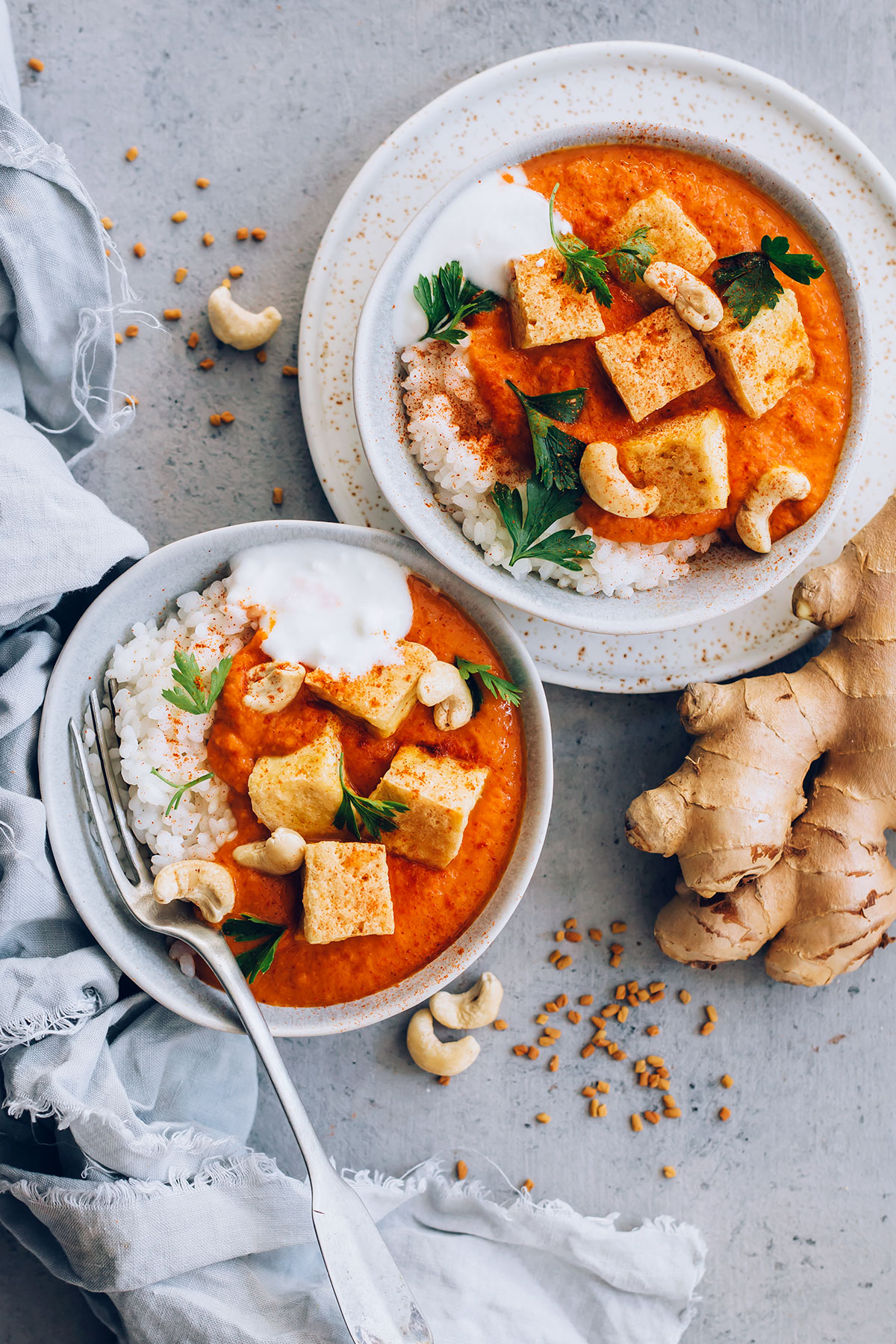 HOW TO MAKE VEGAN BUTTER MASALA
This dish is the vegan version of the butter chicken or butter paneer, and it literally takes only 30 minutes to make. The result is a rich, wonderfully flavored dish, satiating and packed with protein. Instead of chicken or paneer, we used marinated roasted tofu, while the butter and cream called by the classic recipe were replaced with cashew cream and coconut oil. To make this vegan butter masala you will need a mix of Indian spices that are easily to source at Asian markets or online. Here are the main ingredients for creating a vegan butter masala:
Diced tomatoes – you can also use a pasatta or fresh tomatoes.
Cashews – soaked for at least 15 minutes
Spices – garam masala, paprika, cayenne, fenugreek, ginger and turmeric
Veggies – onion and garlic
Water
The  creaminess of this vegan butter masala comes from the cashew. To make cashew cream, you have to soak the cashews for 15 minutes into purified water, then blend them until creamy. We also blended the sauce before serving, to get maximum creaminess.
WHAT IS BUTTER MASALA
Makhani masala sauce or butter sauce is a tomato sauce made with butter and cream, created in the 50's and very popular in many Indian restaurants. It has a mild fragrance and it's very creamy. You can serve this vegan butter masala with a veggies, rice, quinoa, chickpeas or eggs – it will literally turn any ingredient into an appealing meal!
Looking for more easy Indian-inspired dishes? Try our Masala Lentil Salad with Roasted Carrots, our Butter Bean Tikka Curry or our Tofu Jalfrezi.
Did you try this recipe? Post your photo and tag us #helloveggieblog on Instagram so we can share it with our community.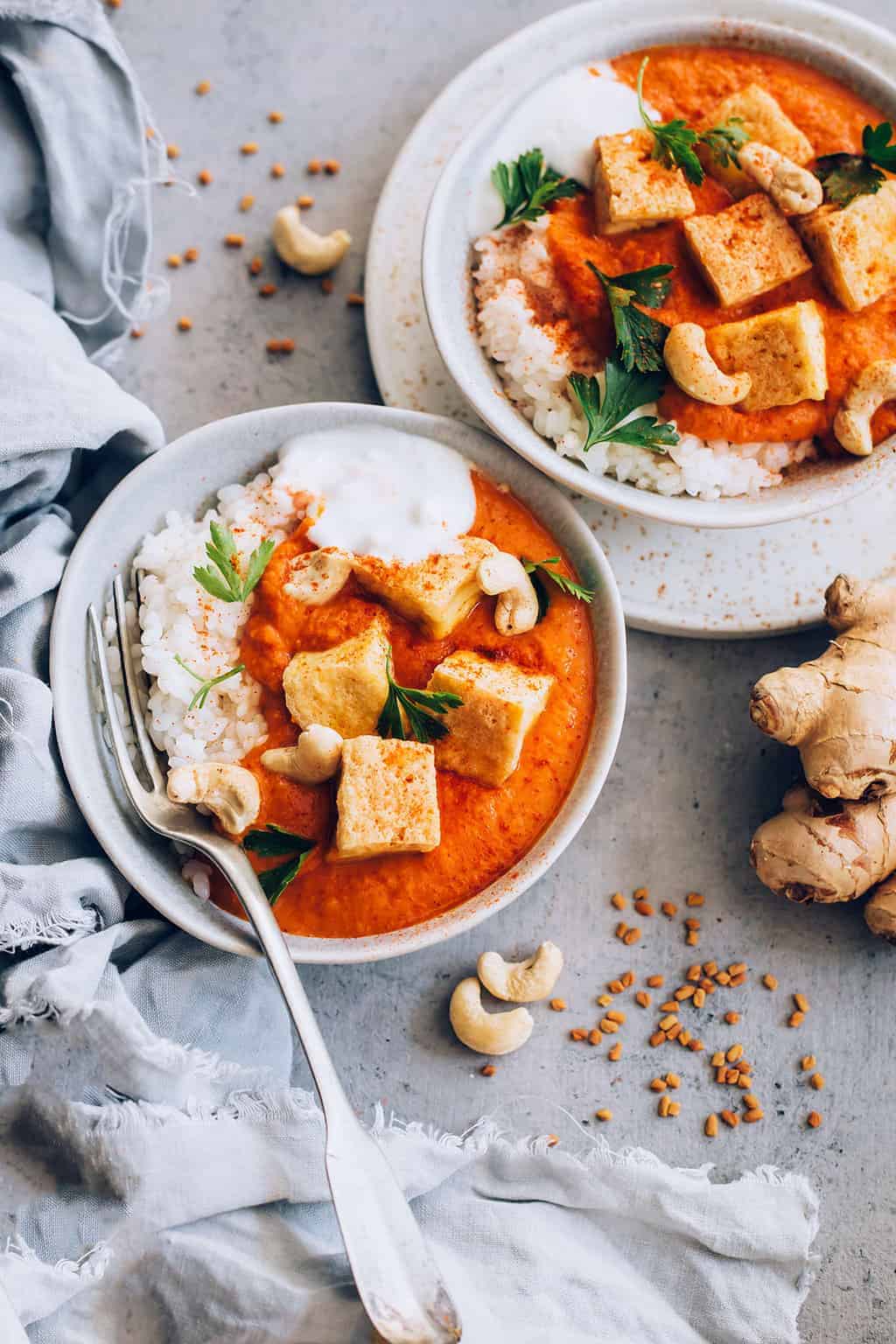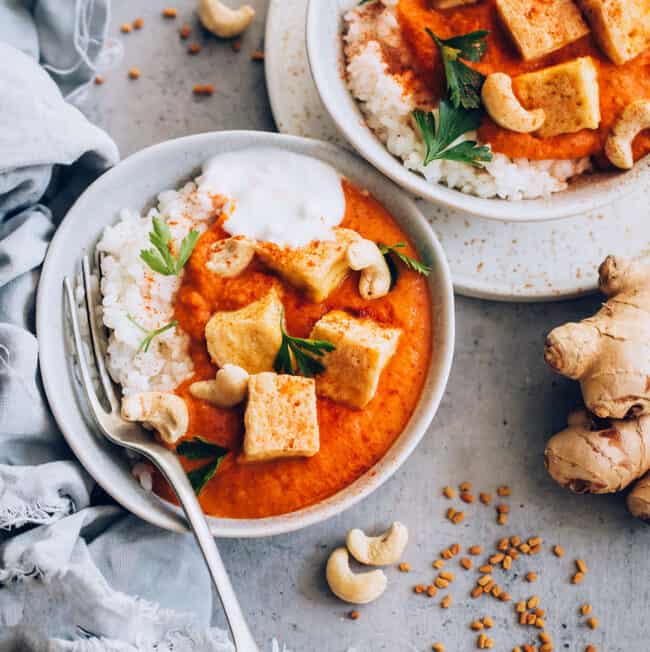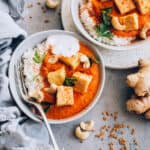 Print Recipe
Vegan Butter Masala with Tofu
Creamy and rich, made with cashew cream and coconut oil, this vegan butter masala recipe is easy to make and turns any ingredient into a delicious one. It can be served with chickpeas, eggs, quinoa, rice or tofu.
Ingredients
7

oz

tofu

firm

4

tsp

coconut oil

1

tsp

garam masala

1

cup

diced tomatoes

2

garlic cloves

diced

1

yellow onion

finely diced

1/2

cup

cashews

soaked for 15 minutes

1

tsp

freshly grated ginger

1

tsp

sweet paprika

1/2

tsp

cayenne

1/2

tsp

fenugreek seeds

ground

1/4

tsp

salt

1

tsp

coconut sugar

cooked rice, fresh parsley, coconut yogurt - to serve
Instructions
Preheat the oven to 175C/350F. Line a baking sheet with parchment paper.

Cut the tofu into cubes and place on the baking sheet.

Drizzle 2 tsp coconut oil and 1/2 tsp garam masala, and toss to coat evenly.

While the tofu is roasting, prepare the vegan butter masala.

Heat 2 tsp coconut oil into a medium sauce pan, then add the onion and cook over medium heat until translucent, stirring frequently.

Add the garlic and spices acook for a minute to enhance the flavours.

Add the diced tomatoes and 1/2 cup water, and bring to boil over medium heat.

Turn the heat to low and simmer for 15 minutes.

Add the cashews with 1/2 cup water into the blender and process to obtain a cream. Transfer into the tomato sauce and mix to combine.

Season with salt, add the sugar, mix, then transfer into the blender and pulse to obtain a creamy sauce.

Serve it over rice, with the roasted tofu, garnished with parsley, with coconut yogurt.
Nutrition
0