Raise your hand if you love the holidays more than you love coffee, naps and pedicures combined. Me too. But why is it that gift giving always seems so… daunting? I'm the first to admit that I can be a little overzealous when it comes to choosing the perfect gift, often at the expense of more important things like sleep and my sanity. But with age comes wisdom and I have started to embrace the art of giving simpler gifts. Gifts that are homemade and thoughtful with a personal touch. And that's why I love food gifts.
While giving cookie mix in a jar isn't a new idea by any means, there's a reason it keeps popping up all over the place. Not only are they easy to put together, fun to make and pretty to look at, but they're delicious.
Indulging in delicious vegan choc chip cookies has never been easier! With the help of chocolate chips, cocoa powder, and baking soda, you can whip up a batch of scrumptious cookies that are cruelty-free and absolutely mouthwatering. Simply follow this recipe that incorporates these plant-based ingredients, and you'll be rewarded with soft and chewy treats that are perfect for satisfying your sweet tooth. You can even customize your cookies with a vegan double chocolate chip twist by omitting the non-vegan elements.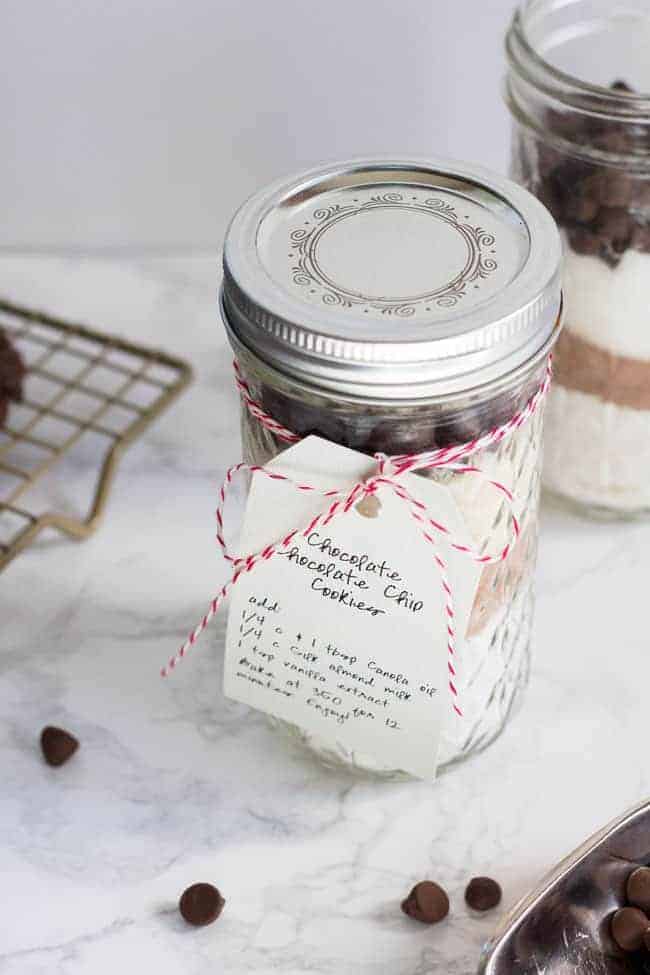 How to make vegan chocolate cookies in a jar
Here is my favorite vegan cookie recipe, all wrapped up in a pretty jar perfect for holiday gift giving. A step up from plain chocolate chip cookies, these cookies are more like soft, chewy brownies loaded with chocolate chips. And because the holidays can be hard enough on your diet as it is, these are also vegan and refined sugar free so there's one less thing to worry about.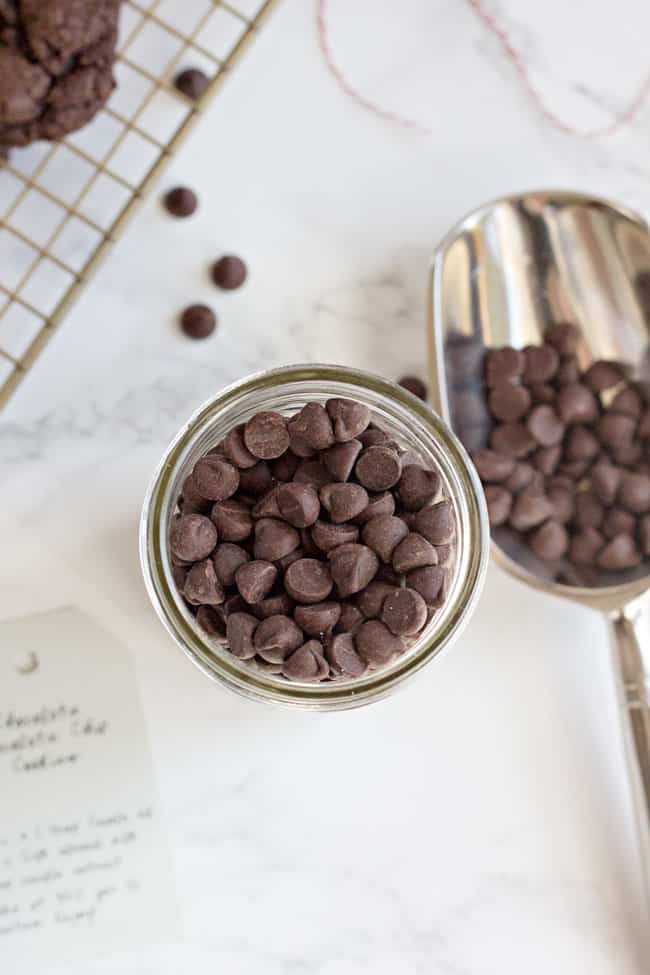 When it's time to add the wet ingredients, I love using Silk Unsweetened Almondmilk in my cookies because its mild flavor blends well with the other ingredients without being overpowering. It's also thicker and creamier than some other dairy substitutes so it's easier to get that velvety texture you want in a cookie dough. And without the added sugar, you don't need to worry about your cookies turning out a lot sweeter than you expected.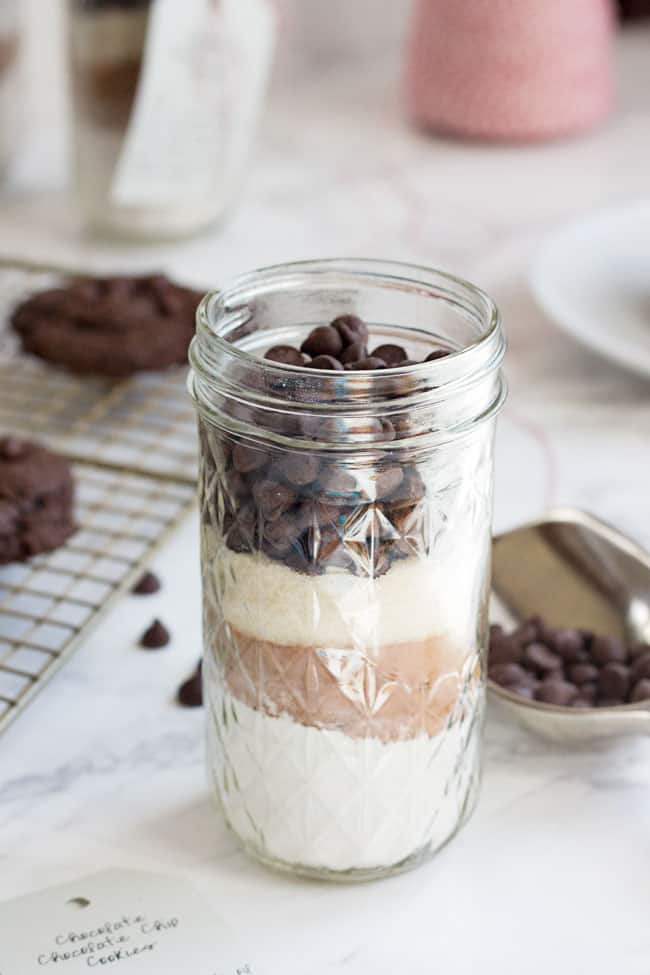 The beauty of giving cookie mix in a jar is that it takes the hard work out of making cookies. Forget having to get several bowls dirty while you cream the butter and sugar and mix the dry ingredients. Simply whisk all the wet ingredients together before slowly pouring in the dry ingredients straight from the jar. Give it a good stir and then bake. It's a one-bowl recipe that everyone will love giving and receiving.
Can't get enough Christmas cookies? You might also like these super flaky cranberry shortbread cookies!
Alternative Option
If you love a richer cookie, you can try this recipe as well. You will need:
1-2 cups vegan chocolate chips
1-2 cups almond flour
1-2 cups oat flour
1-2 cups cocoa powder
1-2 cups vegan butter
1-2 cups coconut sugar
1-2 cups brown sugar
1-2 cups dairy-free milk (such as soy milk)
1-2 tablespoon vanilla extract
1-2 teaspoon baking soda
1-2 teaspoon baking powder
Parchment paper
Baking sheet
Instructions:
Preheat your oven to 350°F (180°C) and line a baking sheet with parchment paper.
In a large mixing bowl, cream together the vegan butter and sugars until light and fluffy.
Add in the vanilla extract and mix until well combined.
In a separate bowl, whisk together the almond flour, oat flour, cocoa powder, baking soda, and baking powder.
Gradually add the dry ingredients to the wet ingredients and mix until a dough forms.
Fold in the vegan chocolate chips.
Drop spoonfuls of dough onto the prepared baking sheet, spacing them about 2 inches apart.
Bake in the preheated oven for 10-12 minutes, or until the edges are set and the centers are slightly soft.
Remove from the oven and let the cookies cool on the baking sheet for a few minutes before transferring them to a wire rack to cool completely. Enjoy your delicious Vegan Double Chocolate Chip Cookies!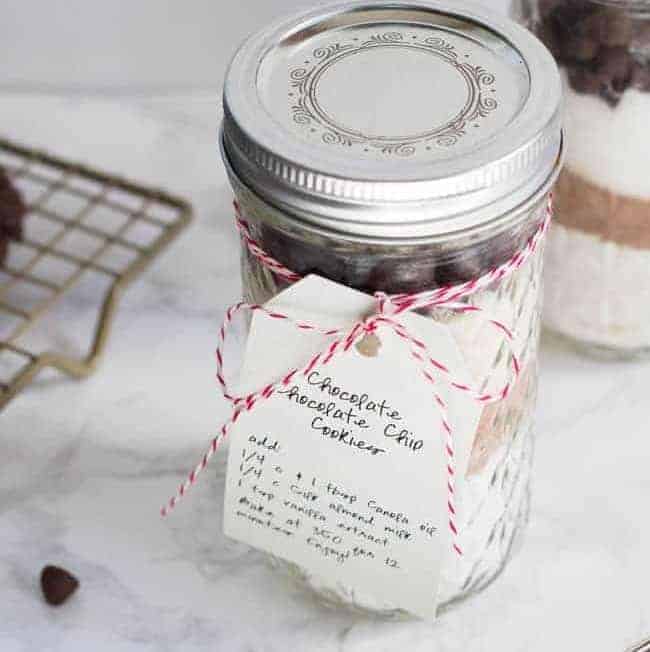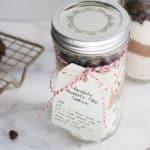 Print Recipe
Vegan Double Chocolate Chip Cookies
Looking for a handmade holiday gift that people will actually be happy to receive? Look no further than these vegan double chocolate chip cookies in a jar.
Ingredients
1

cup

flour

½

teaspoon

baking soda

2

teaspoons

ground flax seeds

¼

teaspoon

salt

½

cup

cocoa powder

¾

cups

raw cane sugar

½

cup

vegan chocolate chips
Instructions
Combine the flour, salt, flax seeds and baking soda in a small bowl. Spoon the mixture into the bottom of a large glass jar and pack it down with the back of a spoon.

Layer in the cocoa powder, sugar and chocolate chips, being sure to pack each layer with the back of a spoon before adding the next layer.
Notes
Attach the following recipe prior to giving your gift: Preheat oven to 350ºF. In a medium sized bowl, combine ¼ cup + 1 tablespoon canola oil, ¼ cup Silk Almondmilk and 1 teaspoon vanilla extract. Whisk well. Gradually fold in the dry ingredients and use a fork to combine everything. Roll the dough into 1-inch balls and place them onto a lined baking sheet. Bake for 12 minutes. Let cool for 5 minutes before transferring to a wire rack to cool completely.
82