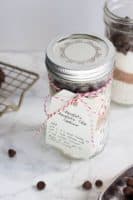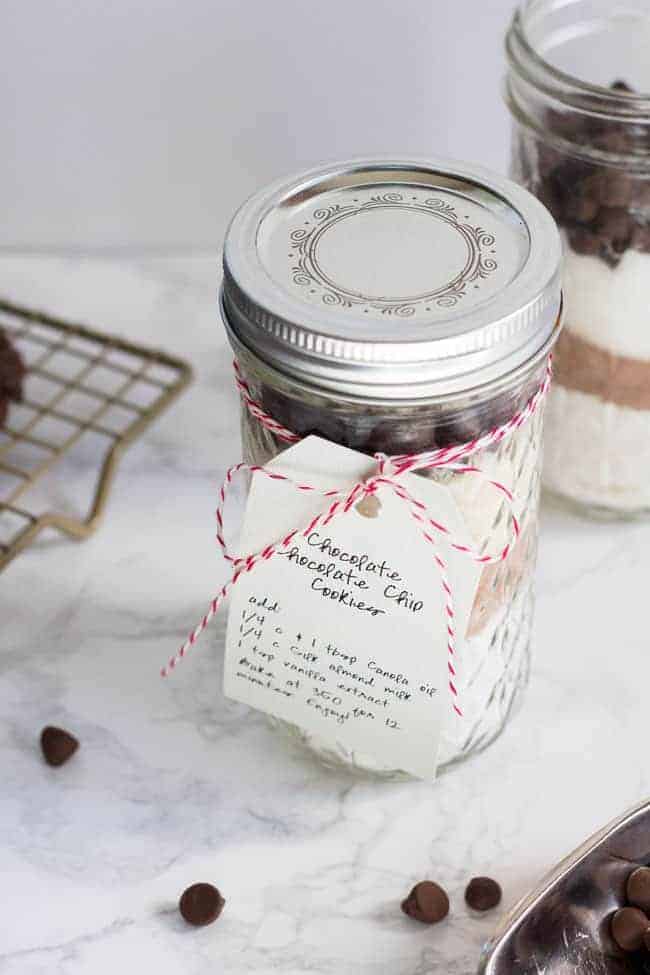 Vegan Double Chocolate Chip Cookies
Yield 1 jar
Ingredients
1 cup flour
½ teaspoon baking soda
2 teaspoons ground flax seeds
¼ teaspoon salt
½ cup cocoa powder
¾ cups raw cane sugar
½ cup vegan chocolate chips
Instructions
Combine the flour, salt, flax seeds and baking soda in a small bowl. Spoon the mixture into the bottom of a large glass jar and pack it down with the back of a spoon.
Layer in the cocoa powder, sugar and chocolate chips, being sure to pack each layer with the back of a spoon before adding the next layer.
Attach the following recipe prior to giving your gift: Preheat oven to 350ºF. In a medium sized bowl, combine ¼ cup + 1 tablespoon canola oil, ¼ cup Silk Almondmilk and 1 teaspoon vanilla extract. Whisk well. Gradually fold in the dry ingredients and use a fork to combine everything. Roll the dough into 1-inch balls and place them onto a lined baking sheet. Bake for 12 minutes. Let cool for 5 minutes before transferring to a wire rack to cool completely.
Courses Dessert
Recipe by Hello Glow at https://helloglow.co/vegan-double-chocolate-chip-cookies/