If I had a very favorite potato salad recipe (which I do), this would be it (and it is). German Potato Salad was a revelation to me. I don't like mayo-based salads at all. But vinaigrette? Bring it!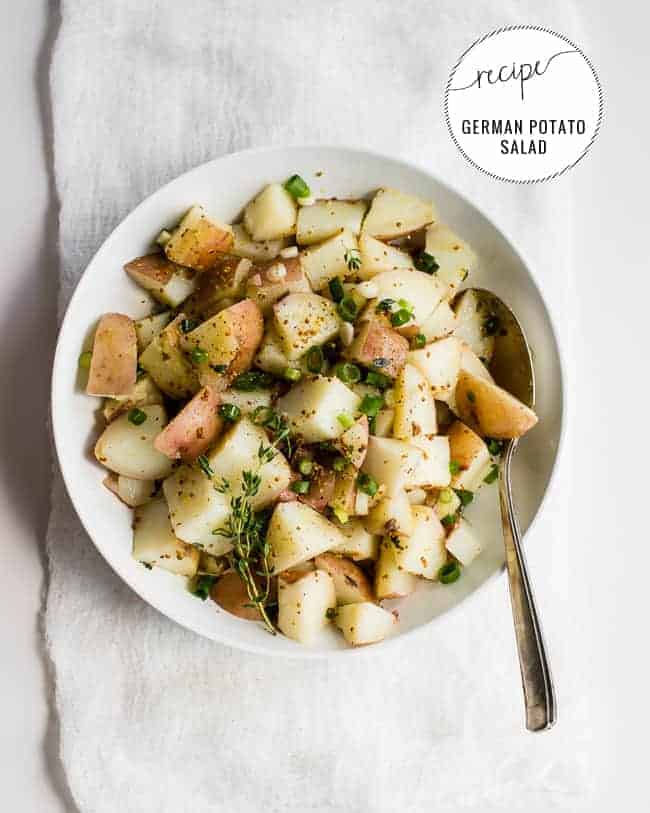 I was an adult the first time I ran across a recipe for German Potato Salad; I think it was in a magazine or something and decided to give it a try. It was such a novel idea! My husband was not impressed, but not in the way you'd think. As it turned out, he LOVED the salad, but it wasn't such a big deal for him. He'd been eating it for years! His grandmother was German and his mother made a similar salad when he was growing up. And that's how it ended up being my favorite potato salad. I make it several times a year with various tweaks. For a long time I made it with sausage and apples, which was delicious. And now we've cut way back on meat in all forms, and now enjoy this vegetarian version.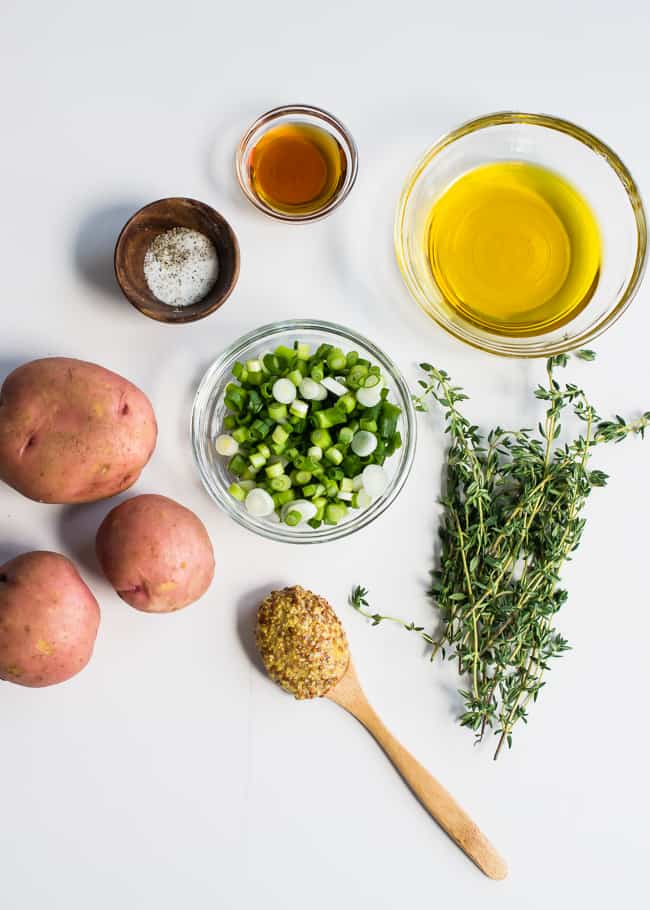 The thing about potato salad is using the right kind of potato. Most of the time, I'd say to go with a basic starchy, russet potato. They are great for creamy potato salads. But for this one, red or golden potatoes are the way to go. Basically, you just want a waxier potato that will hold its shape. The vinaigrette is vinegary (obviously), but also quite a bit sweeter, with maple syrup or honey. And then there's the big spoonful of grainy mustard: a must. The choice of onions and herbs is up to personal preference. I like thyme and green onions, shallots and rosemary, or yellow onions and sage. Go with whatever strikes your fancy on that part of the recipe.
German Potato Salad should be served warm. That's when it's at its best. I drain off the cooking water, transfer the potatoes to a bowl and immediately add the vinaigrette. The potatoes start to absorb some of the vinaigrette . . . oh, it's so wonderful! We have often eaten this as a main dish with a green salad on the side (a dinner of salads!). But it's also great as a side. And if you're not a vegetarian, by all means, go the traditional route and add as little or as much bacon as you want.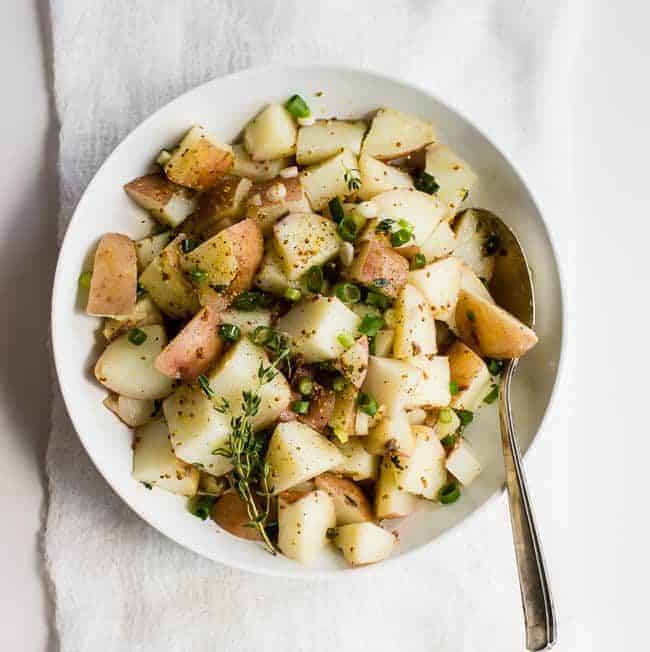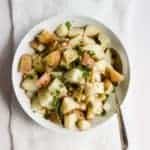 Print Recipe
German Potato Salad
A fantastic potato salad tossed with a vinaigrette while still warm. Perfect as a main or side dish.
Ingredients
2

pounds

red potatoes

cut into 1/2" pieces

3

green onions

sliced

a few sprigs fresh thyme

2

Tablespoons

olive oil

2

Tablespoons

apple cider vinegar

1-2

Tablespoons

grainy mustard

to taste

1

teaspoon 

maple syrup

salt and pepper

to taste
Instructions
Cook potatoes in salted water just until tender. Drain and transfer to a large bowl.

Whisk together olive oil, vinegar, maple syrup, mustard, salt, and pepper. Remove the thyme leaves from the stems and add to the vinaigrette.

Pour vinaigrette over the hot potatoes and add the green onions. Gently toss. Serve immediately. Can be made ahead and served at room temperature or warmed up again before serving.
28