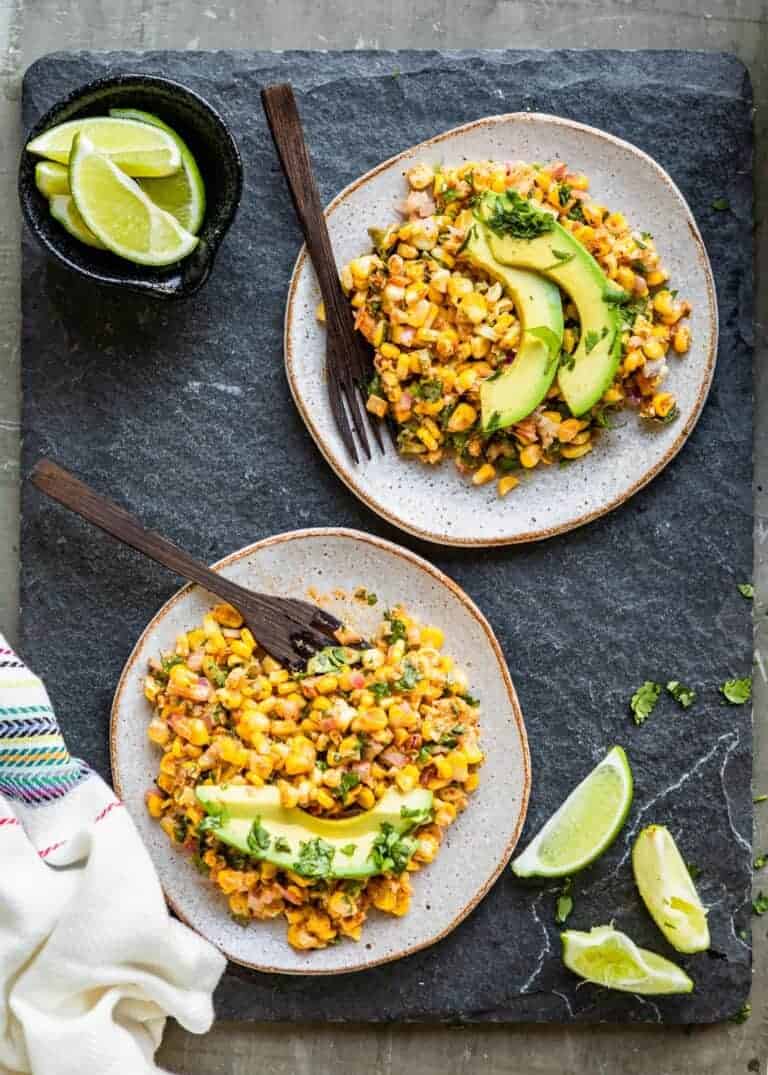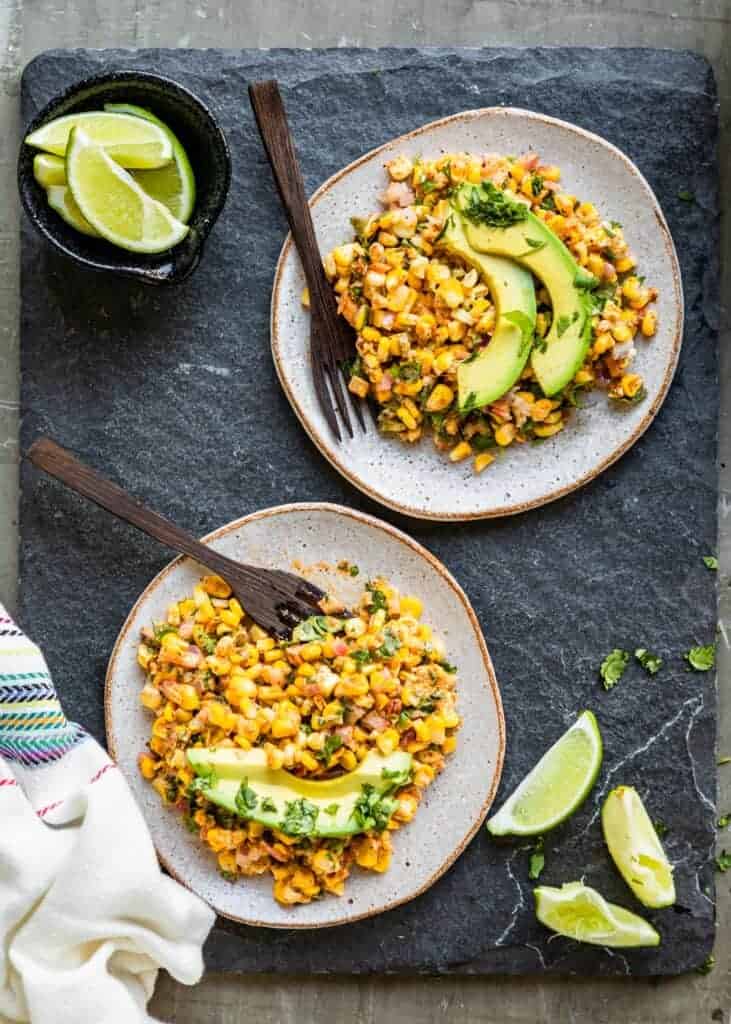 Summer corn is something I look forward to every single year. There's nothing quite like biting into a juicy cob of just-picked corn.
I live smack dab between the city and numerous farms. I drive by fields of corn on a regular basis, anticipating the time when they corn stalks are as tall as I am and loaded with ripe corn. This Vegan Mexican Corn Salad capitalizes on fresh, summer corn, but can also be made with frozen corn during the rest of the year.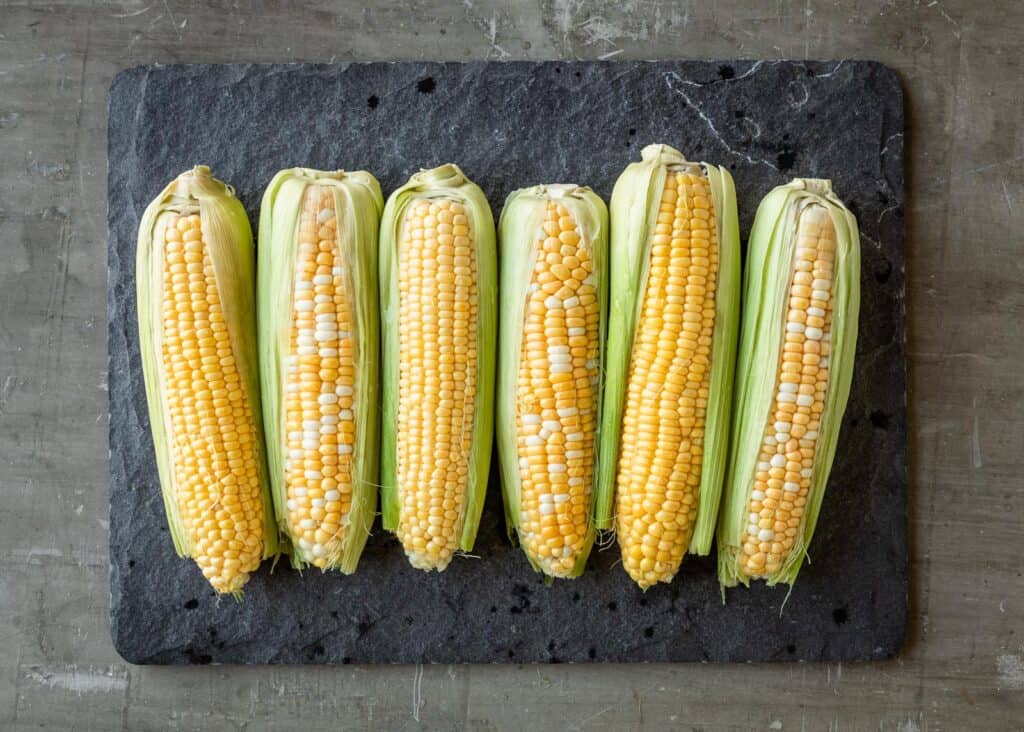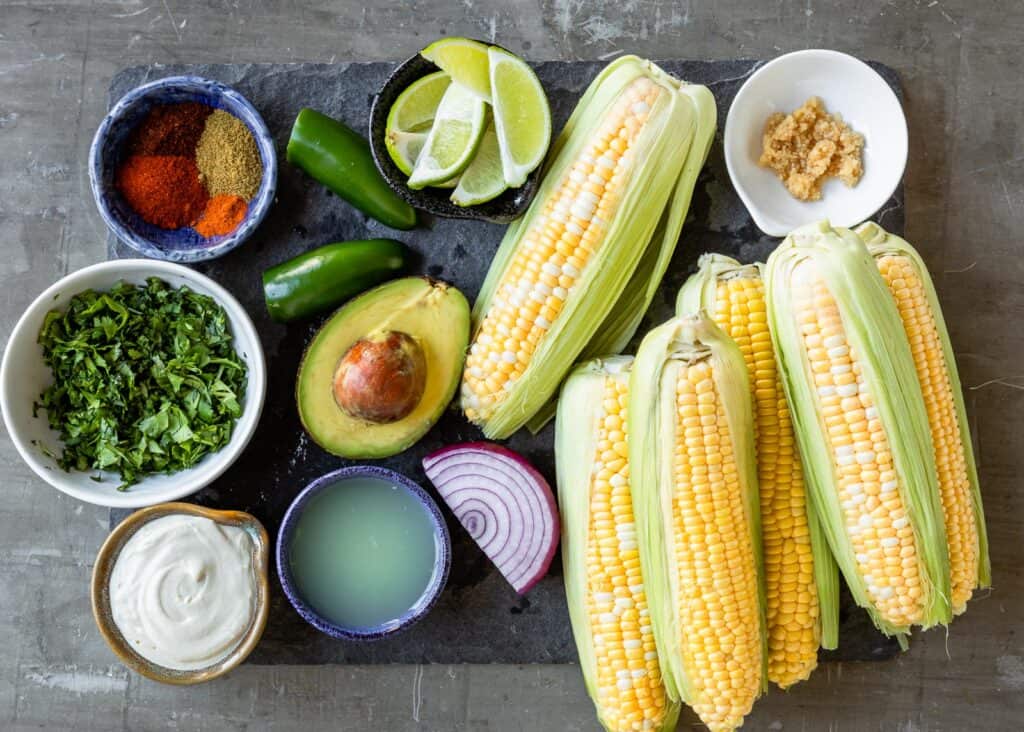 Traditional Mexican Corn Salad contains diced green chiles, onion, an array of spices, fresh lime juice, cilantro, and a creamy sauce. Everything is topped with salty, crumbled Mexican cheese.
We've swapped the mayo and sour cream for cashew cream, but you could easily use vegan mayo or vegan sour cream. Cashew cream is kinda my jam. And because I've nixed the cheese, I added some sliced avocado.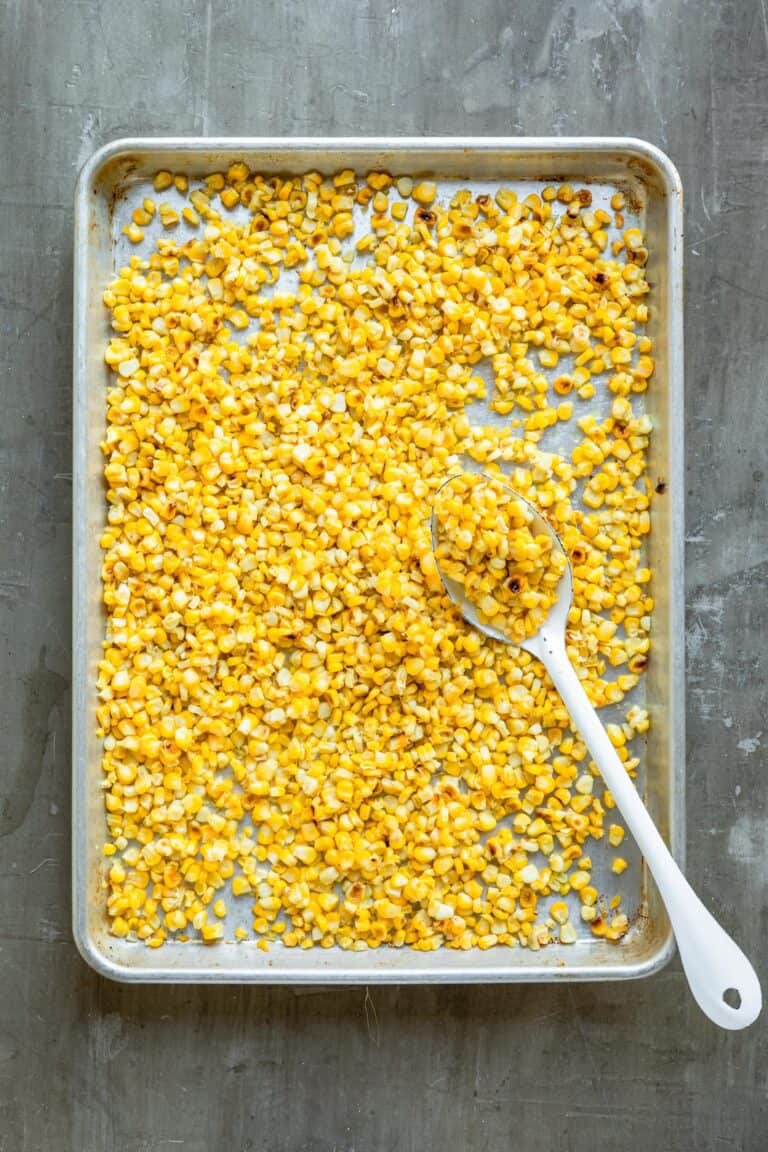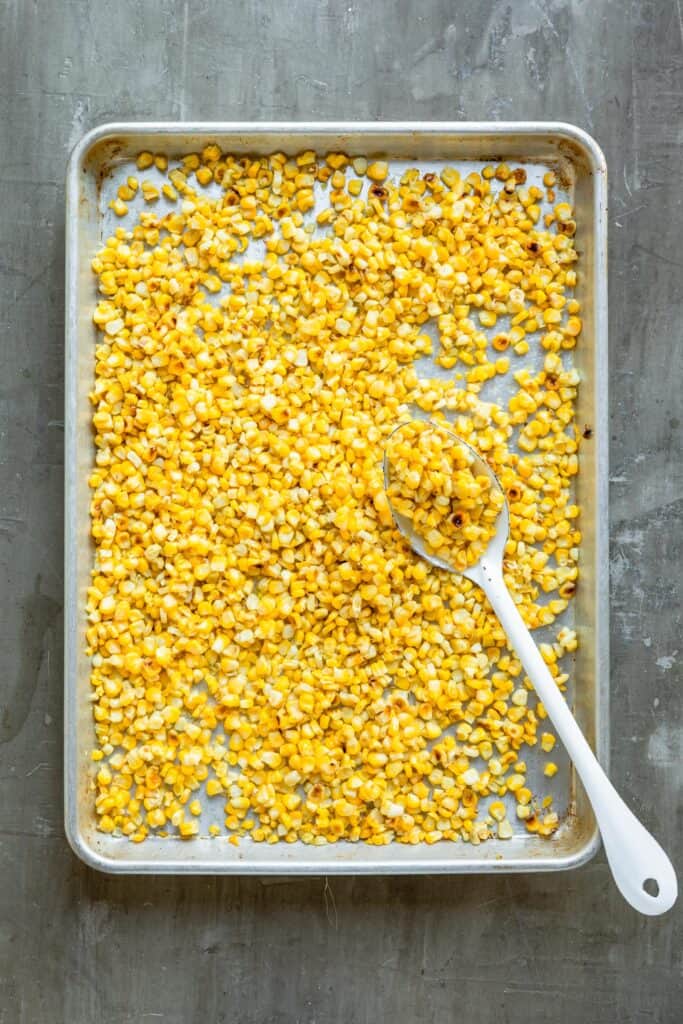 Let's talk about how to prep the corn. Typically the corn in Mexican Corn Salad is sautéed in butter. The corn can be cooked before or after removing from the cobs. I've boiled, roasted, and grilled the corn first.
My favorite quick way is to cut the kernels from the cobs using a rimmed baking sheet to catch every last kernel. I drizzle the corn with a little olive oil and broil it for about 5-6 minutes, or until the corn starts to turn golden with some blackening around the edges. I also turn the corn kernels over halfway through broiling so the corn cooks evenly.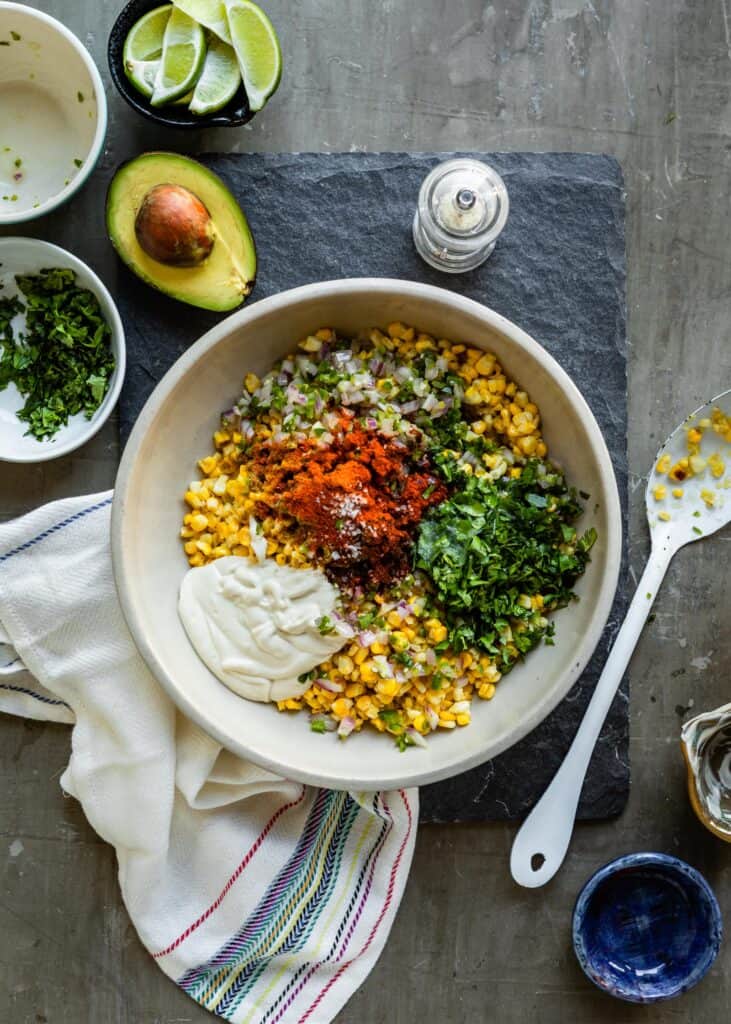 I prefer to sauté the onions, jalapeño, and garlic but that is an optional step. I'm careful to keep the aromatics to crisp because I like the crunch of the onions and jalapeño and the vibrancy of the flavors – that little bit of sautéing just takes the raw edge off.
Leaving the jalapeño ribs and seeds intact will add to the spiciness. For extra flavor and a bit more heat, I use a combo of chili powder, smoked paprika, and a good pinch of cayenne. That hit of spice with the tangy lime juice is sheer perfection.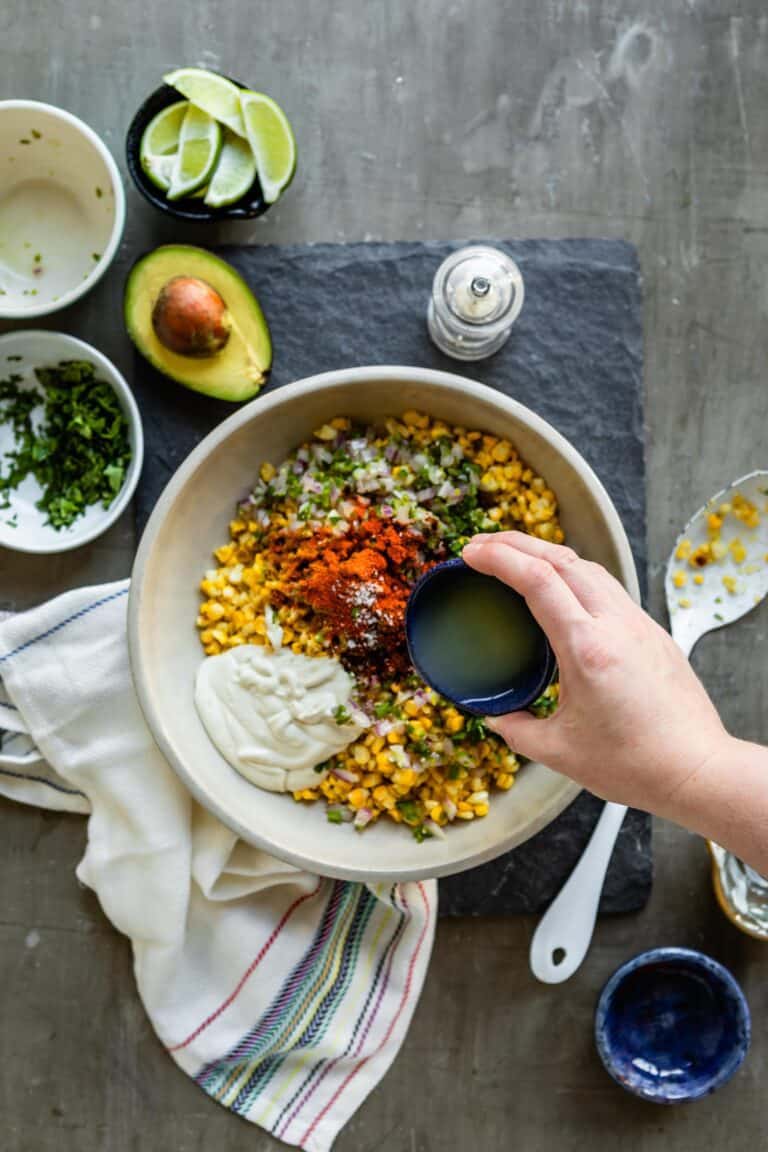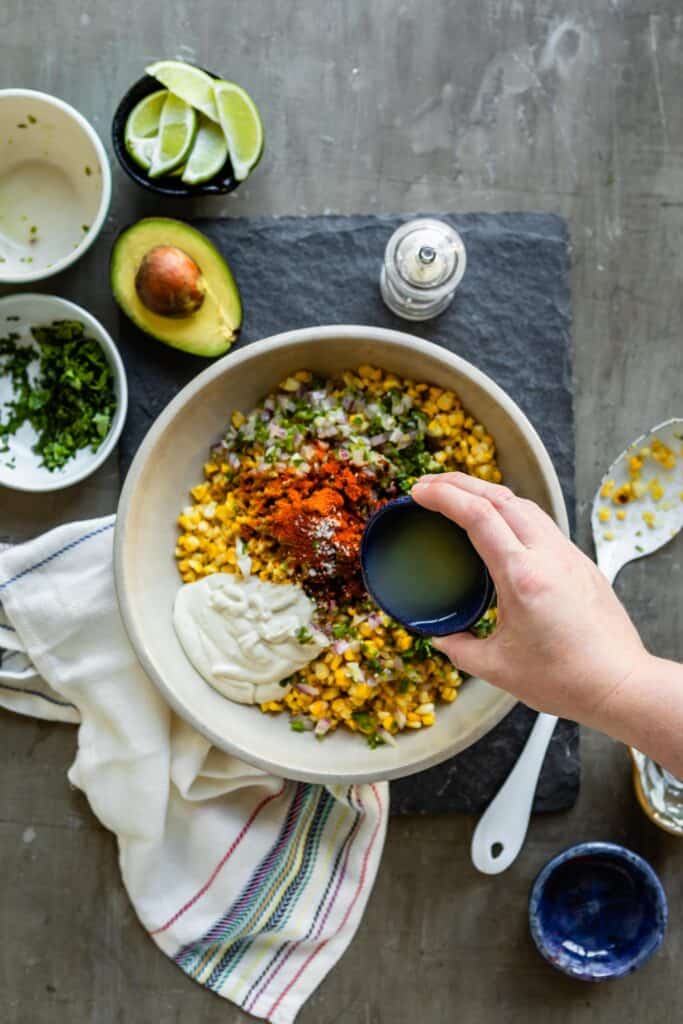 It's really a simple salad to put together and can be used in myriad ways other than as a side dish. It makes a great topping for loads of Mexican dishes or even veggie burgers.
Serve it up as a type of dip with chips. And hopefully a margarita on the side.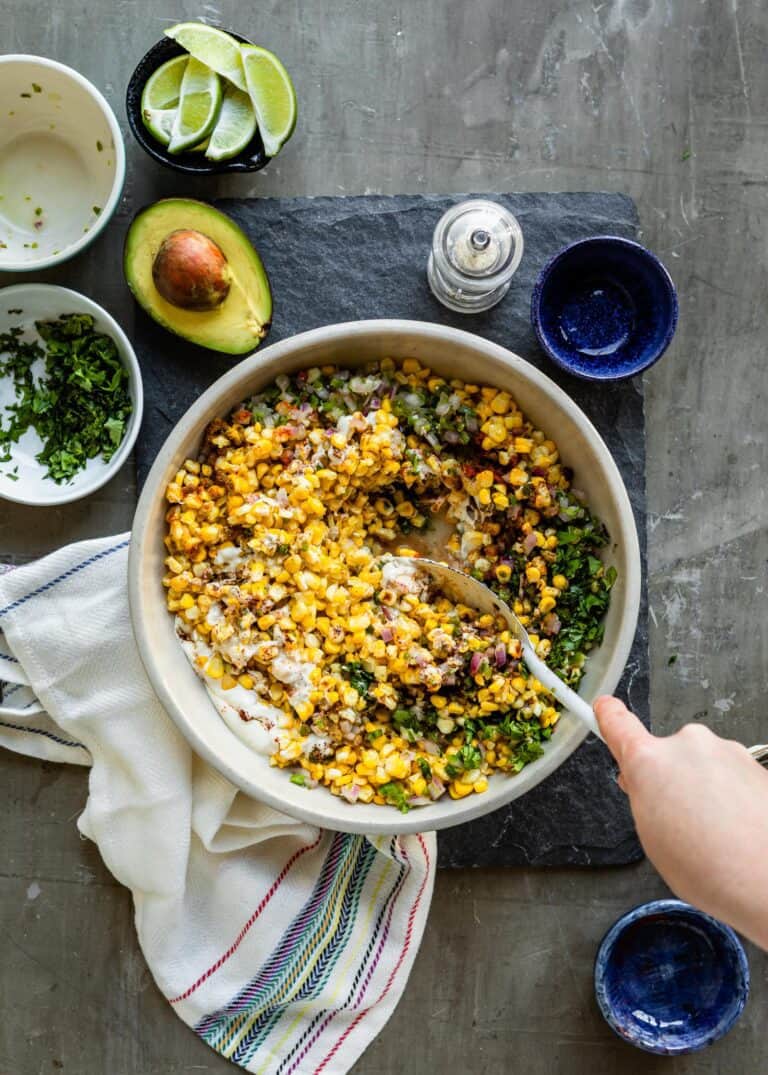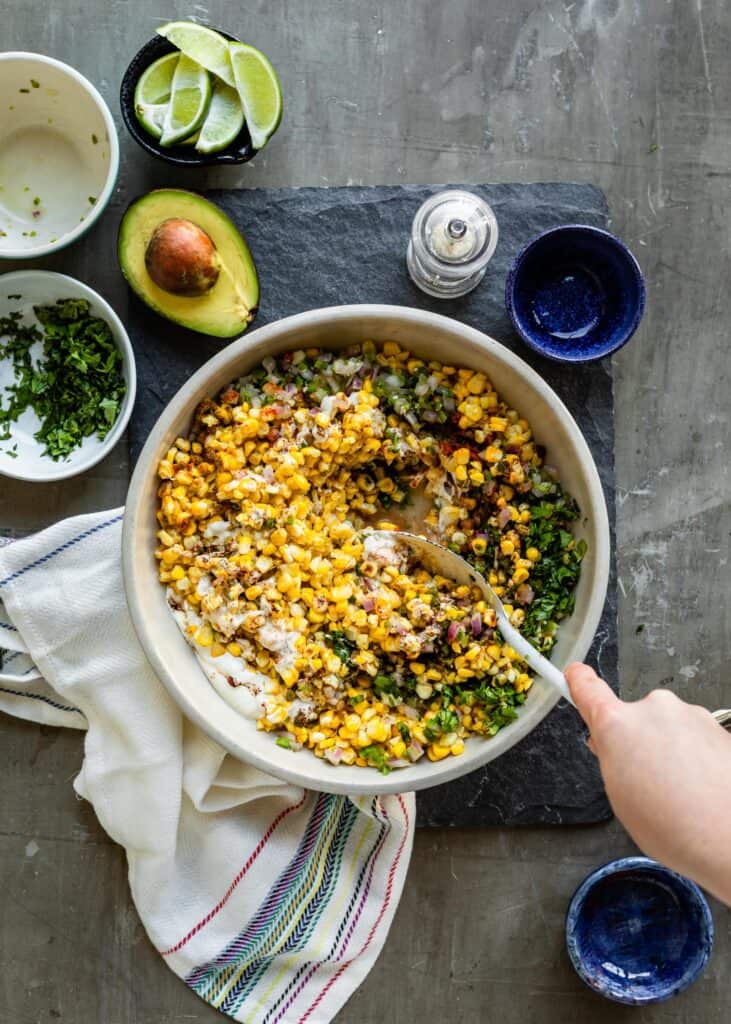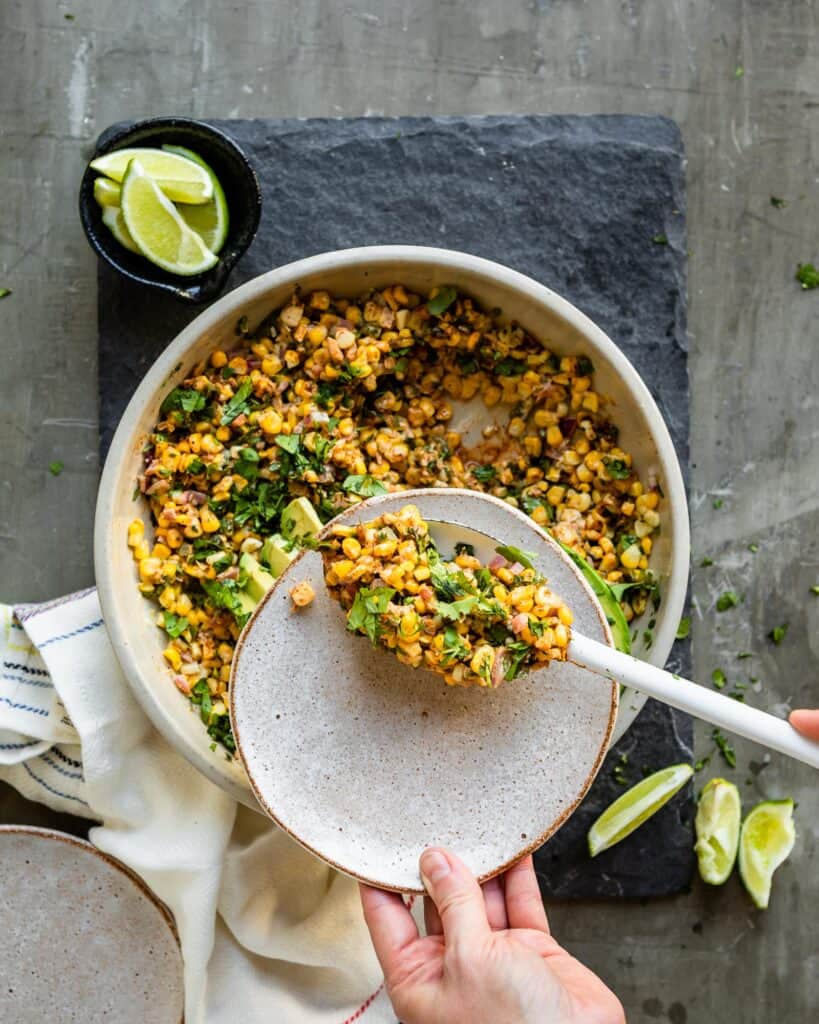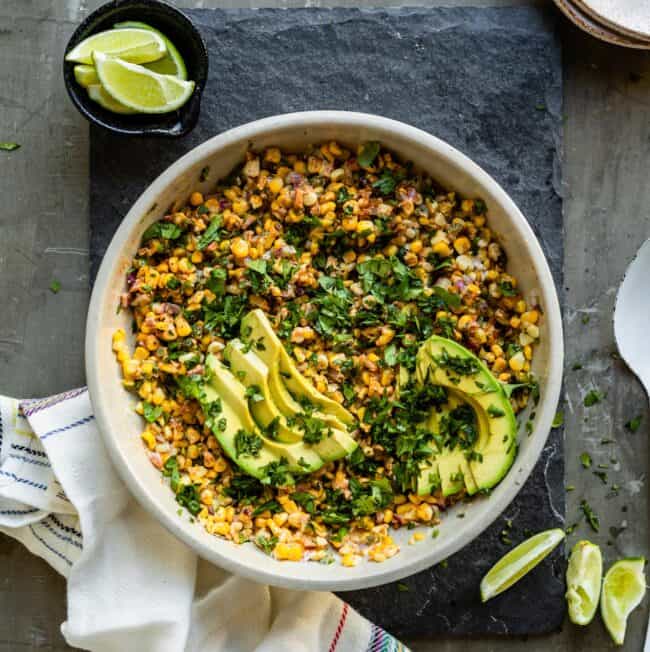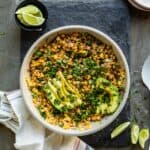 Print Recipe
Vegan Mexican Corn Salad
A plant-based take on the favorite Mexican salad, made with fresh corn, jalapenos, and a creamy cashew-based sauce. Recipe adapted from The Kitchn's Esquites (Mexican Corn Salad).
Ingredients
6

ears yellow or white corn

husked

Olive oil

for cooking

1

bunch fresh cilantro

chopped, plus more for garnish

1/2

cup

diced red onion

2

medium jalapeño peppers

ribs and seeds removed, finely chopped

2

cloves

garlic

minced

4

tablespoons

vegan sour cream mayo or cashew cream

recipe below

2-3

tablespoons

freshly squeezed lime juice

to taste

1 1/2

teaspoons

chili powder

1

teaspoon

ground cumin

1/4

teaspoon

smoked paprika

optional

Pinch

cayenne pepper

to taste

Salt

to taste

Lime wedges

for garnish

Sliced or diced avocado

for garnish (optional)
Instructions
Select desired cooking method - boiling, broiling, roasting, grilling, or sautéing. Husk corn and remove as much of the silk as possible, unless cooking corn on a grill. 

To boil, fill a stock pot with water, 2 teaspoons salt and 1 teaspoon sugar. Bring to a rolling boil. Add corn cobs and boil for 2-3 minutes, or until bright yellow in color. (If corn is white, the kernels will look plump and more translucent.) Remove from water and allow to cool slightly. Remove corn from cob.

To broil, adjust oven rack so it is about 4 inches away from the heating element. Preheat broiler to high heat. Remove corn from cobs and place in an even layer on a rimmed baking sheet. Drizzle with a little olive oil and season with a little salt and pepper. Broil for 2-3 minutes, stir corn, then broil for another 2-3 minutes or until corn is golden and starting to blacken around the edges.

To roast, preheat oven to 425°F. Rub corn with a little bit of olive oil and place cobs on a baking sheet or directly on oven rack. Roast for 10-15 minutes, or until corn is just cooked. The kernels will be plump and translucent. Remove corn from cob.

To grill, fill a large bucket with water and soak corn, husks and silk still intact, for 1-2 hours. Preheat grill for direct heat. Remove cobs from water and allow to drain, then place directly on the grill grates. Cover with lid and grill for 15-20 minutes, or until husks are blackened. Remove from heat using tongs or heat-safe gloves. Allow to cook slightly. Pull back the husks - the corn should easily come away from the silk and husk. Remove corn from cob.

To sauté, remove corn from cobs. Heat a large skillet over medium-high heat. Add a small amount of olive oil to the pan and allow it to heat for 20-30 seconds. Add the corn, working in two batches, if needed, so it's not too crowded. Cook, stirring occasionally, for 5-6 minutes, or until corn is tender-crisp and starting to brown around the edges. Transfer corn to a mixing bowl and set aside.

To prepare salad: heat a skillet over medium-high heat and add a little olive oil. Add red onion, jalapeño, and garlic. Sauté for a few minutes just to cook out some of the rawness. remove from heat and transfer to the bowl with the corn.

Add the remaining ingredients and stir until well combined. Taste and add more salt or lime juice, if needed.

Transfer to a serving bowl or platter. Cover and refrigerate until ready to serve. Garnish as desired just before serving.
Notes
To make cashew cream, soak 1 cup raw cashews in filtered water for several hours or overnight. The longer they soak, the smoother and creamier the cashew cream will be. Drain the soaking water and rinse cashews well. Place the cashews in a blender or food processor with the juice of 1 lemon, a pinch of salt, and 1/4 to 1/2 cup water. Puree or process until creamy and smooth. Stop and scrape down sides and add more water, if needed, to aid in blending. The cream can be thick like sour cream or Greek yogurt, or thinner for drizzling depending on preference.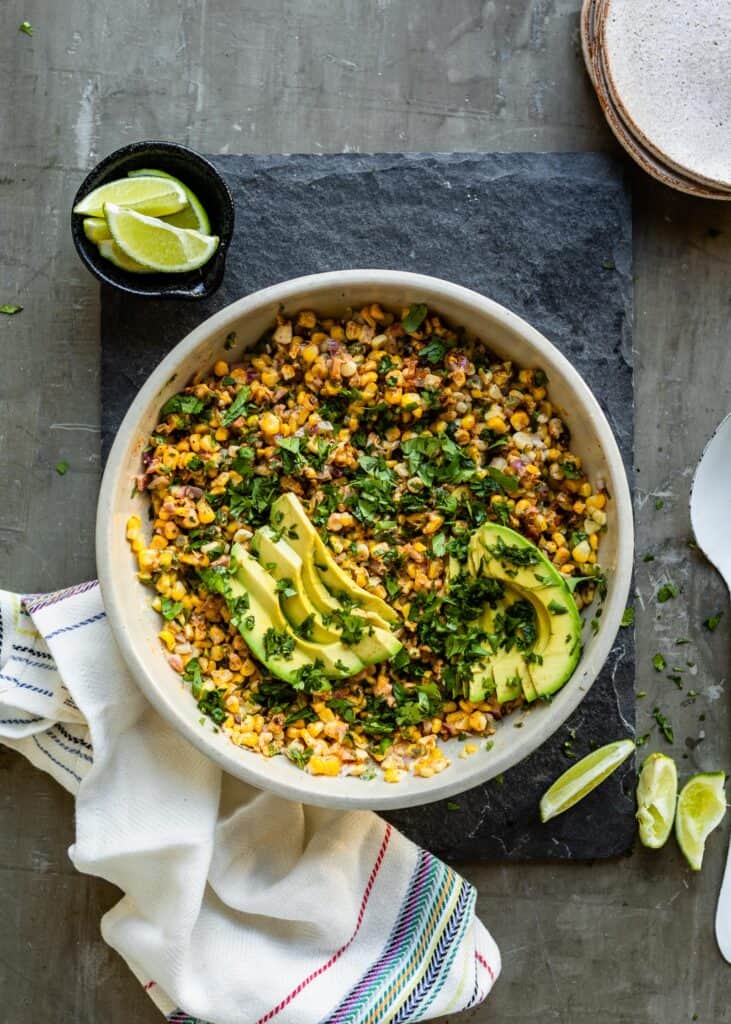 3