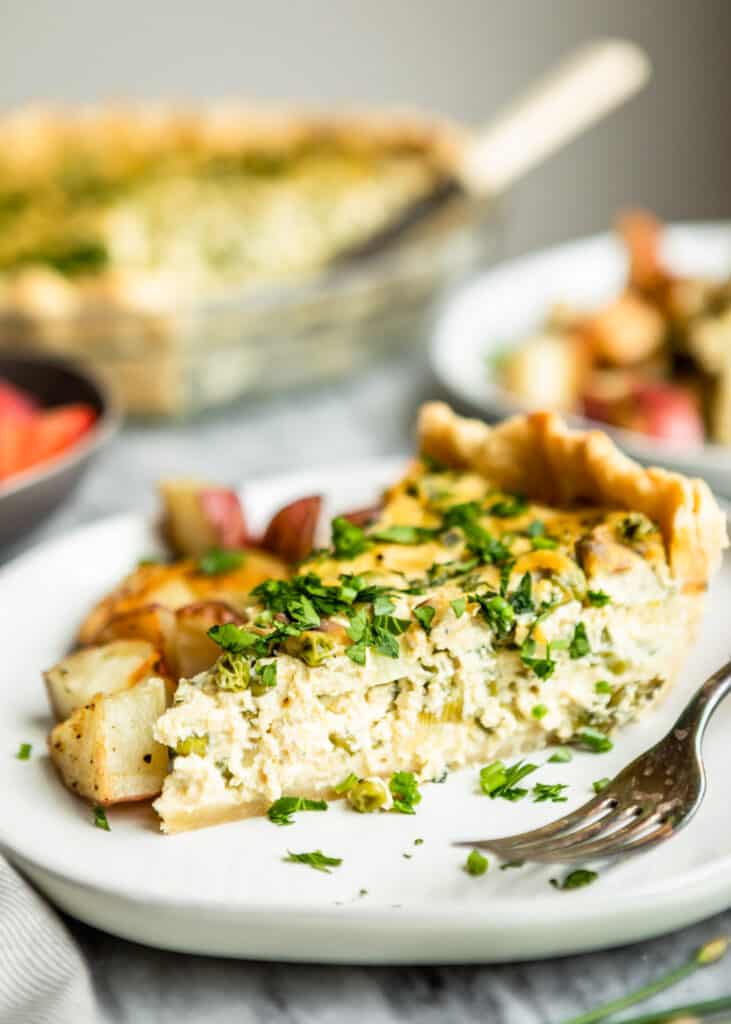 Quiche is probably the quintessential brunch food. It's served for holidays, especially in the spring. Quiche is versatile and open to a ton of experimentation when it comes to vegetables, herbs, and spices.
And, quiche can be made without eggs or cream. Even without grains! Wild, right? This Vegan Spring Vegetable Quiche is something special.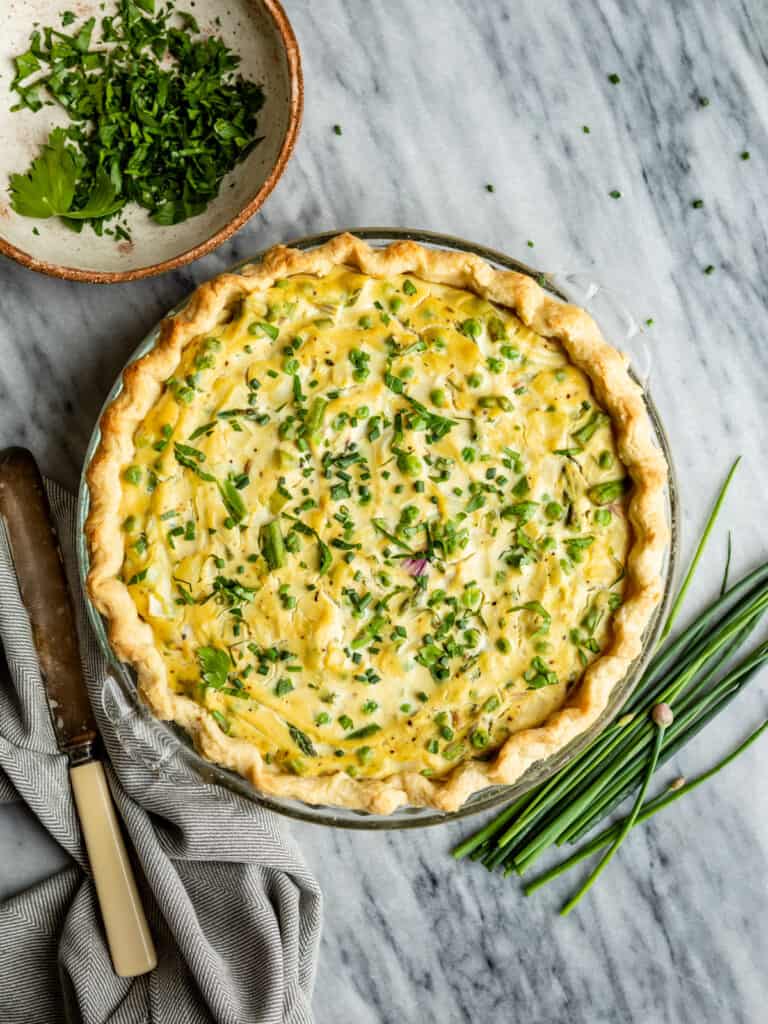 How To Make Vegan Quiche
Quiche is a pie, and so it usually starts with a flaky pie crust. It's very easy to find vegan-friendly crusts in the frozen section of most grocery stores. And sometimes, if you're lucky, there will also be a refrigerated pie crust sans animal products too.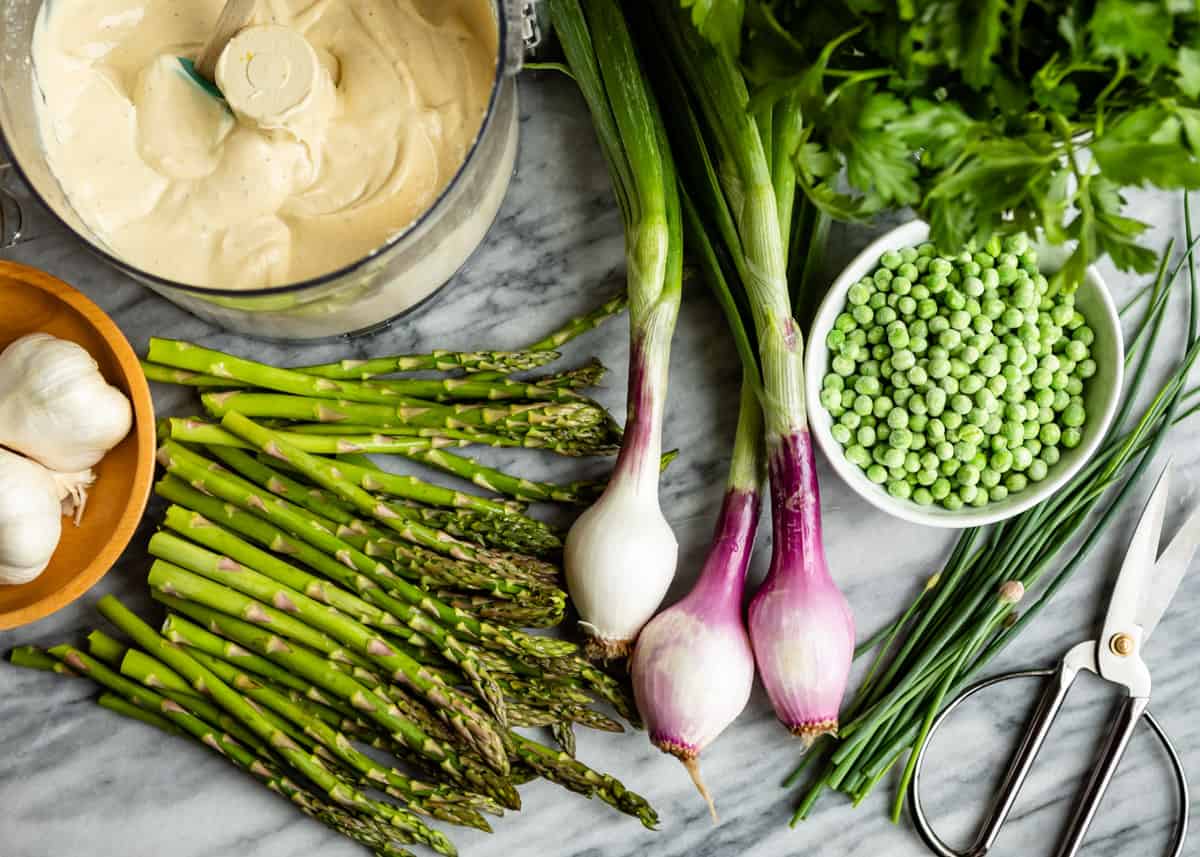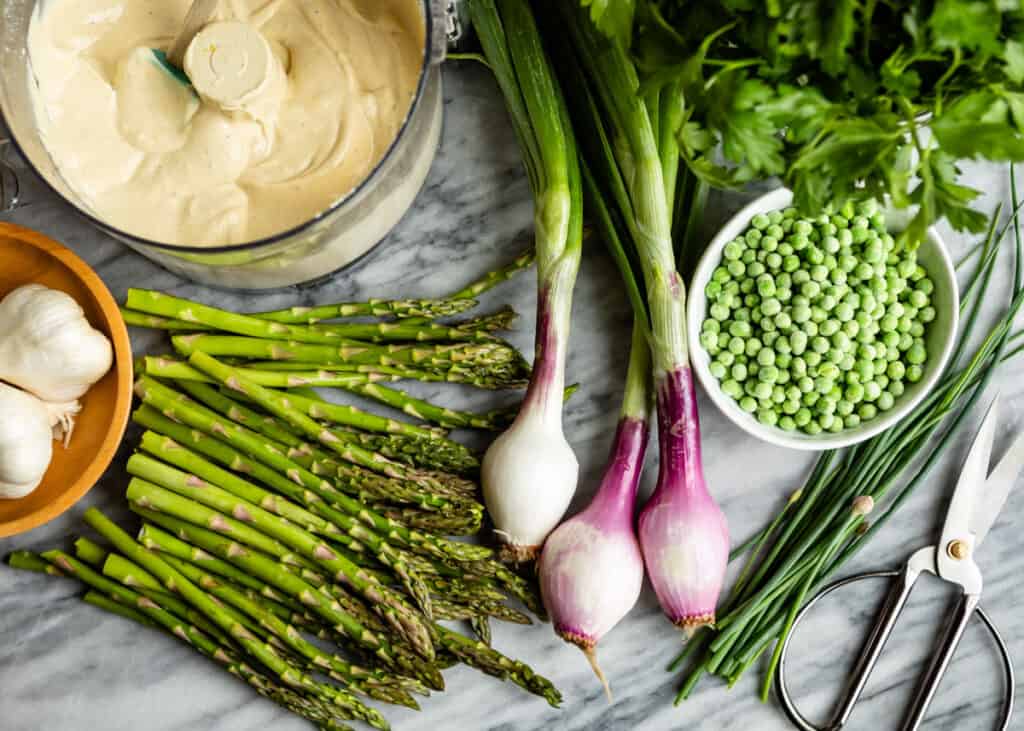 This vegan quiche uses a partially baked plain pie crust. If desired, herbs, nutritional yeast, and/or freshly ground black pepper could be added to a homemade crust to make it even better. Partially baking is optional, but I find that the bottom of the crust can become soggy or be under-baked without that step, especially if you're using a ceramic or glass pie plate.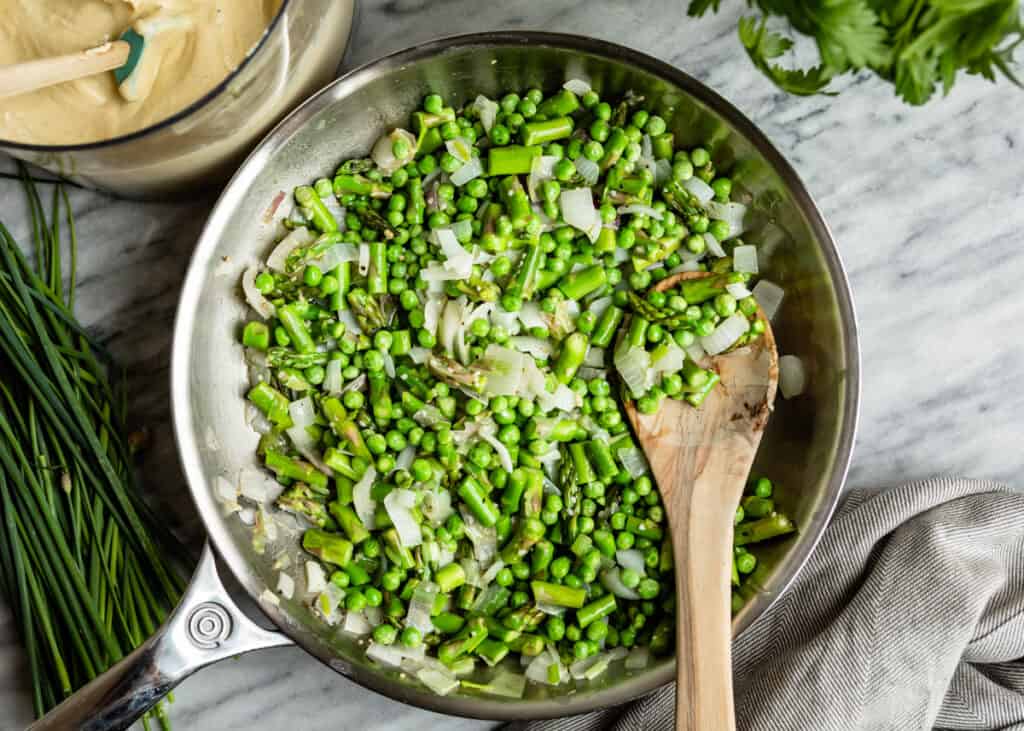 Like a traditional quiche, the filling of a vegan quiche consists of an "egg" base and vegetables, and may or may not include non-dairy cheese. Totally up to your preference on that one.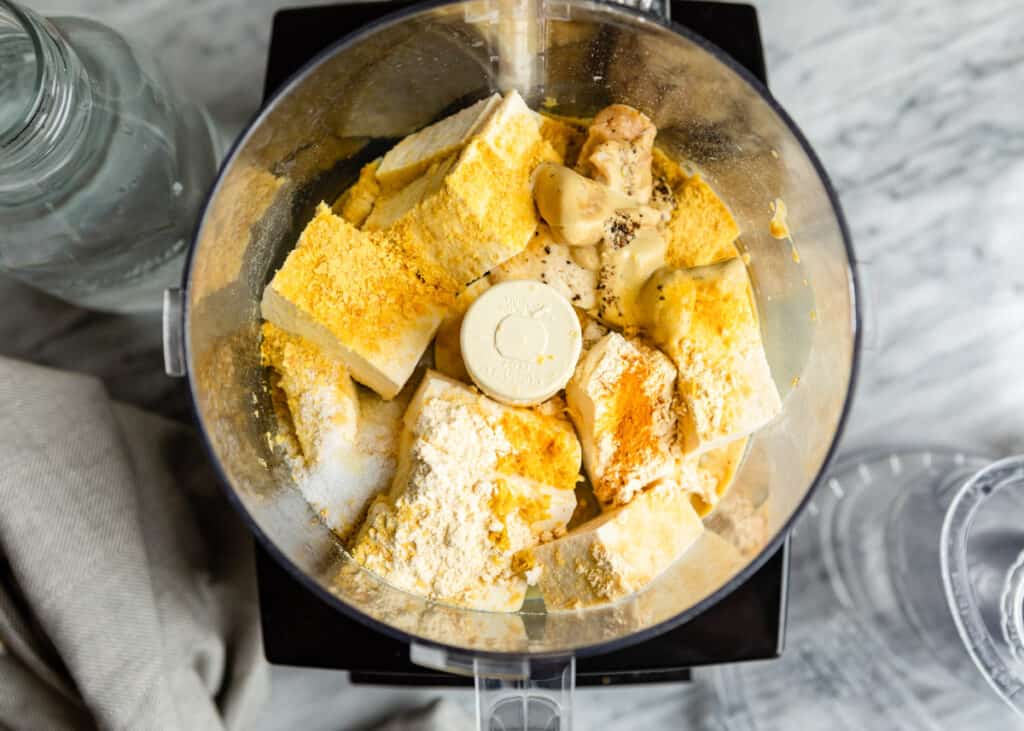 The "egg" base is made from tofu, chickpea flour, and nutritional yeast with the addition of Dijon mustard and miso for flavor. It's thicker than a traditional egg and dairy base, but will bake up with a similar (or better, IMHO) texture than eggs.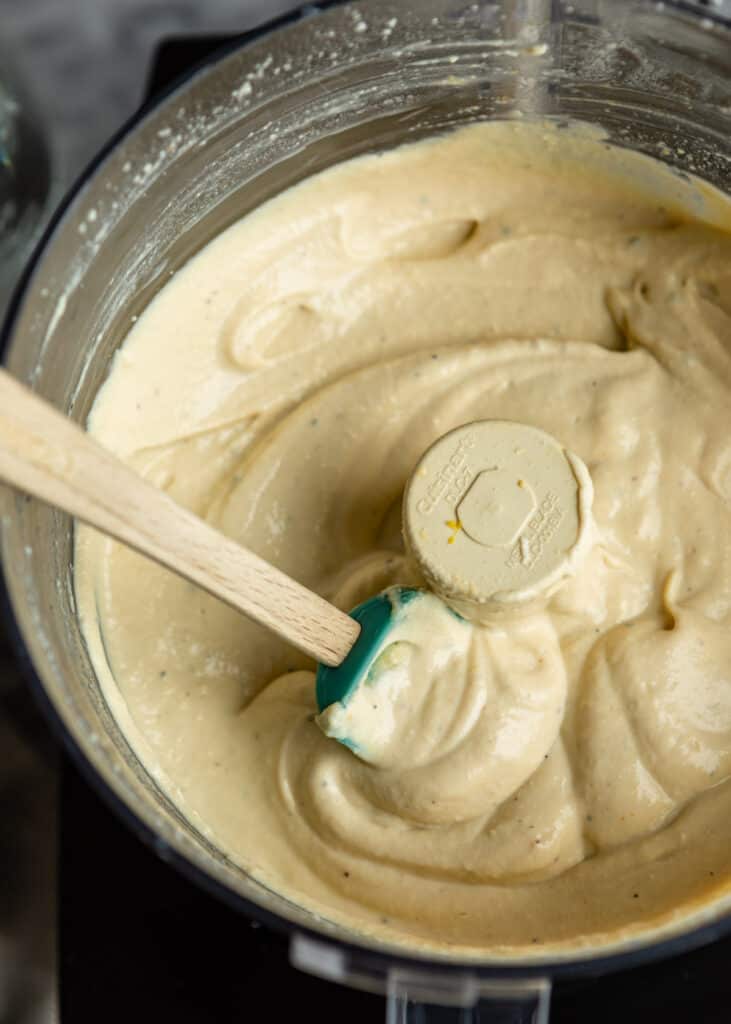 As for the vegetables, asparagus is a natural go-to. Asparagus quiche is simply the best. Other spring veggies like green onions and fresh peas add great color, texture, and flavor. It's spring in a pie crust.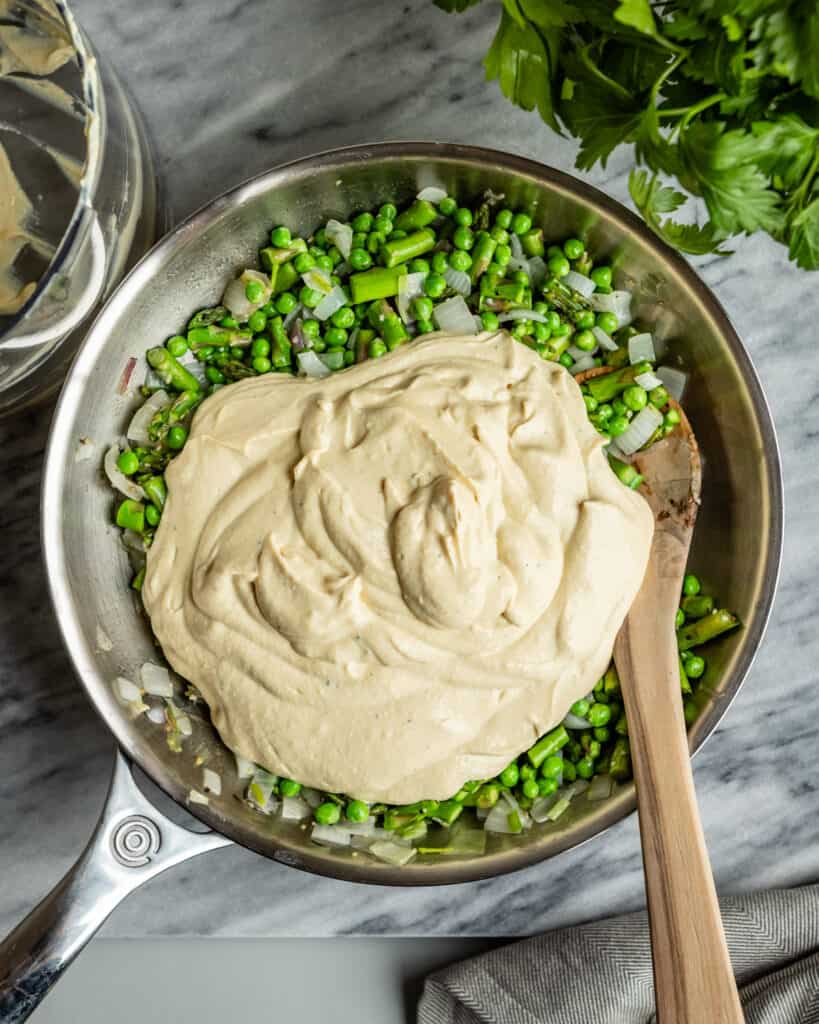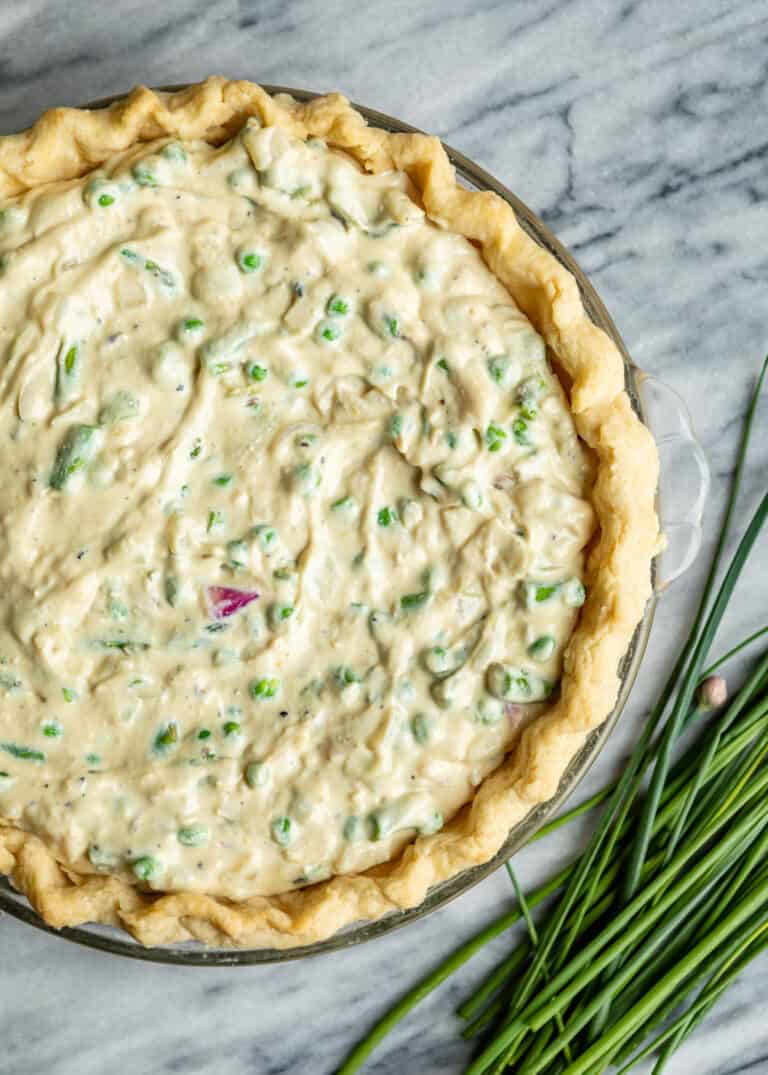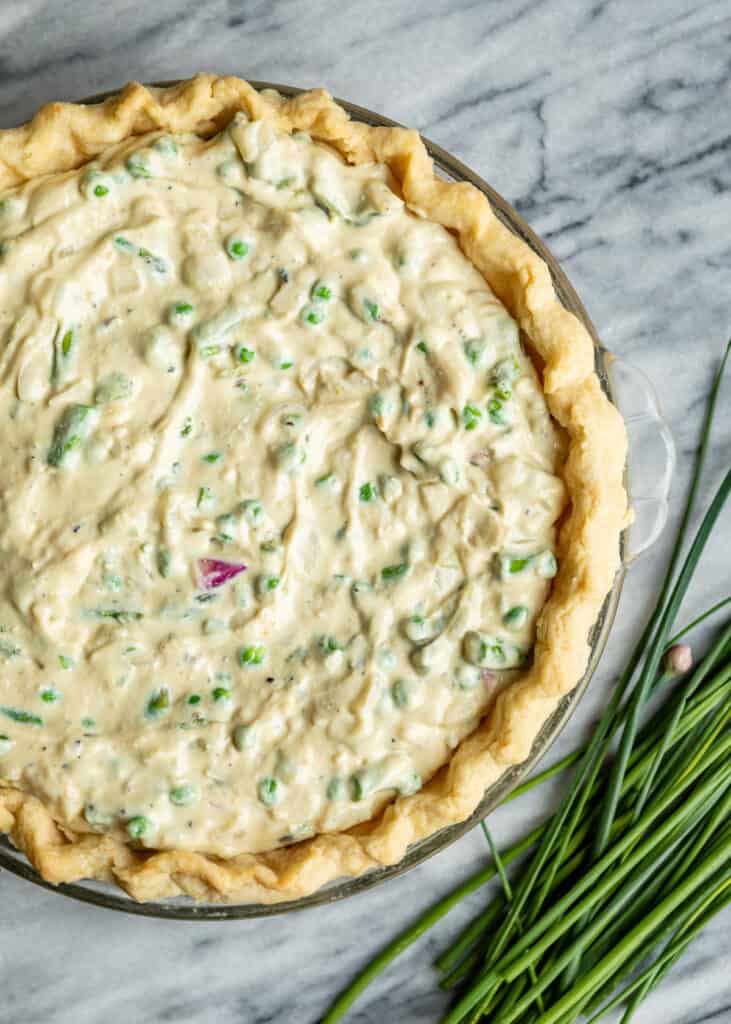 Can Vegan Quiche Be Made in Advance?
Yes, vegan quiche can be made in advance. I recommend making the quiche as directed in the recipe, allowing it to cool completely, then wrapping it well and refrigerating until ready to serve. The vegan quiche can be reheated in the oven, served chilled or at room temperature.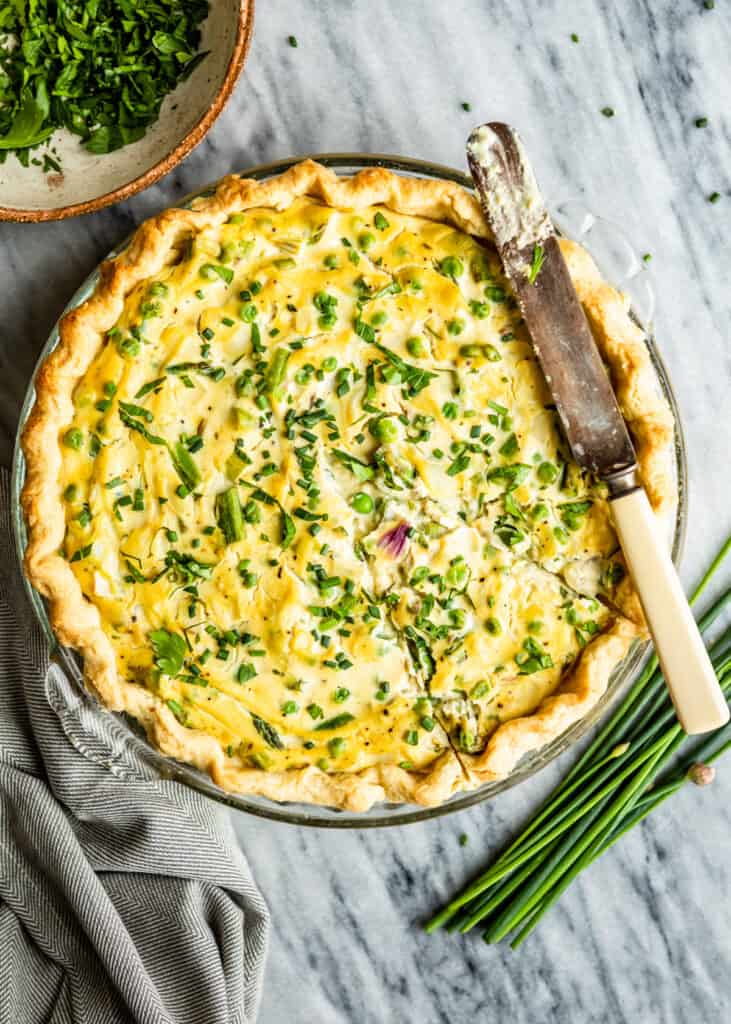 Alternatively, each of the components can be made in advance, refrigerated, and assembled right before baking. The pie crust can be partially baked up to one day before being used.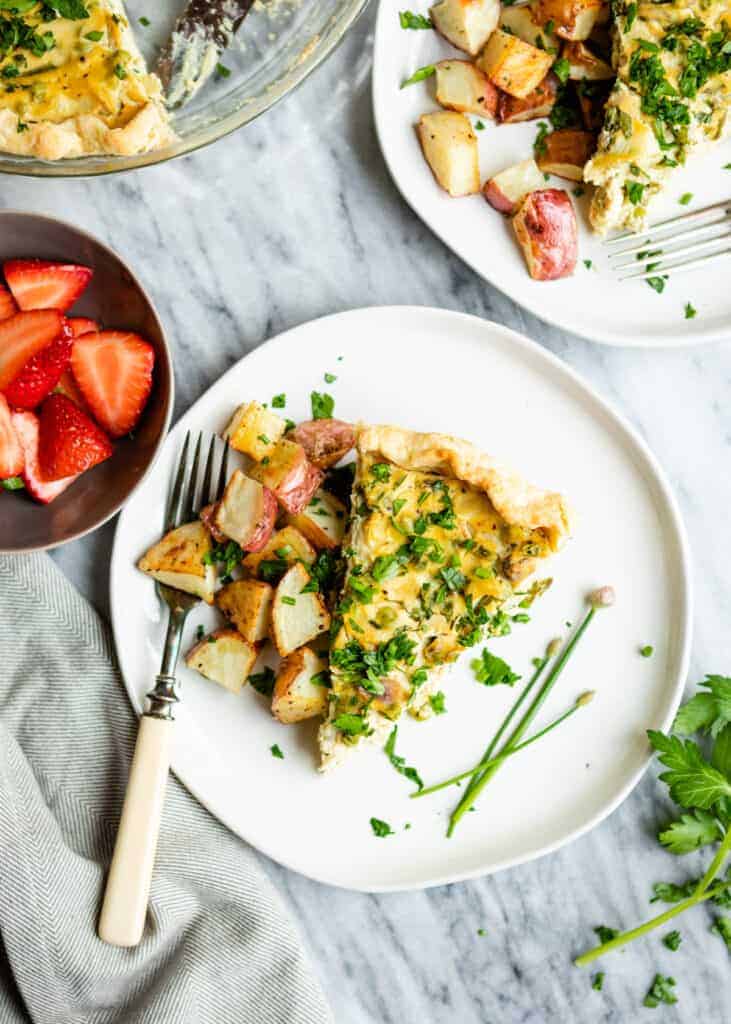 Vegan Quiche Variations
Asparagus is definitely a favorite when it comes to quiche, but there are infinite combinations to be had. Here are a few more ideas to get the creative juices flowing to create your perfect vegan quiche.
Mediterranean: Sun-dried tomatoes, artichoke hearts (drained and chopped), kalamata olives, fresh or roasted red pepper, onions, and plenty of fresh oregano, marjoram, and basil.
Spanish Tortilla: Add smoked or sweet paprika to the tofu base, fill with roasted potato cubes or cooked and sliced potatoes, serve with a spicy tomato sauce and vegan mayo
Roasted Veggie: Replace some or all of the vegetables with your favorite blend of roasted veggies – beets, turnips, rutabaga, sweet potatoes, winter squash, Brussels sprouts, cauliflower, broccoli, etc.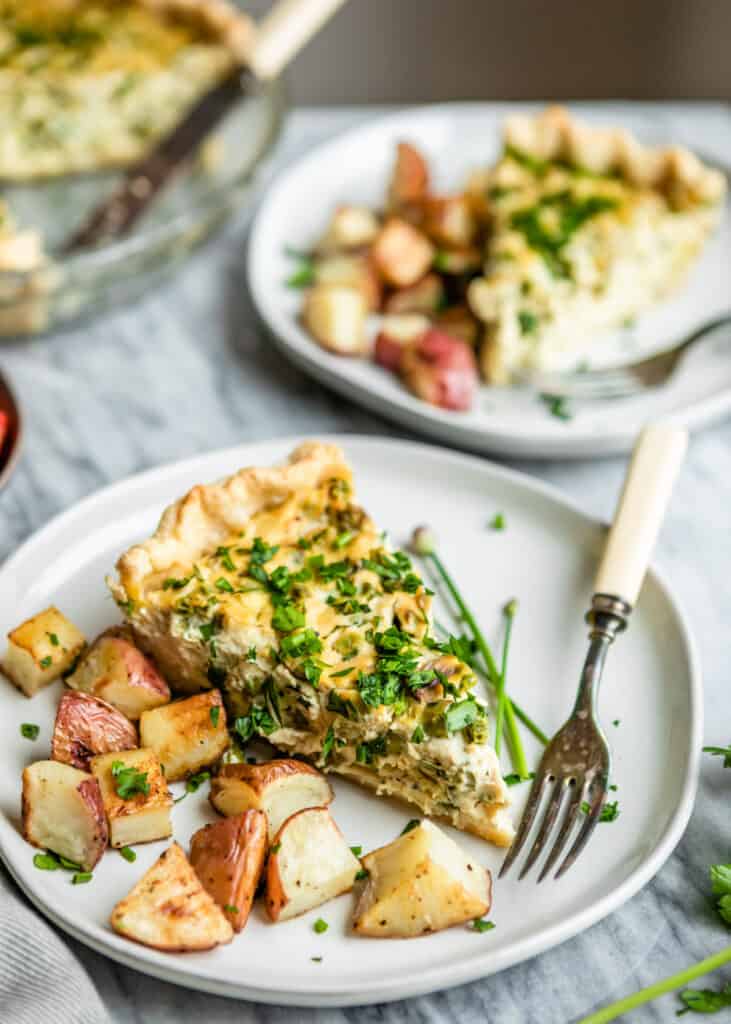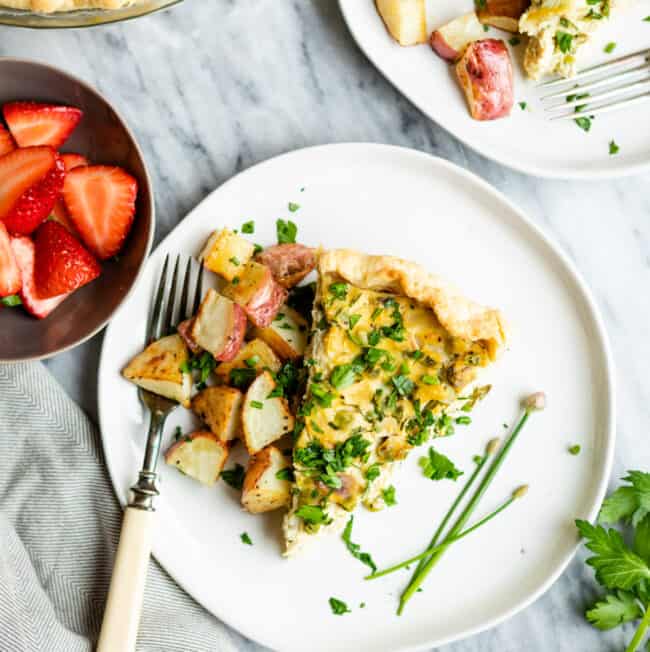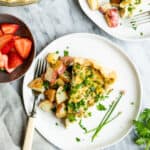 Print Recipe
Spring Vegetable Vegan Quiche
This simple to make, beautiful quiche is made without eggs or dairy and is loaded with fresh, crisp spring veggies for a delightful dish that can be served for breakfast, brunch, a light lunch, or anytime. Perfect for spring holidays and parties too.
Ingredients
1

9-inch partially baked vegan pie crust (see notes)

14

ounces

silken or firm tofu

drained but not pressed

1/4

cup

chickpea flour

1/4

cup

nutritional yeast

1

tablespoon

fresh lemon juice

Finely grated zest of 1 lemon

2

teaspoons

Dijon mustard

1

teaspoon

salt

plus more to taste

1

teaspoon

white miso

optional

1/4

teaspoon

ground turmeric

optional

Freshly ground black pepper

to taste

1/4

cup

water

if needed

1

tablespoon

olive oil

1

small bunch scallions or spring onions

thinly sliced, both white and tender green parts

2

garlic cloves

minced

1

pound

fresh asparagus

ends snapped off and cut into 1-inch pieces

1/2

cup

peas

fresh or frozen

2

tablespoons

finely minced fresh parsley

1

tablespoon

thinly sliced chives
Instructions
Preheat oven to 350°F.

Place the tofu, chickpea flour, nutritional yeast, lemon juice and zest, mustard, salt, miso and turmeric (if using), and freshly ground black pepper into the bowl of a food processor or blender. Pulse a few times to help break up the tofu, then process or blend until smooth. Add 1/4 cup water, if needed, and process again until smooth and creamy. (If using silken tofu, the water probably won't be necessary.)

Heat the olive oil in a large skillet. Add the green onions and garlic; sauté for 1-2 minutes, then add the asparagus and peas. Season lightly with salt and pepper and sauté for another 2-3 minutes until the veggies are bright green and still crisp. Remove from heat and transfer the vegetables into the partially baked crust.

Pour the tofu mixture over the veggies. Gently stir with a silicone spatula to distribute the tofu mixture evenly and smooth the surface. Bake for 40-45 minutes, or until the top is golden brown and the center is set - it should still wobble a little bit when lightly tapped. Allow the quiche to sit and set up for a few minutes before serving. If the crust starts to brown too quickly, tent the quiche lightly with foil or parchment, or use a

pie shield

.

To serve, cut into wedges and sprinkle with fresh parsley and chives.
Notes
Partially baking the crust is optional, but it helps prevent the bottom from being under-baked and soggy. To partially bake the crust, prick the dough with a fork a few times over the bottom of the crust. Place lightly greased foil or parchment paper into the crust and fill it with pie weights or dry beans. Bake for 10-12 minutes, then remove the pie weights or beans and allow the crust to cool before adding the quiche filling. If the crust is in a metal pan, it can be frozen before partially baking, pricked over the bottom and baked without the pie weights or beans.
This can also be made without a crust, if desired, for an equally delicious frittata.
4