There is nothing saying comfort more than a hearty stew with potato mash. Comforting, filling and packed with nutrients, this vegan Shepherd's Pie is the fall dish that we dream of making every weekend. It is a great dish to please the whole family, because it has texture, gorgeous colours and taste delicious. It is made with beets and lentils, and has a layer of dairy-free fluffy potato mash. Plus, it comes together without too much of an effort and without special kitchen skills - a hearty dish, perfect for the family gatherings, created to impress!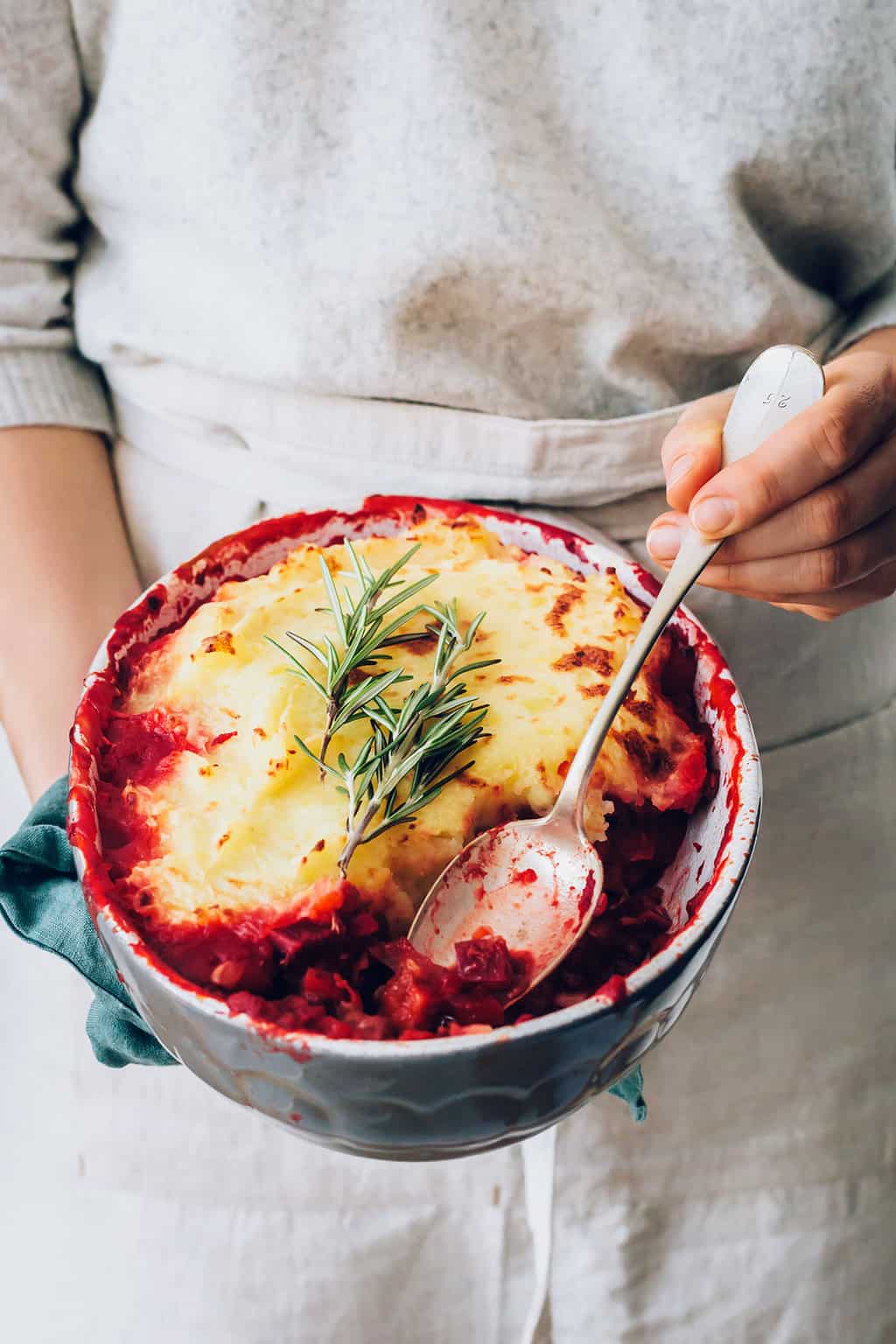 How To Make Vegan Shepherd's Pie

Making a vegan shepherd's pie involves two big steps - prepping the lentil and veggie-packed layer and prepping the potato mash. It might sound pretty complicated, but actually isn't at all - you just need to organize the steps and everything will come together smoothly and without spending too much time in the kitchen. Here are the simple steps making the vegan shepherd's pie without efforts: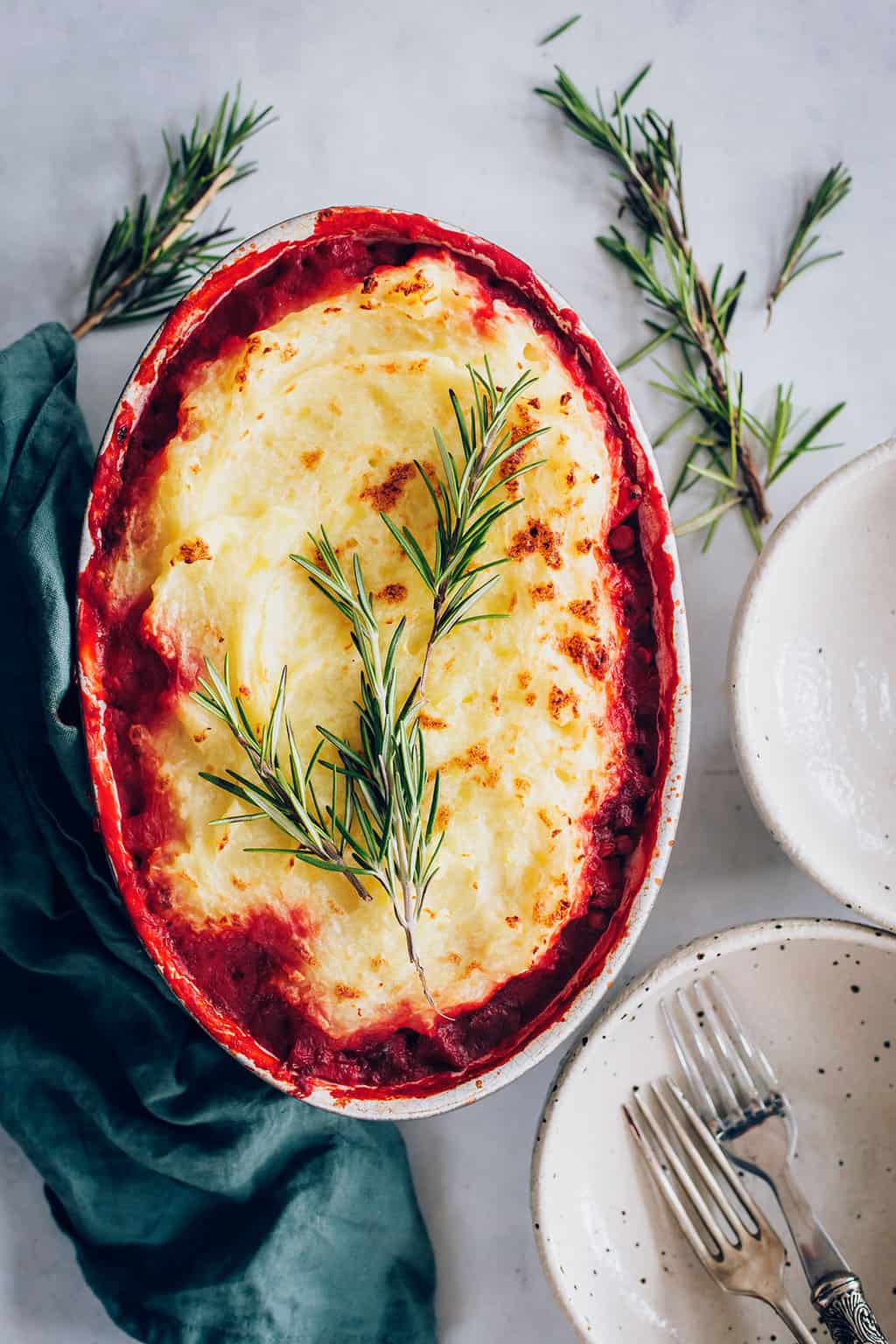 Rinse, peel and dice the vegetables for the pink layer - beets, carrots, sweet potato, yellow onion, garlic and bell pepper.
Prepare the spices - grated ginger, paprika, turmeric, rosemary.
Prepare the cooked lentils - remove from can, rinse well and drain.
Peel the potatoes and cut them in cubes, for the yellow layer.
Preheat the oven to 200C/400F and prepare a baking dish.
Prepare a pot for boiling the potatoes, and a pot for cooking the rest of vegetables and lentils.
Boil the potatoes until very well cooked, drain and set aside.
While the potatoes are boiling, cook the vegetables for the pink layer for 15 minutes stirring frequently, then simmer them with diced tomatoes and vegetable broth for 10 minutes.
Add the lentils to the cooked vegetables, add the spices, mix to combine, transfer them into the baking dish.
Prepare the potatoes mash, spread in a thick layer on top of the vegetables and lentils, and cook for 30 minutes, until well cooked.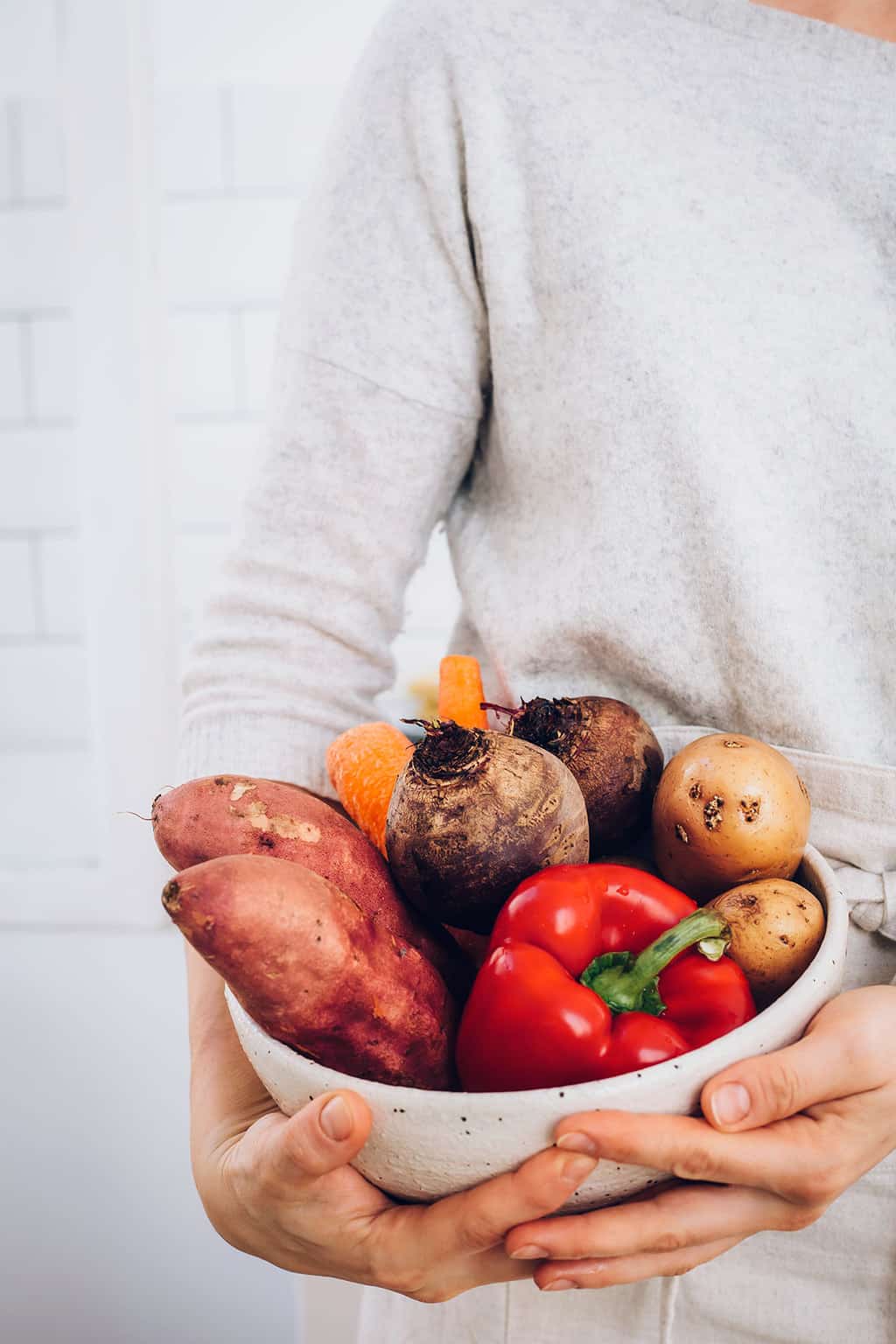 What vegetables go with shepherd's pie?
It pretty much depends on your preference for the dish texture. I don't like to get a mushy mixture, so I always combine veggies that keep their shape when cooked with leafed vegetables like spinach or root veggies like sweet potatoes that cook really tender, almost like a puree.
For our version of Shepherd's pie, I used beets for texture and to get a beautiful, intense pink color, bell pepper, onion, garlic and carrots for an intense base taste, sweet potato for creaminess. You can also add mushrooms for a meaty texture, beans, chickpeas or peas.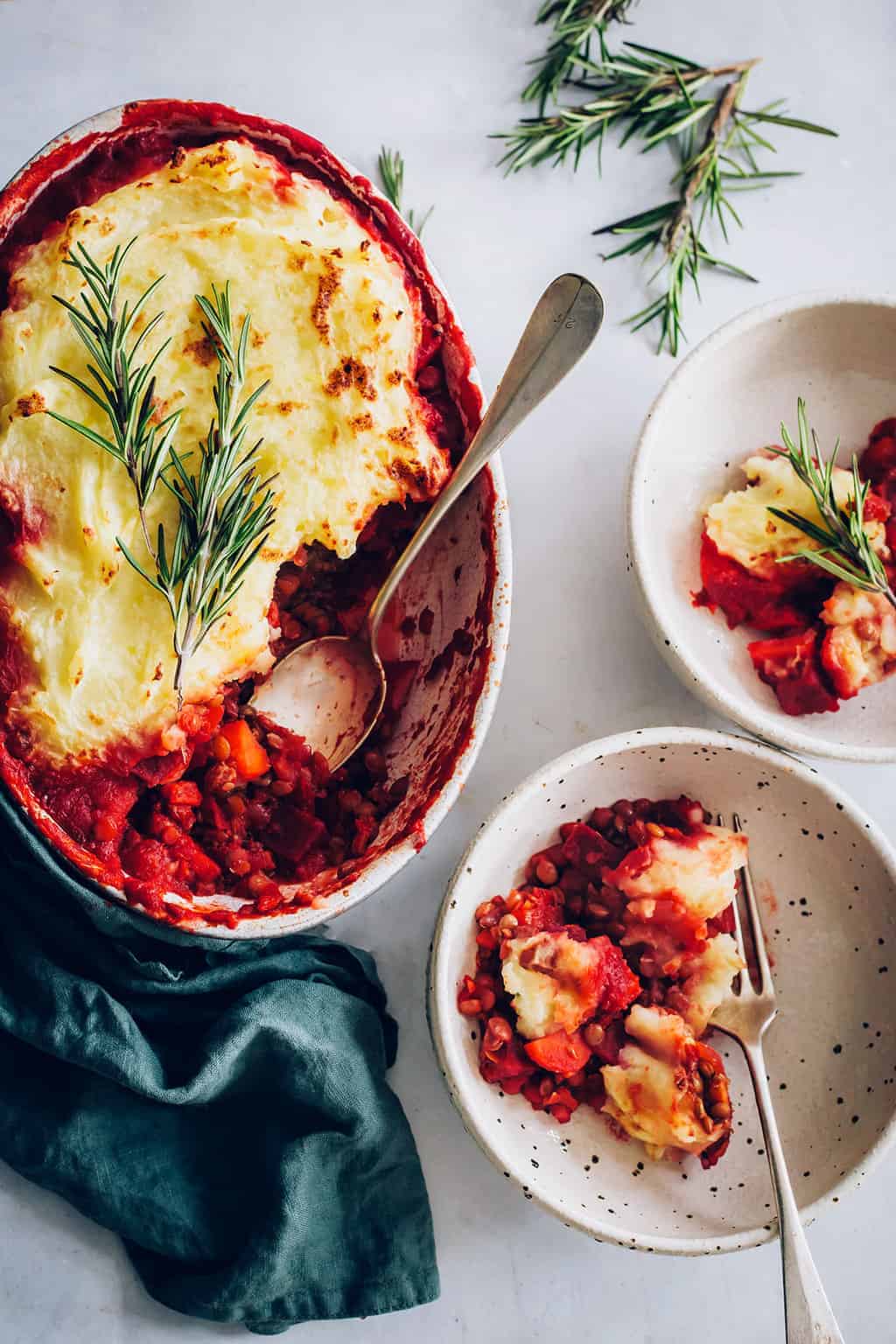 Looking for more inspiring vegetarian dishes for your Thanksgiving dinner? Try our Moroccan Inspired Sweet Potato and Chickpea Stew with Spinach, our Curried Cauliflower Rice with Coconut Milk, or our Wild Rice and Portobello Soup.
Did you try this recipe? Post your photo and tag us #helloglowblog on Instagram so we can share it with our community.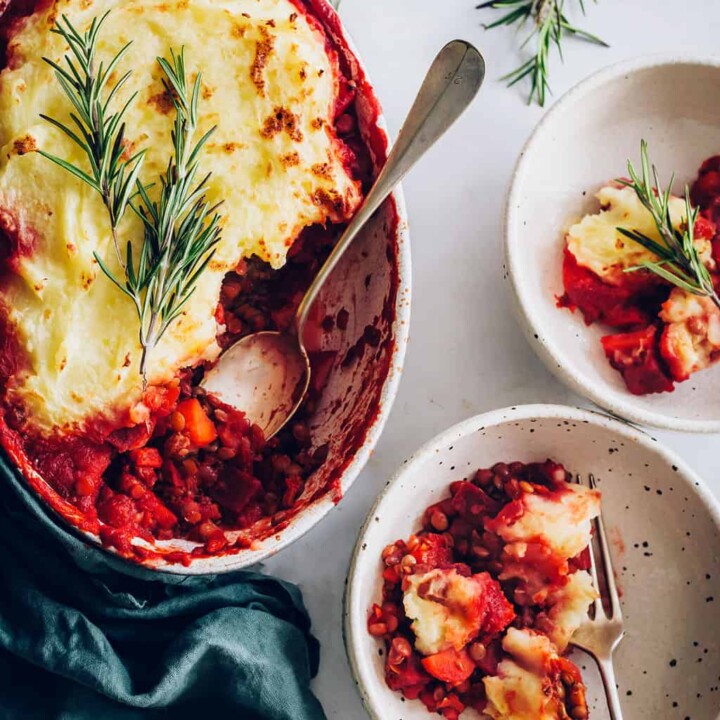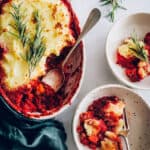 Print Recipe
Vegan Shepherd's Pie with Beet and Lentils
Comforting, filling and gorgeous coloured, this vegan Shepherd's pie recipe is made with beets and lentils, plus a fluffy layer of dairy-free potato mash.
Ingredients
2

medium beets

peeled, cut into small cubes

2

sweet potatoes

peeled, cut into small cubes

1

red bell pepper

diced

2

carrots

diced

1

large yellow onion

finely diced

4

garlic cloves

minced

3

cups

cooked lentils

3

lb

potatoes

peeled, cut into cubes

1

teaspoon

freshly grated

ginger

1

teaspoon

sweet paprika

1

tablespoon

avocado oil

2

tablespoon

coconut oil

2

teaspoon

turmeric

½

teaspoon

dried rosemary

1

cup

plant milk of choice

unsweetened, warm

1

cup

vegetable broth

1

cup

fire roasted diced tomatoes with juices

Freshly ground black pepper

1

teaspoon

salt
Instructions
Preheat the oven to 200C/400F and prepare a large baking dish.

Add the cubed potatoes into a pot, cover with water and bring to boil over medium heat. Reduce the heat to low and simmer for 15 minutes, until very well cooked. Drain well.

While the potatoes are boiling, prepare the rest of the vegetables.

Heat the avocado oil into a large pot, and add the carrot, onion, bell pepper, half of the minced garlic amount, sweet potato and beet. Cook over low heat for 15 minutes, stirring frequently.

Add the spices, vegetable broth and diced tomatoes, mix and bring to boil over medium heat. Turn the heat to low again and simmer for 10 minutes.

Season with salt and pepper and transfer into the baking dish.

Mash the cooked potatoes with a fork, add the garlic, coconut oil and warm plant milk, and mix well with a wooden spoon to obtain a fluffy puree.

Top the pink vegetable mix with the potato mash, and spread it into a thick layer.

Cook for 30 minutes, until golden.

Remove from the oven and serve warm as it is, or next to a salad.
Nutrition
Bonus Recipe: Vegan Lentil Shepherd's Pie
If you love that recipe, you might like this bonus recipe. It serves 6-8 people and combines russet and sweet potatoes. You'll need to visit your local vegan store to grab vegan butter and vegan milk for this one. You'll need:
4 russet potatoes, peeled and chopped
2 sweet potatoes, peeled and chopped
2 tablespoon vegan butter
½ cup non-dairy milk
Salt and pepper to taste
1 tablespoon olive oil
1 onion, chopped
2 carrots, chopped
2 stalks celery, chopped
4 cloves garlic, minced
2 tablespoon tomato paste
2 cups vegetable broth
1 tablespoon soy sauce
1 tablespoon vegan Worcestershire sauce
1 teaspoon garlic powder
1 teaspoon dried thyme
1 teaspoon dried rosemary
1 cup brown lentils, cooked
1 cup green lentils, cooked
1 cup green beans, chopped
Fresh herbs (such as parsley or thyme), chopped
Salt and pepper to taste
Instructions:
Preheat the oven to 375°F (190°C).
In a large pot, cover the chopped russet potatoes and sweet potatoes with water and bring to a boil. Cook until soft, about 20 minutes.
Drain the potatoes and mash with vegan butter, non-dairy milk, salt, and pepper until fluffy. Set aside.
In a separate large pan, heat the olive oil over medium heat. Add the onion, carrots, celery, and garlic, and cook until soft and fragrant, about 5 minutes.
Add the tomato paste, vegetable broth, soy sauce, vegan Worcestershire sauce, garlic powder, dried thyme, and dried rosemary. Stir to combine.
Add the cooked brown and green lentils and chopped green beans. Cook until the mixture has thickened, about 10-15 minutes.
Transfer the lentil filling to a baking dish and spread the mashed potatoes evenly on top. Sprinkle with chopped fresh herbs.
Bake for 30-35 minutes, or until the top is golden brown and the filling is heated through.
Let the shepherd's pie cool for a few minutes before serving. Enjoy this delicious and comforting vegan comfort food recipe!
To make the mashed potatoes gluten-free, use a gluten-free non-dairy milk and make sure that your vegan butter is also gluten-free. You can also use a potato masher for lumpy mashed potatoes or a hand mixer for fluffier mashed potatoes.
4