Did you already start making lists and planning for the holiday season? We certainly did and started to experiment with side dishes. Inspired by this glorious dish, we created a delicious savory sweet potato casserole, all vegan, gluten-free, and nutrient-packed. So if you're looking for a healthy yet delicious side dish for your Thanksgiving gathering, you are in the right place!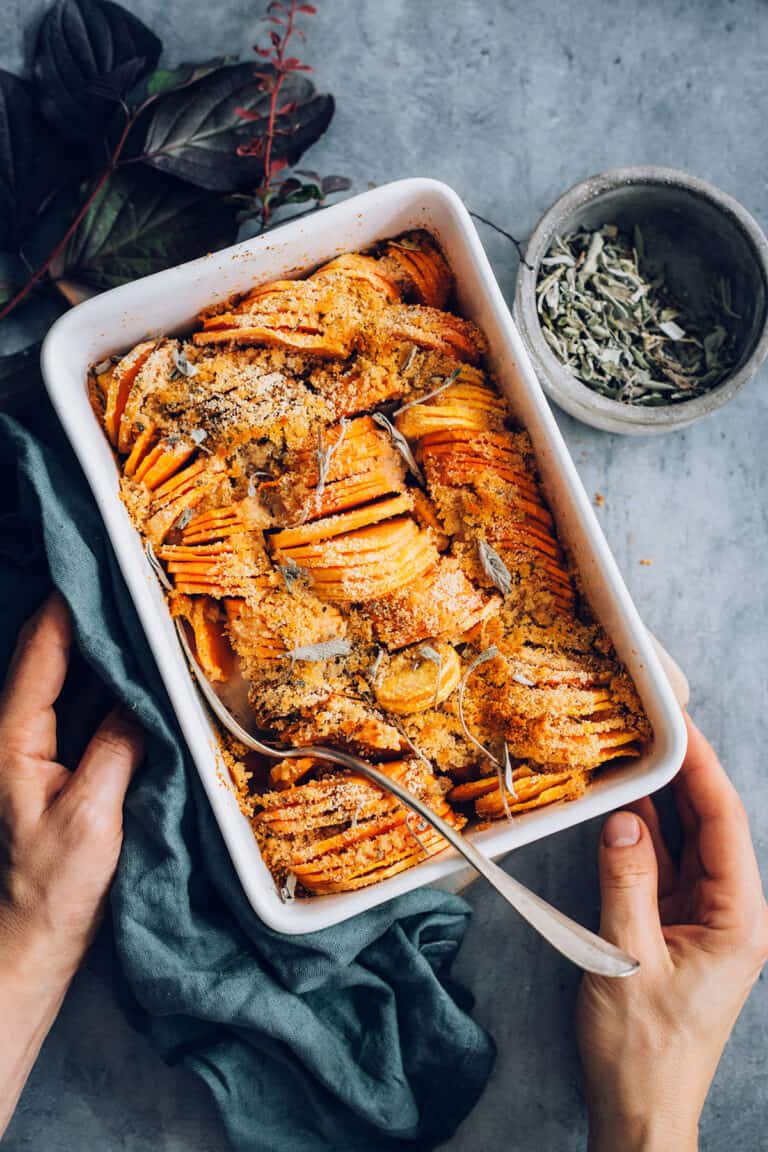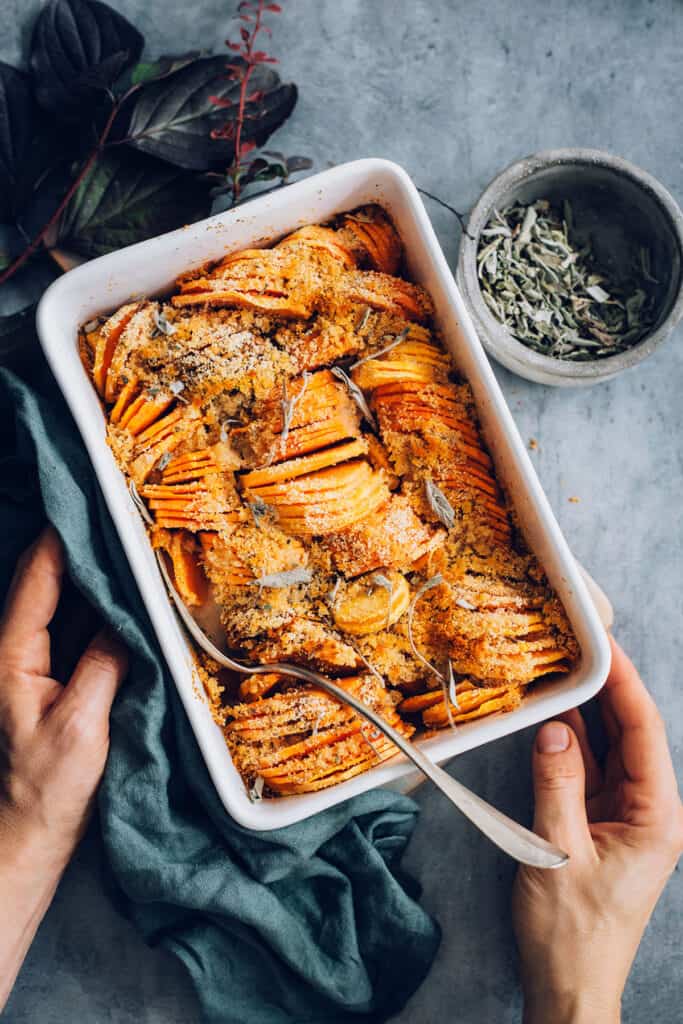 How to make sweet potato casserole
The classic version calls for mashed sweet potatoes topped with a layer of sweet or savory crumble. For our savory sweet potato casserole, we decided to go with thinly sliced sweet potato to get some texture and give the dish a twist. And it sure got it—we love the looks of this side dish, and it is designed to please a crowd! For the topping, we've made a savory gluten-free crumble with coconut oil and fragrant sage, and it turned out great!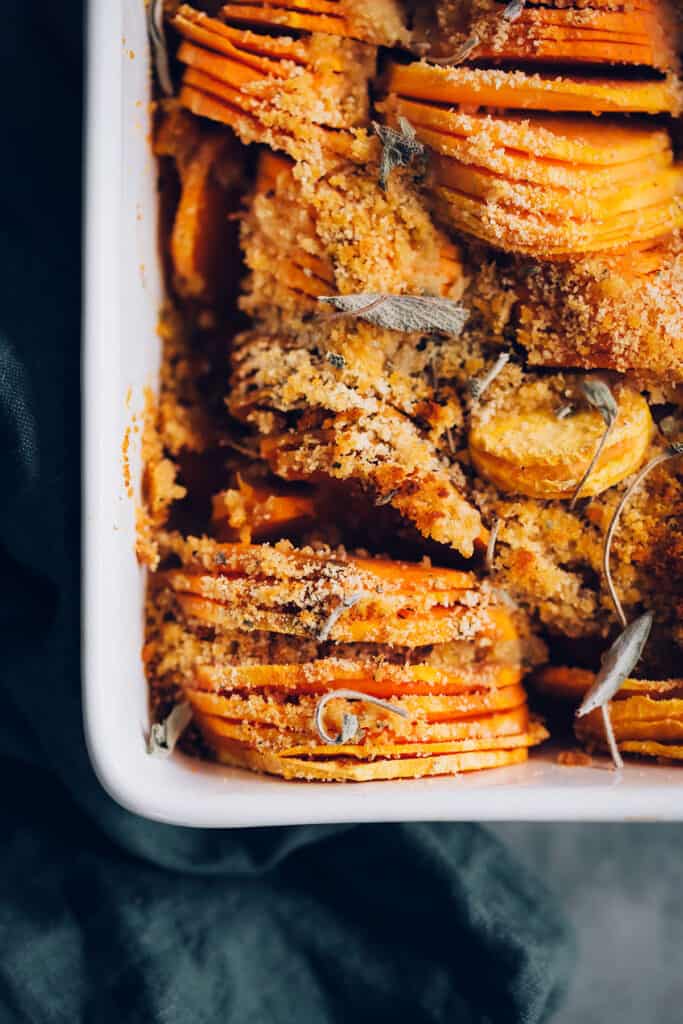 Here are the simple steps for making the casserole:
Start by peeling the sweet potatoes, then cut them very thinly using a sharp knife (you can also use a mandolin, but it requires more patience and time).

The next step involves infusing the coconut oil with sage—heat the coconut oil in a saucepan, add the fresh or dried sage, and fry for a minute over low heat. Then remove and add into a bowl.

Add the sliced sweet potatoes into the bowl and coat evenly, then arrange them into a baking pan.

We baked the sweet potatoes covered for 45 minutes, then added the GF crumble and baked for 15 more minutes.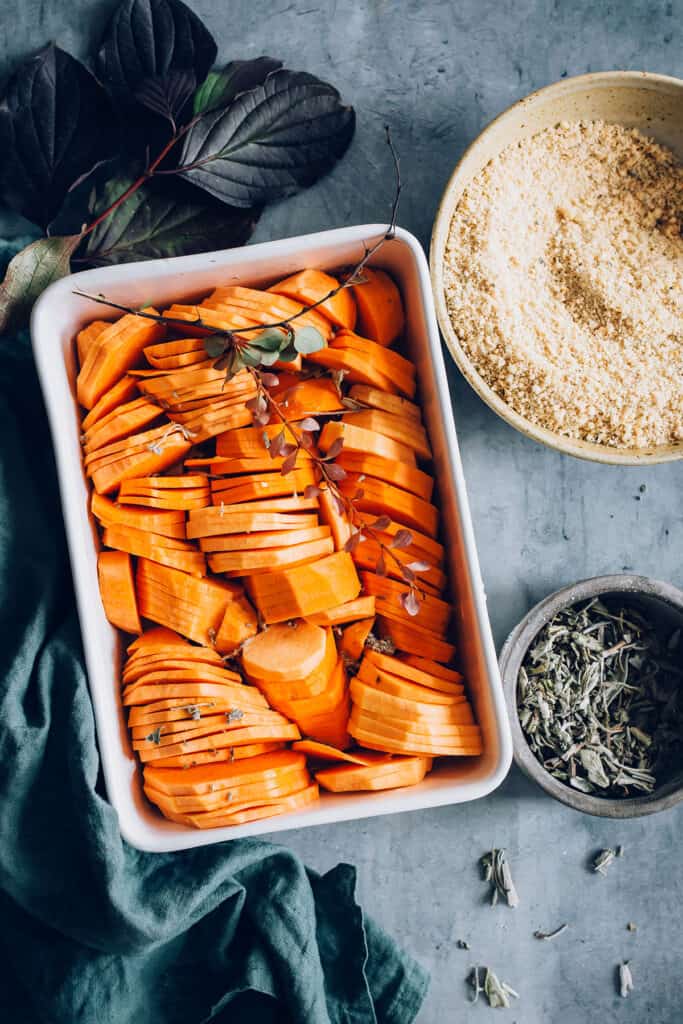 Why bake with sweet potatoes
?
Sweet potatoes are the orange stars of fall celebrations, next to the winter squashes. However, eating sweet potatoes should turn into an all-year routine, given their exceptional health benefits. Their orange or purple flesh is packed with beta-carotene, vitamins (especially B complex), minerals (especially manganese, potassium, and copper, involved in the natural detoxification processes of the body), and fiber [source].
Their health benefits span from antioxidant and anti-inflammatory actions to blood sugar regulation and antibacterial effects [source]. Combined with a healing herb such as sage, with its positive action on lowering LDL cholesterol, easing menopausal symptoms, and supporting brain health [source], and with the aid of coconut oil, which improves the absorption of certain nutrients [source], sweet potatoes are definitely a health bomb that needs to be added to our diet regularly.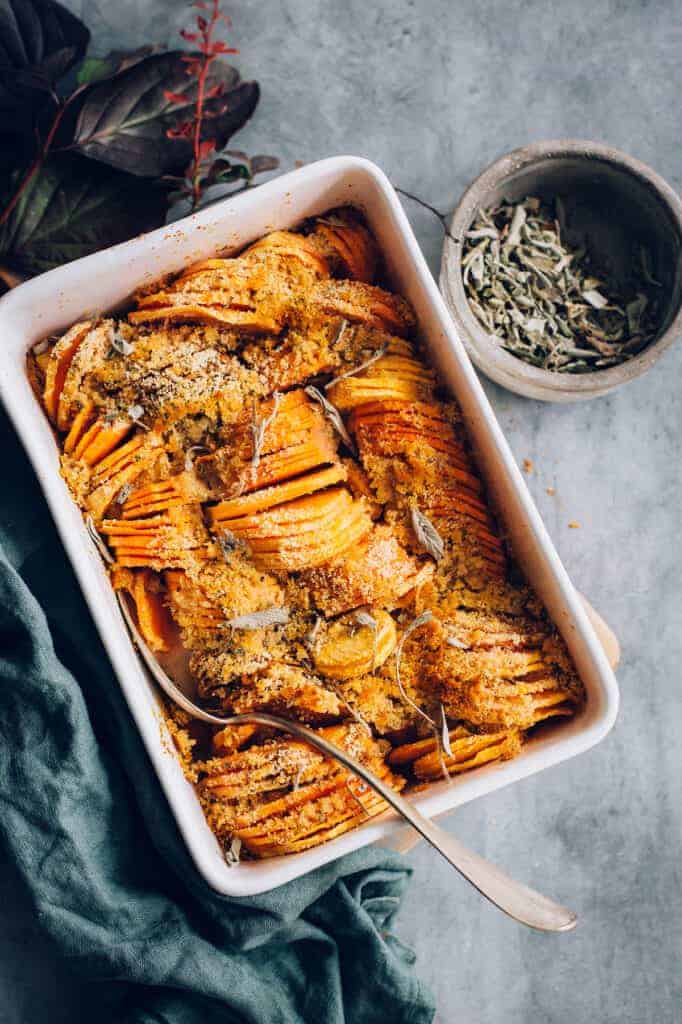 Looking for more interesting ways to cook with sweet potatoes? Try our Vegetarian Enchilada Skillet with Sweet Potatoes and Black Beans, our Moroccan Stew with Sweet Potato, Chickpeas, and Spinach, or our Cumin-Roasted Sweet Potato Tacos.
Did you try this recipe? Post your photo and tag us #helloglowblog on Instagram so we can share it with our community.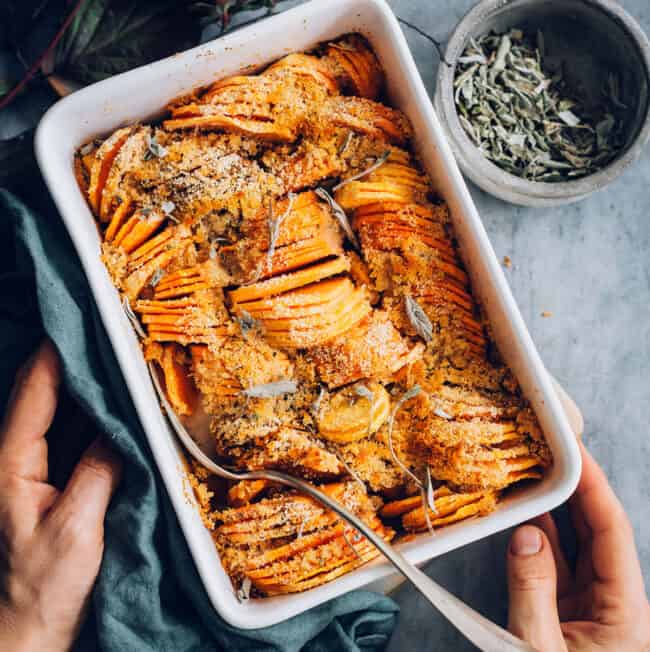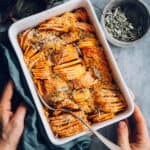 Print Recipe
Savory Sweet Potato Casserole (Vegan and Gluten-Free)
Made with sliced sweet potatoes and topped with a sage-infused gluten-free crumble, this healthy sweet potato casserole makes a great side dish for your Thanksgiving dinner, and its packed with minerals, vitamins, and fiber.
Ingredients
6

sweet potatoes

peeled

4

tablespoons

coconut oil

2

teaspoons

sage,

dried, (or 4 leaves if fresh)

1

cup

gluten-free breadcrumbs

1/2

teaspoon

salt

1

teaspoon

garlic powder

1

tablespoon

nutritional yeast

1/2

teaspoon

cayenne pepper
Instructions
Preheat the oven to 200°C/400°F.

Cut the sweet potatoes into thin slices using a sharp knife or a mandolin (this will require more time), and place them in a large bowl.

Heat 2 tablespoons coconut oil into a skillet, then add 1 teaspoon dry sage and infuse for a minute over low heat.

Drizzle the infused coconut oil over the sweet potatoes, season with salt and cayenne pepper, and toss to coat evenly.

Arrange the sweet potato slices into a baking casserole, and bake covered for 45 minutes.

Add the GF breadcrumbs into a food processor with the rest of the coconut oil, sage, garlic powder, and nutritional yeast, and pulse it to obtain a crumble.

Remove the sweet potato casserole from the oven, top with the crumble, and bake uncovered for 15 more minutes, until the crumble is golden and the potatoes are tender.

Remove from the oven and serve as a side dish or on their own, next to a salad.
3