This is a sponsored conversation written by me on behalf of Pinnacle Foods & Boulder Brands. The opinions and text are all mine.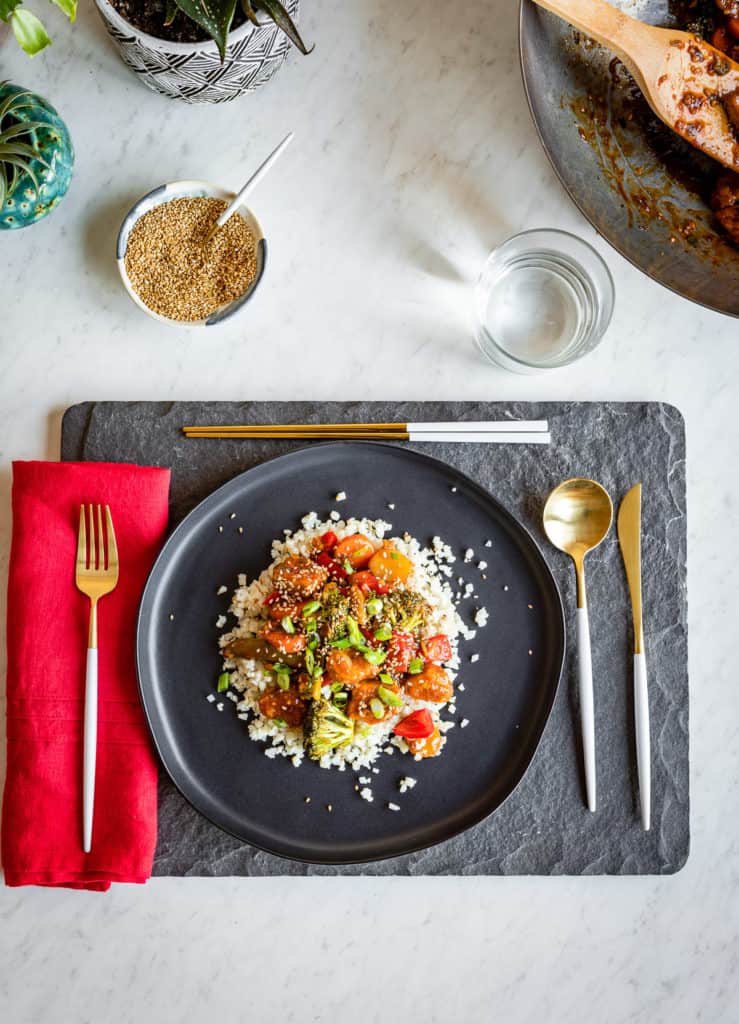 When it comes to quick and easy dinners, this Vegetarian Stir-Fry might just take the cake! We've partnered with Birds Eye®, Earth Balance®, and Gardein™ to create a delicious plant-based meal that can be made in under 30 minutes.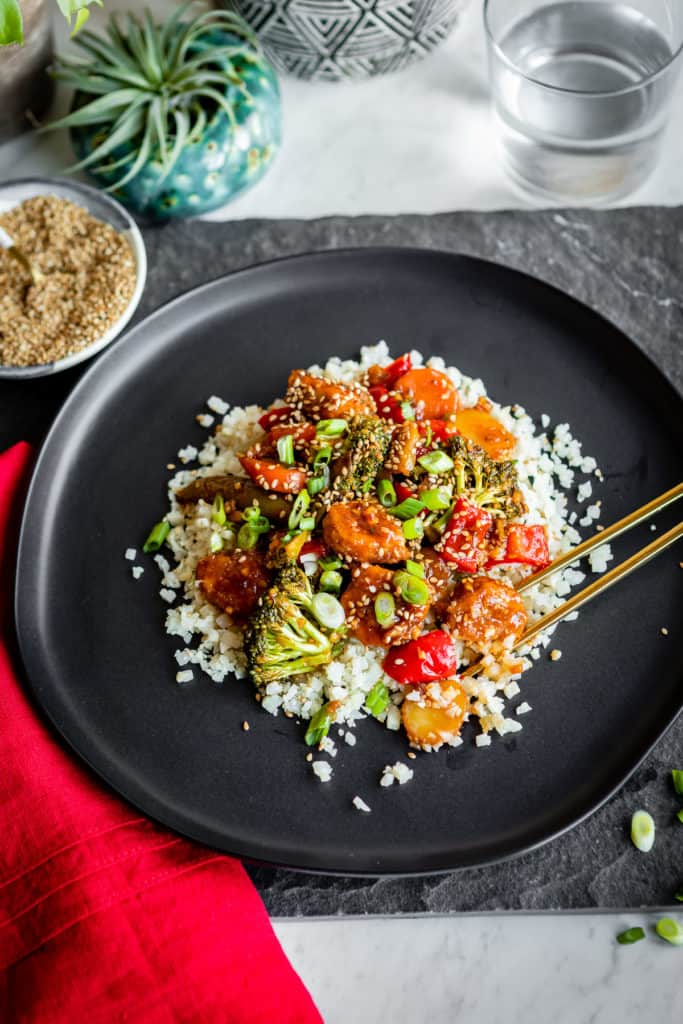 This Vegetarian Stir-Fry uses a combination of a few fresh veggies and Birds Eye® Steamfresh® frozen veggies stir-fried in Earth Balance® Organic Whipped Buttery Spread with baked Gardein™ Seven Grain Crispy Tenders, and a sweet and spicy Asian-style sauce, all served atop Birds Eye® Steamfresh® Veggie Made™ Original Riced Cauliflower. All of these products offer convenience without sacrificing flavor or quality and can be purchased at your local Publix store.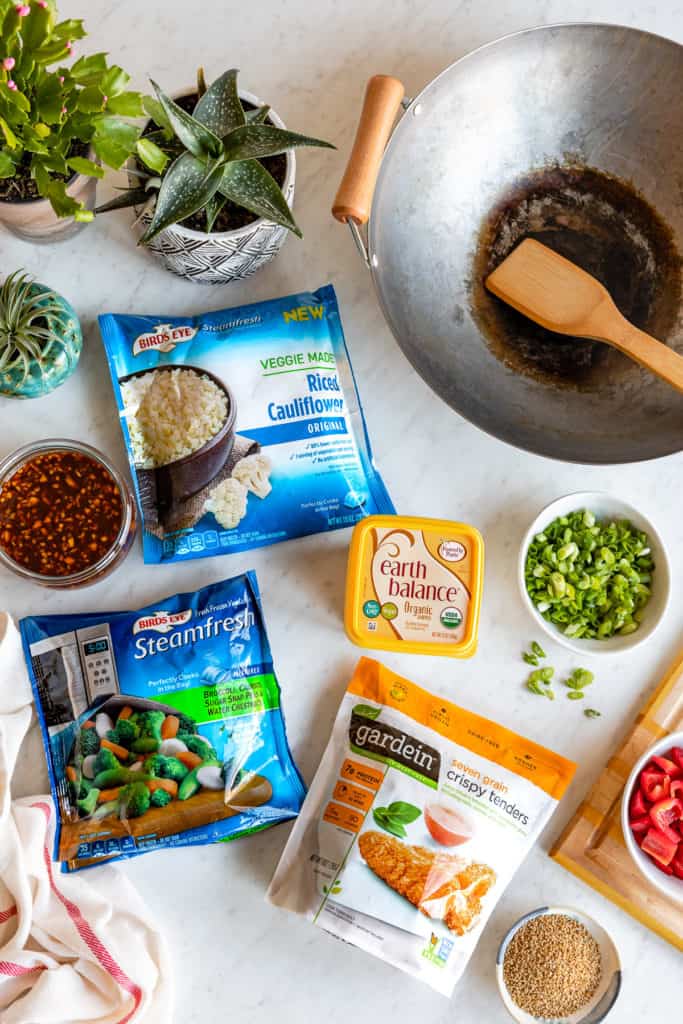 Why Frozen Foods Are Always in My Freezer
Frozen foods are a staple item in my freezer. I really rely on frozen veggies to make meal time easier and help my family reach the daily recommended servings of vegetables. Birds Eye Steamfresh products help me pull flavorful dinners together in a snap. Just pop the bag of veggies into the microwave for a few minutes, or add them to a stir-fry, soup, stew, casserole, or any oven or stovetop meal.
Buying frozen veggies helps me eliminate food waste because I can buy the veggies and use them when it's convenient for me. It saves me time – no chopping, no mess, easy as can be. Frozen veggies offer real versatility for making delicious meals and Birds Eye Veggie Made products have no artificial flavors, colors or preservatives. Total win-win.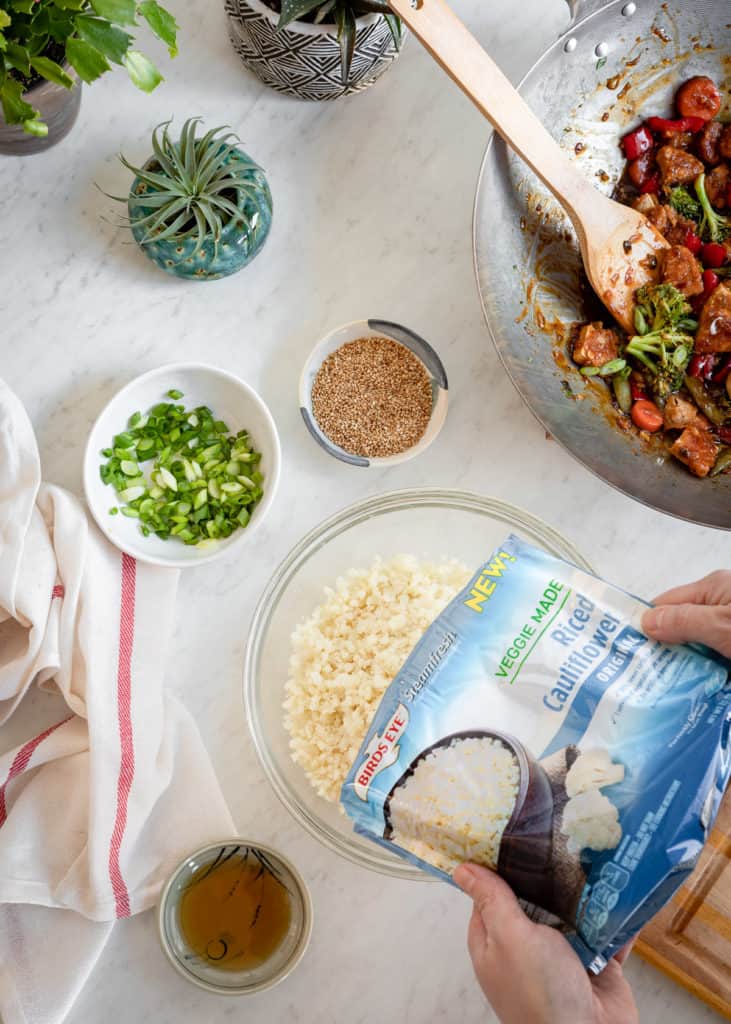 Birds Eye Steamfresh Veggie Made Original Riced Cauliflower is one of my go-to faves. I keep a few bags handy in my freezer to use as the perfect side for stir-fries and curries, the base of veggie bowls and fried "rice," etc. Cauliflower rice can be served plain or dressed up a bit with the addition of spices, herbs, nuts and seeds, and/or flavorful oils such as toasted sesame oil.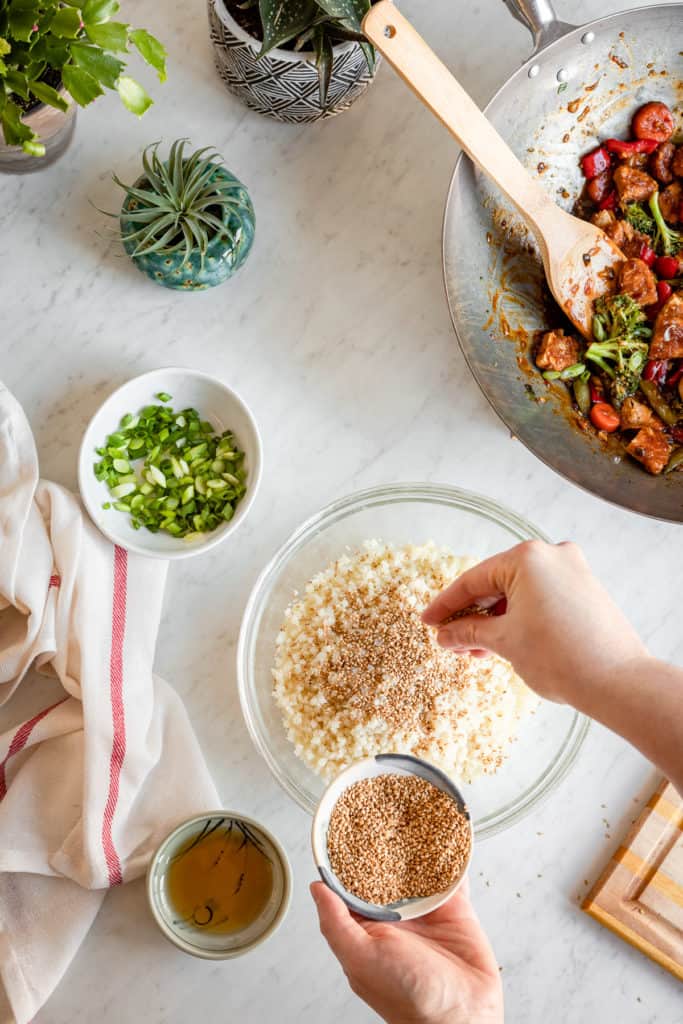 This vegetarian stir-fry also uses Birds Eye Steamfresh Mixtures Broccoli, Carrots, Sugar Snap Peas & Water Chestnuts, a great combo for Asian-style recipes. I use the different mixtures and blends all the time for Thai curry, vegan soups, casseroles, or as a quick side. The Riced Cauliflower and other Birds Eye products can be found in the frozen veggie section.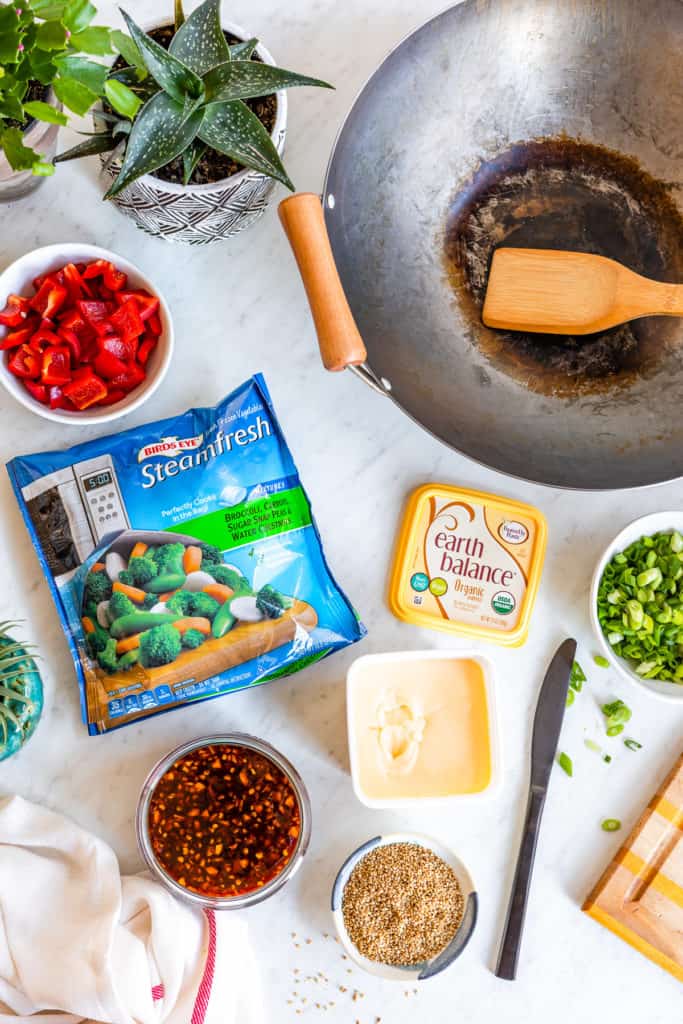 Organic Vegan Butter
Earth Balance Organic Whipped Buttery Spread is something I use all the time in cooking and baking. I love the buttery flavor it adds to whatever I'm making. Buttery Spread is so good slathered on toast and muffins, and melting in a puddle on top of roasted veggies and mashed potatoes. It's a great option for plant-based recipes, like this vegetarian stir-fry. The vegan butter adds a lot of flavor and complements the veggies, Crispy Tenders, and sweet and spicy sauce perfectly.
Earth Balance Buttery Spread is:
Non-GMO and certified organic
100% vegan
Dairy and lactose-free
Gluten-free
Free from trans fats* and MSG
An excellent source of ALA (alpha-linolenic acid) Omega-3
Look for Earth Balance Organic Whipped Buttery Spread in the dairy section near the other butters and spreads.
*see nutrition information for fat and saturated fat content
Gardein Seven Grain Crispy Tenders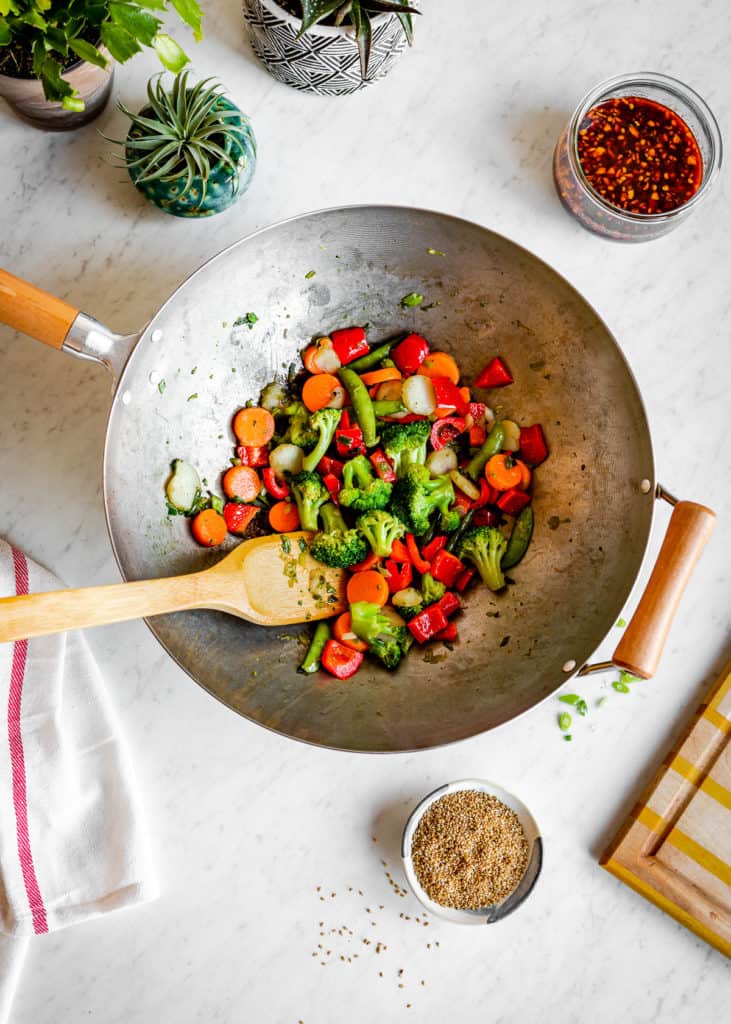 Gardein offers a range of wholesome, delicious plant-based foods with a meaty texture. Made with soy, wheat, and pea proteins, vegetables, and ancient grains like quinoa, amaranth, millet and kamut®, Gardein Seven Grain Crispy Tenders are a great plant-based protein that is 100% vegan.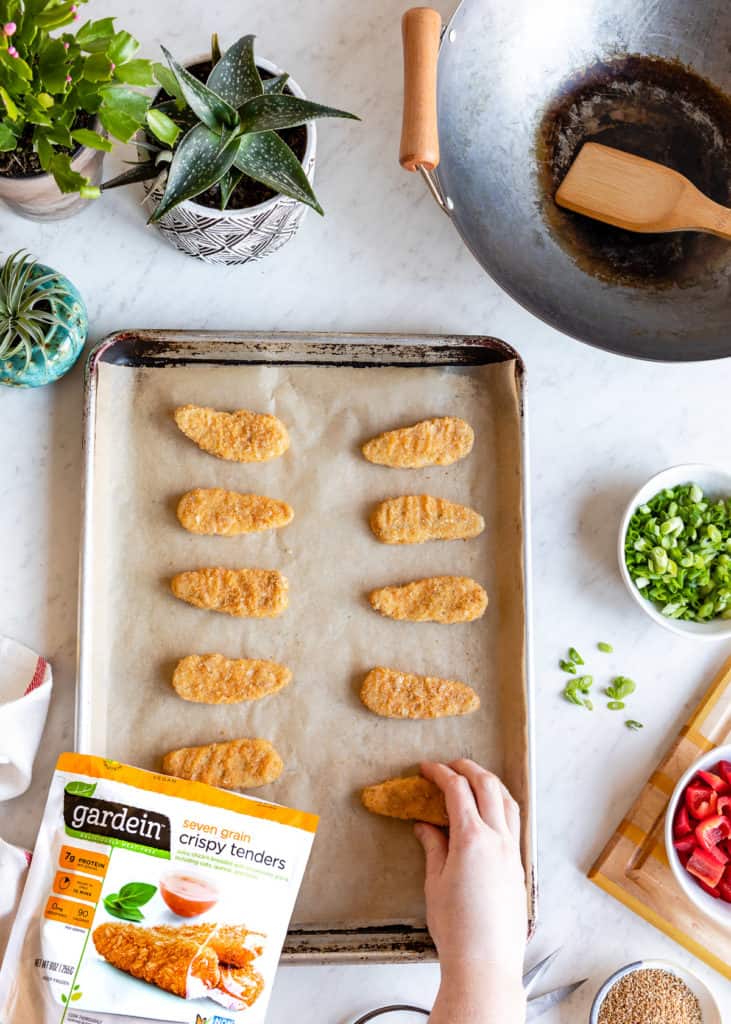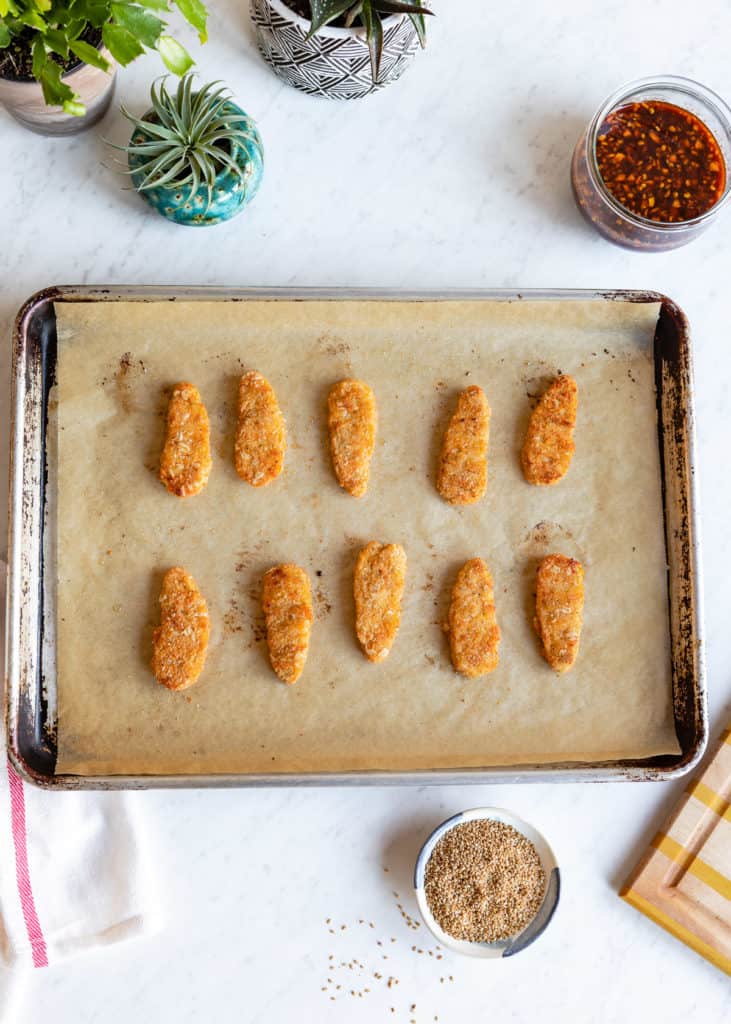 Though I've bought other Gardein products before, this was my first time trying Gardein Seven Grain Crispy Tenders, and it definitely won't be the last time! The flavor and texture of the crispy tenders was a hit with my family and we plan to add them into our regular meal rotation. The crispy tenders and other Gardein products can be found in the frozen natural foods section.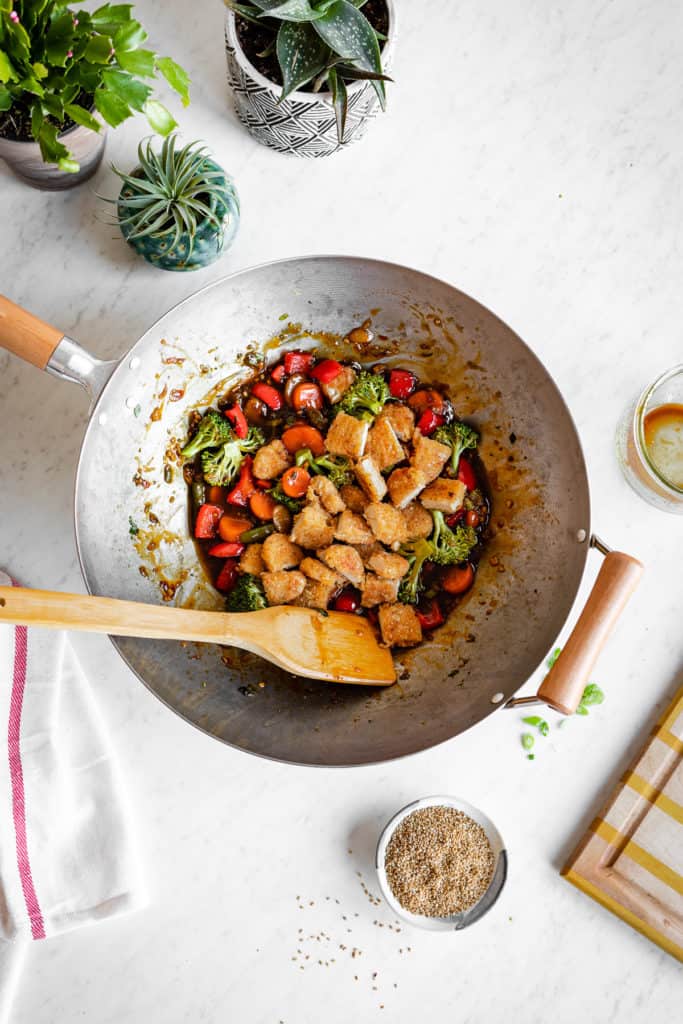 In this recipe I baked the Crispy Tenders first, then cut them into smaller bite-size pieces before adding them to the stir-fry.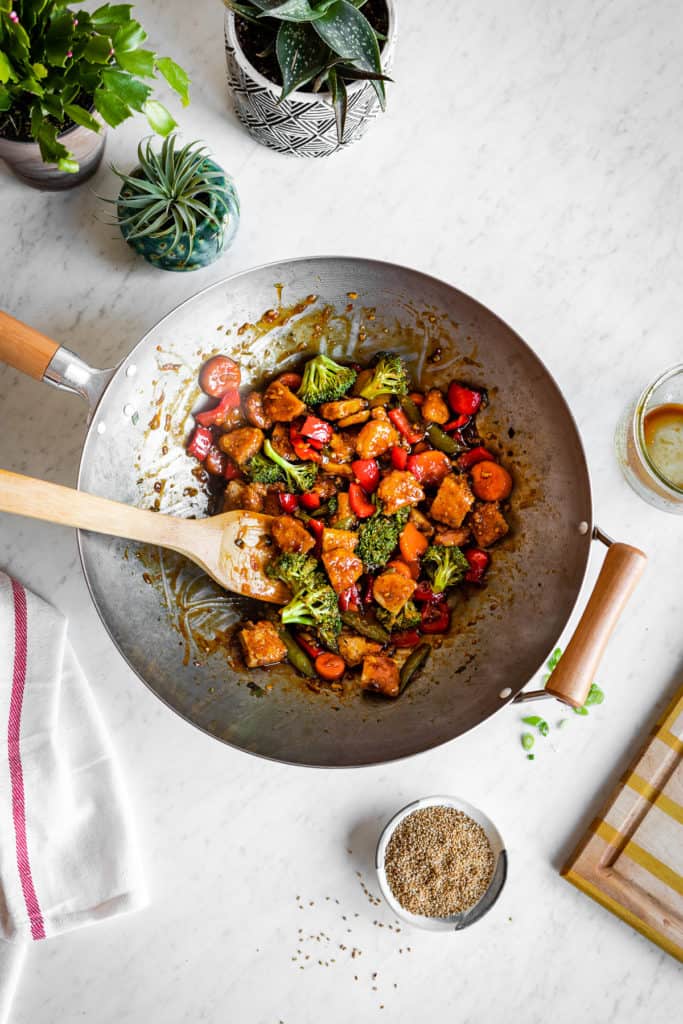 Sweet and Spicy Stir-Fry Sauce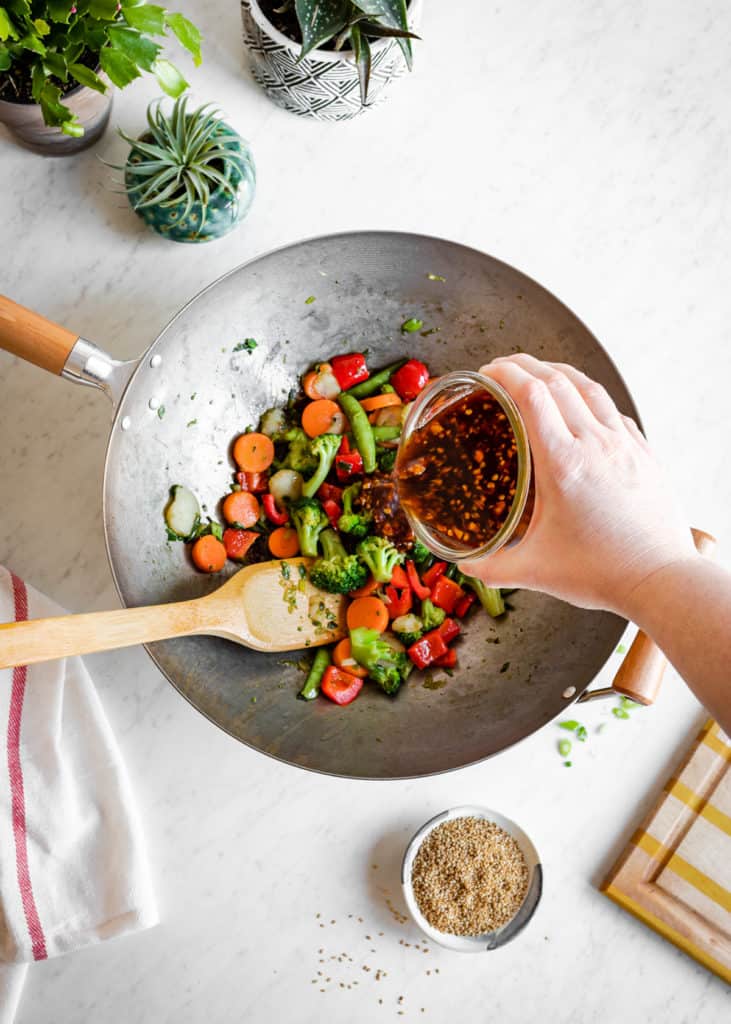 A good stir-fry needs a flavorful sauce. Common pantry ingredients come together for a sticky, sweet, and spicy sauce that is also 100% vegan to keep our meal plant-based. The punch of heat comes from both sambal oelek and sriracha, and plenty of fresh ginger. The sweet comes from brown sugar and maple syrup. Rice wine vinegar adds a little tang and Tamari adds umami and salt to round things out.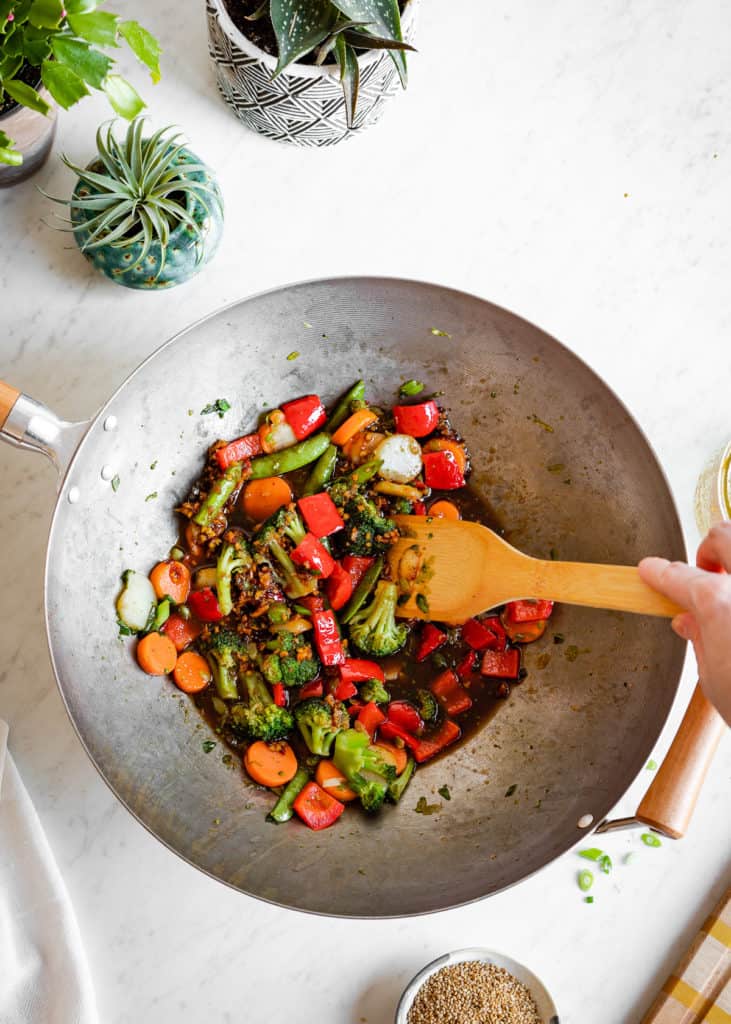 In order for the sauce to thicken and have that irresistible sticky texture, cornstarch or arrowroot powder is added. As soon as the sauce hits the hot wok, it will start to thicken and coat the veggies in deliciousness. The pre-baked Crispy Tenders are added at the end. Everything soaks up that tasty sauce, including the sesame riced cauliflower.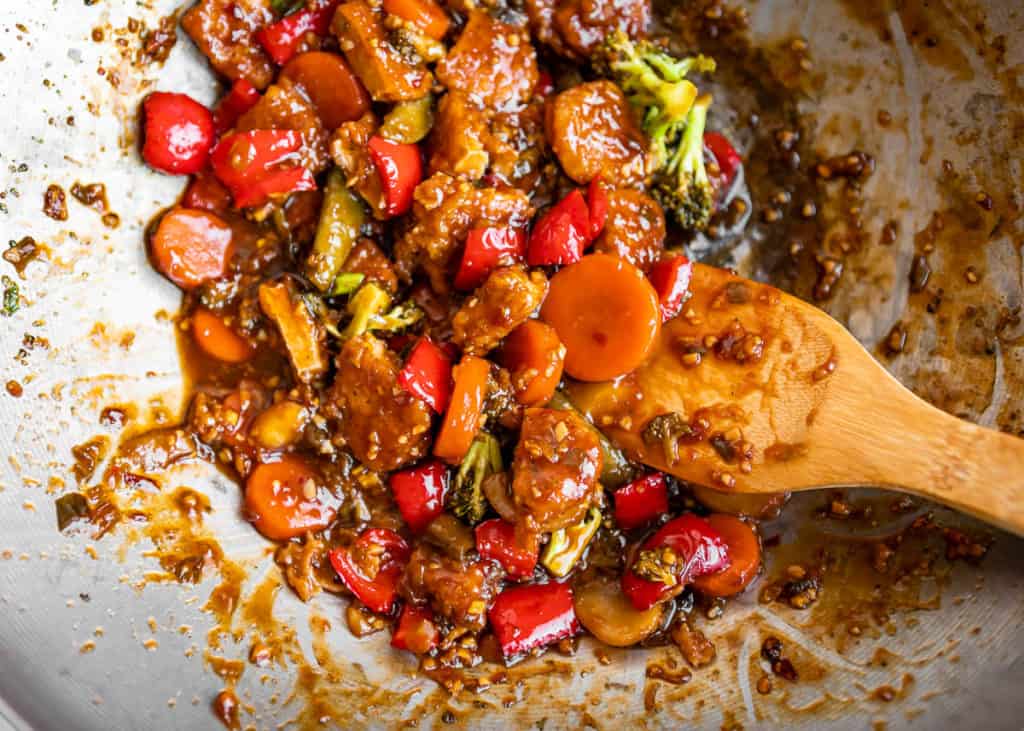 Save Money at Publix!
Put this Vegetarian Stir-Fry on your menu and head on over to the Publix Go Plant Made site to save $1.00 on any 1 Earth Balance Spreads product, $1.00 off any 1 Gardein product, $3.49 Birds Eye Steamfresh Veggie Made Tots or Fries and $3.49 Birds Eye Steamfresh Veggie Made Pasta, Mashed or Riced items.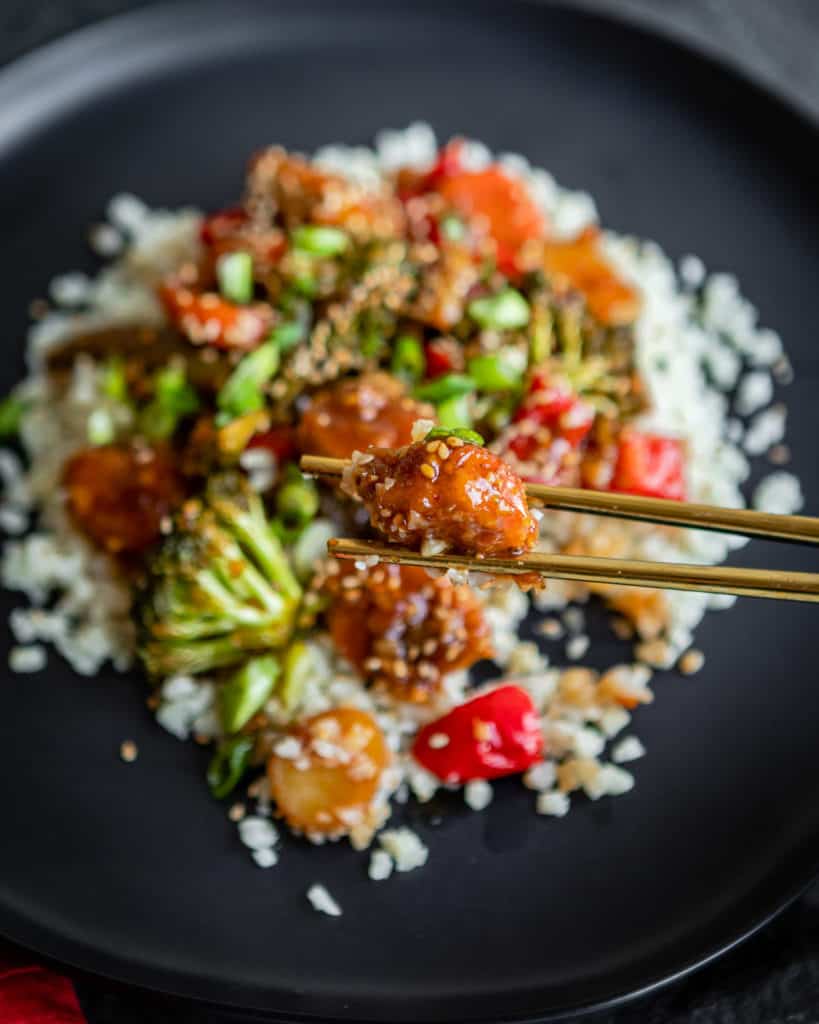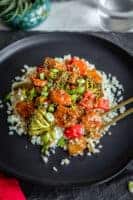 Print
Sweet and Spicy Vegetarian Stir-Fry with Crispy Tenders
Yield 4 servings
This 100% plant-based meal comes together in a snap! Made with a combination of fresh and frozen foods, this stir-fry is convenient and easy to make, but doesn't skimp at all on flavor.
Ingredients
9 ounce bag Gardein™ Seven Grain Crispy Tenders
For stir-fry sauce:
2 teaspoons cornstarch or arrowroot powder
4 tablespoons Tamari or soy sauce
2 tablespoons brown sugar
2 tablespoons maple syrup or honey
2 tablespoons rice wine vinegar
1 tablespoon sriracha
1 tablespoon sambal oelek
1 tablespoon fresh ginger, minced
2 teaspoons garlic, minced
2 teaspoons toasted sesame oil
For stir-fry:
2 tablespoons Earth Balance® Organic Whipped Buttery Spread
1 red bell pepper, diced
1/2 cup green onions
1 (10.8-ounce) bag Birds Eye® Steamfresh® Mixtures Broccoli, Carrots, Sugar Snap Peas & Water Chestnuts
For serving:
2 (10-ounce) bags Birds Eye® Steamfresh® Veggie Made™ Original Riced Cauliflower, cooked according to package directions, warm
1 tablespoon toasted sesame oil
2 teaspoons toasted or raw sesame seeds, plus more for garnish
Salt, to taste
2 tablespoons thinly sliced green onions, for garnish
Instructions
Preheat oven to 430°F. Line a rimmed baking sheet with parchment paper or foil.
Place Gardein Seven Grain Crispy Tenders on baking sheet and bake according to package directions, 16-20 minutes, or until golden. Keep warm.
While Crispy Tenders are baking, prepare stir-fry sauce.
Place the cornstarch in a medium bowl or in a pint jar. Stir in the Tamari making sure the cornstarch is completely dissolved and no lumps remain. Add the remaining ingredients. Set aside.
Heat a wok or very large nonstick skillet over medium-high heat. Add the Earth Balance Organic Whipped Buttery Spread and allow to melt and heat up; about 30 seconds.
Add the bell pepper and green onions to the wok or skillet. Stir-fry for 3-5 minutes, then add the Steamfresh vegetable blend. Continue stir-frying, adding a little water, if needed, until veggies are tender-crispy. Add the stir-fry sauce to the pan and allow to cook for 2-3 minutes to allow sauce to thicken.
Cut the Crispy Tenders into thirds and add to the wok or skillet. Toss well to coat.
Place cooked Riced Cauliflower into a serving bowl and stir in the sesame seeds and toasted sesame oil along with a good pinch of salt.
To serve, divide the Riced Cauliflower and stir-fry between four shallow bowls or plates. Top with a sprinkle of sliced green onions and sesame seeds, and serve immediately.
Notes
Other blends or mixtures of frozen vegetables can be substituted for the one used in the recipe.
Courses Dinner, Main Dish
Cuisine Healthy, Asian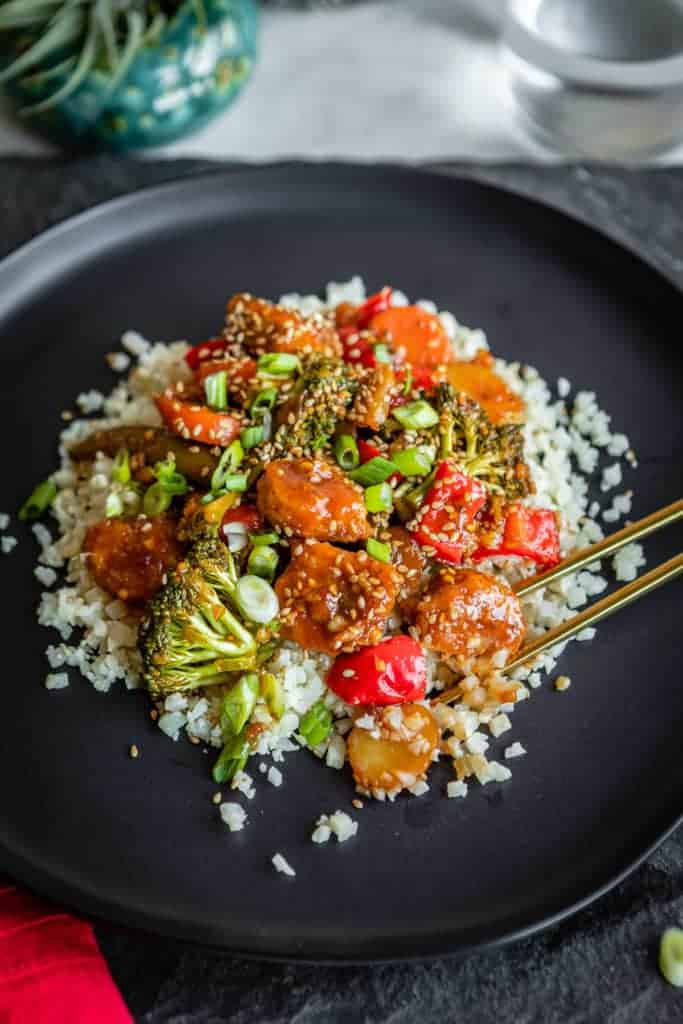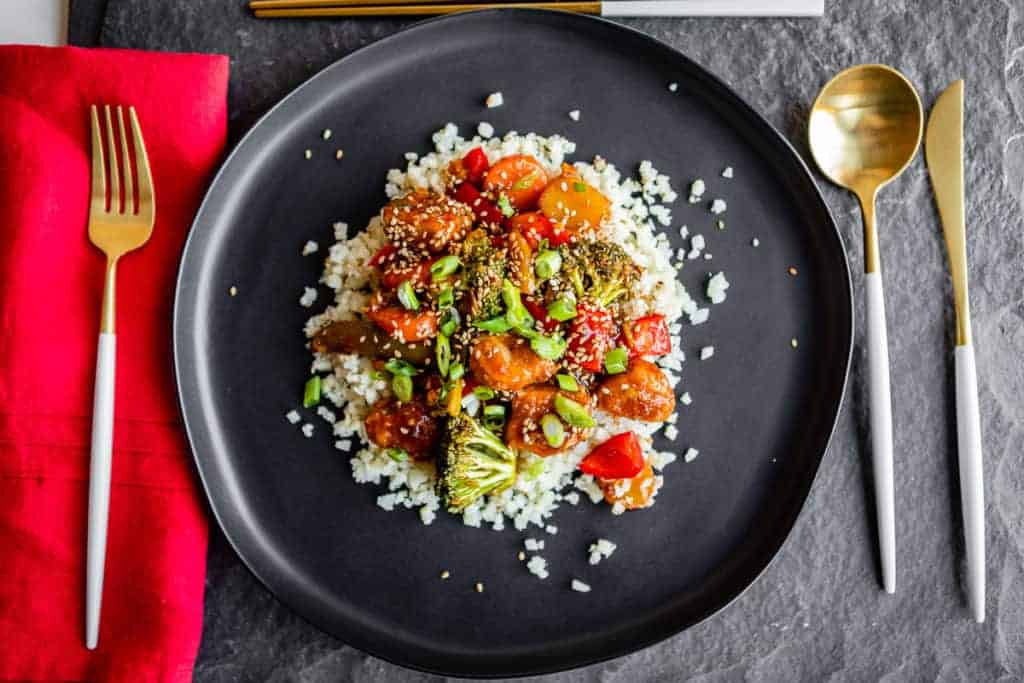 8