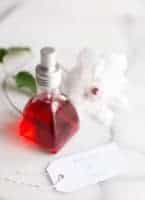 Hibiscus Tea Toner Mist With Vitamin C
Yield 7 oz
A simple vitamin C toner recipe that's easy to make, inexpensive and highly effective at strengthening the skin's defenses against aging.
Ingredients
6 ounces water
3 bags hibiscus tea
1 ounce witch hazel
1/2 teaspoon vitamin C powder
Instructions
Bring six ounces of water to boil, turn off heat, and add three organic hibiscus teabags.
Steep covered for 20 minutes.
Remove teabags and add one ounce of alcohol-free witch hazel and 1/2 teaspoon of vitamin C powder.
Transfer to a small spray bottle. Keep in a cool, dry spot and use within 2 weeks. Refrigerate for longer shelf life.
Apply a bit to the neck to make sure you don't have any sensitivity, then use morning and night after washing your face.
Recipe by Hello Glow at https://helloglow.co/vitamin-c-toner-recipe/