Winter is coming… which means it's time to start thinking about Vitamin D. How much you need, how you can get it, and whether or not you should supplement are all things to consider.
Here's a fun fact–vitamin D isn't actually a vitamin! As it turns out, vitamin D is a pro-hormone. Pro-hormones are intra-glandular precursors of hormones which enhance the effect of existing hormones. When vitamin D was first discovered in the 1920's, it was misclassified as a vitamin, and the name stuck!
Vitamin D is important for many biological processes. It helps to both form our teeth and bones, and maintain healthy bones. It contributes to our nervous system, immune system, and metabolism, and helps regulate blood calcium levels. Vitamin D has also been linked with cardiovascular disease, depression, diabetes, breast, colon, and prostate cancers, autoimmune diseases, influenza, and the common cold.
There are over 2800 known vitamin D binding sites on our DNA, which is pretty amazing because it means that almost all of the cells and tissues in our body are able to convert vitamin D from a pro hormone into its active hormone form.
So, why is vitamin D in winter such a big deal?
Well, one of the best sources of vitamin D is sunlight, as exposure to UVB rays causes cholesterol in our skin to synthesize vitamin D3. Anything that blocks UVB rays, such as clothing, sunscreen, windows, complexion, and age, will also block vitamin D production by our skin. In the winter because daylight hours are limited, we tend to have less overall exposure, and since we wear more clothing than we do in warmer months, there is less opportunity for UVB rays to reach our skin.
If you live above 42° North latitude (think Boston, or just north of Chicago) your skin can't make any vitamin D from about October to April due to lack of UVB rays.
If you're not getting adequate vitamin D from the sun, you need to get it from other sources. These include food sources with naturally occurring vitamin D3, fortified foods, and supplements. For adults, the recommended daily intake of Vitamin D from all sources combined, including sunlight, fortified, foods, and supplementation is 600 IU/15 mcg.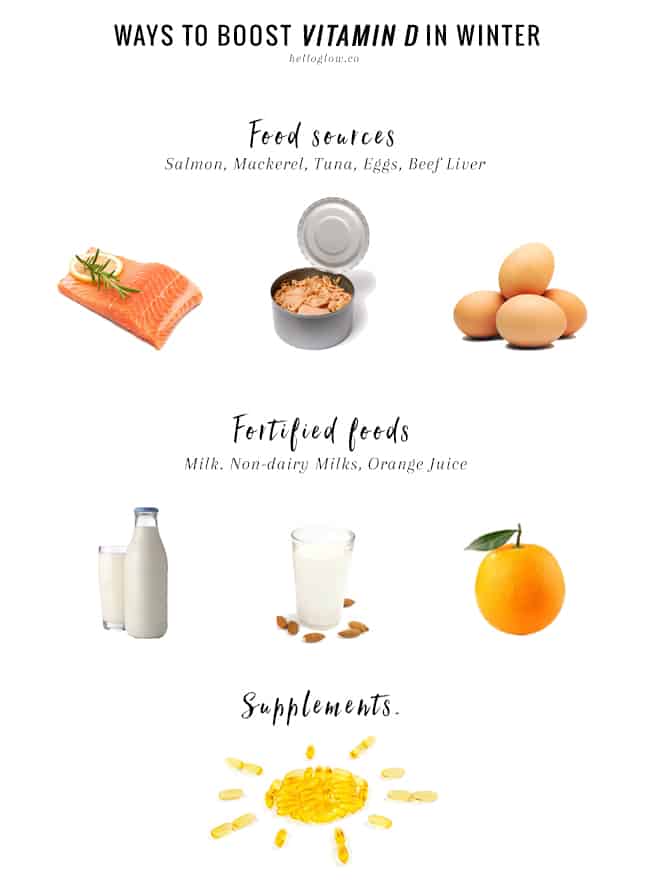 Natural Food Sources of Vitamin D
Fatty fish such as mackerel, salmon, and tuna is a good source of vitamin D3. For example a 3-ounce serving of salmon contains around 450 IU. Canned fish such as tuna and sardines are also a decent source of vitamin D, with around 150 IU per 3-ounce serving of light canned tuna.
Eggs–specifically egg yolks–are another good source of vitamin D. One egg yolk contains around 40-50 IU, depending on the size of the egg. Beef liver is also a good source of vitamin D, providing 50 IU per 3 ounce serving.
Fortified Foods
There are many foods that are fortified with vitamin D. In the US most milk is fortified, containing 100 IU per 8 ounce serving. Other dairy products such as cheese and yogurt aren't reliably fortified, so you'll need to check the labels.
Non-dairy milks such as soy and almond milk are usually fortified at the same level as cow's milk, providing 100 IU per 8 ounce serving. Orange juice is often fortified as well, just check the label on your favorite brand.
Non-dairy milks and orange juice are often fortified with vitamin D2, which is the vegan version of vitamin D, made mainly from mushrooms or yeast irradiated under UV light. In fact, some mushrooms grown under UV light are available in the regular grocery store, and are rich in vitamin D2.
Vitamin D Supplements
D3 supplements are manufactured through the UV irradiation of a substance derived from sheep's wool. Supplementation provides a reliable source of vitamin D. Some healthcare providers recommend year-round supplementation so that you don't forget to start taking them during the darker months. I personally take a lower dose in the summer and a higher dose in the winter when I need it most.
If you're vegan and don't like the idea of taking vitamin D3 since it is derived from sheep's wool, there are vegan supplements in the form of D2. However, it is fairly widely accepted that vitamin D2 is less potent than D3, so if you prefer to stick with a vegan supplement, you may want to consider a higher dose.
6