If you are skeptical about the cauliflower rice hype, this Asian-inspired spiced recipe with coconut milk, raisins, and toasted almonds will make you change your mind. It is true that cauliflower will never taste like rice, but we also discovered that the cauliflower rice buzz comes from its flavors.
You will not forget about the fluffy texture and the creaminess of the rice, but with the right spices, the right cooking technique, and only 7 g versus 45 g of carbs per cup, cauliflower rice will soon become a staple.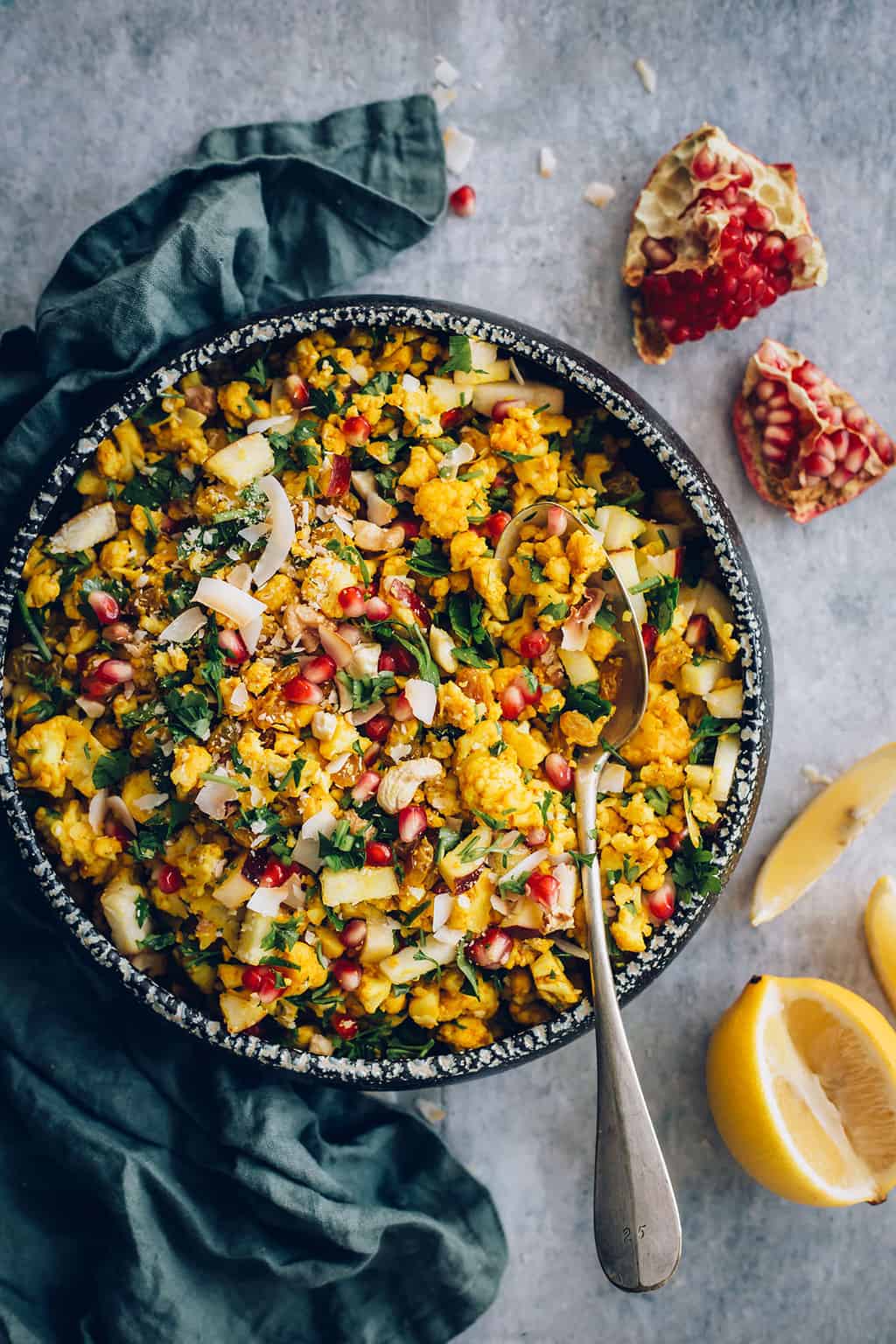 Why eat cauliflower
?
Just like all its relatives from the cruciferous family of vegetables (kale and broccoli being its green superstar cousins), cauliflower has health benefits that should make us consider eating it more often. Cauliflower rice is a great way to consume this humble veggie because it doesn't require intensive cooking such as boiling, which destroys most of its nutrients, and it can also be served raw.
The highlight of the nutrients found in cruciferous vegetables is a class of phytonutrients called glucosinolates [source]. These beneficial compounds are involved in the natural detoxification process of our cells. They contain anti-inflammatory properties, have demonstrated anticancer effects, and play a supporting role in the body's immune system [source]. In addition, B vitamins (particularly folate), omega-3 fatty acids, and fiber are present in significant concentrations in cauliflower.
How to make cauliflower rice
The idea behind making the cauliflower rice is pretty simple:
—Cut the cauliflower into florets.
—Add it into the food processor with an S blade
—Pulse to obtain the rice texture, making sure not to over-process to form a soggy mixture.
Starting from this basic procedure, from then on, it's a matter of your available time and taste preferences.
If you don't have a food processor, you can use a sharp knife to cut the cauliflower florets into smaller ones until you get a rice-like texture. You don't need to be very precise; the idea is to have a texture that resembles rice without large chunks reminding you constantly what you're actually eating.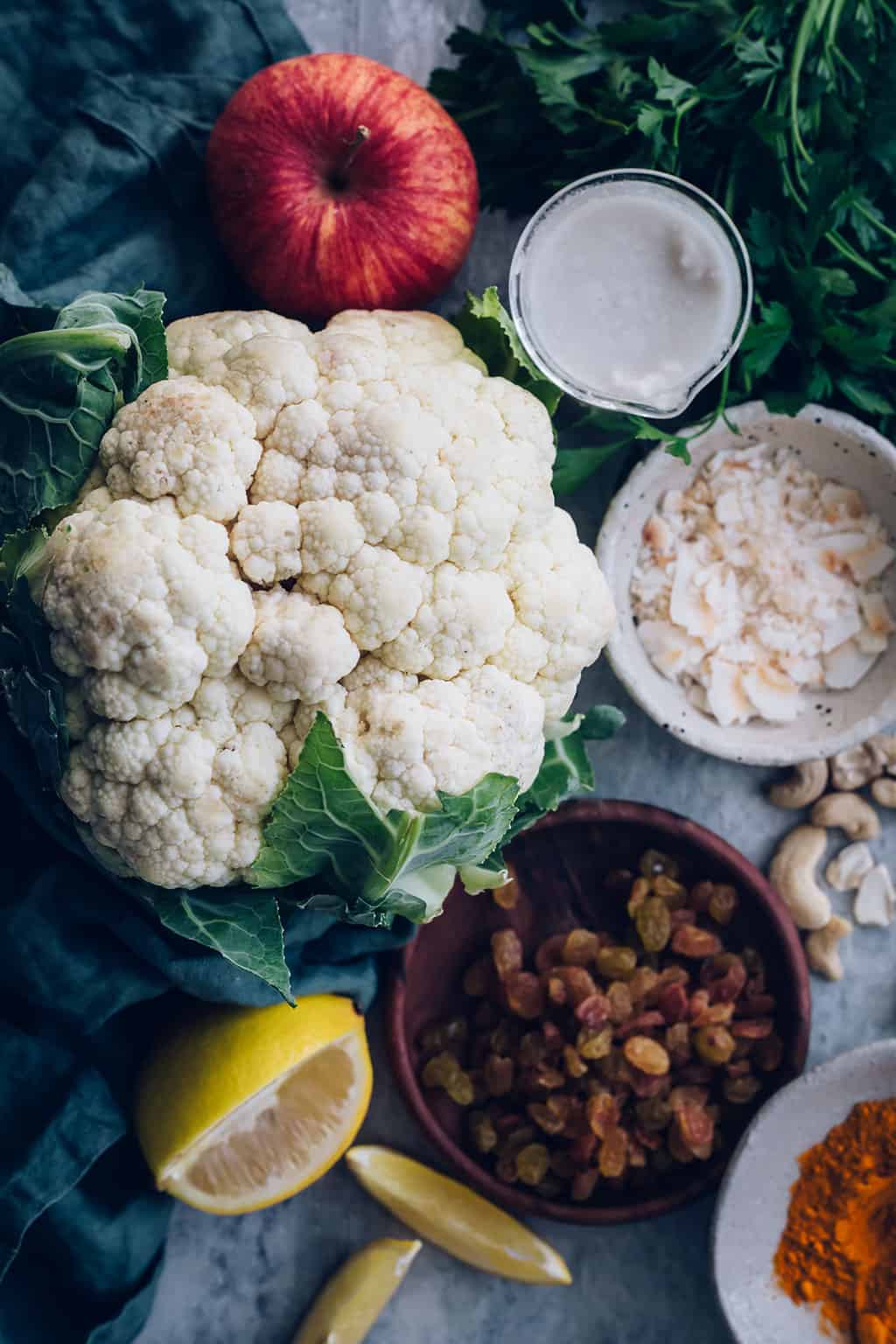 You can go further and roast the cauliflower florets first to enhance their flavor. This is a technique that I love because I usually roast a lot of cauliflower during our meal prep, and it's a way to vary its appearance in meals throughout the week. However, the texture of roasted cauliflower is less fluffy and more spongy than when cooked in a skillet because it's lost most of its liquid and volume.
You can serve the cauliflower rice raw, replacing the grain from a classic salad (a tabbouleh, for instance). Or you can experiment with spices, textures, and flavors—cooking the rice with spices or adding a crunch from nuts and seeds, as we did with this Asian dish that we just can't get enough of.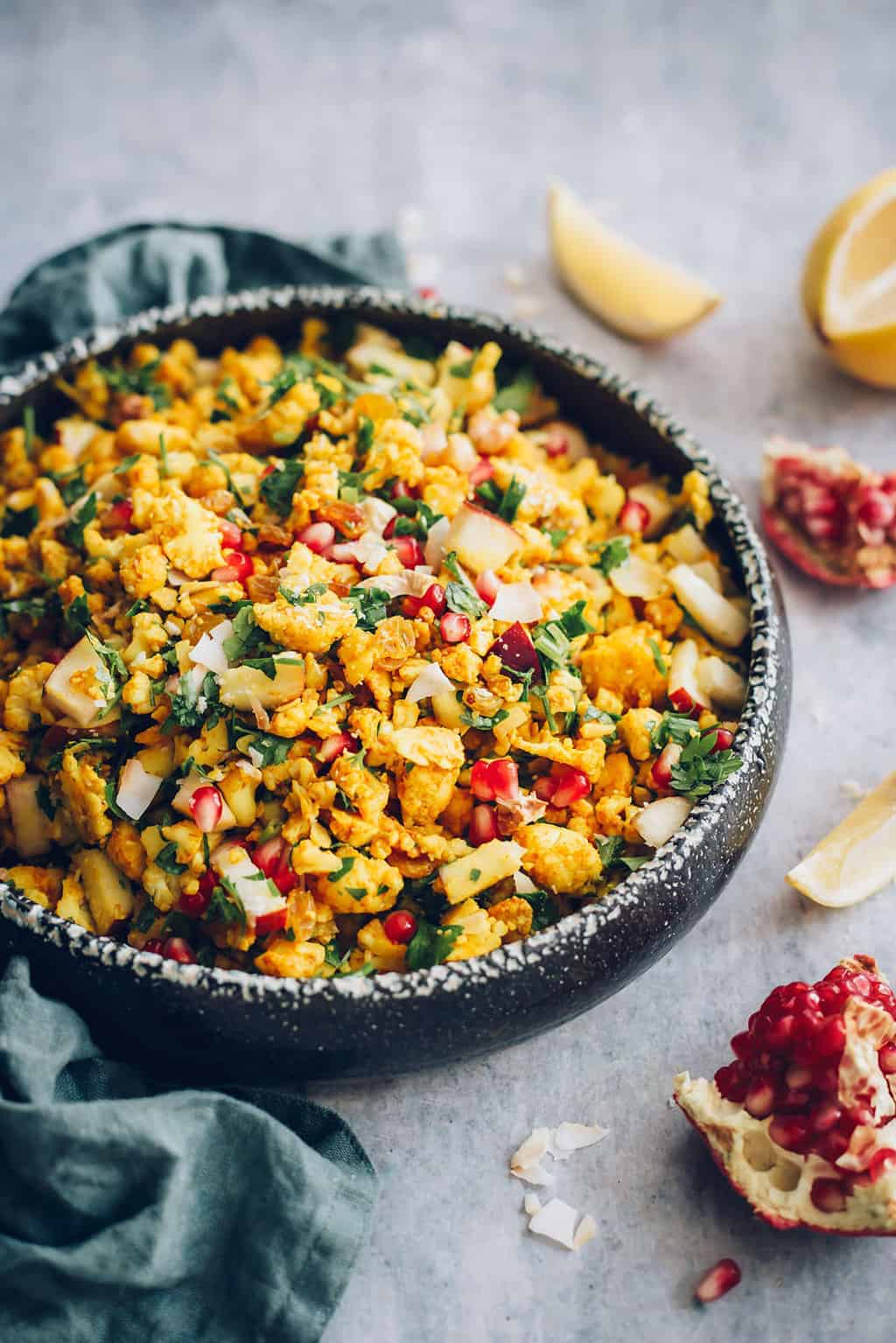 Looking for more interesting ways to cook with cauliflower? Try our Greek Briam with Cauliflower, our Cauliflower Baked Ziti, or our Cauliflower Falafel Power Bowls.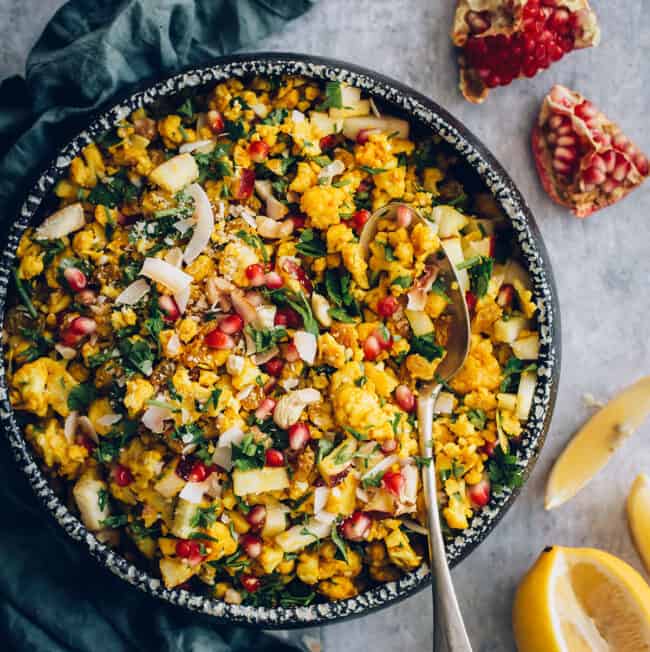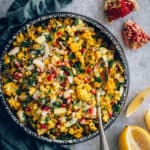 Print Recipe
Warm Curried Cauliflower Rice with Coconut Milk
Skeptical about the cauliflower rice buzz? Try our curried recipe with Asian spices and coconut milk for a low-carb alternative to the usual rice.
Ingredients
1

medium cauliflower head

2

tbsp

coconut milk,

full fat

1

tbsp

avocado oil

2

garlic cloves,

minced

1/2

cup

lightly toasted almonds,

crushed

1

pomegranate,

seeds only

1

tbsp

raisins

1

apple,

core removed, cut into small cubes

1

bunch

fresh parsley

1/4

cup

toasted coconut flakes

1

tbsp

lemon juice

2

tsp

curry powder

Freshly ground black pepper

1/2

tsp

salt

1/4

tsp

cayenne pepper
Instructions
Cut the cauliflower into florets and add into a food processor with an S blade.

Pulse 3 or 4 times to obtain a rice-like texture, making sure you don't over-process.

If the cauliflower becomes too soggy, strain through a cheese cloth to remove the excess liquids.

Heat the avocado oil in a cast-iron skillet, and add the cauliflower rice and garlic.

Cook over medium heat for 5 minutes, stirring frequently.

Add the curry powder, cayenne, black pepper, and season with salt. Then add the coconut milk and raisins and mix to combine.

Cook 5 more minutes, stirring frequently.

Transfer into a large bowl, then add the rest of the ingredients and mix to combine.
Nutrition
8