A comforting bowl of warm butternut squash curry, smelling amazing and packed with nutrients is our go-to meal after yoga sessions or for those long, cold fall evenings when it's raining outside and all the family is at home spending time together. This is a very easy meal, using the star of the season - butternut squash and other nutrient-packed veggies, bathed in a red curry flavored sauce.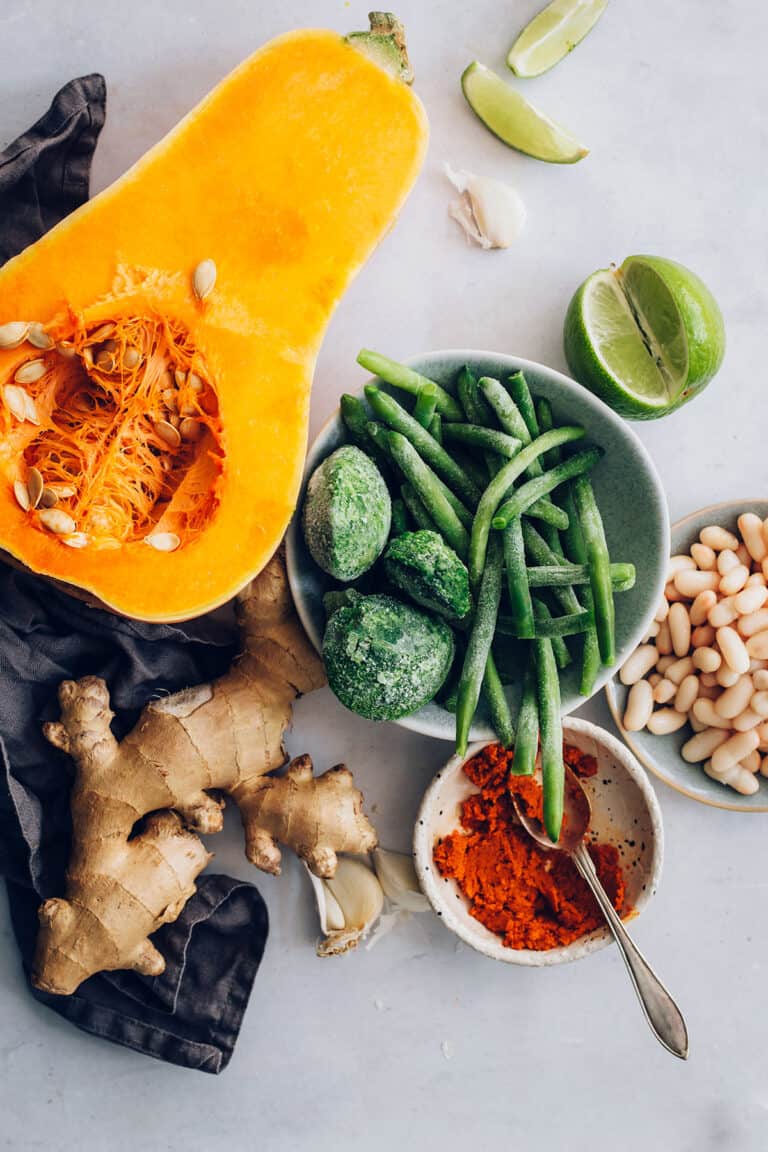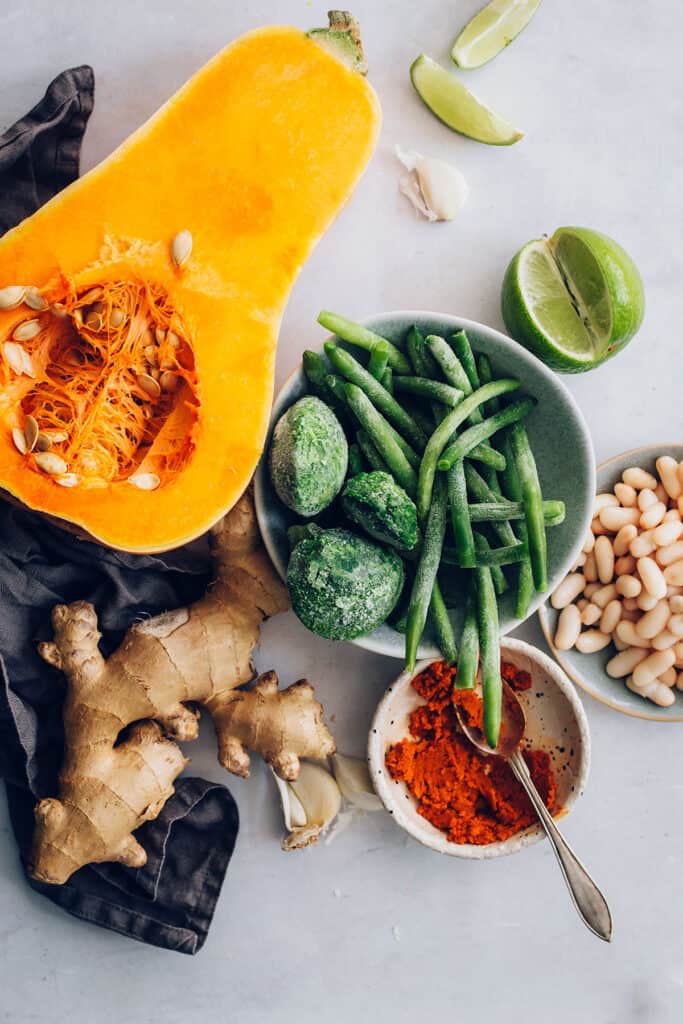 How to make butternut squash curry

First of all, there aren't special skills needed to make this comforting recipe! Cold season curries are all about spices and loads of veggies - the rest is just about your own ingredient preferences. We've chosen the butternut squash as the star of this curry because it's his season right now and we love to get the maximum benefits from the vegetables while they are in season and their nutritional load is at its peak!
When you think of winter squashes of all kind, consider high and very diverse load of antioxidant carotenoids, B vitamins, minerals (especially copper, manganese and potassium) and about 20%o of your percent daily value of fiber in just 1 cup.
For this curry, the butternut squash needs to be fresh, not roasted, because you want to get a textured dish and not a soup. The steps for preparing a butternut squash curry are fairly simple:
1. Start by rinsing and dicing your veggies, then cook for a few minutes in virgin coconut oil.
2. Add the red curry paste and spices.
3. Add the diced tomatoes with their juice, beans and coconut milk, and simmer until everything is tender. The coconut milk will give it a velvety, comforting taste and will enrich it nutritional load with healthy fats.
We didn't try it, but this this is a perfect candidate for preparing in the slow cooker too!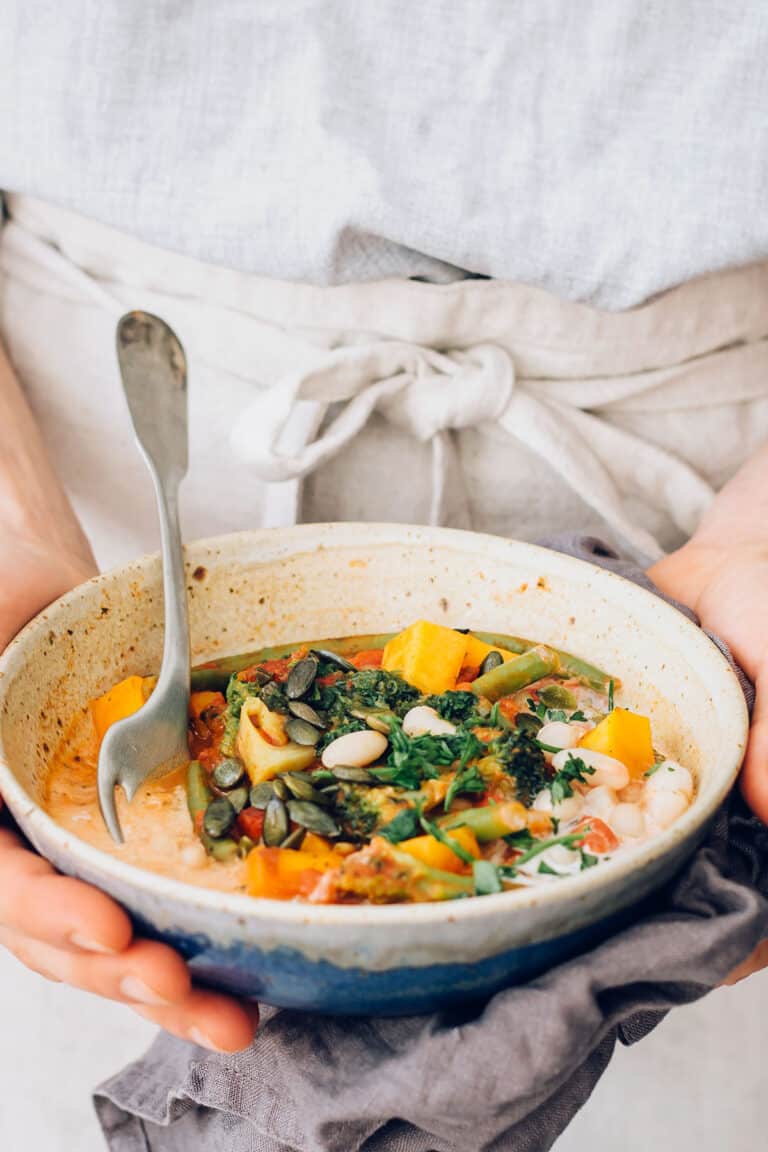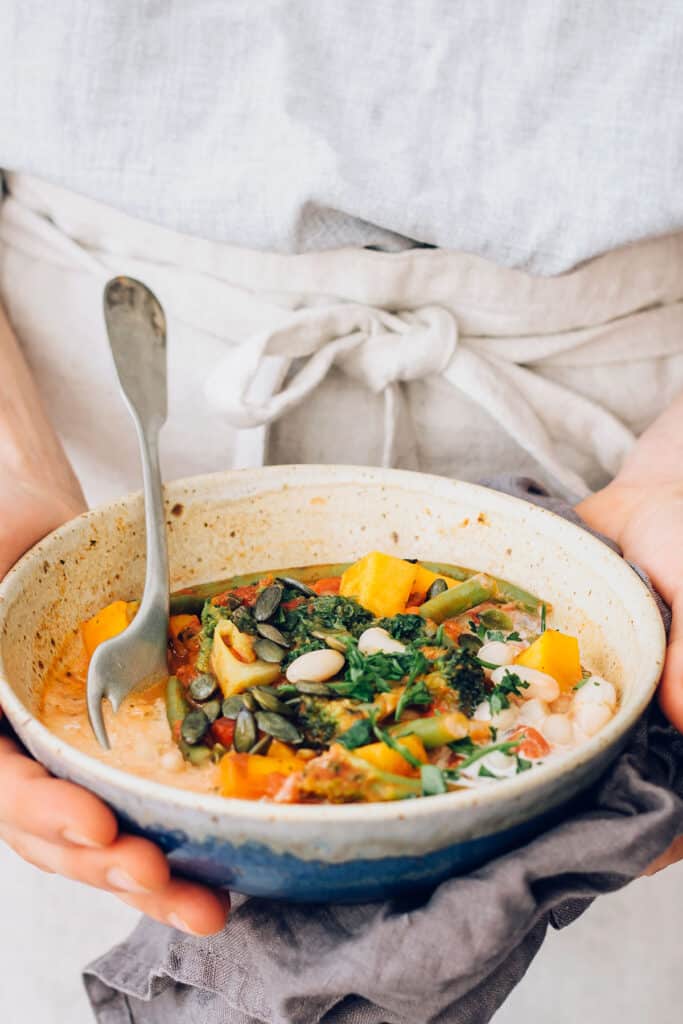 What vegetables go well with curry

The basic idea is - more vegetables, the better! We like to combine colorful veggies, especially ones that are in season, but you can also use fresh and frozen ones if available. Here are some of our favorites:
Green leafy vegetables - spinach, chard, beet greens, kale.
Root vegetables - carrot, potatoes, sweet potatoes, parsnip.
Other veggies - broccoli, cauliflower, bell pepper, onion, garlic
These aren't vegetables, but make a nutritious addition: snow peas, green beans, beans of all kind.
Do you need to peel the butternut squash?

Unless you are using an organic grown squash, it is highly recommended to discard the peel. The butternut squash peel is edible, and especially if it's a fresh one, it will peel very easily but also cook easily should you decide to consume it. So if you were wondering if you can eat the butternut squash skins, the answer is yes, and just one more piece of advice - the smaller the squash, the softer its skin!
Looking for more interesting ways to cook with butternut squash? Try our Curried Butternut Red Lentil Soup, our Butternut Squash Gratin with Fennel and Gruyere, or our Cheesy Baked Butternut Squash Ziti.
Did you try this recipe? Post your photo and tag us #helloglowblog on Instagram so we can share it with our community.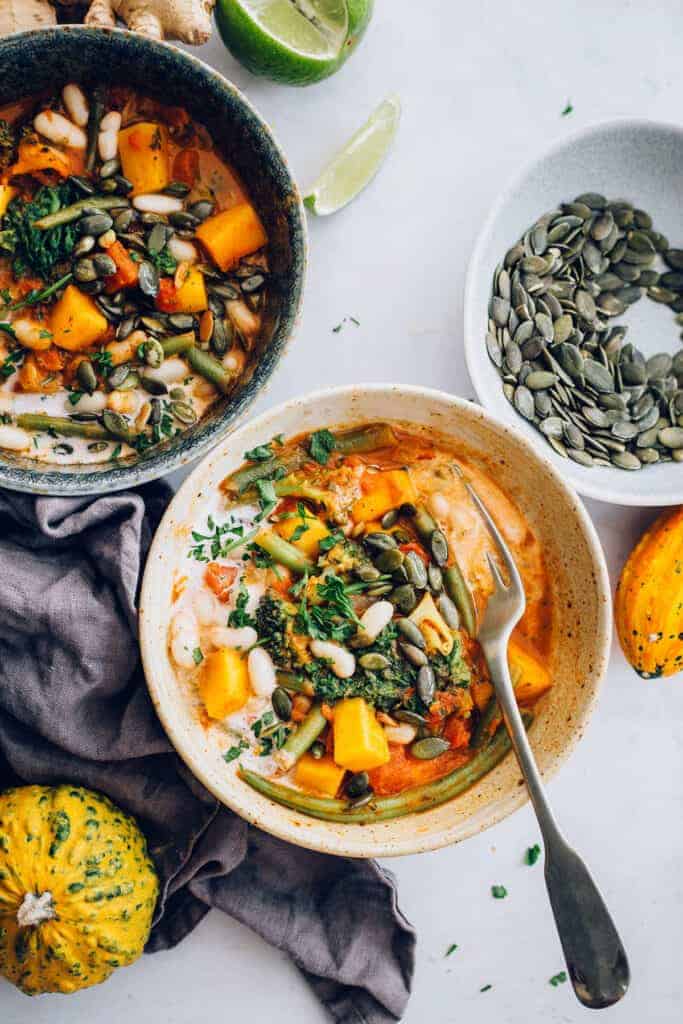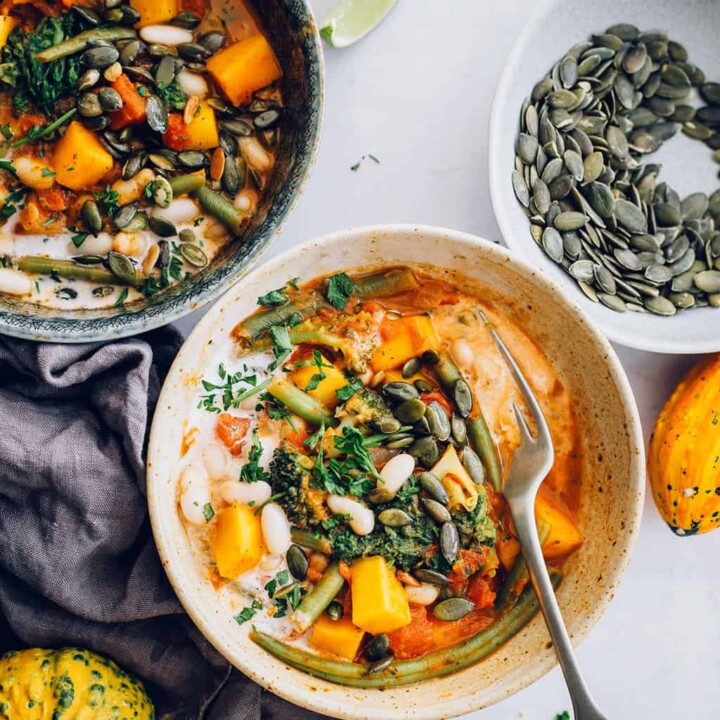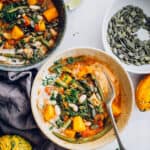 Print Recipe
Butternut Squash Curry with Coconut Milk
Warming and comforting, this vegetable curry is loaded with nutrients and comes with a velvety taste from the coconut milk - the perfect fall dish!
Ingredients
1

half

medium butternut squash

peeled

½

cup

frozen spinach

defrosted

1

small broccoli head

cut into florets

1

cup

frozen green beans

defrosted

1

yellow onion

finely diced

2

garlic cloves

diced

1

red bell pepper

finely diced

1

tablespoon

red curry paste

1

can

diced tomatoes, with their juices

(about 1 cup)

½

cup

coconut cream

Pinch

cayenne pepper

2

teaspoon

ground turmeric

¼

teaspoon

salt

1

tablespoon

coconut oil

1

tablespoon

ginger

freshly grated

½

can

cooked cannelini beans, drained

(about ½ cup)

2

tablespoon

pumpkin seeds

lightly toasted

½

lime, juice only
Instructions
Cut the butternut squash into cubes.

Heat the coconut oil into a medium soup pan, then add the onion, garlic, bell pepper, butternut squash and broccoli, and cook over medium heat for 5-7 minutes.

Add the curry paste, turmeric and ginger, mix to combine.

Add the green beans, cannelini beans, spinach, diced tomatoes with their juices, coconut cream and bring to boil over medium heat.

Turn the heat to low, then simmer over low heat for 20 minutes.

Season with salt and cayenne.

Divide into serving bowls, garnish with pumpkin seeds, drizzle lime juice, and serve warm.
10