Want stronger nails, thicker hair, or clearer skin? Then you need collagen. The supplement is not only a must-have for your beauty routine, but it also provides major benefits to your entire body [source]. If you're limiting collagen to just breakfast smoothies and lattes, you're missing out.
Collagen can help support your wellness goals from the time you wake up until you're ready to crawl back into bed. Here are 5 easy, effective ways to add collagen to your everyday routine—and why you should.
First
,

what is collagen

?

Collagen is the most abundant protein in the body, and it forms the primary building blocks of our skin, hair, nails, tendons, cartilage, bones, and joints [source]. Think of collagen as the scaffolding that supports and protects our skin's outer layer, keeping it smooth and firm [source].
Why do we need to supplement collagen
?
As we age, we produce less collagen. Without a strong scaffolding of support, our skin becomes more prone to sagging and wrinkling. Collagen provides the amino acids your body needs to produce youthful skin [source] and beautiful hair, strong nails, and healthy joints [source]. What I love about collagen protein is that it contains approximately 97% protein, and it's supplied in a form that is easily absorbed and digested by the human body.
Vital Proteins is my favorite brand for high-quality collagen protein. I add 2 tablespoons of collagen peptides to my coffee every morning, and now I'm hooked on their easy, portable collagen shots. They pack a lot of nutrients into 2 ounces!
Each flavor is tailored for a specific wellness goal, like sleep, energy, defense, and glow. Yes, you'll get 7 grams of collagen, but also functional ingredients like magnesium for sleep, apple cider vinegar for digestion, and biotin for a healthy glow. Thanks to natural juices like raspberry and blueberry, the shots are pretty darn tasty, and the glass bottles make them easy to tuck into your purse when you're on the go.
5 Reasons to Add Collagen Any Time of Day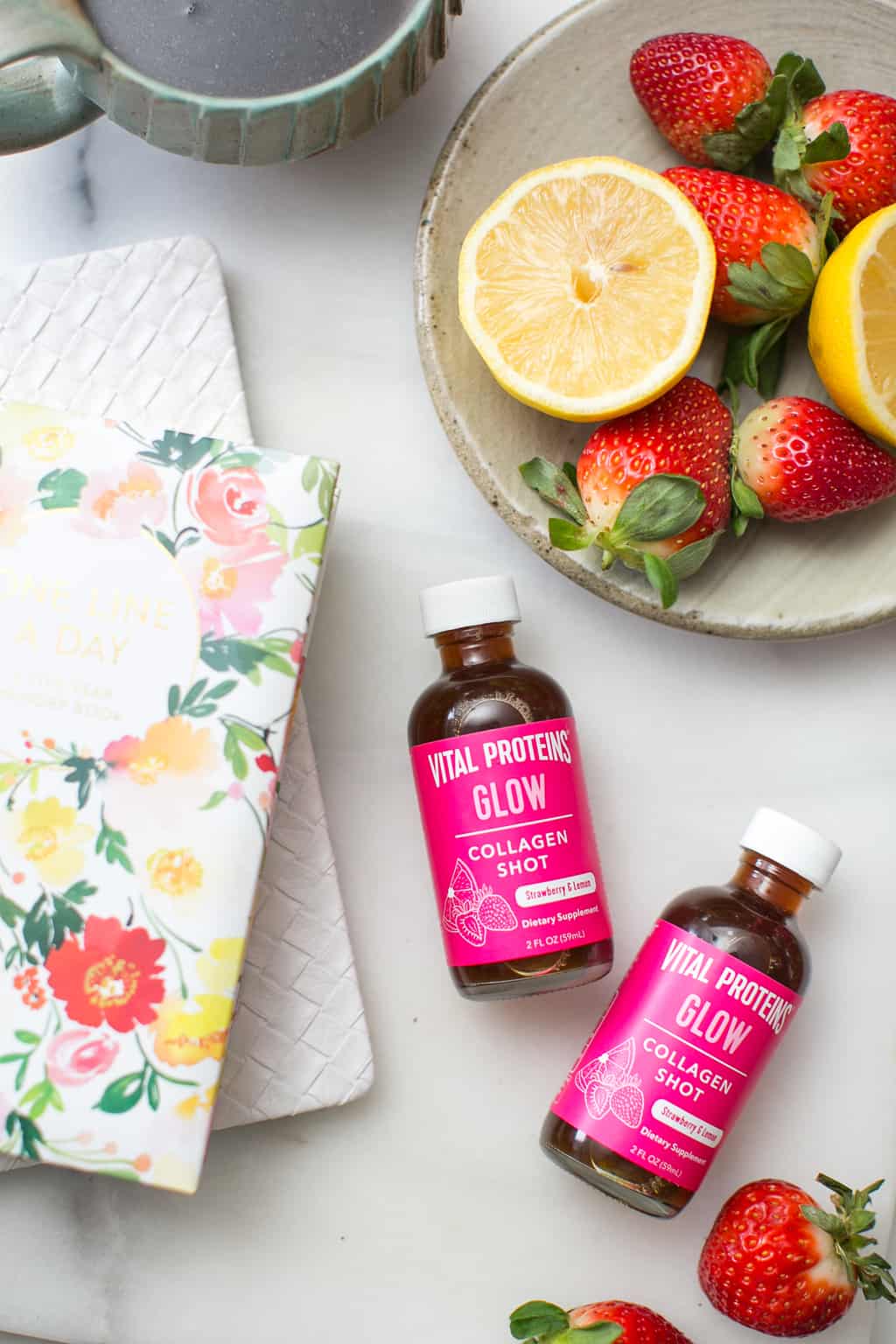 1
.
Morning
:
to promote beautiful skin
Collagen is one of the primary structural elements of skin, and supplemental collagen has been shown to help improve skin elasticity [source], reduce wrinkling [source], and may even protect against the aging effects of sunlight [source].
Here are a few easy breakfast options:
Smoothie – Add 10 to 20 grams (1–2 scoops) of collagen peptides to your liquid breakfast.
Butter coffee – Combine 1 cup of freshly brewed coffee + 1 tablespoon of grass-fed ghee or coconut oil + 1 scoop Vital Proteins collagen peptides + 1 teaspoon of cinnamon + 1 teaspoon of vanilla extract + a pinch of sea salt in a blender and blend on high for 30–60 seconds until frothy. You can also stir collagen into a plain cup of coffee or tea.
Oatmeal – Add 10 grams (1 scoop) of collagen to your oatmeal, along with some healthy fat (like 1 tablespoon of nut butter) for a well-balanced breakfast.
Vital Proteins Glow collagen shots – You're not only getting collagen peptides but also 60 mg of hyaluronic acid plus biotin (a must for healthy hair) and vitamin C, which combats free radicals, age spots, and dullness [source].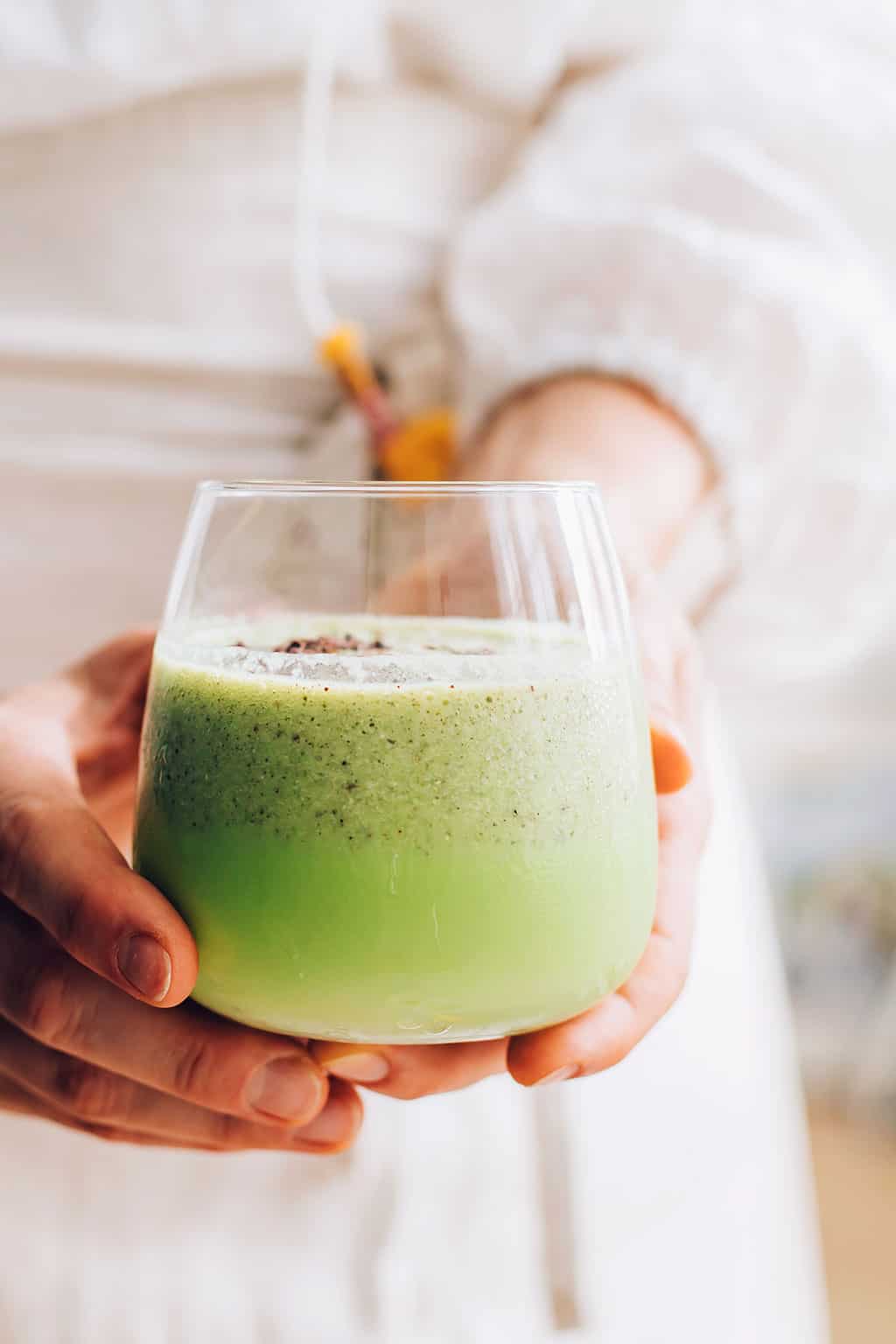 2
.
Post-workout
:
to keep muscles
&
joints healthy
Nutritionists recommend a protein-rich snack after a workout to help your muscles and joints recover. Collagen not only makes a good protein source but hydrolyzed collagen has also been shown to manage inflammation and reduce joint pain [source].
Here are some protein-rich meals snacks to have post-workout:
Smoothie – 1 scoop of collagen peptides or whey protein powder, a handful of greens, 1/2 cup of berries, 1 tablespoon of almond butter or ½ avocado, almond or coconut milk, plus a dash of cinnamon. Or try one of these smoothie recipes.
Golden milk latte – made with full-fat coconut milk, turmeric, cinnamon, and a scoop of collagen
Bone broth – with an abundance of amino acids, bone broth prevents muscle breakdown and increases your metabolism.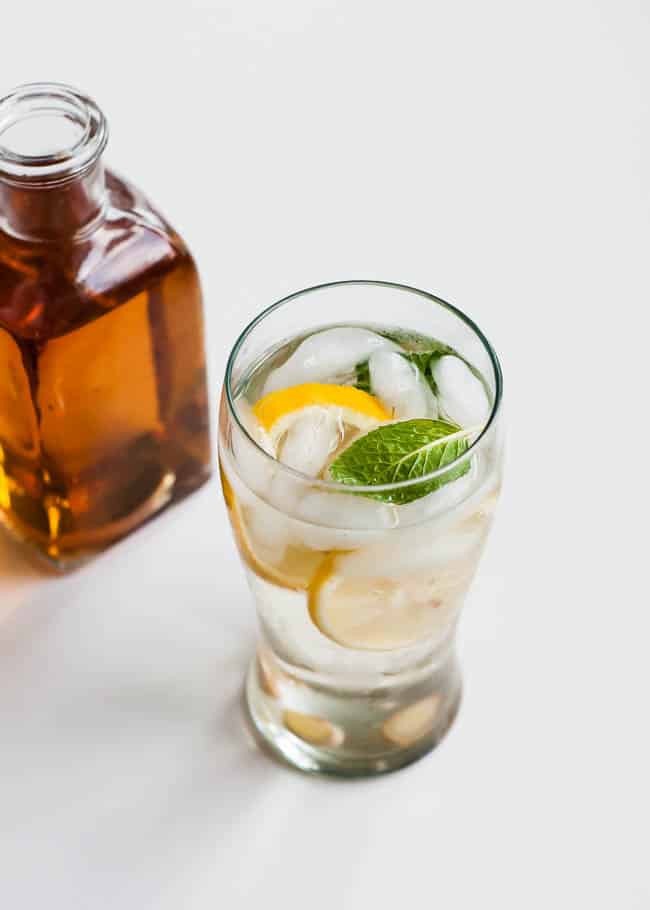 3
.
Before meals
:
to heal the gut
If you're concerned about gut health, collagen can help. Collagen works to heal and restore the gut lining.
Our holistic nutritionist recommends downing a shot of apple cider vinegar before eating to stimulate stomach acid production, which is a great time to add collagen as well. Your food is more effectively digested, leading to better nutrient absorption.
If you're brave, you can add 1 tablespoon of apple cider vinegar to 2 ounces of water.
4
.
Mid-day
:
to keep you calm
Collagen contains glycine, which helps decrease anxiety and promotes mental calmness. Add collagen to an afternoon matcha latte for a dose of L-theanine, an amino acid that helps to improve focus and mental alertness [source].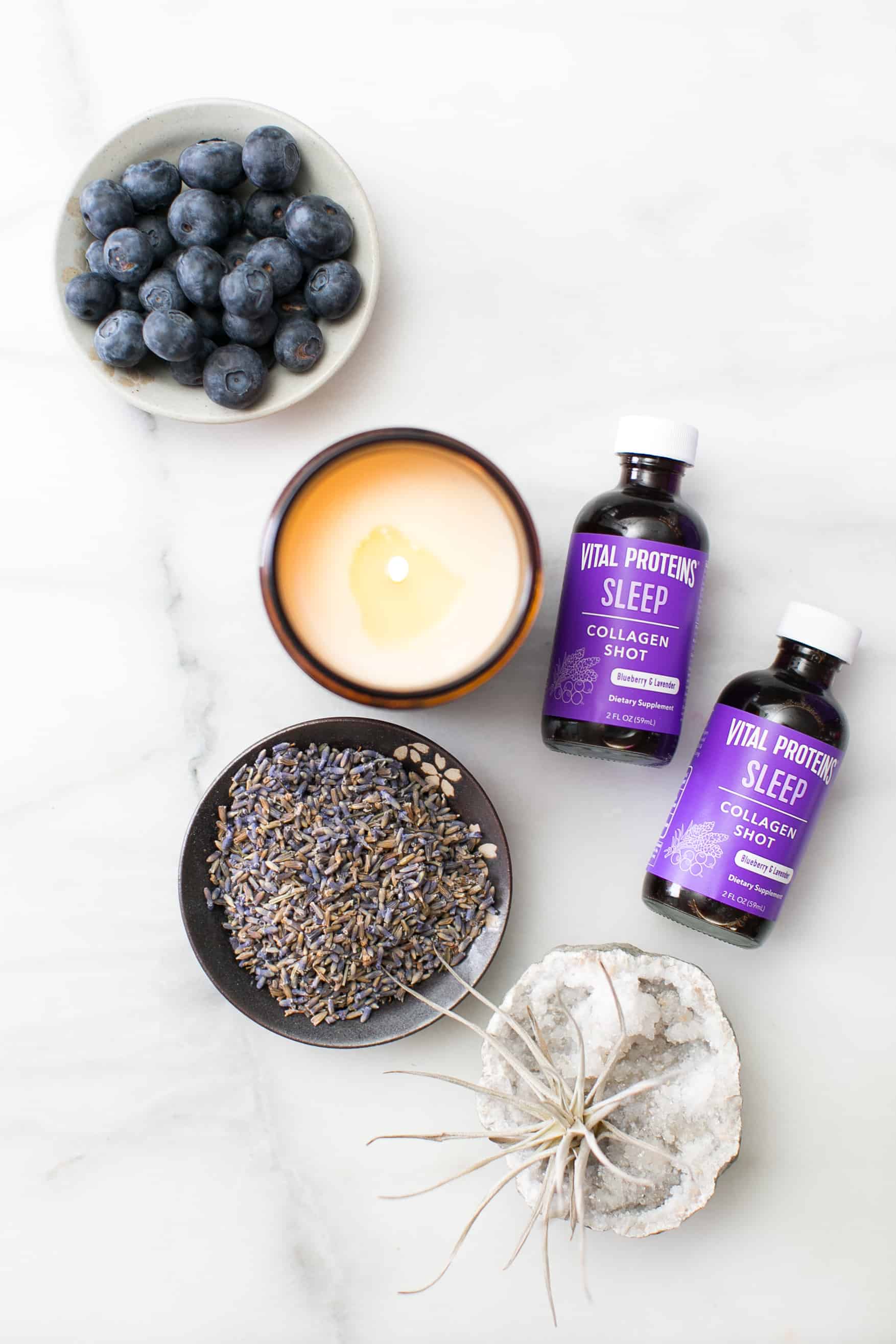 5
.
Bedtime
:
to help you sleep
The glycine in collagen is also helpful at bedtime. Studies show that glycine promotes and improves the quality of sleep [source]. Taking collagen along with functional ingredients like melatonin and magnesium supports deeper, more restorative sleep.
Here are a few bedtime elixirs to try:
Make a sleep-inducing banana tea or bedtime smoothie, and add a scoop of collagen.
Try a Vital Proteins Sleep shot to get collagen, magnesium, and melatonin in a tasty lavender-blueberry flavor.
Make your own Melatonin Gummies with collagen.
Add collagen to an Adaptogenic Midnight Milk
This article was medically reviewed by Dr. Gina Jansheski, a licensed, board-certified physician who has been practicing for more than 20 years. Learn more about Hello Glow's medical reviewers here. As always, this is not personal medical advice and we recommend that you talk with your doctor.
129