Crystals are more than just pretty decor pieces – their capacity to store and transform energy is impressive! Their healing properties have been used since ancient times to promote fulfillment and enlightenment. Now they've made a huge comeback, often being included in beauty and wellness products.
If you're new to the world of crystals, we've got your back! We've already covered the basics, learned about meanings and uses, and introduced crystals in our beauty routine. Still want more? Here are some of our favorite crystal-based products to shop: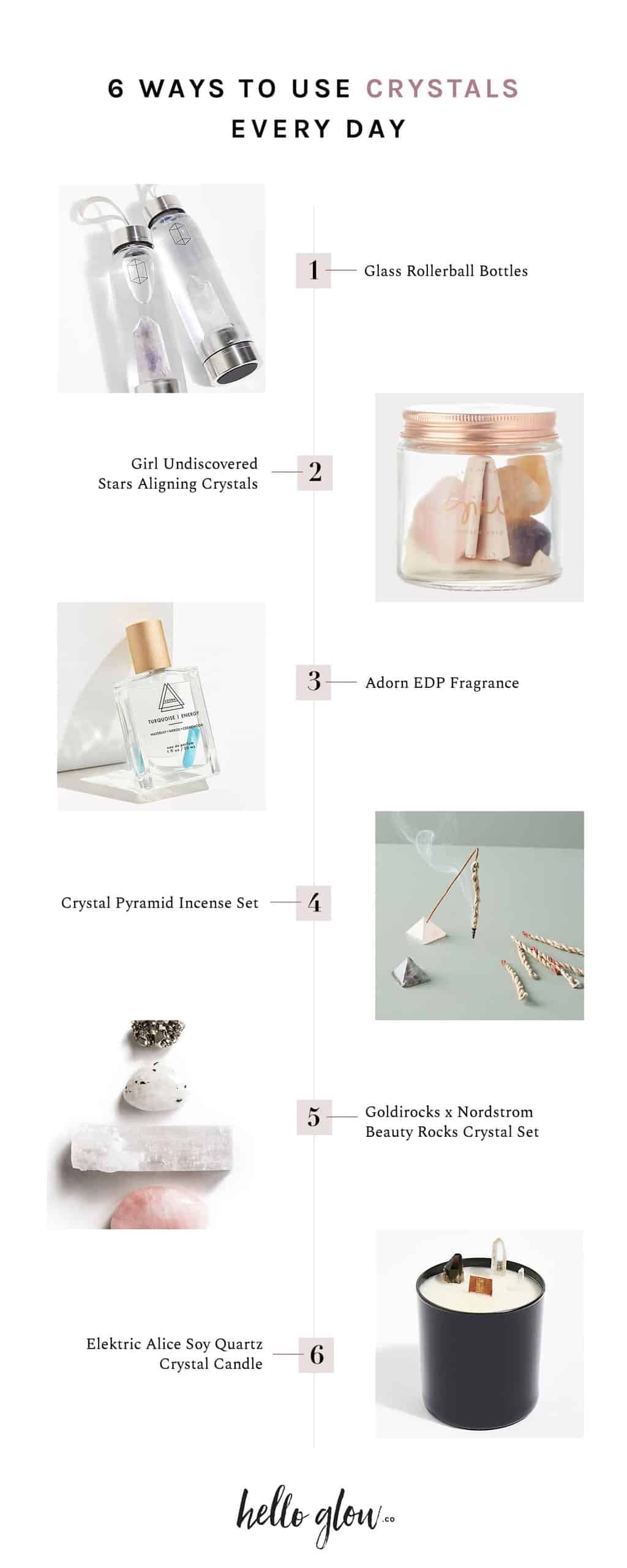 1. Glacce Crystal Elixir Water Bottle // Raw crystals infuse your drinking water to support revitalization and clarification of the mind and body. Clear quartz, smokey quartz and amethyst versions are available, each one with a unique crystal fastened inside.
2. Girl Undiscovered Stars Aligning Crystals // An instantly calming and naturally lifting crystal-based facial that you can DIY for happier skin.
3. Adorn EDP Fragrance // Waterlily, neroli, and cedarwood notes blend in this natural fragrance, adding a turqouise crystal to channel inner strength, balance and luck.
4. Crystal Pyramid Incense Set // Turn any space into a retreat with this incense set, which includes a rose quartz, pyramid-shaped stand, a copper hook, and 20 incense ropes.
5. Goldirocks x Nordstrom Beauty Rocks Crystal Set // This 5-crystal set (emerald, golden pyrite, rainbow moonstone, rose quarts and selenite) works harmoniously to help balance, nurture and vitalize your spirit.
6. Elektric Alice Soy Quartz Crystal Candle // Hand-poured in Nashville, this soy candle is scented with black amber, lavender and pine, and infused with the healing power of smokey quartz.
9