This is a sponsored post written by me on behalf of iHerb. All opinions are my own.
Summer isn't all it's cracked up to be, at least as far as glowing skin is concerned. In an odd turn of events, my usually oily skin is suddenly dry, flaky and a tad disgruntled thanks to a little too much sand and sun. That usually means it's time for a beauty routine refresh of sorts.
But even if your skin has never looked better, a little antioxidant action and some TLC will work wonders. All you need are some ingredients straight out of the pantry plus a few skin-soothing super foods, and you're on your way to dewy, radiant skin.
Here are 3 natural beauty recipes to try this weekend to keep you looking fresh and refreshed well into summer.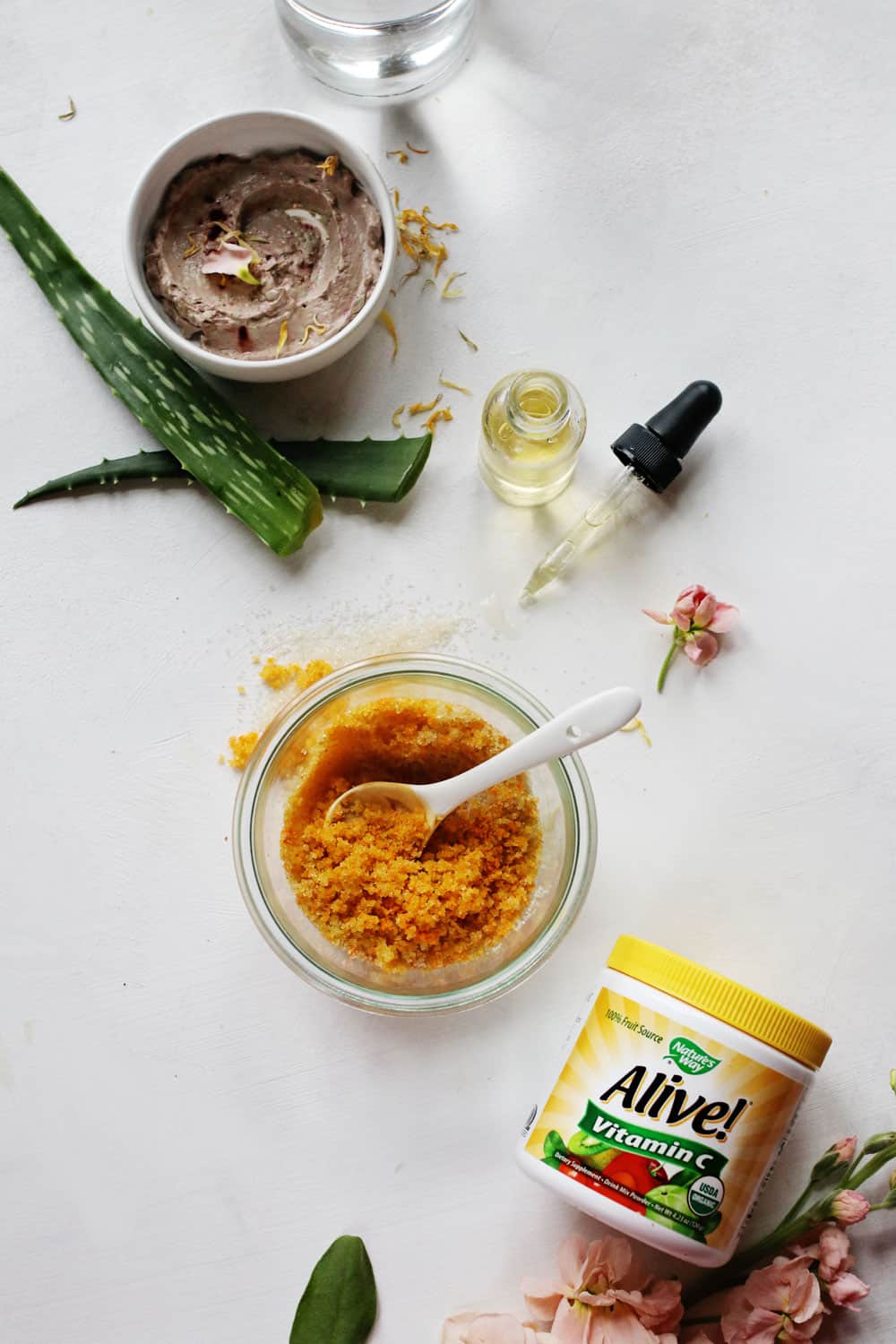 3 DIY Beauty Recipes to Try This Weekend
When my skin starts acting up, I know it's time to break out the superfoods. Chock full of vitamins, minerals and antioxidants, superfoods help soothe inflammation, restore moisture and repair an angry epidermis. But just like the foods I eat, when it comes to the foods I put on my skin I'm super particular about brands. Many supplements contain impurities, pesticides and hidden chemicals that can make finicky skin worse.
That's why I always turn to Nature's Way products for my DIY skincare needs. Nature's Way has been a leader in the natural foods industry for decades, with a focus on safety and effectiveness. They test every product they make to ensure there are no fillers or impurities. That means they'll actually make your skin look better, not worse.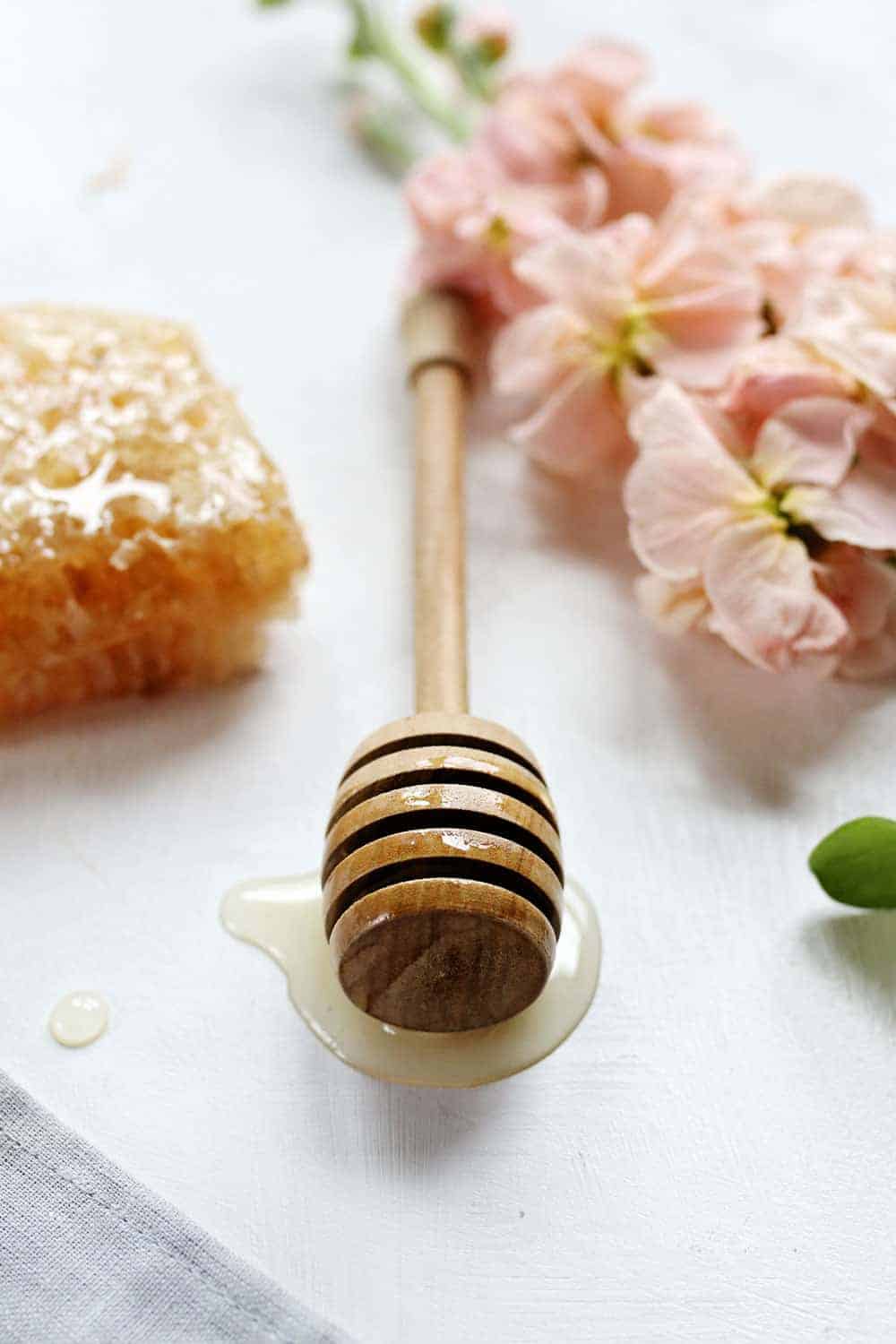 iHerb carries over 400 Nature's Way products at prices as much as 30 to 50% less than traditional health foods stores. Plus they ship to over 160 countries and even offer free shipping in the U.S. on orders over $20. I've been shopping with iHerb for a couple years now, and while I've never run into any problems, iHerb's customer service team provides support in 10 languages and is open 24/7 in case an issue pops up.
What makes iHerb so great is that now I can shop for superfoods and supplements from my sofa. Since I rarely, if ever, know what I want ahead of time, I have a bad habit of filling my cart to the brim and turning a random weekend into a spa staycation. And thanks to free fast shipping (on orders over $20) and a loyalty discount, it's super easy to test out new products and sample items I normally wouldn't.
Here are some of my favorite homemade beauty recipes to whip up on a slow weekend.
Vitamin C Serum
Vitamin C plays an important role in skin health due to its antioxidant properties. Not only does it repair the underlying layers of skin, it also renews skin cells and wards off oxidative damage. Over time it can help keep skin looking youthful and healthy.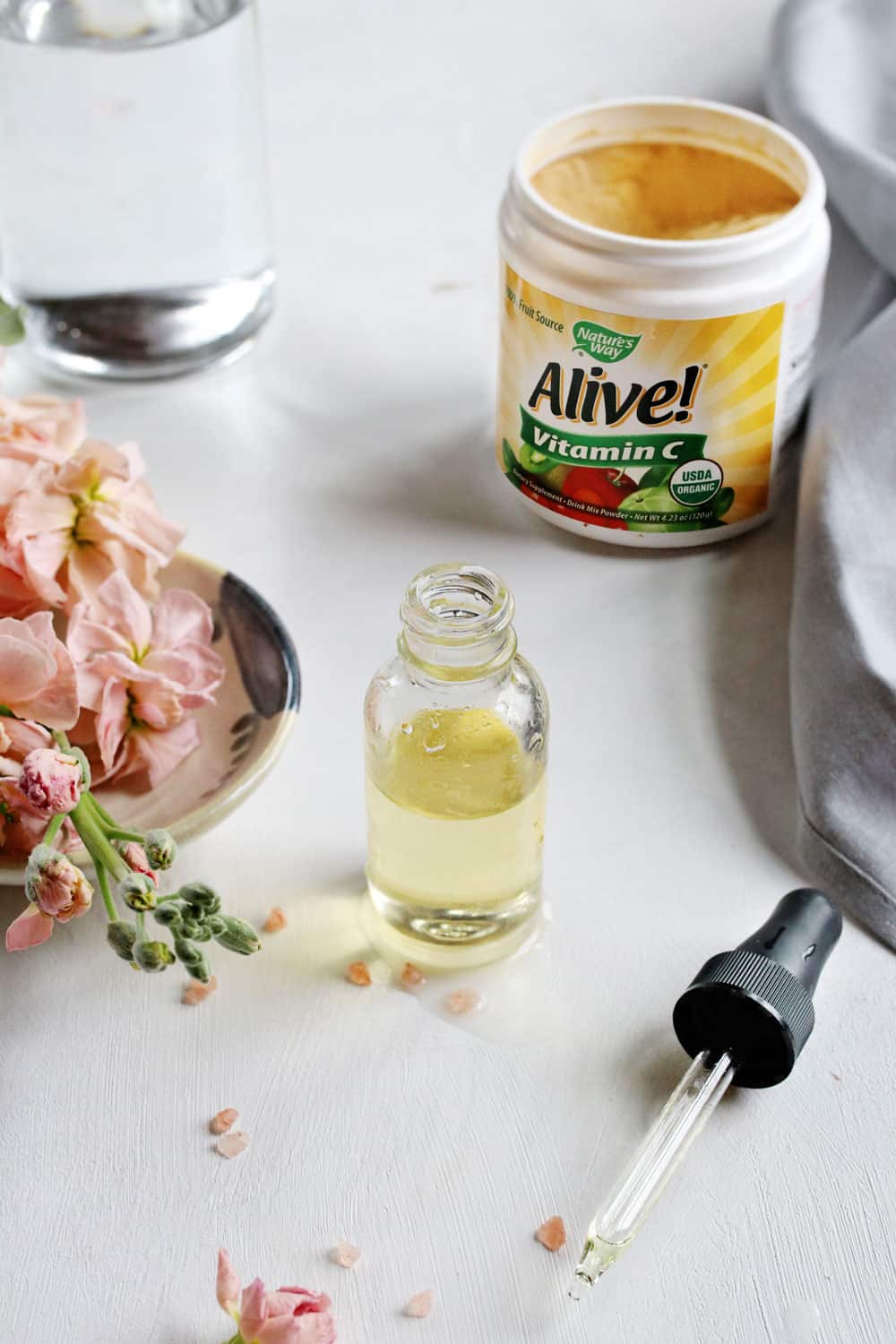 Nature's Way Vitamin C Powder is made from 100% organic fruit sources so it can easily be used by the body. Plus it dissolves completely in water so you don't end up with gritty sediment in your serum.
In a small bowl, combine the vitamin C powder and filtered water. Whisk until the powder is completely dissolved. Then add the aloe and vitamin E oil. Pour the serum into a dark amber bottle and store in the refrigerator for up to three weeks.
Use the serum in the evening after washing your face and applying toner, but before applying moisturizer; gently pat onto the face and neck, avoiding the eye area.
Beet Root Face Mask
Beet root is a rich source of iron, vitamins and minerals that can help improve skin tone and texture. When used regularly it's said to reduce the appearance of pores and lighten discoloration due to sun damage. I've found that it gives my skin a healthy, glowing radiance that I just love.
Nature's Way Beet Root Powder is free of gluten, wheat, soy and dairy, so it won't irritate skin even further. And when you're done using it on skin, feel free to add it to smoothies, juice and homemade makeup!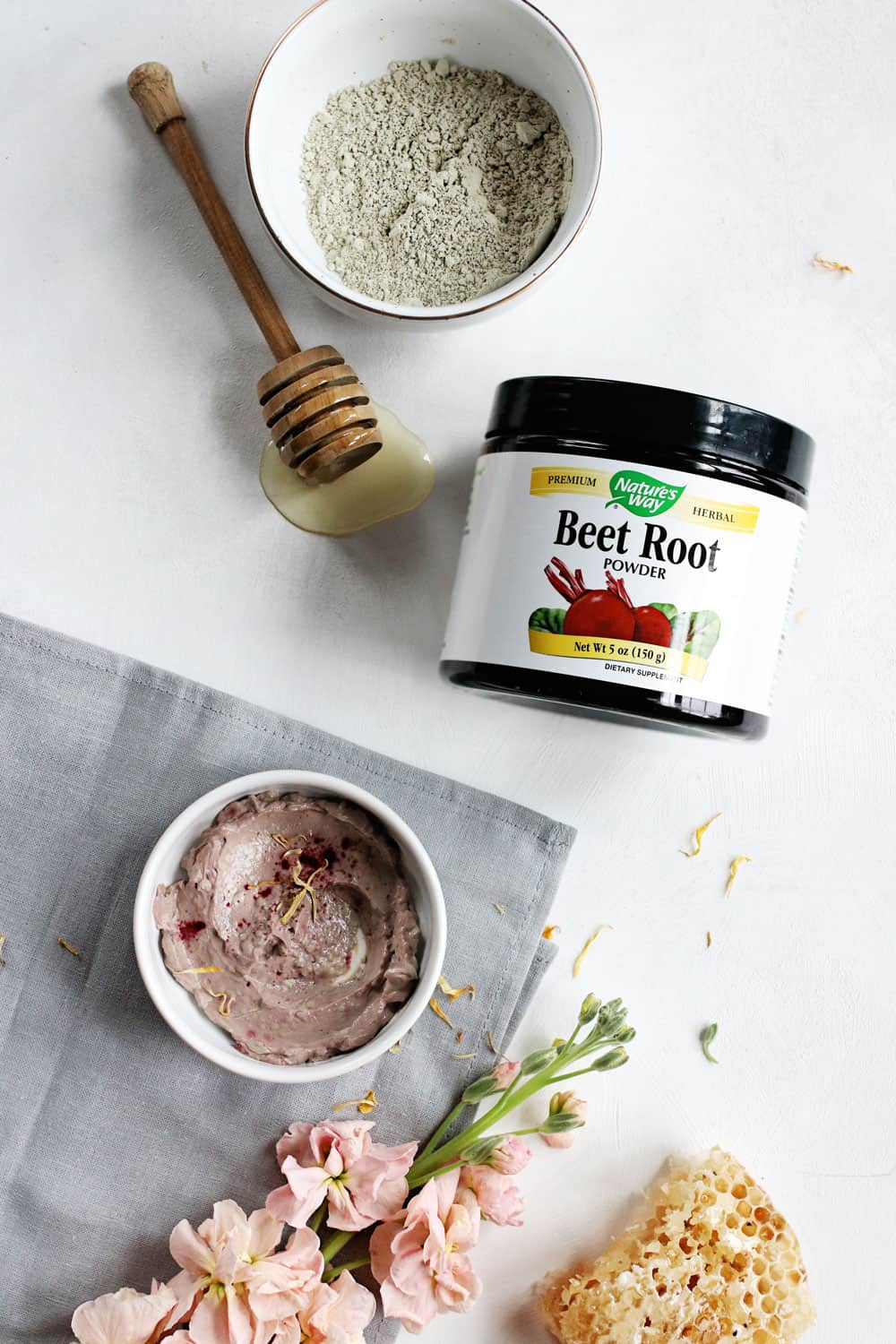 1 teaspoon bentonite clay
2 teaspoons raw honey
1 teaspoon warm water (or more if needed)
3 drops carrot seed oil or essential oil of your choice
1/4 – 1/2 teaspoon Nature's Way Beet Root Powder (Note: a little beet root goes a long way! For fairer skin tones, use less beet powder. Darker skin tones can use more.)
Mix everything in a small bowl until it forms a thick paste. Apply to face and neck in a circular motion, avoiding the eyes.
Leave on 10-15 minutes or until it has hardened.  Then wash off with warm water and wash cloth. Pat skin dry and apply moisturizer.
Turmeric Body Scrub
Turmeric is one of my favorite ingredients for skin! It contains curcumin, a powerful antioxidant said to have anti-inflammatory properties. When used in skin care products, turmerics helps ease redness, brighten skin and even skin tone. This skin brightening face scrub uses pure cane sugar and raw honey to gently buff away dead skin cells, leaving you with a bright, youthful appearance. While it's a powerful exfoliator, it's still gentle enough for sensitive skin. Just use a light touch if you have redness or inflammation.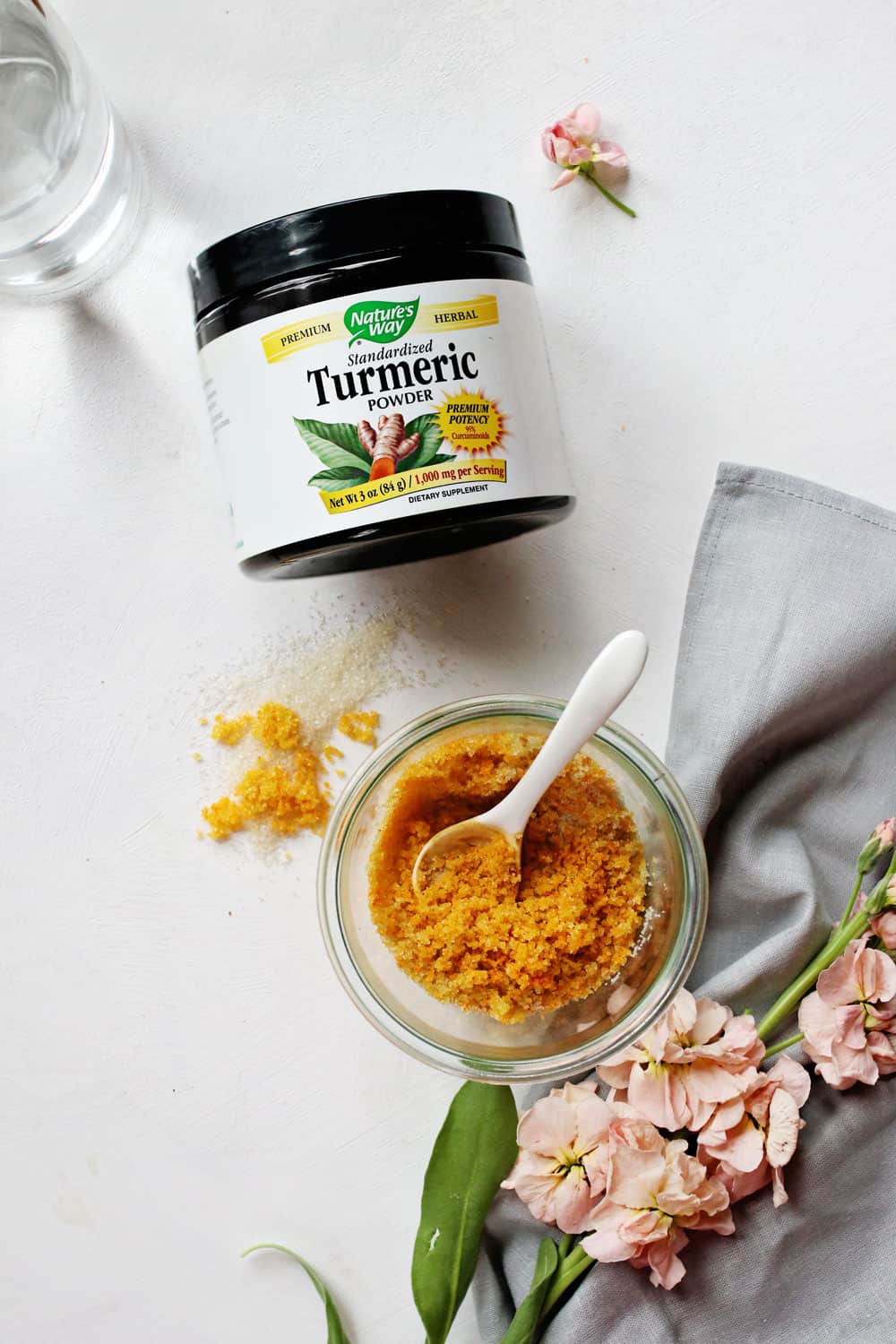 Like beet root powder, turmeric can stain skin if used in high amounts. In my experience, any staining only lasts for a few hours at most, but if you have very fair skin or you plan to hit up the pool later, use less turmeric.
4 tablespoons fine sugar
4 tablespoons avocado oil
1 teaspoon raw honey
1 teaspoon Nature's Way Turmeric Powder
10 drops orange essential oil
Mix all of your ingredients in a bowl then pour into a container of choice. Massage onto damp skin in a circular motion (avoid eyebrows, as turmeric also works as a natural facial hair remover). Rinse clean and pat dry.
Save on your first order
Is it your first time ordering from  iHerb? New customers can get a discount plus an additional $5 off their order of $40 or more by clicking here!
43