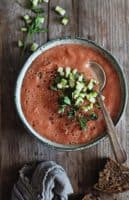 Simple Heirloom Tomato Gazpacho
A perfect way to use up CSA tomatoes!
Ingredients
2 pounds tomatoes (heirlooms if you can get them), roughly chopped
1 red bell peper, roughly chopped
1/2 small red onion, roughly chopped
1 clove garlic
1 cucumber, 1/2 roughly chopped, 1/2 finely chopped
1/4 cup olive oil
2 teaspoons red wine vinegar or sherry vinegar
Kosher salt and black pepper
2 tablespoons cilantro
Bread, for dipping
Instructions
Dump tomato, pepper, onion, cucumber and garlic in the food processor, and puree away. Work in batches if your blender or processor is small.
Transfer to large bowl and add in oil, vinegar, 1 1/2 teaspoons salt, and 1/2 teaspoon black pepper.
Refrigerate for at least 1/2 hour and up to 1 day.
Top gazpacho with chopped cilantro and cucumber. Drizzle with a bit more oil if you want (I did not). Serve with bread.
Notes
Based on a recipe from Real Simple
Recipe by Hello Glow at https://helloglow.co/weekend-kitchen-easy-tomato-gazpacho/