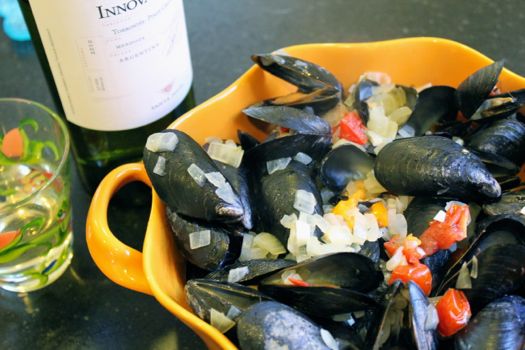 I started the weekend early & unplugged on Friday. I kinda needed the break. And tomorrow Caroline comes home!! I'm totally missing her.
But I'm popping in to share one of latest favorite weekend recipes. I never, ever thought I would love mussels (I grew up not eating seafood at all) but they are now one of my favorite foods.
Plus they go great with white wine and bread – two of my other favorite foods.
After reading that mussels are low in calories and high in protein I bought 2lbs on a whim. I highly recommend cooking these up as soon after buying as possible. Keeping them a couple of days won't do your fridge any favors.
In my 4 o'clock dinner panic I did my usual online recipe searching, i.e., Googling "easy ___ recipe." The one that most closely matches the ingredients I have on hand is the winner!
Caroline wouldn't touch any of the "normal" stuff on her plate but she ate more than a dozen of these guys. She loved them!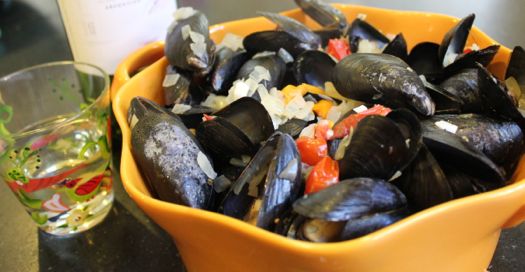 I definitely need to cook more seafood. I might try a whole fish next! Any tips??
Mussels Italiano Recipe
Recipe adapted from Food.com
What you need:
2 lbs mussels
2 tablespoons butter
1/2 onion, minced
1 garlic clove, minced
1 small tomato, chopped
1/4 teaspoon oregano
salt & freshly ground black pepper (to taste)
1/4 cup dry white wine
What to do:
Helpful Storage Tips: Immediately discard any mussels that are chipped, broken or open. If you are not cooking them right away, cover with damp paper towels in a container that can be tightly closed and store in the refrigerator.
1. Just before cooking, wash the mussels in several changes of cold water.
2. Melt butter in a medium sized pot; saute onions til clear.
3. Add garlic& stir for another minute.
4. Add tomato, oregano, salt & pepper and cook until tomato is soft.
5. Add wine & bring to a slow boil.
6. Put mussels into pot, cover & steam for 4 minutes; remove the lid & stir the mussels.
7. At this point, most of the mussels should be open; replace the lid and steam for another 2 – 4 minutes. Discard any that don't open.
8. Serve with bread to sop up the broth!
0