Sometimes we love a product so much, we can't keep it to ourselves. You know that feeling, right? Here are a few things that are so essential, we just need to share: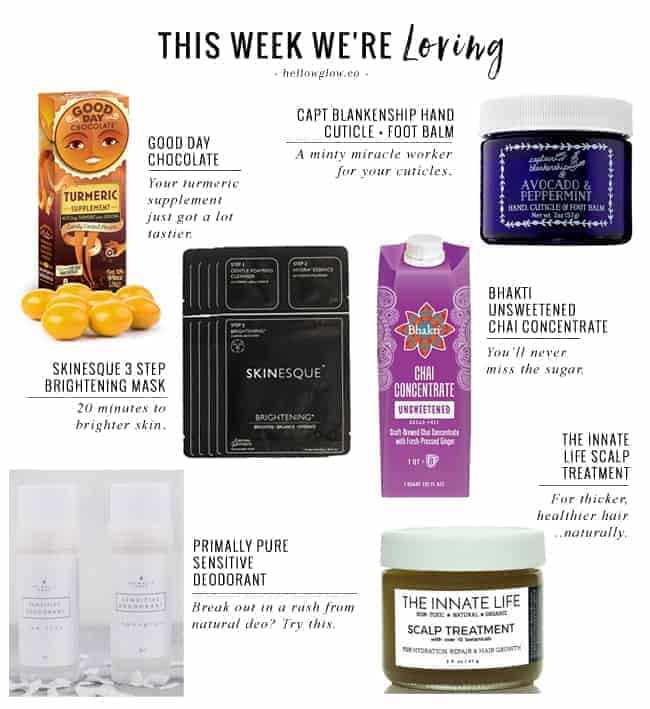 Good Day Chocolate with Turmeric // Have you seen these at Whole Foods? I've tried every variety—Calm, Sleep, Energy, Vitamin D3—but turmeric is my favorite because I'm always looking for new ways to get my daily dose of that anti-inflammatory superstar. And they're made with Fair Trade dark chocolate too, which makes me love them even more.
Captain Blankenship Avocado & Peppermint Hand, Cuticle & Foot Balm // I totally dig this brand because I imagine all of its products being lovingly manufactured by a bearded, pipe smoking boat captain with a squinty eye and striped shirt. I use this on my cuticles nightly and it works like a charm.
Skinesque 3 Step Brightening+ Charcoal Mask // Sheet masks! My very favorite way to give myself a little TLC after a long day. This one is especially awesome because it comes with a foaming cleanser and essence, both formulated to work with the oak tree charcoal mask.
Bhakti Unsweetened Chai Concentrate // Conundrum: I love chai, but concentrates are usually way too sweet and tea bags just don't taste the same. But then Bhakti came out with an unsweetened chai concentrate and I am head over heels for it. Mix it up with your favorite milk—and maybe a tablespoon of MCT oil or Vanilla Bean Ghee—and you will never miss the sugar.
Primally Pure Sensitive Deodorant // If you are one of those unfortunate souls who can't use natural deodorant without breaking out in a painful rash, take heart: there's a new option for you! Primally Pure is made with a smaller amount of baking soda and uses kaolin clay to absorb odor and wetness. The lemongrass scent is ah-mazing.
The Innate Life Scalp Treatment // I'm still trying to recapture the thick, healthy hair I had while pregnant 3 years ago (sigh) and this nourishing natural treatment helps. It's organic, cruelty-free, and made with natural oils and herbs.
5