Sometimes we love a product so much, we can't keep it to ourselves. You know that feeling, right? Here are a few things that are so essential, we just need to share: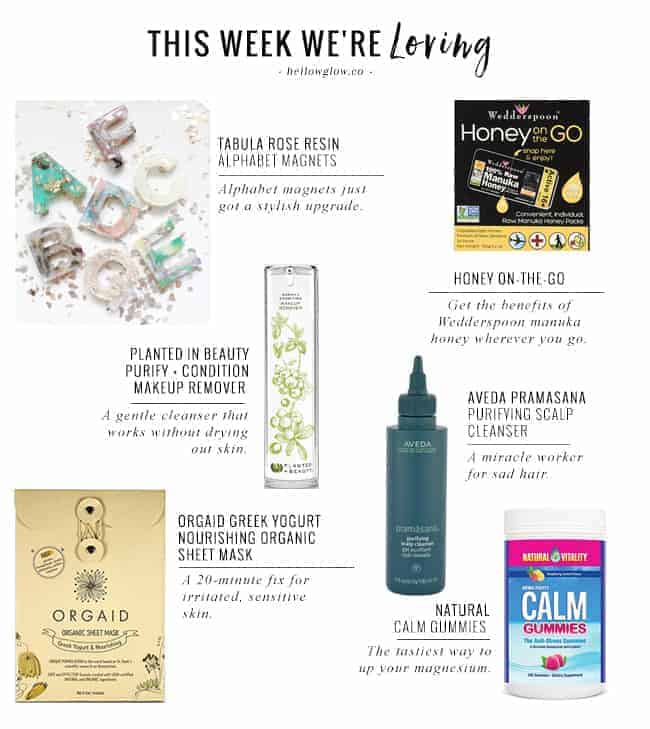 Tabula Rose Resin Alphabet Magnets // Okay, I am totally weird about not having ugly toys in common areas of the house like the kitchen and living room. I admit this! My toddler has been getting into learning her letters lately and I couldn't find any cool alphabet magnets I liked until these. They look fantastic on the fridge, they're much more solid than the cheap plastic ones, and my daughter is absolutely enamored with them. (I am too!)
Wedderspoon Raw Manuka Honey On-the-Go // We're just getting over the 20th round of colds in our household (only a slight exaggeration) and I've been going through manuka honey like water–because my daughter is too young for cold medicine, it's totally my go-to when she's got a sore throat. I love that I can tuck these packets into my purse and take them wherever we go.
Planted In Beauty Purify + Condition Makeup Remover // Planted in Beauty is one of our new favorite brands and this gentle makeup remover, made with jojoba, sunflower, and apricot kernel oil, doesn't disappoint. Bonus: it comes in a nice big bottle, so it will last you a while!
Aveda Pramasana Purifying Scalp Cleanser // You know how when you use the same shampoo and conditioner for a few weeks, your hair starts to get flat and your shampoo stops lathering like it should? I hate that feeling. My hair stylist gave me a sample of this and I ended up buying a full-size bottle after my next haircut because it is so good–my hair feels so clean and bouncy after using it.
ORGAID Greek Yogurt Nourishing Organic Sheet Mask // Sheet maaaasks! I love 'em. If you want the benefits of Greek yogurt but the thought of smearing it all over your face makes you a little squeamish, you'll appreciate these yogurt-infused sheet masks–which, BTW, do not smell like yogurt at all. (They're especially great if, like me, winter has taken its toll on your skin. So! Much! Dryness!)
Natural Calm Anti-Stress Magnesium Gummies // I've used Natural Calm powder mixed with water for almost a decade now to keep my migraines in check and while they haven't gone away completely, when I'm taking Natural Calm daily, I totally get fewer of them. And now they make Natural Calm in gummy form! (Here's why you probably need to up your magnesium intake.)
Disclosure: Some of these products were sent to Hello Glow to review, others are things we've bought ourselves, but everything here is something we totally love.
1