Sometimes we love a product so much, we can't keep it to ourselves. You know that feeling, right? Here are a few things that are so essential, we just need to share: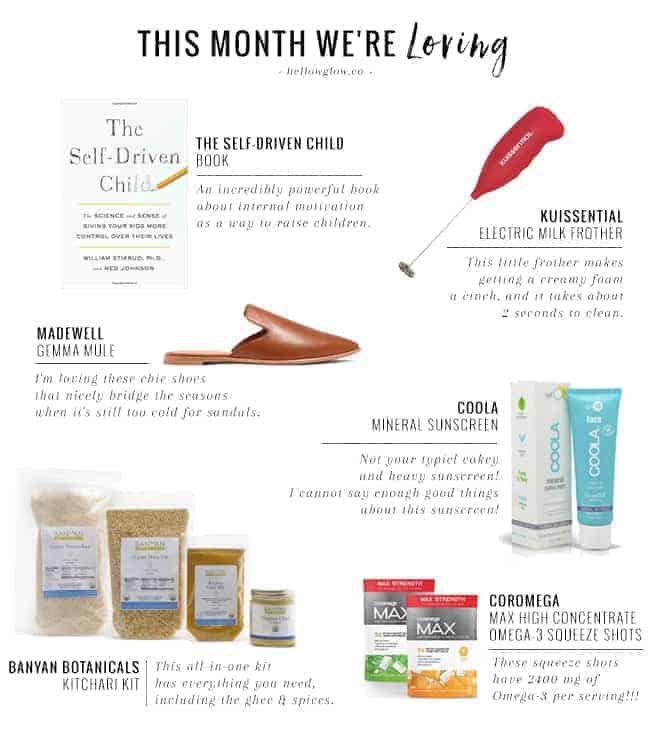 Electric Milk Frother // I tried to get in on the bulletproof coffee movement, but washing grease out of my blender every day was a major impediment. This little frother makes getting that creamy foam a cinch, and it takes about 2 seconds to clean. It feels pretty decadent to add ghee and brain octane oil to my coffee. Speaking from experience, use the biggest mug you've got and go slow the first time you use it to avoid cleaning up coffee splatter all over your kitchen. :)

Coola Mineral Sunscreen // Is anyone else tired of being told to wear sunscreen? Natural facial sunscreens usually feel cakey and heavy to me, like they won't absorb into the skin, so I do it begrudgingly. No more. This SPF 30 mineral sunscreen is a miracle, it feels so light and instantly absorbs. And you'll get a dose of hydrating rosehip and evening primrose oils. The color is pretty light so I can easily wear it under under foundation. Seriously, I cannot say enough good things about this sunscreen!
The Self-Driven Child // When you see an article called The Key To Raising A Happy Child, you pretty much have to click. And I'm glad I did. Author and neuropsychologist Bill Stixrud has a message for us type-A parents: stop thinking of yourself as your kid's boss. His book about raising children driven by internal motivation, as opposed to other people's expectations, rewards, insecurity or fear, is really powerful.
Coromega Max High Concentrate Omega-3 Squeeze Shots // When the ratio of Omega-3 to Omega-6 acids gets out of whack in our bodies, it can trigger inflammation. And in our typical western diet of corn, peanuts and soy, we get way more Omega-6. These squeeze shots have 2400 mg of Omega-3 per serving – that's three times more than regular ol' fish oil pills. And waaaay more than the gummies kids take. I've never had a squeeze shot before, but it's so easy, you just tear it open and squeeze it into your mouth. My husband likes the orange flavor; I like the creamy coconut.
Kitchari kit // I recently read about doing a kitchari cleanse, and my first thought was, what are mung dal beans and where do I find them? I asked my brother-in-law who's from Bangladesh if he'd ever heard of kitchari, and he looked at me like I was crazy, saying 'yeah, that's just rice and beans.' Okay then. This all-in-one kit has everything you need, including the ghee and spices. Even if you're feeling ambitious, do not try to make all 3 days of servings at once. Really, really bad idea.
Gemma mule // My first Madewell purchase. Not sure what took me so long! Though I hate the name 'mule' I'm loving these chic shoes that nicely bridge the seasons when it's still too cold for sandals. These from Old Navy are a wee bit more affordable and do the same thing in fun colors. I got them in bright coral.
Disclosure: Some of these products were sent to Hello Glow to review, others are things we've bought ourselves, but everything here is something we totally love.
2