Sometimes we love a product so much, we can't keep it to ourselves. You know that feeling, right? Here are a few things that are so essential, we just need to share: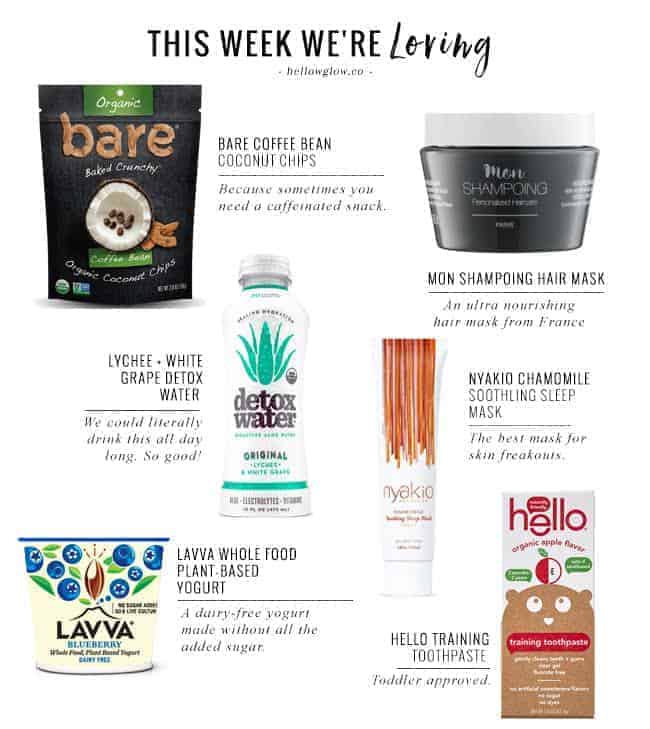 Bare Organic Coffee Bean Coconut Chips // Coconut chips are a favorite snack in our household. My daughter likes the ones with chia seeds, but I'm partial to this caffeinated version–they're so good crumbled on a bowl of chia pudding.
Mon Shampoing Nourishing Hair Mask // Keratin and goji berry nourish your hair, but the thing I love most about this hair mask is the smell. Oh, the smell! I would literally leave it in all day long if I could.
detoxwater // I really wanted to get on the aloe juice train, but it was just not my thing. This is the first one I've found not just palatable, but actually tasty. detoxwater is full of vitamins and electrolytes, and aloe is fantastic for supporting skin and digestive health. Also: it comes in lychee flavor! Exclamation point!
Nyakio Chamomile Soothing Sleep Mask // I don't know if it's the change in weather or what, but I woke up last week with red patches on my face. Chamomile to the rescue! This calming mask helped soothe my embarrassing skin freakout lickety-split.
Lavva Plant-Based Yogurt // You know what I don't love about plant-based yogurts? They're often really heavy-handed with the added sugar. But Lavva has no added sugar! It's made with pili nuts, a new-to-me ingredient that makes Lavva creamy and amazing.
Hello Organic Apple Training Toothpaste // Getting my kiddo to willingly brush her teeth has been a struggle, until finding this toothpaste. And when we went out-of-town to visit family last weekend and forgot our own toothpaste, my husband and I had to use this one…and it tastes so good, I kind of don't want to go back to mine.
Disclosure: Some of these products were sent to Hello Glow to review, others are things we've bought ourselves, but everything here is something we totally love.
0