Sometimes we love a product so much, we can't keep it to ourselves. You know that feeling, right? Here are a few things that are so essential, we just need to share: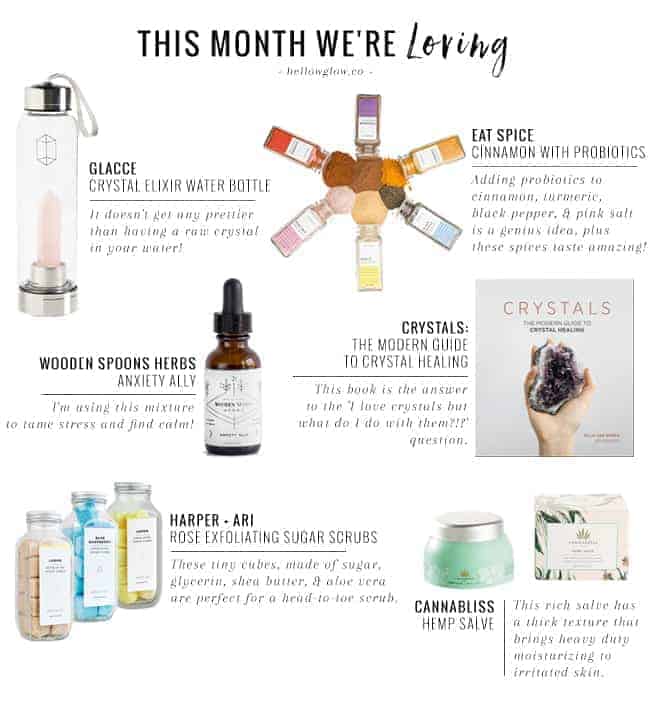 Crystal Elixir Water Bottle // This is what finally got me to say goodbye to the old, ugly water bottle I've been carting for years (really). It doesn't get any prettier than having a raw crystal in your water! The stone of balance and protection, amethyst is said to infuse the water with creativity and passionate energy. Plus, the bottle is definitely a conversation starter; everyone will be curious about what's going on in there.
Crystals: The Modern Guide to Crystal Healing // This book is the answer to the 'I love crystals but what do I do with them?!?' question. Honestly, most books like this leave me feeling totally overwhelmed and tired. Thankfully, this book has a minimalist vibe that makes crystals actually make sense.
Cannabliss Hemp Salve // This salve has been a miracle for chapped hands and elbows this year. I don't remember having sore elbows before, but yowza, they hurt. With hemp oil and healing herbs, this rich salve has a thick texture that brings heavy duty moisturizing to irritated skin.

EatSpice Cinnamon with Probiotics // Adding probiotics to cinnamon, turmeric, black pepper, and pink salt is a genius idea. And not only are you getting a dose of digestion-boosting probiotics, but the spices taste amazing. I'm now addicted to cinnamon in my coffee, tea and oatmeal.
Wooden Spoon Herbs Anxiety Ally // This shop totally had me at 'small-batch southern Appalachian apothecary.' All of these amazing tinctures, salves, and syrups are made by a fellow Tennessee girl! (And if you live in Nashville, she's doing an herbal workshop at Lemon Laine in March.) I'm using this mixture of holy basil, skullcap, lemon balm, oatstraw, ashwagandha and lavender in the eternal quest of taming stress and finding calm.
Harper + Ari Rose Exfoliating Sugar Scrubs // I'll admit, I was skeptical that one cube would exfoliate the whole body. But these tiny cubes, made of sugar, glycerin, shea butter, and aloe vera, don't crumble and fall apart – the gooey-ish texture holds together for a head-to-toe scrub. That's 17 scrubs in one (pretty) jar!
Disclosure: Some of these products were sent to Hello Glow to review, others are things we've bought ourselves, but everything here is something we totally love.
1