Sometimes we love a product so much, we can't keep it to ourselves. You know that feeling, right? Here are a few things that are so essential, we just need to share: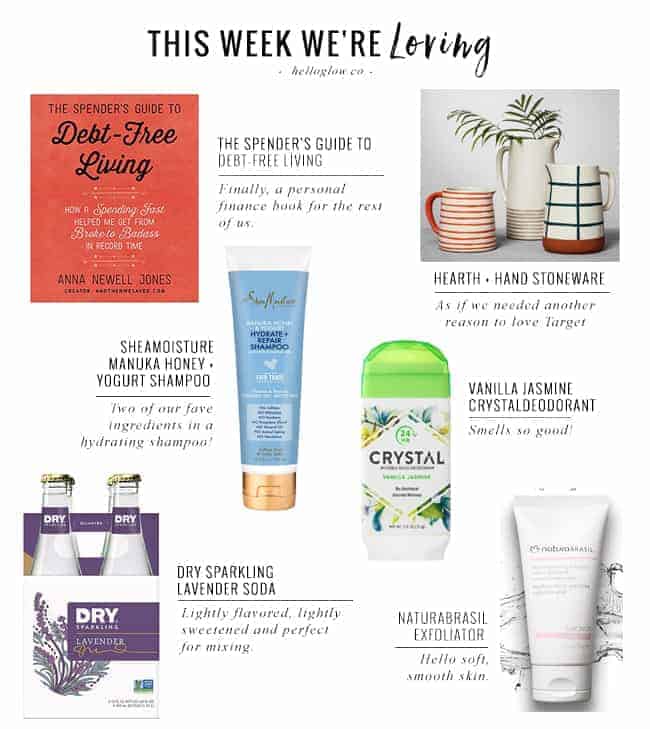 The Spender's Guide to Debt-Free Living // Like many people who make a living freelancing, as I get older, I'm starting to freak out a little–or okay, a lot–about the fact that I don't have a 401K and I don't have a penny saved for retirement, but I still have a ridiculous amount of student loans to pay off. Gulp. Although that's not the focus of this book, there's something about it that really spoke to me in a way that other financial books and websites haven't. It sounds dramatic to call it life-changing, but yeah: life-changing.
Hearth & Hand Stoneware Pitchers // I'm pretty sure I'm the only person on the planet who doesn't watch Fixer Upper. Not out of snobbery, more out of "if I watch this, I'm going to feel bad about my house because I do not have the budget or time to do all this stuff." But dang, the Magnolia collection at Target is so pretty! With spring right around the corner, I'm totally eying these fun stoneware pitchers for backyard flower arrangements. (Their toy collection for kids is absolutely adorable too–have you seen this tea set?!)
SheaMoisture Manuka Honey & Yogurt Shampoo // Here at Hello Glow, we love manuka honey and we love yogurt. So combine the two and put them in a shampoo? We're totally there. The air in our house is so dry and it's been quite unkind to my hair. I've been using this shampoo a few times a week to help keep split ends at bay.
Crystal Invisible Solid Deodorants // Back in the 90s, I babysat for a crunchy family who stocked quinoa in the pantry before quinoa was even a thing. I remember seeing Crystal deodorant in the bathroom and thinking, "What in the world…?" But now I'm that crunchy mama and I love Crystal deodorant because it's made without parabens and aluminum. The Vanilla Jasmine scent is so good and I love that, unlike so many other natural deodorants, it goes on smooth.
DRY Sparkling // DRY is the happy place between unsweetened sparkling water and sugary sodas. It's just sweet enough and the flavors (Watermelon! Lavender! Vanilla Bean!) make them especially suited for cocktails. Last weekend, my husband and I mixed up some Lavender Collins because we had all the ingredients on hand and I'm pretty sure it's going to become a weekend tradition around here.
NaturaBrasil Skin Brightening Exfoliator // I'm completely obsessed with NaturaBrasil and wish they would open up a store near me–but somehow, I'm guessing that maaaaybe the Upper Midwest isn't at the top of their list as they launch in the US. Anyway! This is my current favorite exfoliating cleanser because it combines physical exfoliation (bamboo micro-particles) with chemical exfoliation (glycolic acid). The result is suuuuper soft skin.
Disclosure: Some of these products were sent to Hello Glow to review, others are things we've bought ourselves, but everything here is something we totally love.
1