Sometimes we love a product so much, we can't keep it to ourselves. You know that feeling, right? Here are a few things that are so essential, we just need to share: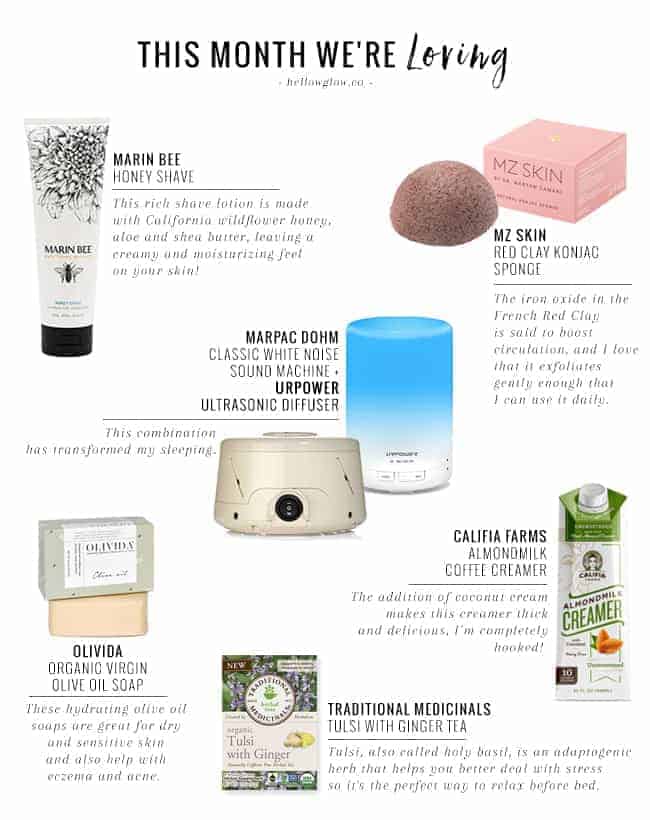 Marin Bee Honey Shave // Using homemade shaving cream was a transformative change in my skincare routine. No more dry legs or razor burn! I loved the moisturizing ingredients but not the oil buildup they left on the razor. This rich shave lotion is the perfect solution. Made with California wildflower honey, aloe and shea butter, it has the same creamy, moisturizing feel without me having to replace my razor every week. The result is a close shave and happy, soft legs.
Califia Farms Almondmilk Coffee Creamer // Confession: I haven't been to the grocery store in months. Using Shipt for Publix and Costco has made me totally lazy. This coffee creamer was a substitution for my regular, and I was skeptical. Almondmilk is usually too thin. And unsweetened? No way. But the addition of coconut cream makes this creamer thick and delicious. It took a week for me to get used to not having flavor, but now I'm completely hooked.
MZ Skin Red Clay Konjac Sponge // This little guy freaked me out at first – how am I supposed to wash my face with a hard rock? Get it wet though, and the sponge is amazingly soft. I add a bit of cleanser and massage the sponge all over my face. It feels so much better than washing with my hands or even a muslin cloth. The iron oxide in the French Red Clay is said to boost circulation, but I love that it exfoliates gently enough that I can use it daily.
Olivida Organic Virgin Olive Oil Soap // My youngest has a hard time with foaming soap dispensers so we've gone old school. I can't remember the last time I used soap bars, but it's actually awesome. These hydrating olive oil soaps are great for dry and sensitive skin and also help with eczema and acne. Yes, you can use them on your face and even your hair! Now I'm on the hunt for cute soap dishes, like this one.
Traditional Medicinals Tulsi with Ginger // My late-night sweet tooth often gets the better of me. Making tea is my new must-eat-something evening ritual to avoid raiding old Halloween candy. (Add above creamer and it feels like a treat.) I'm not a fan of chamomile or other 'sleepy time' teas, but Tulsi, also called holy basil, is an adaptogenic herb that helps you better deal with stress so it's the perfect way to relax before bed.
Marpac Dohm Classic White Noise Sound Machine + URPOWER Ultrasonic Diffuser // Okay, this is two picks in one, but the combination has transformed my sleeping. Then I started using the sound machine and diffuser with lavender essential oil in my light-sleeper son's bedroom, and it may be my best parenting move to date. Now I feel like Oprah with the rest of the family: You get a sound machine! Everyone gets a sound machine!
Disclosure: Some of these products were sent to Hello Glow to review, others are things we've bought ourselves, but everything here is something we totally love.
0