Sometimes we love a product so much, we can't keep it to ourselves. You know that feeling, right? Here are a few things that are so essential, we just need to share: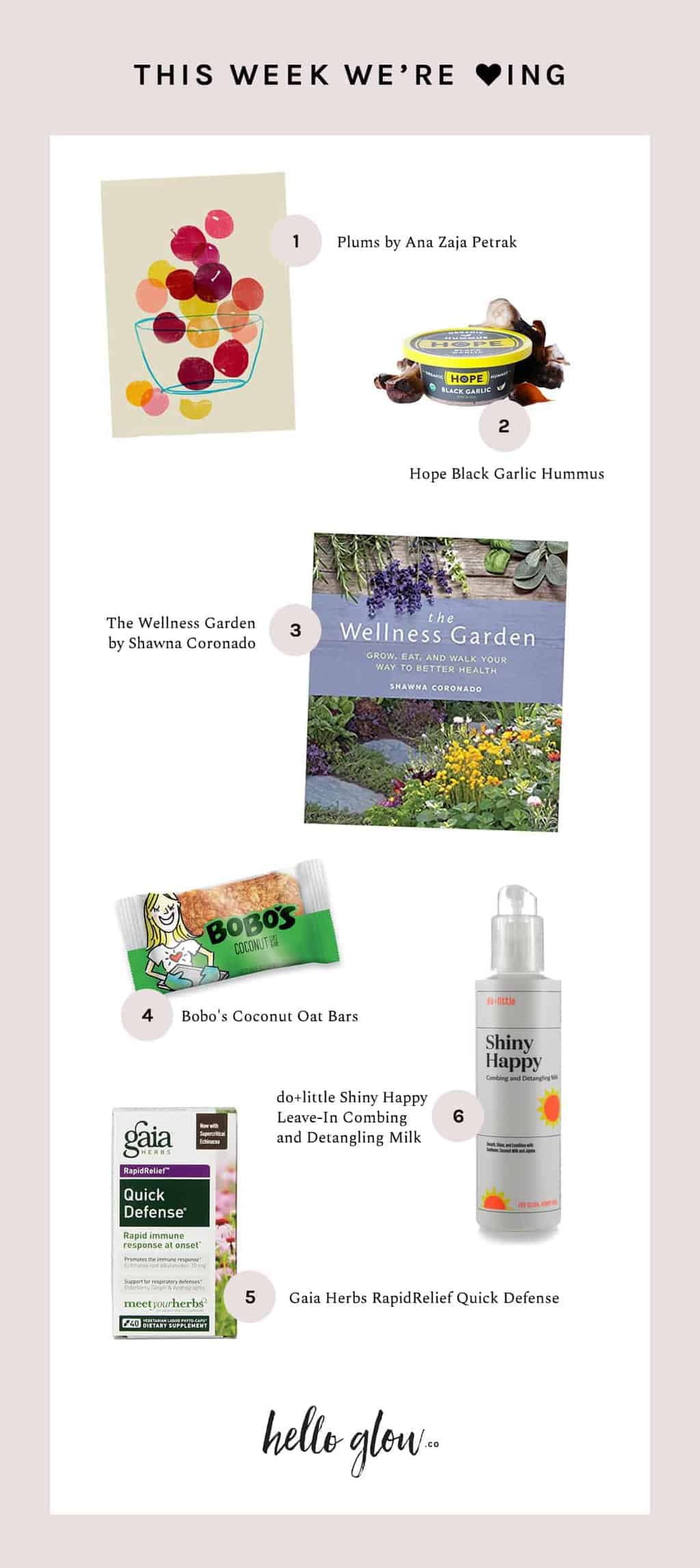 Plums by Ana Zaja Petrak // I have been crushing on this artist's page on Etsy for years and planning on purchasing a few prints for our dining room–but the room was an unfinished mess. We finally got our act together and painted everything (no more honey oak trim!), so now we can finally have a happy plum print to dine with us.
Hope Black Garlic Hummus // Best! Hummus! Everrrr! I love that it's not WHOA GARLIC!, but has more of a subdued caramelized flavor. I've been using it as a sandwich spread (think: mayo, but not gross) and putting a scoop in my meal prep lunch bowls.
The Wellness Garden by Shawna Coronado // While it certainly doesn't feel like spring here in the Upper Midwest, it's still time to start thinking about working on the garden. I'm not really great at visualizing or planning outdoor spaces, so I've been getting lots of inspiration from this book–especially the chapter about gardening to reduce anxiety. (Oh, how I need that!)
Bobo's Coconut Oat Bars // My kiddo and I like to split one of these bars after her nap. She's not really a fan of the texture of granola bars, but she is all about these because they're soft and juuuust the right amount of chewy. They're vegan, gluten-free, and non-GMO project verified too!
Gaia Herbs RapidRelief Quick Defense // Just when I thought cold season was behind us, my entire family picked up a nasty bug. Normally when I get a cold, it lingers and lingers and lingers (thanks, crappy sinuses!), but this time around I took Gaia Quick Defense after being persuaded by glowing Amazon reviews and the cold was gone in about 3 days–I have literally never had a cold end so quickly. Totally keeping a bottle of these on hand always now.
do+little Shiny Happy Leave-In Combing and Detangling Milk // As someone who loved having her hair brushed as a kid, I totally don't get why my daughter always fights me when I bring out the hair brush. I thought about purchasing the detangler my mom used on me as a kid, but I wasn't crazy about the ingredients. This Detangling Milk from do+little is so much better–made with natural, non-toxic ingredients, and it really works. Without making hair look greasy! My daughter grabs the bottle from her bathroom and asks me to spray it on her hair about 4 times a day now. Pretty sure that makes it a winner for us!
Disclosure: Some of these products were sent to Hello Glow to review, others are things we've bought ourselves, but everything here is something we totally love.
4