Sometimes we love a product so much, we can't keep it to ourselves. You know that feeling, right? Here are a few things that are so essential, we just need to share: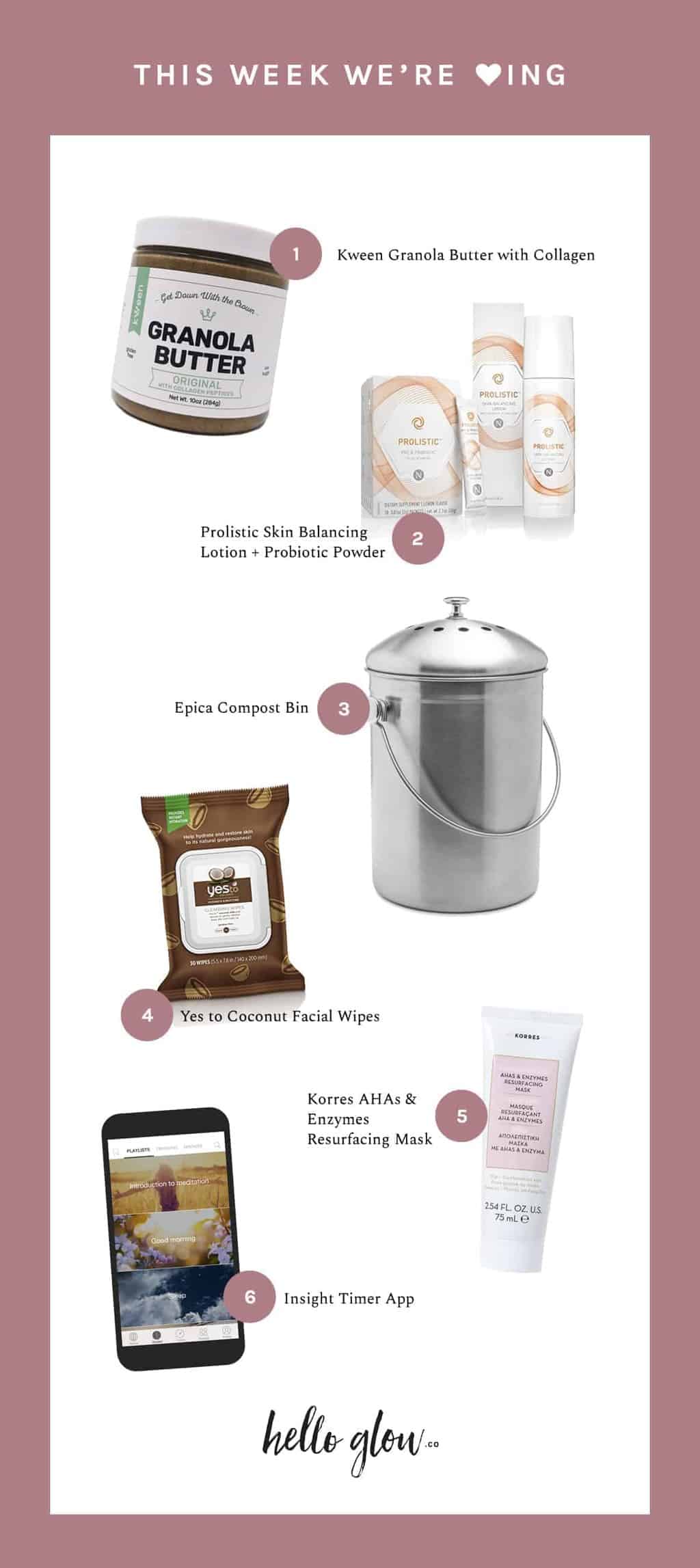 Kween Granola Butter with Collagen // My husband scarfed down this granola butter with eating-straight-from-the-jar level gusto. You can easily spread this creamy butter (think the consistency of almond butter) on toast, add it to smoothies or dunk graham crackers like we did. It taste almost dessert worthy, but it has just 3 grams of sugar, and you'll also get 7g of protein from grass-fed collagen.
Prolistic Skin Balancing Lotion and Probiotic Powder // We talk a lot about taking probiotics internally for gut health, but that beneficial bacteria is also good for your skin's microbiome on the outside. Using this light, non-greasy lotion with the probiotic powder supplement at the same time (you don't need water) is the best thing I've tried for staying consistent with upping my probiotics. Put on lotion, take my supplement, done!
Epica Compost Bin // I have wanted to start composting forever, but it always felt like a big, intimidating project. So I'm literally starting small with this super cute compost bin for kitchen scraps, peels and coffee grounds that looks good sitting out on the counter. Plus compostable bags to lessen the ick factor.
Yes To Coconut Facial Wipes // If you're not into DIYing makeup remover wipes, these are the perfect gentle substitute. My esthetician recommended them because they're so soft and yet get the sticky eye makeup without tugging. The coconut-y smell is heavenly, too.
Korres AHAs & Enzymes Resurfacing Mask // This mask is the triple crown of exfoliation: physical, chemical and enzymatic. Tiny pomegranate grains give this mask a lightly gritty texture that you can feel exfoliating. At the same time glycolic acid, salicylic acid and enzymes are clearing out the pores. My skin feels flawless every time I use it.
Insight Timer App // A friend just introduced me to this app, and as a meditation newbie, I concur that it's awesome. There's no guilt for just doing 5 minutes. It tracks your total time and number of sessions, which is nice for type-A people like me who need that feeling of accomplishment.
Disclosure: Some of these products were sent to Hello Glow to review, others are things we've bought ourselves, but everything here is something we totally love.
5