Sometimes we love a product so much, we can't keep it to ourselves. You know that feeling, right? Here are a few things that are so essential, we just need to share: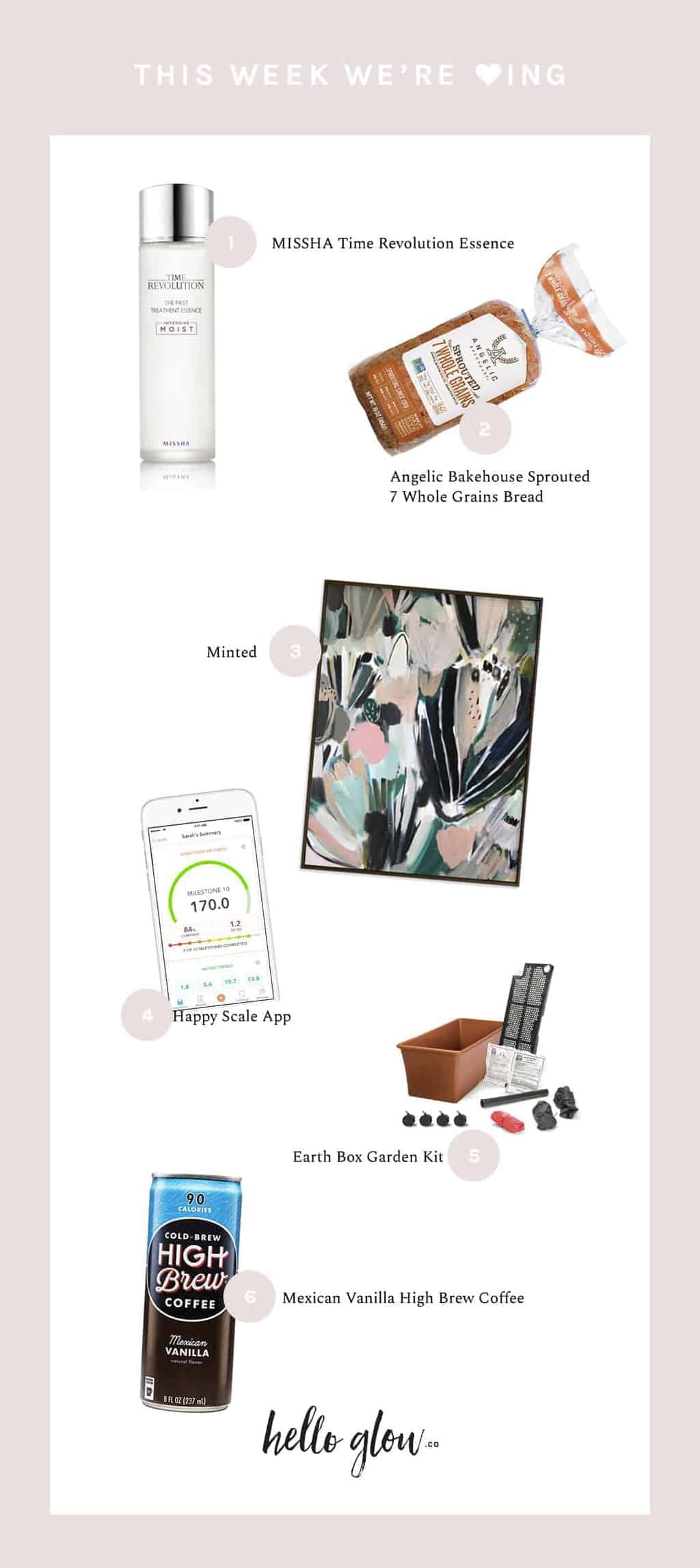 MISSHA Time Revolution Essence // After I ran out of my last bottle of essence, I decided I'd save money and not buy another. What does essence do that toner doesn't?! But I missed using it and my skin just felt better when I did. So rather than buying the pricey $70 bottle I had been eying at Sephora, I bought this one from Target instead. And you know what? I totally love it! It makes my skin feel really smoothed and soothed.
Angelic Bakehouse Sprouted 7 Whole Grains Bread // I always try to support local brands and businesses, but even if you don't live in the great state of Wisconsin, you can and should buy Angelic Bakehouse products online. Because: sprouted grains! They are super good for you! And an entire loaf is only $2.70! I had give up bread for a while because I was getting stomachaches whenever I ate it, but this bread doesn't do that to me. Turns out that sprouted grains can be easier for people with gluten sensitivity to digest.
Minted // My dilemma with decorating is that I know what I like, but I don't know what to do with what I like. Minted has an awesome service where you can pay to have a designer help you choose art and place it in your room. They send you a super-detailed sketch with measurements showing you exactly where to hang each print, so it's basically fool-proof. (Also: Minted has the best art!)
Happy Scale // If, like me, you weigh yourself daily (I'm not obsessive! I just like to know!), you've probably had a morning where you're up 4 pounds and completely incredulous because: you didn't even eat 4 pounds worth of food yesterday! In fact, you ate less than usual! What! The! Heck! So, fellow daily weighers, you need this handy little app, which keeps track of your weight trends by smoothing out those daily numbers. Also, it's free!
EarthBox Garden Kit // We have a big yard, but I can't commit to a place to put a vegetable garden. It's a big decision! I'm just not ready! So I'm digging out the EarthBox I used to plant tomatoes in a few years back. If you're gardening in a small space, on a patio or deck, or just don't want to dig up your yard for a vegetable garden, get an EarthBox! Now that my daughter and I are busy planning what we're going to put in there this summer, I'm remembering how much I loved this thing. It comes with everything you need for a mini veggie garden, minus the dirt and seeds.
Mexican Vanilla High Brew Coffee // This coffee has become my thing. I'm a sucker for anything vanilla and since it's only lightly sweetened, this clocks in at a mere 90 calories–much less than a coffee shop latte. And since High Brew is cold brewed, it's lower in acidity than traditional coffee, which my sensitive stomach appreciates. Someday I'll try the Salted Caramel flavor, but right now I can't pry myself away from this one.
Disclosure: Some of these products were sent to Hello Glow to review, others are things we've bought ourselves, but everything here is something we totally love.
5