Sometimes we love a product so much, we can't keep it to ourselves. You know that feeling, right? Here are a few things that are so essential, we just need to share: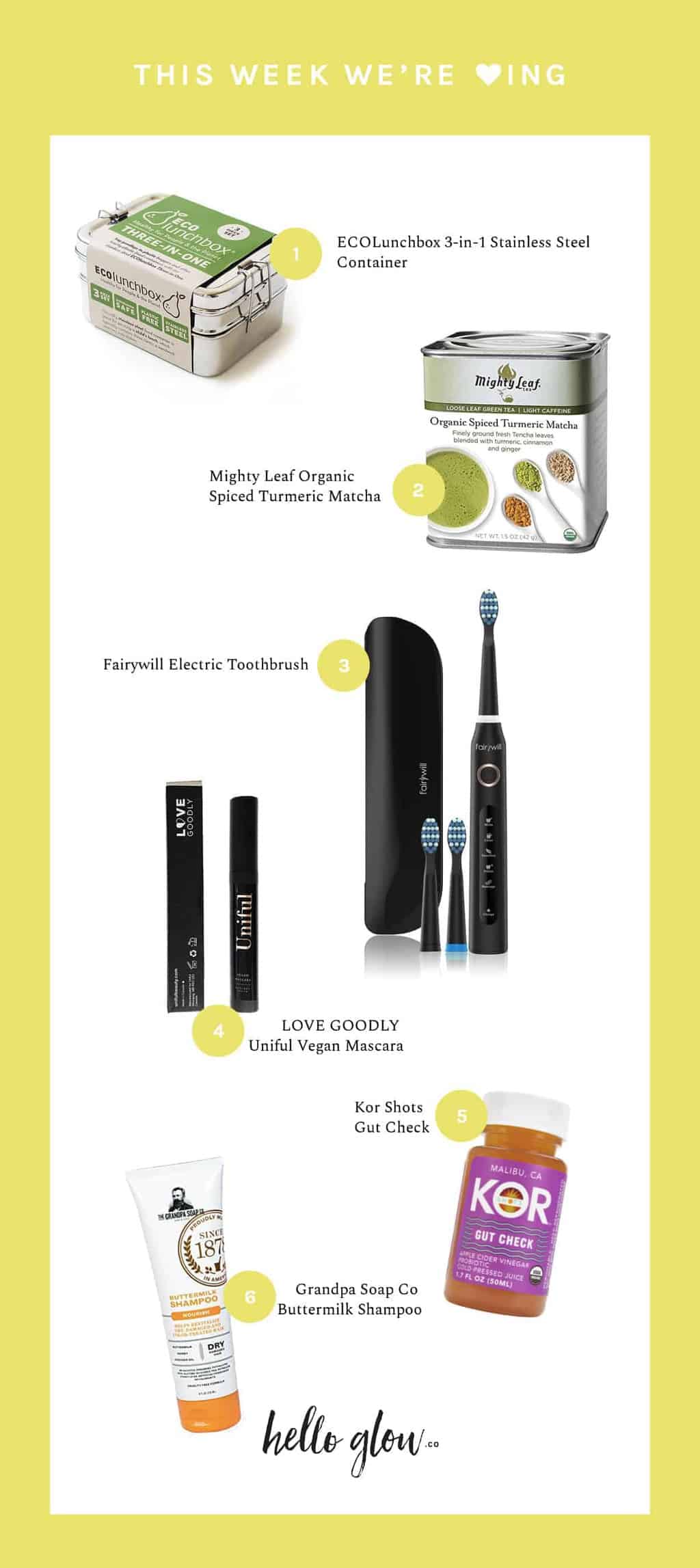 1. ECOLunchbox 3-in-1 Stainless Steel Container // My daughter goes to a Montessori school, and they have the most zen lunch procedure. They sit 2-3 to a table and quietly eat their lunch off of real plates with cloth napkins. Each table has a water pitcher to pour into actual glasses. It's a powerful lesson that kids don't need plastic cups or disposable baggies. Reusable lunchboxes are my reminder and motivation to pack real food (plus tbh they look sleek and cool). Now I send actual orange wedges instead individually packaged fruit cups with plastic spoons!
2. Mighty Leaf Organic Spiced Turmeric Matcha // You guys, I did it. I quit drinking coffee and switched to green tea! Last week was a little bit brutal with withdrawal headaches, but I'm settling into my new matcha-making routine with this tasty tea that also has turmeric, cinnamon and ginger.
3. Fairywill Electric Toothbrush // At my last teeth cleaning, my dental hygienist told me she can tell if someone is using an electric toothbrush. That's because an electric toothbrush removes wayyyy more plaque and stains than a regular toothbrush. Wow. And after using this toothbrush I believe it. Brushing for 2 minutes with the built in timer leaves my teeth feeling sparkly clean and polished.
4. Uniful Vegan Mascara from LOVE GOODLY // Finding a good mascara without icky ingredients has been one of the biggest challenges of using natural makeup. And I'd never heard of Uniful before my LOVE GOODLY box arrived, but this under-the-radar mascara is fantastic. If you're overwhelmed with too many options and having to research every ingredient, having LOVE GOODLY do the legwork of finding the latest and greatest in natural beauty is worth it.
5. Kor Shots Gut Check // Tummy issues are a constant struggle. I gave up coffee because I thought that might be the culprit (jury is still out). I tried adding ACV to my morning water but quit because I stink at doing unpleasant things. These shots are a little pricey, but 1) you can get the shot over with pretty quickly and 2) the awful ACV taste is masked by ginger and apple juice. Plus it has stomach-soothing  aloe vera juice and a probiotic.
6. Grandpa Soap Co Buttermilk Shampoo // I decided to go really, really blonde recently, and it had the unfortunate side effect of dry, frizzy hair. My hair has always been oily so switching to a rich shampoo (and conditioner) felt weird, but my hair is totally soaking up the moisturizing mix of buttermilk, honey and avocado oil. Bonus: it has the most amazing smell.
Disclosure: Some of these products were sent to Hello Glow to review, others are things we've bought ourselves, but everything here is something we totally love.
9