Sometimes we love a product so much, we can't keep it to ourselves. You know that feeling, right? Here are a few things that are so essential, we just need to share: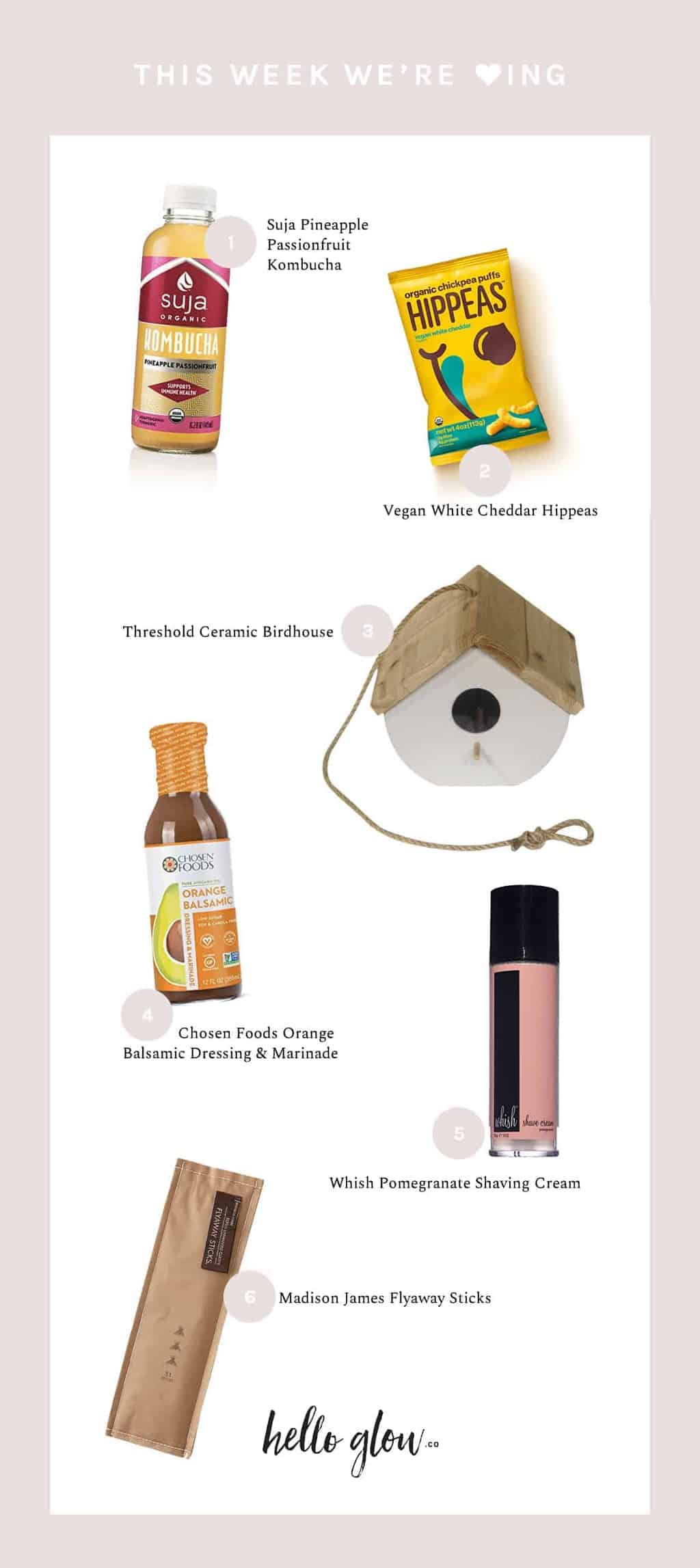 1. Suja Pineapple Passionfruit Kombucha // I tried kombucha once a few years ago and decided it was gross. But either my palate has changed or I just had a crummy bottle of kombucha because I am totally digging this one, which also has turmeric in it to help fight inflammation. (And have you checked out Suja's Vinegar Juices and Pressed Probiotic Waters? They have so many ways to get your good bacteria fix!)
2. Vegan White Cheddar Hippeas // I love cheese puffs, but it's not, like, the most respectable food for an adult to eat. Or the most nutritious. But Hippeas are made with chickpeas, so they actually have nutritional value! And 4 grams of protein per serving! Plus, even though these are vegan, they totally taste just like cheddar. They're organic, non-GMO, and grown sustainably too. Love that.
3. Threshold Ceramic Birdhouse // Every spring I get so excited when Target sets up the outdoor section in the back of the store. They have the best stuff. I'm planning on picking up this birdhouse tomorrow, along with these lantern string lights, which are solar-powered so you don't have to worry about finding a place to plug them in.
4. Chosen Foods Orange Balsamic Dressing & Marinade // I've been feeling icky and run-down lately–and craving salads. Salads! For! Every! Meal! This is my current favorite dressing because it's so good for a spring salad made with fresh berries or grilled asparagus. Plus, I love that it's made with healthy avocado oil.
5. Whish Pomegranate Shaving Cream // Anyone else totally slack on shaving their legs this winter? No shame! I've always hated shaving my legs because I have such sensitive skin, but this shaving cream smells so good, I actually look forward to it–and it's super thick so I end up with much less razor burn. It's seriously the first time I've ever been able to shave my legs without having them be red and inflamed afterwards. This stuff is the best.
6. Madison James Flyaway Sticks // We live down the block from a pond, which is lovely and all, but: mosquitos. So. Many. Mosquitos. Last summer I discovered this insect-repelling incense and I just placed an order to stock up again for this year. It smells good and it actually works–much better than the citronella candles we had been using previously. These are a summer must-have.
Disclosure: Some of these products were sent to Hello Glow to review, others are things we've bought ourselves, but everything here is something we totally love.
4