Sometimes we love a product so much, we can't keep it to ourselves. You know that feeling, right? Here are a few things that are so essential, we just need to share: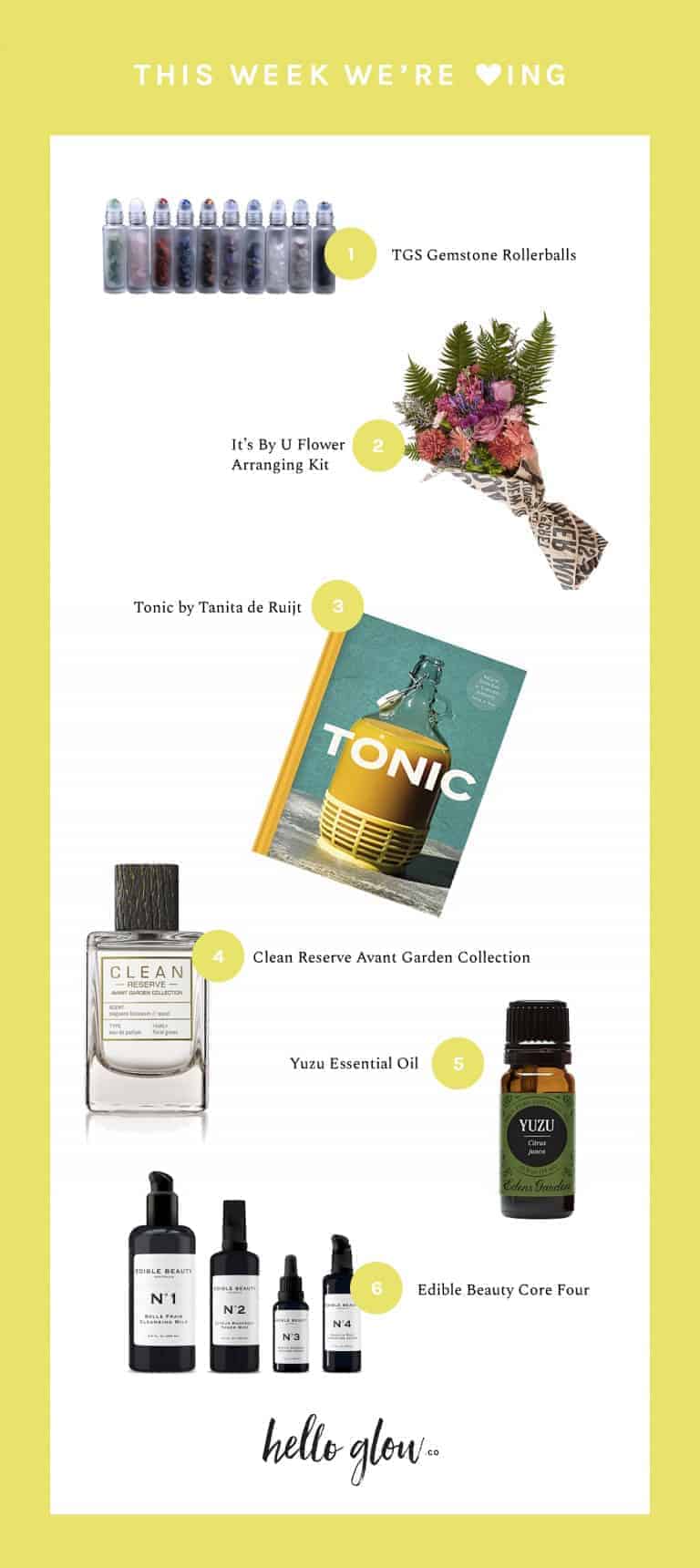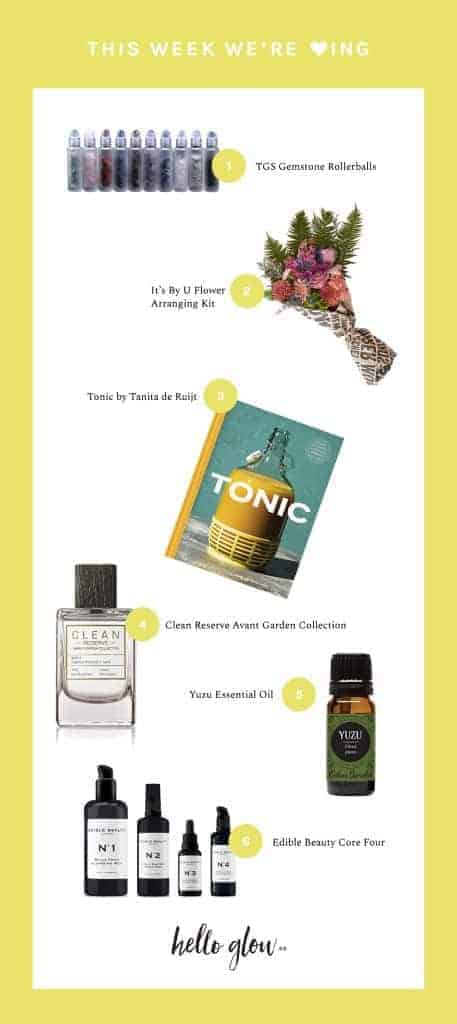 1. TGS Gemstone Rollerballs // How cool are these?! I've been busy making roller balls for headaches and allergies because spring in Nashville is not my friend. Each bottle is filled with tiny gemstone chips that not only look pretty but also help prevent the oils from separating.
2. It's By U Flower Arranging Kits // Because as much as I want to buy flowers I just can't with the neon colors in most grocery store bouquets. This genius subscription sends you the flowers and the vase but lets you put it together. You learn a new way to make a bouquet with each delivery so it's like a flower arranging class in a box!
3. Tonic // My instagram feed is full of beauty elixirs and health tonics, and I'm having major FOMO. Especially after my short-lived switch to matcha gave me major stomach pains. (Who knew that was possible?) This book is full of recipes that look as fun to make as they are to drink. Fingers crossed for the pineapple tepache I started this week.
4. Clean Reserve Avant Garden Collection // This eco-friendly perfume has the magic combination of not overwhelming me when I spritz it on (and thus leading to a headache) while the subtle scent actually stays with me for hours. I usually go for happy citrus perfumes, but the saguaro blossom & sand is just the right blend of light floral with musky, earthy notes. The term 'fragrance' is notorious for masking sketchy ingredients, but Clean Reserve has no phthalates, preservatives, gluten or artificial dyes.
5. Yuzu essential oil // Speaking of scents, I just discovered yuzu essential oil, which is a must-have if you love citrus. I know, with sweet orange, mandarin orange, lemon, grapefruit, bergamot and lime, you're probably thinking, another citrus?? Well, yes. Yuzu is an Asian citrus tree, and the essential oil, pressed from the fruit peel, has a gentle citrus scent like bergamot but with a bit of tartness, like grapefruit. The refreshing oil is a perfect pick-me-up in the diffuser.
6. Edible Beauty Core Four // Bless the folks at Edible Beauty for making a skincare line that does the thinking for tired moms. Numbering the bottles is straight up brilliant. There's no confusion about which products to use first, and I'm less likely to get lazy and skip steps (looking at you toner!). It helps that every product from soap to serum is luxuriously rich and made with organic and wildcrafted ingredients. A perfect gift for Mother's Day.
Disclosure: Some of these products were sent to Hello Glow to review, others are things we've bought ourselves, but everything here is something we totally love.
7