Sometimes we love a product so much, we can't keep it to ourselves. You know that feeling, right? Here are a few things that are so essential, we just need to share: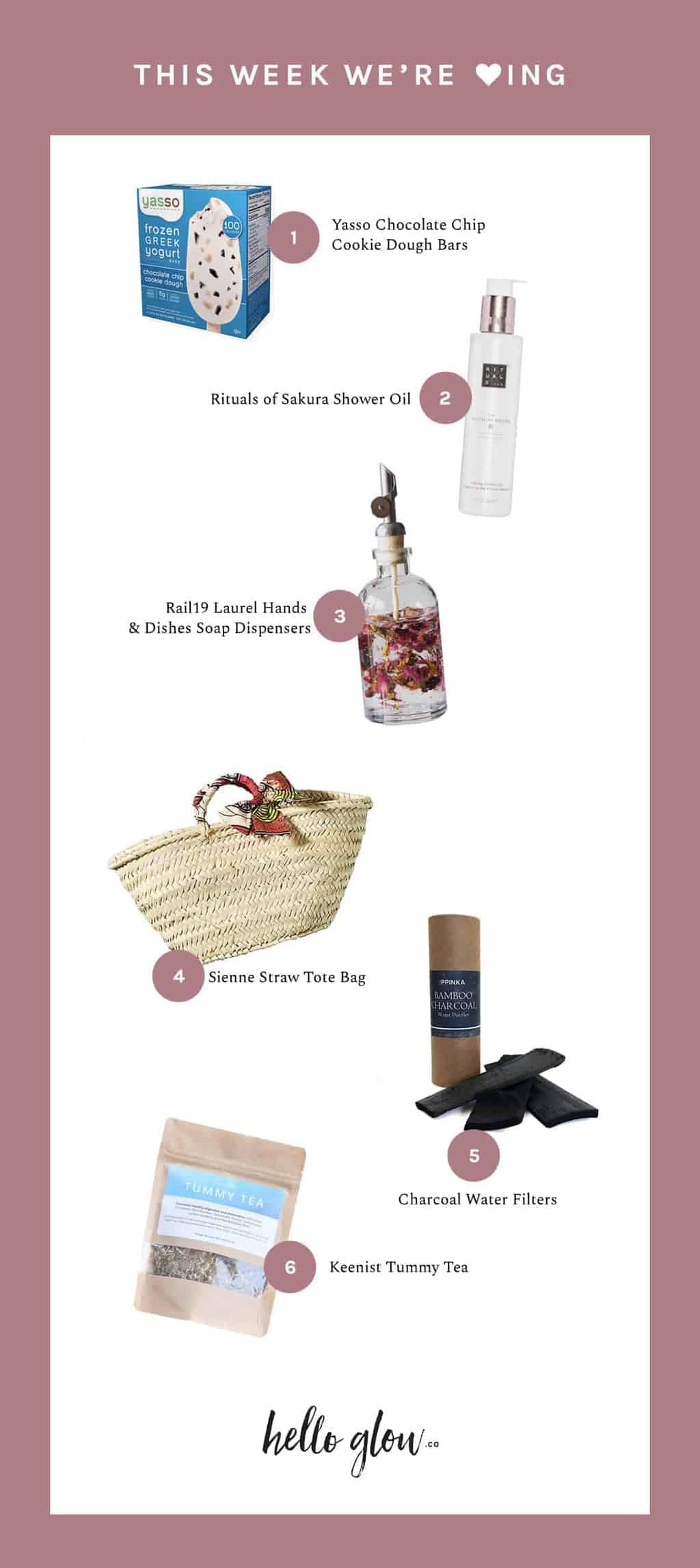 Yasso Chocolate Chip Cookie Dough Bars // I'm a sucker for enjoying treats on the porch on summer evenings. The kiddos are actually pretty good smoothie pop makers, but for a creamy treat, these bars are a total hit. My picky eaters scarfed them down, never making a peep about the healthy (gasp!) Greek yogurt. The cookie dough is our favorite flavor, but mint chocolate chip is good too!
Rituals The Ritual of Sakura Shower Oil // I got a shower oil for Christmas last year and spent months applying it as a moisturizer *after* my shower. I couldn't figure out why it felt weird and my legs were so dry. One day I squirted some in the bath, and it turned the whole thing into a bubble bath. Lightbulb! Now that I know how to actually use the product, I totally get the awesomeness of moisturizing oil and body wash in one. Rituals' Sakura cherry blossom scent is so feminine and lovely. And if you haven't tried a Rituals body scrub, you are totally missing out.
Rail19 Soap Dispensers // You needs lots of jars and spray bottles for DIYing, and unfortunately most are 1) plastic and 2) hideous. So bless the folks at Rail19 for making stylish glass dispensers, many of which are made from recycled glass. People always ask us where we get the bottles for all of our soaps and potions and the answer is Rail19 – now you know our secret! A couple of weeks ago I made a homemade heavy duty dish soap that I actually really like (it uses Sal Suds because I need foam!), and these adorable laurel soap bottles are perfect by the sink – and we're giving them away on the blog right now!
Seine Straw Tote Bag // Our social media manager, Jessica, has spent the last two weeks in Paris, and I've been more than a little jealous watching her gorgeous shots on Instagram stories! My consolation prize: this lovely straw tote bag that's a must for feeling a bit French while you wander through the farmer's market. Notice how one side is a bit higher? A genius way to make it easier to carry flowers.
Charcoal Water Filters // I have been shaming my husband for months for taking plastic water bottles to work. (It's sometimes a challenge to get the family to go along with my crazy.) He brings them home in a big trash bag for recycling, but still. Finally I found a solution to his 'the water tastes terrible! there's no filter!' complaints. Stick this charcoal filter in your reusable water bottle and it does the filtering for you – for months! Just boil them after a month or two to release all the toxins and then stick them back in the water bottle.
Keenist Tummy Tea // Our very own nutritionist Stephanie Rome has a new line of teas over at her site, Keenist. The older I get the more sensitive my stomach seems to get. Everything gives me a stomachache! This tummy tea with red rooibos, spearmint and fennel helps with digestion and all kinds of unpleasant symptoms like heartburn, cramps and bloating. And the ginger and cinnamon make it super tasty!
Disclosure: Some of these products were sent to Hello Glow to review, others are things we've bought ourselves, but everything here is something we totally love.
5