Sometimes we love a product so much, we can't keep it to ourselves. You know that feeling, right? Here are a few things that are so essential, we just need to share: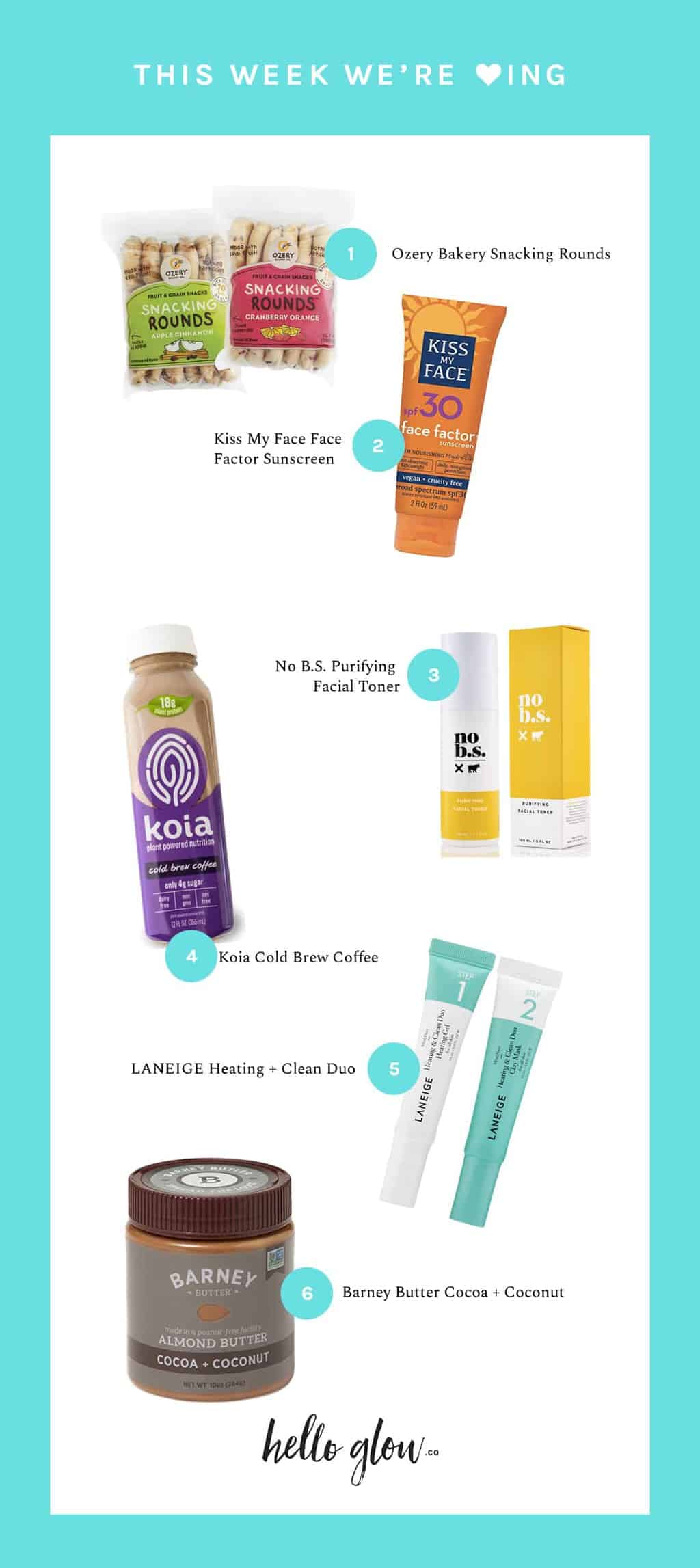 Ozery Bakery Snacking Rounds // My toddler loves bagels for breakfast, but she rarely finishes them because they are so dense and bready. These rounds are so much better–we can top them with a big smear of almond butter and sliced fruit like we do with a bagel and they're nice and thin, so she actually eats the whole thing. The Cranberry Orange flavor is my favorite, but she's partial to Apple Cinnamon.
Kiss My Face Face Factor Sunscreen // I totally have a soft spot for Kiss My Face because it was my entry into the world of natural beauty products many years ago. I hate hate hate the way sunscreen feels on my face–almost like I can literally feel my pores clogging when I put it on. This is the first facial sunscreen I've used that I actually like and that doesn't leave my face looking pale (I don't need any help in that department, thankyouverymuch!). I use this, follow it up with IPKN mattifying primer, then put on my foundation and I am summer ready.
No B.S. Purifying Facial Toner // Okay, let's pause for a second and appreciate the name of this skincare line. I totally love the concept and the bold, minimalist packaging. The hot weather prompted me to switch up my toner and this one is ideal for my fellow 30-somethings who are battling both fine lines and breakouts. Cucumber and green tea supply those antioxidants we need to fight aging, while tea tree oil, salicylic acid, and witch hazel fight acne and excess sebum. Halleloo! (PS – We're giving away $200 worth of No B.S. products on the blog right now!)
Koia Cold Brew Coffee // Okay, so this isn't just cold brew coffee–it's a plant-based protein drink with cold brew coffee added. (If coffee isn't your thing, try Cinnamon Horchata. OMG.) Each serving has 18 grans of protein with only 4 grams of sugar. And it has coffee in it! So basically, this is the perfect rush-out-the-door breakfast option.
LANEIGE Heating + Clean Duo // LANEIGE will always be one of my favorite K-beauty brands because of their absolutely amazing (some might even say life-changing?) overnight lip mask. So I implicitly trust any product they put out. If summer has your pores feeling gross and congested, this is the solution! A heating gel that opens up your pores and a clay mask to draw everything out. Genius!
Barney Butter Cocoa + Coconut // Unlike a certain Italian chocolate spread, this one has no added sugar. I repeat: no added sugar! And it has the added bonus of coconut–not to mention being non-GMO and vegan. My current favorite dessert is banana soft serve with Cocoa + Coconut Barney Butter swirled into it topped with toasted coconut flakes. Ridiculously good.
Disclosure: Some of these products were sent to Hello Glow to review, others are things we've bought ourselves, but everything here is something we totally love.
8