Sometimes we love a product so much, we can't keep it to ourselves. You know that feeling, right? Here are a few things that are so essential, we just need to share: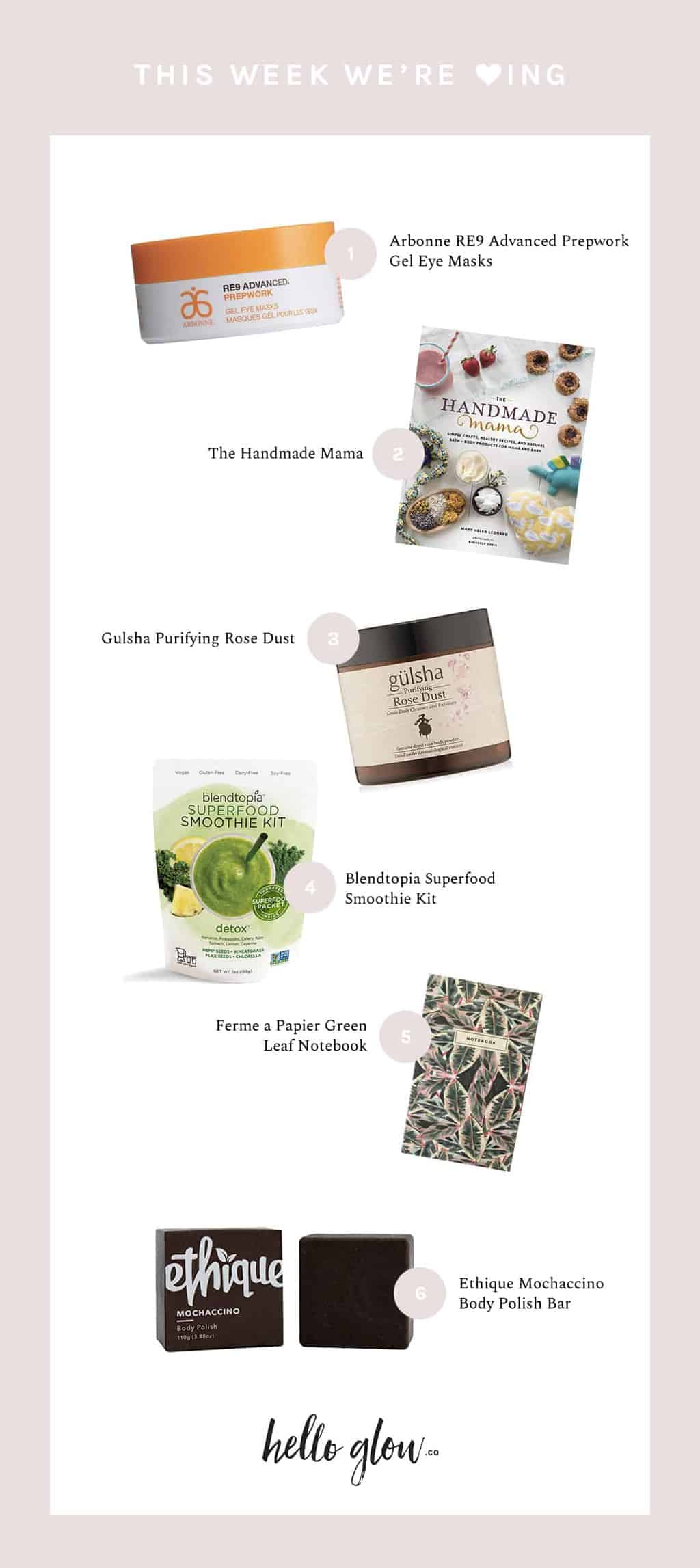 Arbonne RE9 Advanced Prepwork Gel Eye Masks // No amount of concealer seems to cover up my dark circles these day. It's simply unfair that now the kids sleep through the night, but I can't sleep! Gel eye masks to the rescue. These mess-free mega moisturizing masks fit right under your eyes to deliver a mixture of superfood antioxidants and phytonutrients to fight fine lines. I like using them in the morning because the cooling effect reduces eye puffiness.
The Handmade Mama // Like a lot of women, my journey into all things natural started after having my first child. Suddenly I was reading labels like a mad scientist and spending hours on Google. It's a learning curve that can make you a little crazy. Mary Helen Leonard's new book has everything new moms need to know – for themselves and their kiddos. It includes a handy mix of beauty recipes, craft projects and food recipes for both mom and baby.
Gulsha Purifying Rose Dust // Cleansing grains are like a gentle polish that cleans and exfoliates your skin. After years of washing with a foamy soapy cleanser and getting a little overzealous with scrubs, cleansing grains made my skin super soft and happy. You can make cleansing grains at home or pick up this combo of pink clay and ground rosa damascena flowers with relaxing rose essential oil. The container has a smart rotating opening (like in a salt shaker) so you don't pour out too much at once or spoil it with dirty fingers. You'll get a ton of uses from one jar.
Blendtopia Superfood Smoothie Kit // I have never gotten into the smoothie craze because I'm terrible at planning ahead. I either don't have the right ingredients or end up tossing stuff because I forgot I had it. So I love, love the idea of premade smoothies that not only have greens in there but superfoods like wheatgrass powder, chlorella powder and flaxseeds. All you add is the liquid (I like cashew milk) and blend. The kits aren't cheap but they're a good backup plan for crazy mornings or afternoons when Diet Coke is calling your name.
Ferme a Papier Green Leaf Notebook // You can never have too many notebooks, and Ferme a Papier is latest addition to my addiction collection. Inspired by her first trip to Paris, artist Cat Seto created this very chic line of paper goods that features her stylish artwork on journals, cards and prints. Her spring collection includes gorgeously drawn leaves and foliage, and I want to wrap all the gifts in this anthurium gift wrap (printed on 100% recycled PCW chlorine-free paper).
Ethique Mochaccino Body Polish Bar // This body scrub combines exfoliating ground Arabica beans with skin-softening cocoa butter. Together, they smell completely delicious. Which is good because my brain is now programmed to only wake up at the smell off coffee. And the scrub down will definitely get the blood moving (and leave your skin super soft). It's the perfect antidote to sluggish mornings.
Disclosure: Some of these products were sent to Hello Glow to review, others are things we've bought ourselves, but everything here is something we totally love.
3