Sometimes we love a product so much, we can't keep it to ourselves. You know that feeling, right? Here are a few things that are so essential, we just need to share: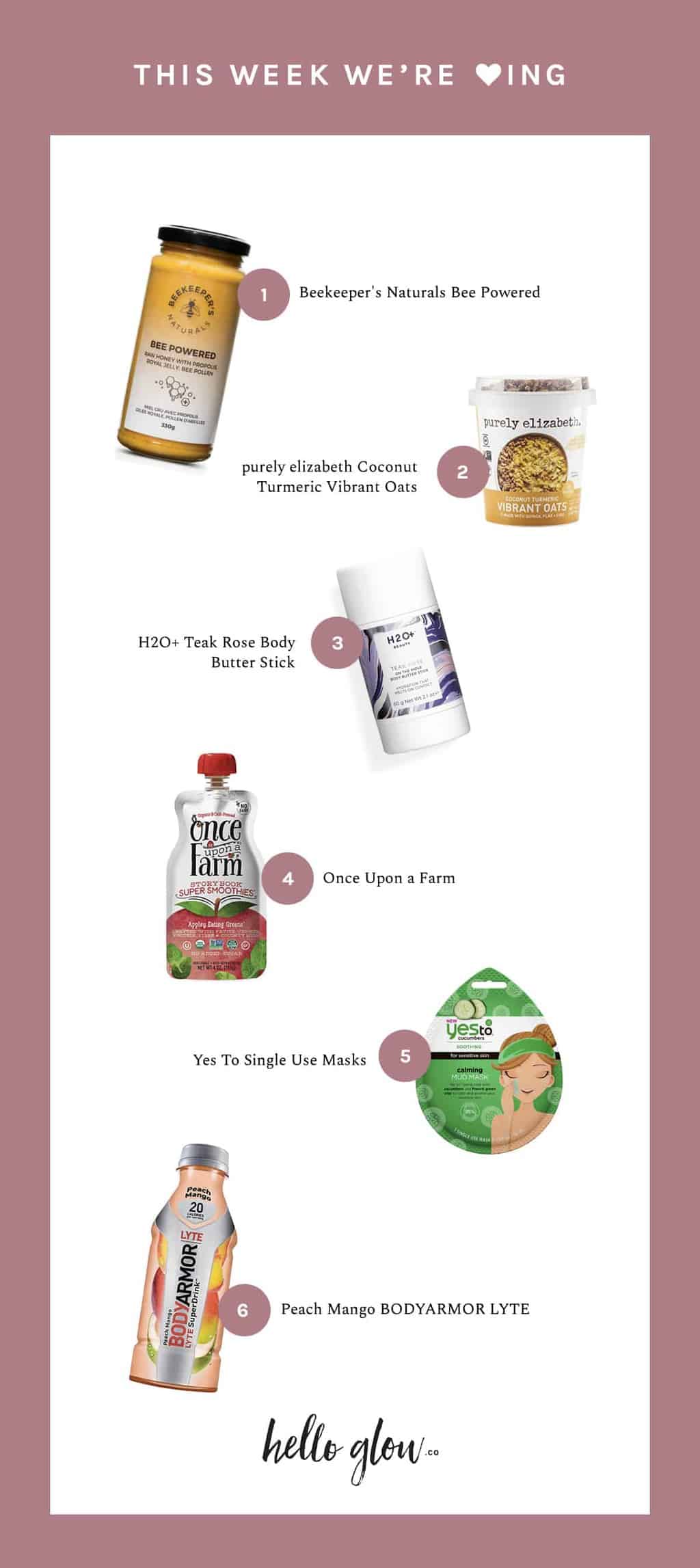 Beekeeper's Naturals Bee Powered // The pollen where I live is abundant and oppressive, so I've been trying to boost my intake of ALL THINGS HONEY to help with the allergy sitch and I'm totally into this brand–and Bee Powered in particular. It's not just honey, it's royal jelly, pollen, and propolis too, all in one jar. Lately I've been stirring a teaspoon into a little bit of almond butter and dipping apple slices into it for an energizing afternoon snack.
Purely Elizabeth Coconut Turmeric Vibrant Oats // We pretty much always have a bag of Purely Elizabeth Chocolate Sea Salt Probiotic Granola in the pantry–it's addictive. So I was excited to give their new oat cups a try. So easy! So tasty! And so full of awesome superfood ingredients. I love the crunchy granola topping too.
H2O+ Teak Rose Body Butter Stick // I. LOVE. THIS. I used to keep a tub of body butter in my purse (is that totally weird?!), but because it was in a tub, whenever I opened it, butter would come spilling out from being jostled around. But this is a stick! So it's totally travel-friendly! It smells absolutely heavenly too. This is a must-have for summer vacations.
Once Upon a Farm // You know that feeling when a brand you've been into for a while makes it big and you're like, "YESSS! You deserve this!" That's how I felt when I saw an update from Once Upon a Farm in my Facebook feed announcing that their products are now going to be sold at Target. My kiddo just turned 3, but we've been fans of Once Upon a Farm since she was a wee baby and it feels like the brand grew with her, introducing applesauce and smoothies in addition to their amazing, fresh baby foods. The Appley Eating Greens smoothie is pretty much the only way she will eat anything green!
Yes To Single Use Masks // Oh hi, it's me, your friendly neighborhood face mask junkie. I'm into sheet masks and single-use masks as opposed to big jars or tubes because it lets me keep a wide array of treatments on hand. Yes To has a bunch of single-use options now at Target–the calming mud mask for sensitive skin is my fave. And with soothing cucumber, it's also great for those times when you forget the sunblock.
Peach Mango BODYARMOR LYTE // I'm a total delicate flower and I feel like even being outside for a liiiiittle bit on a hot day leaves my body totally out-of-whack, with headaches and just a general malaise. So I've been trying to keep hydrated and make sure my electrolytes are balanced. This is a good alternative to that other electrolyte drink–made with coconut water, lightly sweetened, and only 20 calories too.
Disclosure: Some of these products were sent to Hello Glow to review, others are things we've bought ourselves, but everything here is something we totally love.
3