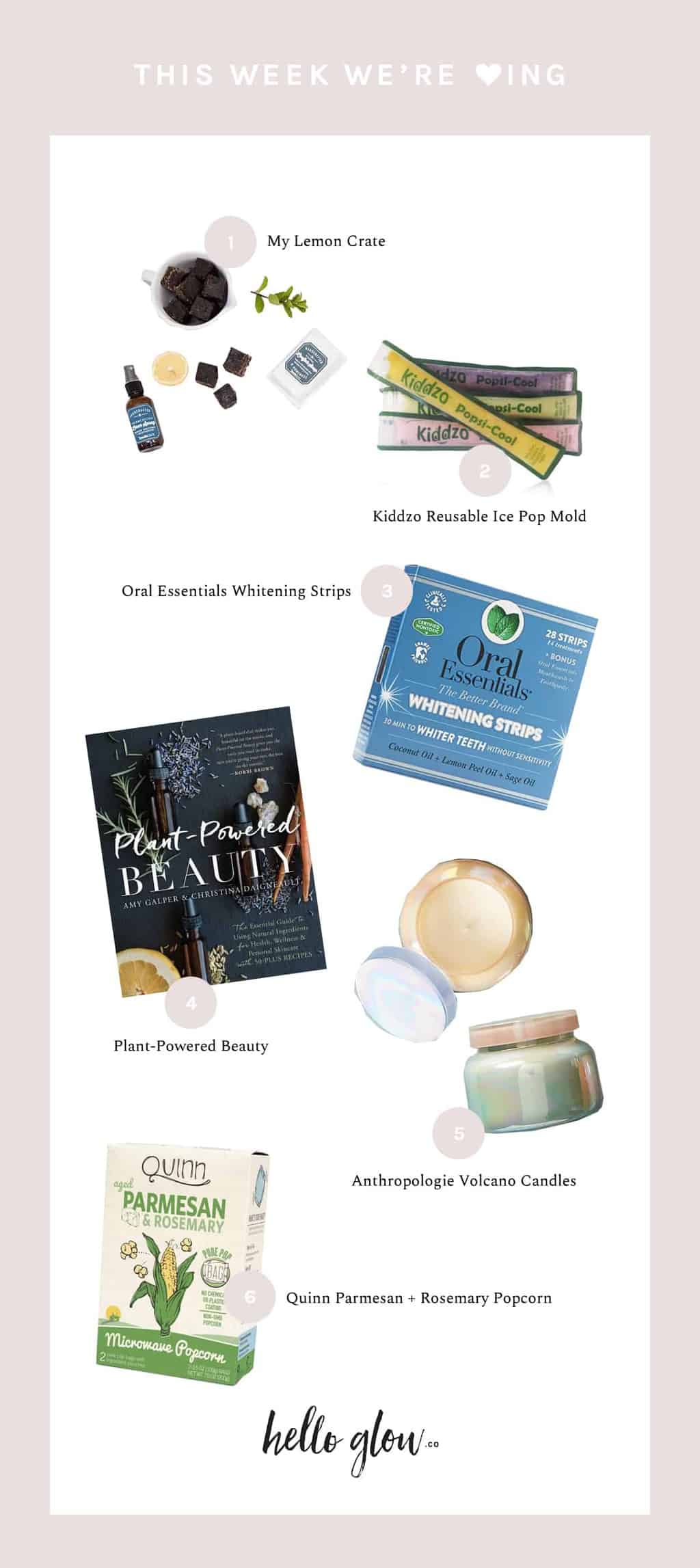 My Lemon Crate // I'm in danger of becoming a recluse from my love of delivery services. Hello Fresh saves my sanity daily, and I've totally upped my smoothie game with Green Blender. And My Lemon Crate is my new fave for self care. The box is full of simple, natural recipes that are more experiential than the usual DIY box. Instead of one complicated recipe there are several smaller DIYs that relate to one another. My box included ingredients and supplies for a 'fruit focused facial,' with how to's for a pineapple & papaya masque (along with a collagen eye mask sample) and a jojoba milk eye roller (to be used with the jade roller that came with). You can mask while you do the DIYs for a perfect night of self-care.
Kiddzo Reusable Ice Pop Mold // Ice pops are a summer tradition, but, oh my, I don't even want to think about what they use to make the neon green and purple colors. My popsicle-obsessed kids fill these up with non-scary looking ingredients (well, sometimes their concoctions are a little scary). Instead of disposable make your own version, these you can reuse them over and over.
Oral Essentials Whitening Strips // I love the idea of whitening strips, but the teeth sensitivity part, not so much. Plus they taste so, so bad. But these whitening strips have a rather pleasant lemony, herb-ish taste AND they don't make my teeth sore. Oh, and did I mention my teeth were whitener the very first time?! Oral Essentials is formulated around the cleaning power of Dead Sea salt along with other natural ingredients like coconut oil and essential oils. I'm totally loving the whitening toothpaste too.
Plant-Powered Beauty // There are just too many good beauty DIY books! This gorgeous book was written by my essential oil instructor, Amy Galper. She's the founder of New York Institute of Aromatic Studies and is crazy knowledgeable about essential oils and all things beauty. Her educator background comes through in the detailed explanation of how the skin works, what each ingredient does, and how to make the basic formulas of skincare.
Anthropologie Volcano Candles // Yes, the volcano scent is an oldie, but it's certainly a goodie. This fresh, fruity scent is the perfect summer staple and not too overpowering. And these new iridescent jars are oh so gorgeous! If you are volcano-ed out and want to try something new, they also make a coastal and lagoon-scented versions in these pretty jars.
Quinn Parmesan and Rosemary Popcorn //This gluten, preservative and GMO-free popcorn is the perfect summer snack for when you have to stay in and watch movies because it's just TOO hot out. Just make sure you read the instructions on the bag. . . we learned the hard way and were puzzled by plain popcorn. Rosemary and parmesan not your jam? You can still enjoy cheesy goodness with the white cheddar and sea salt flavor.
9