Sometimes we love a product so much, we can't keep it to ourselves. You know that feeling, right? Here are a few things that are so essential, we just need to share: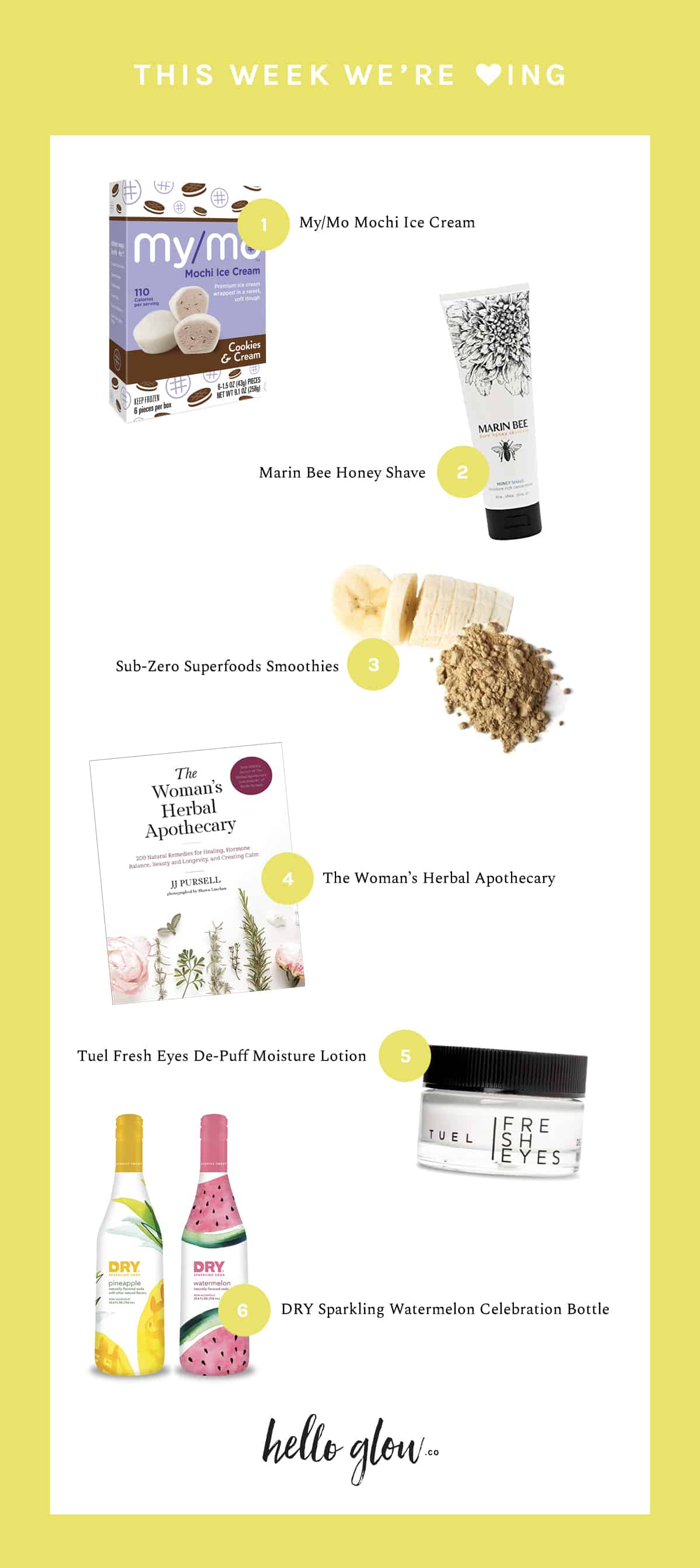 My/Mo Mochi Ice Cream // Whenever we're at Whole Foods, my 3-year-old begs for mochi ice cream from the mochi bar, so I'm definitely familiar with the mochi thing–but this mochi ice cream is uh-maaazing, with flavors like Salted Caramel, Mint Chocolate Chip, and my personal fave, Cookies and Cream. The outside is chewy and almost marshmallowy, the inside is rich and creamy, the whole thing is just perfection. And with only 110 calories, they're the best little treat for after dinner.
Marin Bee Honey Shave // We love Marin Bee products, but I haven't tried their shave cream until recently. If, like me, your legs are prone to razor burn, you need this in your life. It's natural, made with soothing ingredients like shea butter, aloe, and honey, and it moisturizes like nobody's business. No more dry, red, angry, bumpy legs after shaving! Oh, and it smells SO GOOD too.
Sub-Zero Superfoods Smoothies // Stephanie is a big fan of smoothie delivery services, but after trying one (not the one she uses!), I was totally unimpressed because the smoothies were impossible to blend and not good at all. But Sub-Zero Superfoods smoothies totally changed my mind. If, like me, it feels like way too much of a chore to prep ingredients for a smoothie in the morning, you need these in your life–all the ingredients are frozen in a cup and all you have to do is pop them in the blender. If you order, be sure to try the Strawberry Banana Probiotic smoothie because it's total bliss.
The Woman's Herbal Apothecary // As a total bibliophile, one of the perks of being the editor of Hello Glow is getting advance copies of books. While you can find just about anything on the internet, there's something reassuring about having vetted information from a reliable source in book form and that's exactly what this book is. Dr. JJ Pursell has over 25 years of experience with medicinal herbs and she distills that information in this book full of remedies, tinctures, and recipes. It's more of a reference book than a book you read cover-to-cover, but I found it so interesting that I totally did read it that way.
Tuel Fresh Eyes De-Puff Moisture Lotion // I feel like I'm constantly switching up my eye cream game because I'm constantly battling different issues there–fine lines! dark circles! redness! The latest has been puffiness thanks to allergies. Boo. This lotion has anise oil to calm inflammation, with vitamin C to brighten skin.
DRY Sparkling Watermelon Celebration Bottle // These bottles make me want to throw a summer party. Can't you just picture them on a bar cart next to the pool? Unfortunately, I don't have a bar cart or a pool, but we've totally been digging these lightly sweetened summer flavors (Watermelon! Pineapple!) for cocktail mixers and just for drinking on their own.
Disclosure: Some of these products were sent to Hello Glow to review, others are things we've bought ourselves, but everything here is something we totally love.
12