Sometimes we love a product so much, we can't keep it to ourselves. You know that feeling, right? Here are a few things that are so essential, we just need to share: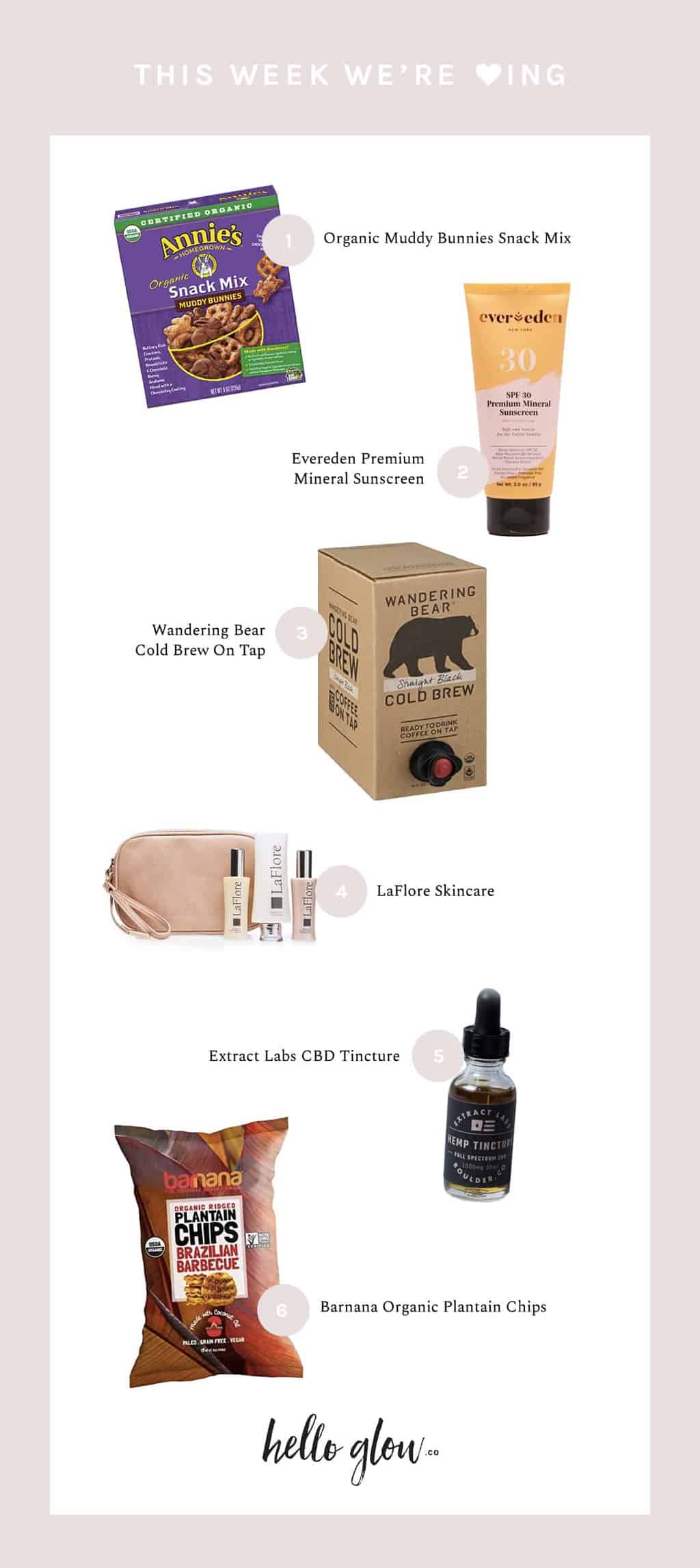 Annie's Organic Muddy Bunnies Snack Mix // When it comes to Annie's, my 3-year-old is brand! loyal! If we're at Target and she sees their cute little bunny logo on a box, she knows that what's inside is going to be good–and so do I because Annie's is a brand I love too. This snack mix is her favorite school lunch treat and even my husband and I can't get enough of it because it's super good.
Evereden Premium Mineral Sunscreen // Does buying sunscreen stress anyone else out? Even a lot of natural brands don't rank well on the Skin Deep database, so it feels like every purchase involves a lot of digging and research. While Evereden is a brand that's made to be safe enough for babies, my daughter and I have both been using this one because it's free of chemical sunscreens, safe for our sensitive skin (because my daughter inherited my stubbornness and my eczema), and suuuuper moisturizing with both shea butter and jojoba oil. (You also need to check out their other products too–the stylish packaging makes them great for baby shower gifting!)
Wandering Bear Cold Brew On Tap // For those of us who drink a lot of cold brew, there's Wandering Bear coffee on tap–it's ready to drink (not a concentrate!), it's in an awesome stay-fresh bag, and it's less wasteful than stocking up on single serve plastic bottles. It's smooth and delicious, not bitter at all, making it a cold brew you can totally drink unsweetened. Wandering Bear is USDA organic and made with Fair Trade coffee beans too.
LaFlore Skincare // We've been loving the new trend of adding probiotics to skincare and LaFlore's products are some of the best I've tried. Delivering probiotic bacteria helps ensure that your skin's biome is in balance, and balanced skin is happy skin! I've found that this line has helped decrease my (nearly ever-present!) redness and irritation, while keeping summer breakouts at bay too. Also, if you spring for the 3-step kit, you'll get the most beautiful vegan leather travel bag, which I'm super excited to put to use this summer!
Extract Labs CBD Tincture // If you haven't read about my experience using CBD for anxiety, you might want to start there. But once you've read that post and know the backstory… I started with CBD in the form of candy and honey, but I recently started incorporating this tincture into my anxiety-fighting arsenal too. It can be used sublingually or topically for pain; I haven't used it topically, but I've been taking it sublingually when I'm having an especially stressful day and the effects are real. (Just today, I was so anxious that I was having heart palpitations and this tincture stopped them.) It's made from hemp, meaning it's legal in all 50 states, and it's manufactured in the US too.
Barnana Plantain Chips // My family is obsessed with Barnana–I've been buying their chewy banana bites for years and now they have plantain chips too. Yeah!!! The Brazilian Barbecue flavor has replaced barbecue potato chips in our house. They're paleo, vegan, and they have ridges, which makes them awesome for dipping and amazingly crispy.
Disclosure: Some of these products were sent to Hello Glow to review, others are things we've bought ourselves, but everything here is something we totally love.
4