Sometimes we love a product so much, we can't keep it to ourselves. You know that feeling, right? Here are a few things that are so essential, we just need to share: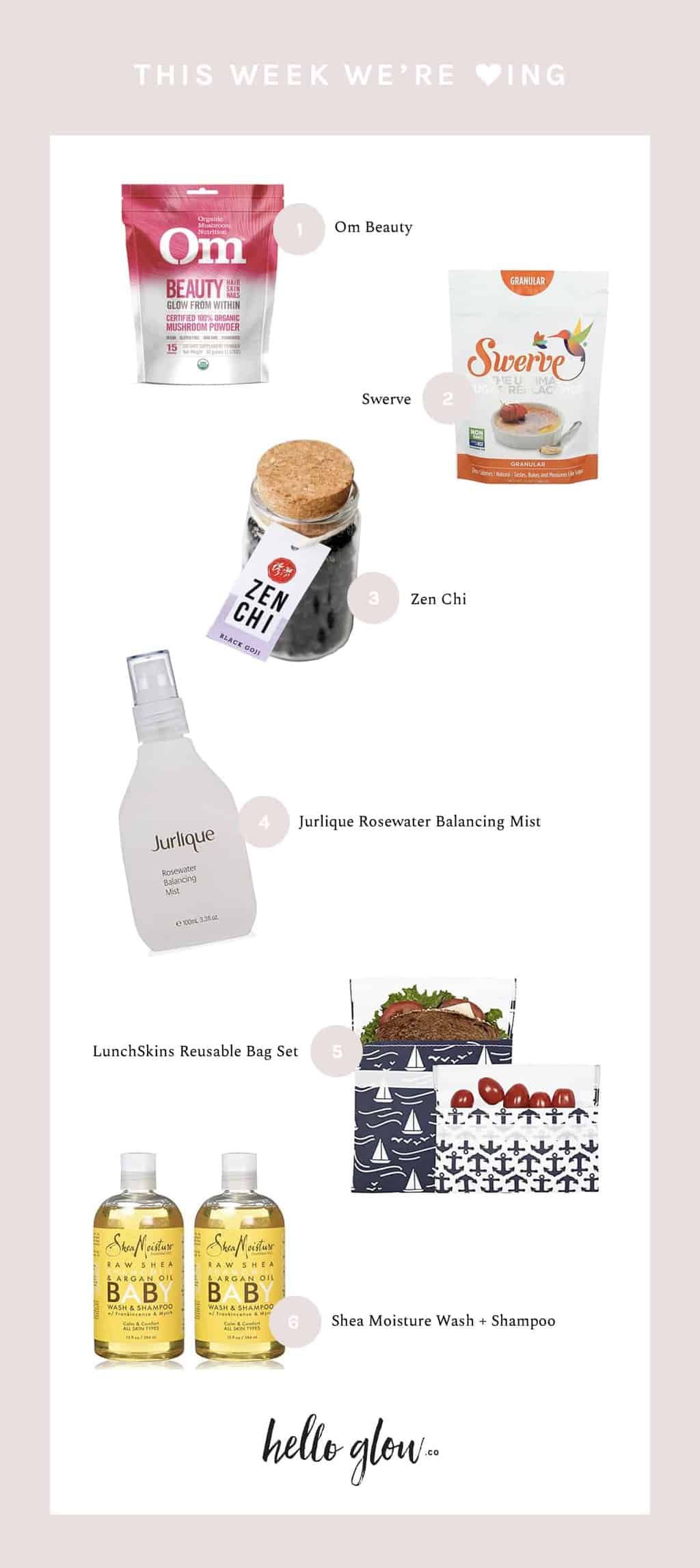 Om Beauty // To this day, I have a vivid memory of rolling my teenager eyes at my dad gathering wild chaga. I, of course, had no idea what it was and thought he was completely insane. He would dry the mushrooms, and then use them to make tea. And wouldn't you know it, now mushrooms are trendy! Turns out, 'shrooms have incredible benefits for your hormones, immune system, energy levels, and mood. Turkey Tail? Lion's Mane? Yep, both mushrooms that boost your brain and body's defenses. Fortunately you don't have to roam the woods to harvest your own because Om has a whole line of functional mushroom powders that are 1) tasteless and 2) super easy to add to teas and smoothies.
Swerve // Have you heard of this sugar replacement that's gaining popularity? It has no calories, and it doesn't cause blood sugar spikes. I'm always skeptical of natural sweeteners (see above father who was a big fan of carob in the day) because they either taste horrible or hurt my stomach. The health reviews sounded positive so we tested it out in homemade ice cream, and, you guys, I ate an embarrassing amount of that ice cream. Someone pry the spoon out of my hand!
ZenChi // While we're talking super foods, there's another one you should know: black gojis. These dried berries are one of the best sources for free radical-fighting antioxidants. Those are the miracle workers that keep your skin looking young. One of the simplest ways to get their benefits is adding a few dried berries to your water bottle. Best part: watching the water turn purple. Or adding lemon juice to get pink. Who said wellness isn't fun?! Check out ZenChi's Instagram page for some of the prettiest drink inspo around.
Jurlique Rosewater Balancing Mist // It's approximately 80 million degrees outside this summer. When your face feels like it's melting, this hydrating mist is refreshing perfection. Along with soothing rosewater one of the key ingredients is marshmallow root extract, which brings a megadose of hydration to parched skin. Spritz it anytime to get a glowy, dewy look or if you just want to enjoy the amazing rose scent.
LunchSkins Reusable Bag Set // My kiddos start back to school the first week of August (which seems insane), and I'm already dreading the return of making lunches. After unloading the dishwasher it's my least favorite chore. This bag set nicely solves the annoying conundrum of packing things in plastic baggies or having to use bulky containers. These guys are so nicely streamlined that everything actually fits in a lunchbox!
SheaMoisture Raw Shea Chamomile & Argan Oil Baby Head-To-Toe Wash & Shampoo // I cannot get enough of the SheaMoisture line; their hair product line is taking over my shower. But my favorite is the body wash, which does double duty as a shampoo and is gentle enough for kiddos with super sensitive skin. The scent of frankincense and myrrh is supposed to be soothing for cranky children, but tired moms might enjoy it even more.
Disclosure: Some of these products were sent to Hello Glow to review, others are things we've bought ourselves, but everything here is something we totally love.
16