Sometimes we love a product so much, we can't keep it to ourselves. You know that feeling, right? Here are a few things that are so essential, we just need to share: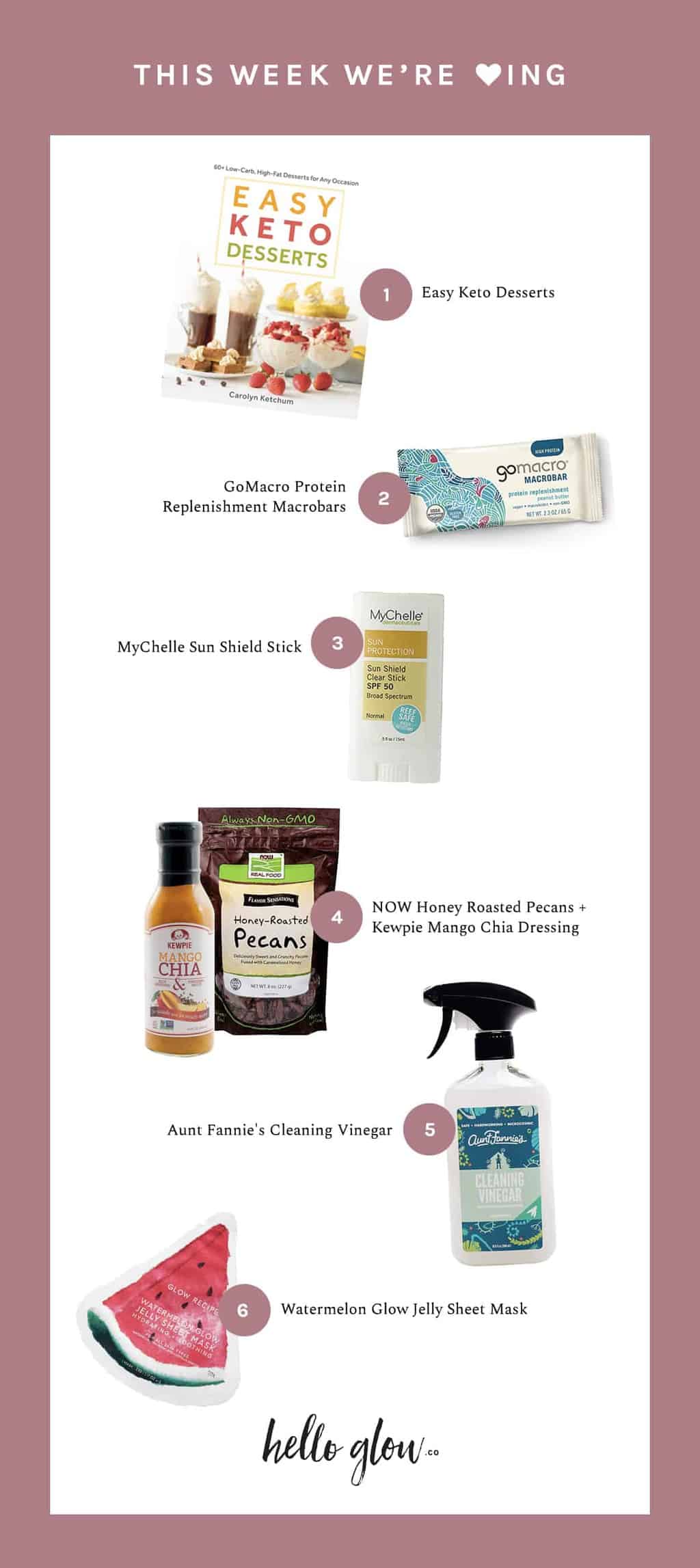 Easy Keto Desserts by Carolyn Ketchum // We've shared recipes from Carolyn's previous books here on Hello Glow (Italian Chicken and Veggie Foil Packets and Salted Chocolate Macadamia Nut Fat Bombs) and we'll be sharing another from this book next month, but I couldn't resist giving it a shout out here too. Carolyn's recipes are legit–she knows her stuff, so you can trust that everything in her books actually works out like it should. And with sweeteners like erythritol widely available now, you'll seriously never miss the sugar in any of these recipes.
GoMacro Protein Replenishment Macrobars // These are my longtime favorite protein bars because they don't have a gazillion weird ingredients and they actually taste good–and now they've become my 3-year-old's favorite bars too! I always keep some in my bag when we're going on a road trip because they're much more satisfying than snacking on crackers, chips or candy.
MyChelle Sun Shield Stick // Another thing I've been keeping in my bag lately? This sunscreen! After having some mishaps with lotions in my purse, I'm always a little iffy about taking a tube of sunscreen with me, so I appreciate that this one comes in a mess-proof stick. And if you need a touch up on your face, it also comes in tinted. Love that!
NOW Honey Roasted Pecans + Kewpie Mango Chia Dressing // This has been my lunch every day for the past month: a big bowl full of romaine or mixed greens from my CSA box, a handful of blueberries, a sliced peach or nectarine, a sprinkle of hemp seeds, Kewpie Mango Chia Dressing, and NOW Honey Roasted Pecans. So! Good! Who knew that the Japanese mayo brand made such tasty dressing?! And it's only 25 calories for 2 tablespoons.
Aunt Fannie's Cleaning Vinegar // If you're a regular reader here on Hello Glow, you've undoubtedly seen many posts about the benefits of having a healthy microbiome. But doesn't your house deserve to have a healthy microbiome too? Yes! It does! And that's the concept behind Aunt Fannie's cleaning products–I totally love that they go beyond just being natural and help keep your home healthy by supporting good bacteria. I am completely in love with these cleaners and I'm excited to try their nontoxic pest control products too (yeah, that's right ants, I'm comin' for ya!).
Watermelon Glow Jelly Sheet Mask // I've been wanting to try this ever since it came out and I finally treated myself to one when I needed to add a few more dollars to my Sephora order to get free shipping. (They always get you with that free shipping for orders over $50, right?!) I'm happy to report that it lives up to the hype. It smells like watermelon, it conforms to your face better than the cloth masks, and it feels so soothing when it's on. Your skin will be über-hydrated after you take it off too.
Disclosure: Some of these products were sent to Hello Glow to review, others are things we've bought ourselves, but everything here is something we totally love.
1