Sometimes we love a product so much, we can't keep it to ourselves. You know that feeling, right? Here are a few things that are so essential, we just need to share: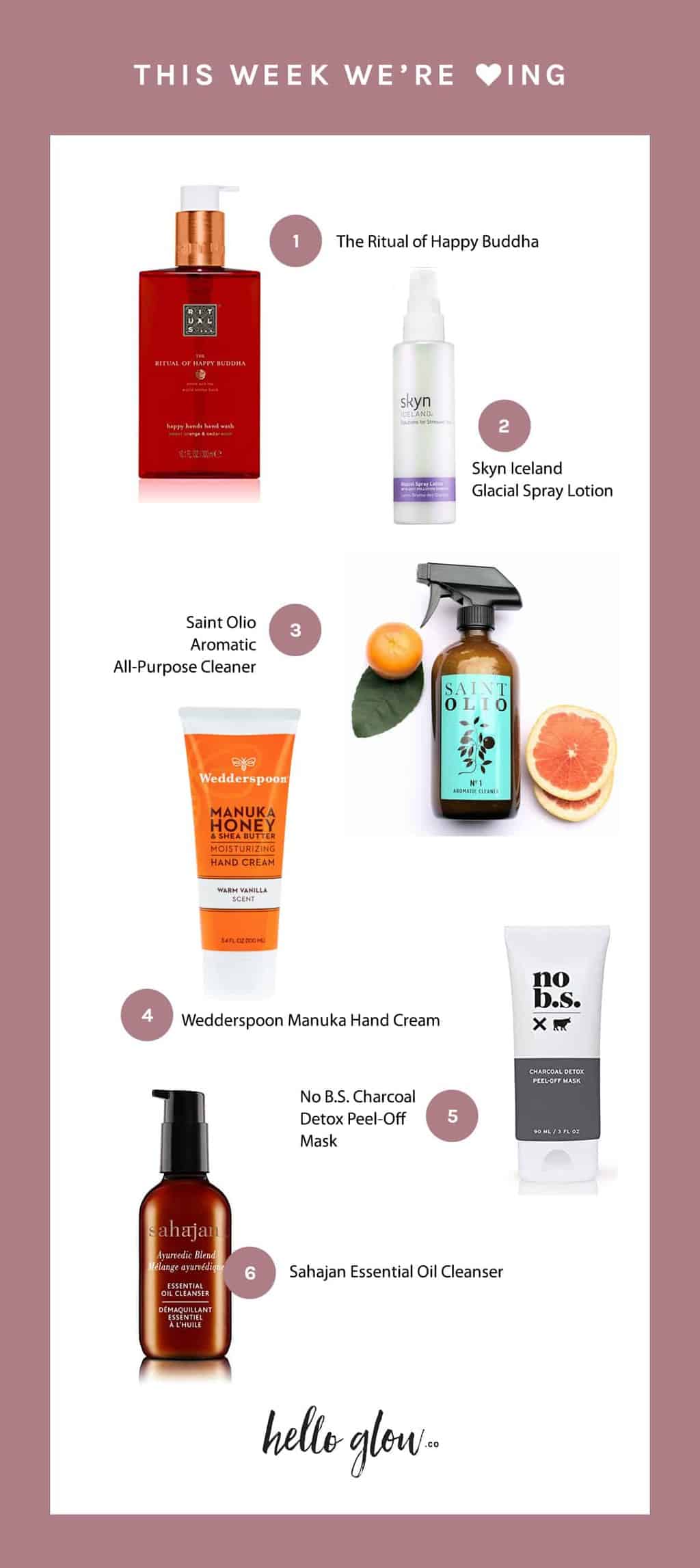 Rituals The Ritual of Happy Buddha // I'm totally enamored with this new line from Rituals because, first: who can resist a name like Happy Buddha? And second: the scent is amazing, with Sweet Orange and Cedarwood. The warm, welcoming fragrance is perfect for our guest bathroom, where I keep the hand wash and matching diffuser.
Skyn Iceland Glacial Spray Lotion // Skyn Iceland is one of the first high end natural skincare brands I got into many years ago–I probably picked it up because I'm endlessly fascinated by all things Icelandic, but I stuck with it because it works. This spray lotion is so good for summertime, not only because it's light, but because it's full of free radical fighting antioxidants to help keep sun damage in check.
Saint Olio Citron Aromatic All-Purpose Cleaner // Oh my goodness, I am loving this new-to-me brand. Wiping down the countertops at the end of the day is totally my moment of zen and it's even better when I have a cleaner that doesn't just kill bacteria, but also smells amazing. Which this does! Citron, with notes of Citrus and Lemongrass, is my favorite because I find the scent so energizing, but Saint Olio also makes its line of all-purpose cleaners, air refreshers and body refreshers in Neroli and Sitka. And, naturally, it's non-toxic and natural, powered with essential oils rather than harsh chemicals.
Wedderspoon Manuka Honey & Shea Butter Moisturizing Hand Cream // You'd think that winter would be worse on hands than summer, but with gardening and other outdoor activities, summer can be a little rough too. Manuka honey, one of our favorite beauty miracle workers, is added to this shea butter lotion to soothe irritation and leave hands smooth.
No B.S. Charcoal Peel-Off Mask // Who doesn't love a good peel-off mask? This new one from No B.S. is made with activated charcoal to help pull impurities out of your pores. No more blackheads! And I love that it's made in the US too, something I've been looking for more and more in my skincare.
Sahajan ESSENTIAL Oil Cleanser // If you're not using an oil cleanser yet, it's time to start. Your skin will love you for it and there's no better way to make sure you get every last trace of makeup off than with a 2-step cleansing routine. This oil is formulated using ayurvedic principles, with moringa, rose, and coconut oil.
Disclosure: Some of these products were sent to Hello Glow to review, others are things we've bought ourselves, but everything here is something we totally love.
23