Sometimes we love a product so much, we can't keep it to ourselves. You know that feeling, right? Here are a few things that are so essential, we just need to share: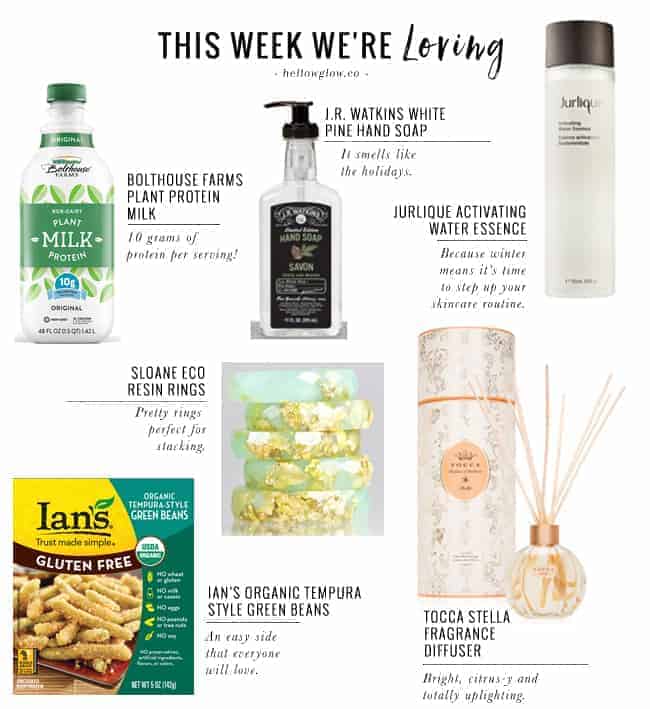 Bolthouse Farms Plant Protein Milk // We're not big (dairy) milk drinkers in our house, but a lot of our favorite plant-based milks are light on protein. But Bolthouse Plant Protein Milk has 10 grams per serving! I've been using it to make lattes in the morning for an extra protein boost.
J.R. Watkins White Pine Hand Soap // I'm ready to skip past pumpkin spice season and move onto: pine! pine! pine! everything pine! I have this in our guest bathroom and the woodsy scent makes me swoon every time I wash my hands with it. So good.
Jurlique Activating Water Essence // Winter is (almost) here and stepping up your skincare game is a must. What I love about this essence is that it provides hydration to your skin, which is then locked in after you apply your moisturizer. (And it smells amazing too—without artificial fragrances.)
Sloane Eco Resin Ring // I am going through a minty green and gold moment right now, which means I'm totally crushing on this ring. But I also want to buy them in every color because they are so darn pretty.
Ian's Tempura-Style Green Beans // The only way my toddler will eat green beans. But that's okay! Because they're 100% organic and made with whole grain brown rice breading. (And I just might sneak a few off her plate too.)
Tocca Stella Fragrance Diffuser // Does anyone else do a mad dash around the house with a bottle of air freshener when guests arrive? Reed diffusers are a convenient alternative to that, right? I love this diffuser's luxe look and I especially love the bright, uplifting blood orange scent.
Disclosure: Some of these products were sent to Hello Glow to review, others are things we've bought ourselves, but everything here is something we totally love.
1