Sometimes we love a product so much, we can't keep it to ourselves. You know that feeling, right? Here are a few things that are so essential, we just need to share: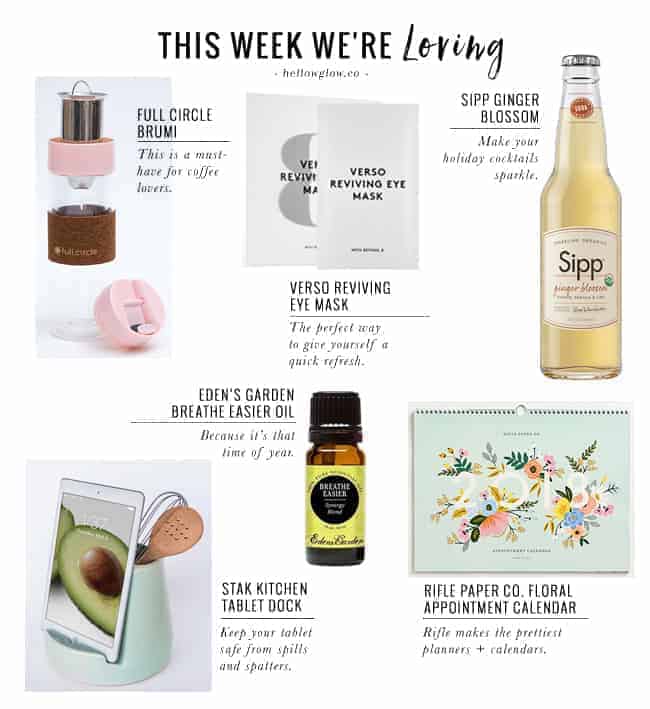 Full Circle Brumi // So aside from the fact that this is pink and completely adorable, the Brumi is amazing because it does both cold brew and pour over hot brew coffee. Game! Changer! I can't even put into words how much I love this thing.
Verso Skincare Reviving Eye Mask // As someone who suffers from dark under eye circles (and the beginnings of some wrinkles too—ugh), I'm alllll about eye masks and this one really works.
Sipp Ginger Blossom // I'm always a sucker for a good, fizzy ginger drink and the addition of vanilla makes this one extra special. So good for holiday cocktails too!
Edens Garden Breathe Easier Essential Oil Blend // Diffuse this when you have a cold–or put a few drops on your humidifier–to help clear up congestion. (I like putting a little bit into lotion and rubbing it on my chest too as an easy, all-natural vapor rub.)
STAK Kitchen Tablet Dock // Anyone else constantly getting flour, oil spatters, and other cooking debris all over their iPad? I'm totally loving this solution—and it's a great gift for the cook who has everything.
Rifle Paper Co. 2018 Calendar // It's time to pick out a calendar for next year! But for me, there's really no decision involved because I always buy a Rifle calendar. They're so pretty! And they have room to jot down all your appointments.
Disclosure: Some of these products were sent to Hello Glow to review, others are things we've bought ourselves, but everything here is something we totally love.
0