The holidays are supposed to be a time of relaxation, yummy food, spending time with loved ones, and smilingly looking back at the year passed. But we often get so caught up in the organizational part of it – cleaning, cooking, hosting, shopping – that the holidays become a whirlwind of stress and emotions that leaves us more tired than before. And everything is amplified this year…
Today's gift guide is all about taking it down a notch – purifying the mind and body, self care, and general well-being. We're sure the people on your list deserve it!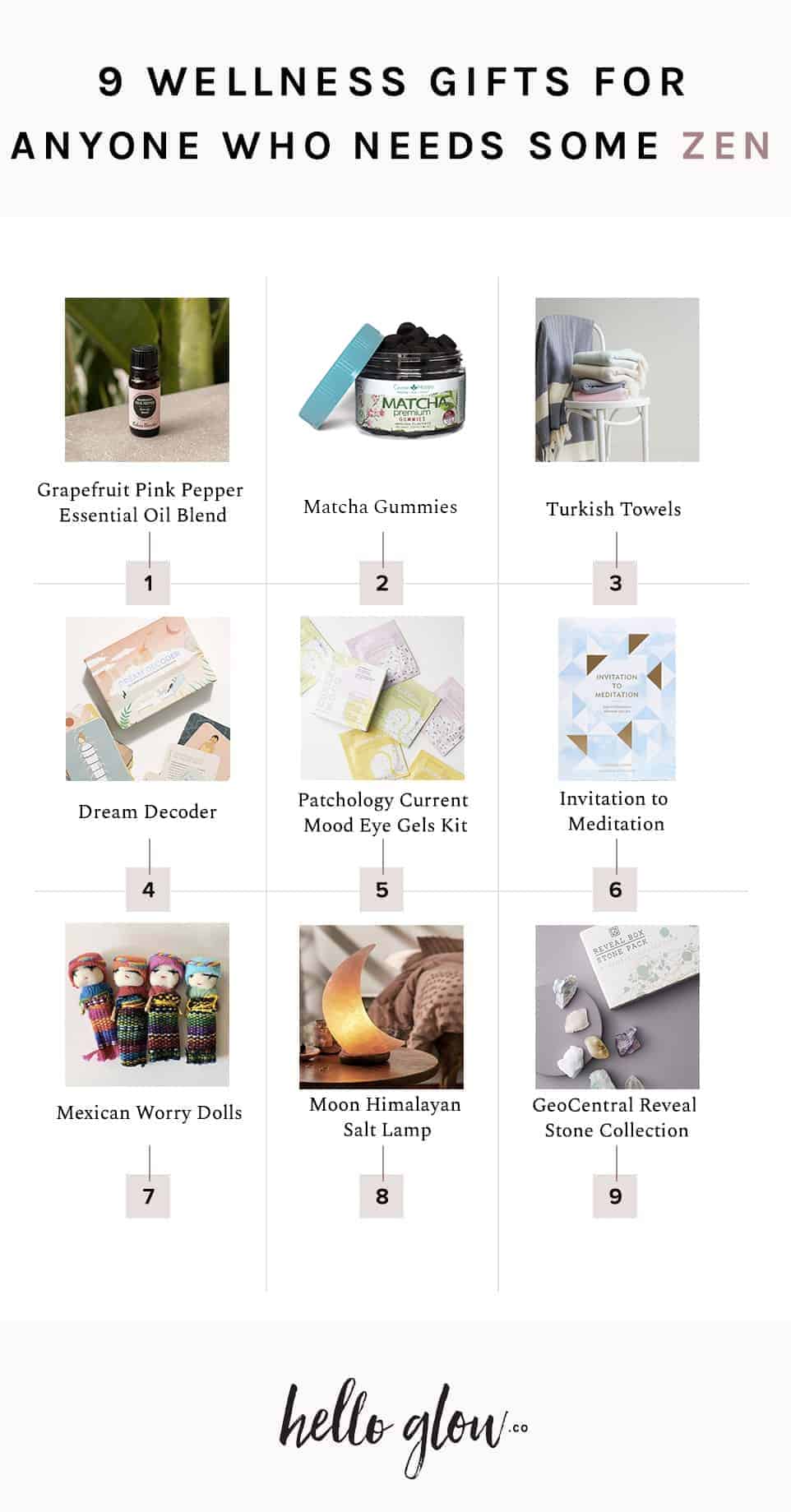 1. Grapefruit Pink Pepper Synergy Blend // The detoxifying Grapefruit Pink Pepper blend from Edens Garden seamlessly blends citrus and spicy notes, which makes it just right for winter.
2. Matcha Gummies // Giving up caffeine can be tough – but these matcha gummies make it more fun and bearable.
3. Turkish Towels // We're total Turkish towel converts! They not only look chic in every bathroom or beach bag, but they're also easier to wash than terry, and they never lose their pretty colors.
4. Dream Decoder // Your friend who always tells you their dreams might like these beautifully designed dream decoder cards. They explain what the unconscious mind is trying to say, and what events or situations might cause certain dreams.
5. Patchology Current Mood Eye Gels Kit // No matter the mood, there's an eye mask for it! This set features gel patches infused with botanical extracts for 'down time', 'happy place' or 'perk up' type of days.
6. Invitation to Meditation // Introduce someone dear to mediation and they'll surely be grateful as they begin living more peacefully and with mindfulness.
7. Mexican Worry Dolls // The worry doll is a Mayan tradition. They would tell their doll about their sorrows, fears and worries, then hide it under their pillow during the night. All sorrows are taken away by the doll overnight.
8. Moon Himalayan Salt Lamp // Bringer of celestial energy, this Himalayan salt lamp purifies the air and looks beautiful in any environment.
9. GeoCentral Reveal Stone Collection // These curated collections of crystals, minerals, and stones are a perfect gift for the yogi or crystal healing enthusiast in your life.
If DIY is more your route, we've got you covered with these 12 beautiful handmade gift ideas for the holidays.
26