The holidays are supposed to be a time of relaxation, yummy food, spending time with loved ones, and smilingly looking back at the year passed. But we often get so caught up in the organizational part of it – cleaning, cooking, hosting, shopping – that the holidays become a whirlwind of stress and emotions that leaves us more tired than before.
Today's gift guide is all about taking it down a notch – purifying the mind and body, self care, and general well-being. We're sure the people on your list deserve it!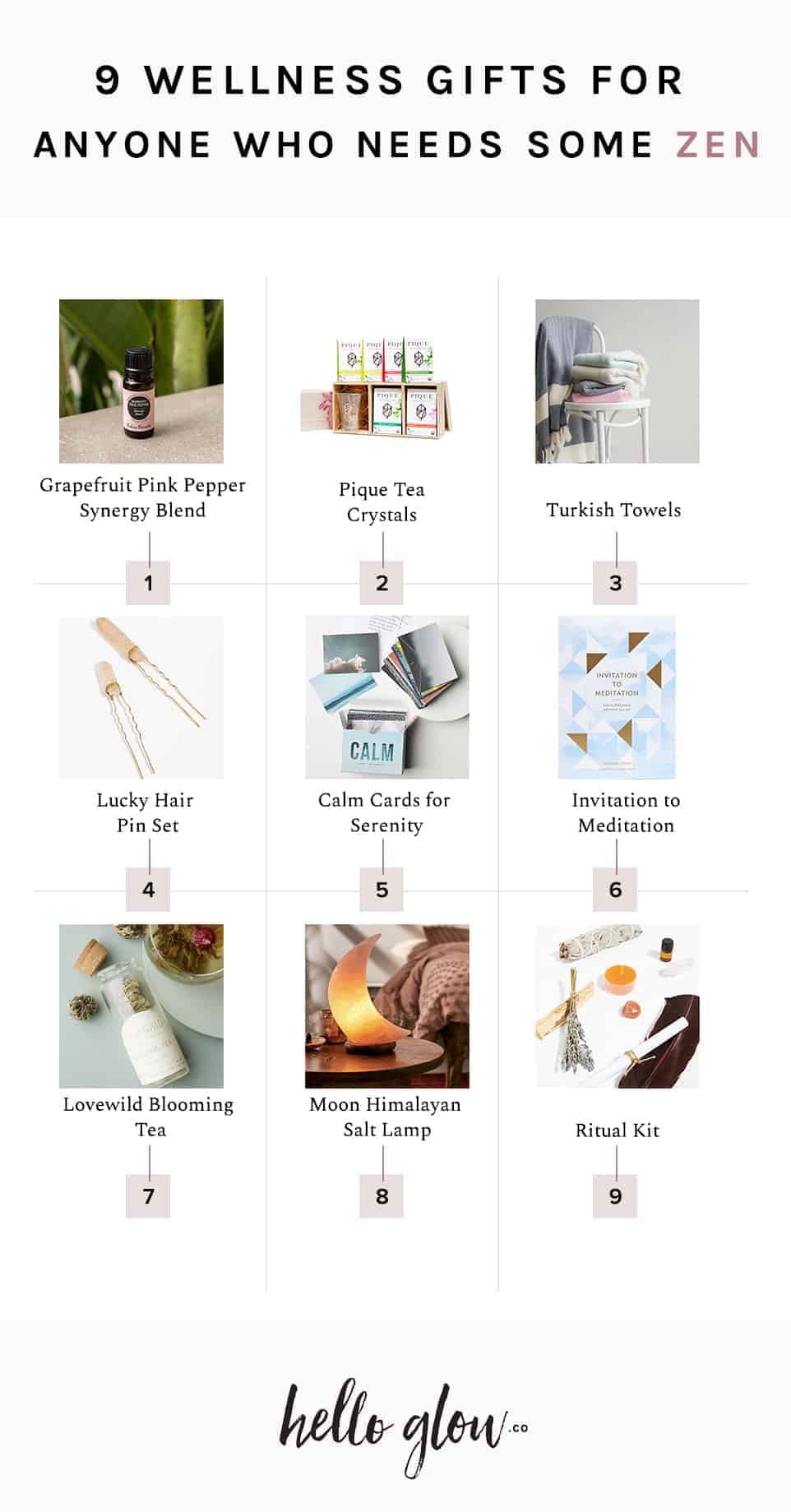 1. Grapefruit Pink Pepper Synergy Blend // The detoxifying Grapefruit Pink Pepper blend from Edens Garden seamlessly blends citrus and spicy notes, which makes it just right for winter.
2. Pique Tea Gift of Health Box // For improved gut health, sustained energy and reduced stress, Pique Tea hits the spot–and it comes in crystal form rather than tea bags, making it super easy to brew. A great pick-me-up after a busy holiday season.
3. Turkish Towels // We're total Turkish towel converts! They not only look chic in every bathroom or beach bag, but they're also easier to wash than terry, and they never lose their pretty colors.
4.Lucky Hair Pin Set // Wearable crystals FTW! Get them in citrine, quartz or amethyst, depending on who you want to gift them to.
5.Calm Cards For Serenity // The gift that keeps on giving! The 60-card deck includes prompts and questions for handling frustration and fear while developing emotional intelligence.
6. Invitation to Meditation // Introduce someone dear to mediation and they'll surely be grateful as they begin living more peacefully and with mindfulness.
7. Lovewild Blooming Tea // Green tea is famous for its health benefits, but this blend takes it to the next level with a blooming combination of peach, jasmine, and chrysanthemum.
8. Moon Himalayan Salt Lamp // Bringer of celestial energy, this Himalayan salt lamp purifies the air and looks beautiful in any environment.
9. Ritual Kit // This all-inclusive kit is designed to purify the mind and the home, and it has everything from crystals to candles and essential oils inside.
11