Do you have someone on your holiday shopping list who could use a break? We're sure you do! At the end of the year, pretty much everyone is exhausted and in need of a pick-me-up. Give the gift of relaxation in the form of a handcrafted scented candle, a detox tea set or a beautiful essential oil diffuser. (Another gift any wellness lover will appreciate? Our latest book, Essential Glow!)
We're making your shopping a little bit easier by sharing some of our favorite wellness gifts for the holidays. Get our picks below!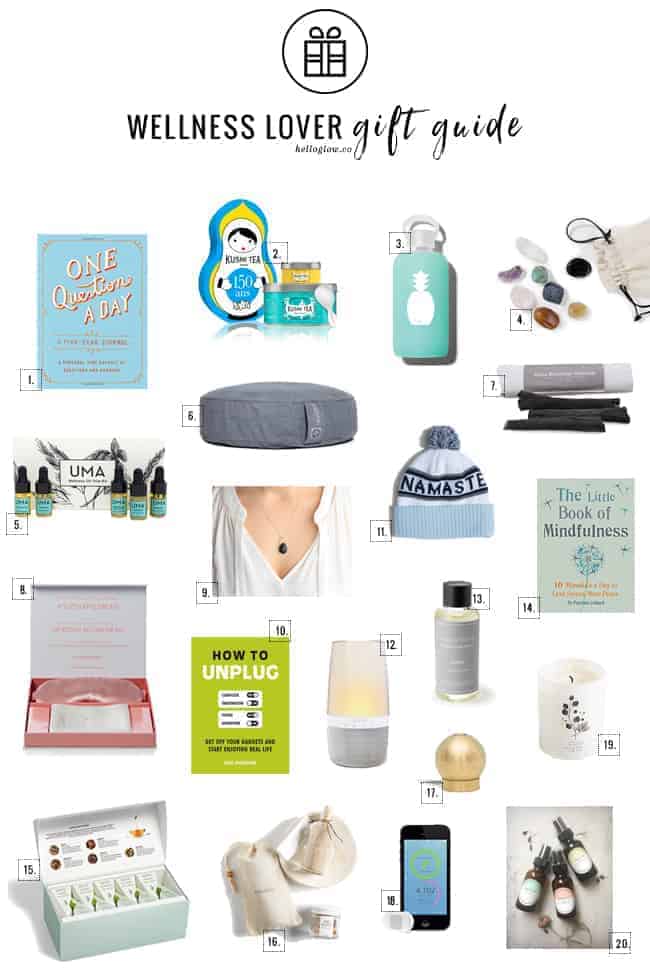 1. One Question a Day: A Five-Year Journal // From simple to philosophical questions, this journal asks something every day and inspires mindfulness and contemplation.
2. Kusmi Tea Wellness Doll Set // Must-have tea blends, including Blue Detox with pineapple and BB Detox with grapefruit notes, packed in a pretty anniversary doll box with a silver-plated teaspoon.
3. bkr Glass Water Bottle // Finally, a water bottle they'll want to take everywhere, in a special holiday edition featuring a pineapple design.
4. The GOOP Medicine Bag // Essential crystals like citrine, clear quartz, black obsidian, rose quartz, amethyst, lapis lazuli, carnelian, and chrysocolla in simple a drawstring pouch, perfect for gifting.
5. UMA Oils Wellness Oil Kit // A sampling of highly targeted therapeutic blends that are meant to relieve modern ailments and restore internal equilibrium.
6. Manduka Meditation Cushion // (Literally) support your loved one as they meditate with this luxurious cushion filled with buckwheat hulls.
7. Binchotan Charcoal Water Purifying Sticks // Purify water in minutes with the aid of these charcoal sticks, made in Japan from ubame oak.
8. Beauty Sleep Gift Set // Great to use at home or on the go, this chic set contains a silk pillow sham and a matching sleep mask. (Find out why we love silk pillowcases here.)
9. Gold Infinity Circle Lava Necklace //A stylish way to enhance mood, by wearing their favorite essential oil blend around the neck.
10. How to Unplug // For those constantly glued to the screen, this book can be sanity-saving! Get them motivated and inspired to unplug.
11. Namaste Pom Pom Beanie // Add some humor to those days when they barely want to get out of bed, let alone face the cold to go to yoga class.
12. Zenergy Aroma Bluetooth Therapy Speaker with Lighting // Your loved one will relax and fall asleep easier with this therapy speaker, featuring soothing sounds, different light colors and scents.
13. Fragrance Diffuser Reed + Refill Set // An elegantly designed ceramic vase with a cute Zazen Bear ceramic figurine, which is actually a diffuser! Perfect for the hard-to-please person in your life.
14. The Little Book of Mindfulness // Simple everyday practices that can lead toward a more mindful, peaceful, and relaxed life.
15. Tea Forte Sipscriptions Presentation Box // A wonderful way to sample five different Tea Forte flavors, including detox, energy and relaxation blends.
16. Rootfoot Resin Incense Kit // The sacred space incense kit features Ponderosa pine resin, cedarwood infused sand and a ceramic smudge plate.
17. Bodha Ritual Incense Holder // Minimalist, stylish incense holder that will fit in any home decor. Not to mention it can be taken anywhere!
18. Lumo Lift Smart Posture Coach & Activity Tracker // This gadget doesn't just track steps and calories, but posture, too! Gentle vibrations remind you to stand straight.
19. Free People Holiday Candle // All natural soy wax candle scented with eucalyptus and Siberian pine, ready to gift in a pretty pink box.
20. Organic Yoga Mat Spray // Refresh the yoga mat and gym clothes with an antibacterial, natural spray made with cedarwood and rosemary.
Need some more gift ideas? Get more of our picks in our wellness shop.
3