Up until last week, I have been a Whole Foods girl all the way. For this post, I ventured to Trader Joe's to see what all the hype is about…I mean, people are obsessed. Most likely because TJ's is the home of Two Buck Chuck, but I know people love it for more than just cheap wine!
So I went on a Friday afternoon excursion and was pleasantly surprised by all the cool stuff I found. I was especially impressed by the quality of many of their private-label products as evidenced below by my haul.
I will say, however, that label-checking is important while shopping at Trader Joe's as I noticed they have quite a few private-label items with bad oils, preservatives, corn syrup, and other ingredients I avoid like the plague.
What Our Nutritionist Loves at Trader Joe's
Overall, I found it to be an enjoyable grocery store experience and I was excited to find some great products I can't get at Whole Foods. While I won't be doing all my shopping there from now on, I'm a convert and will be popping in to discover new items more regularly now! Below are my top 10 delicious finds from Trader Joe's: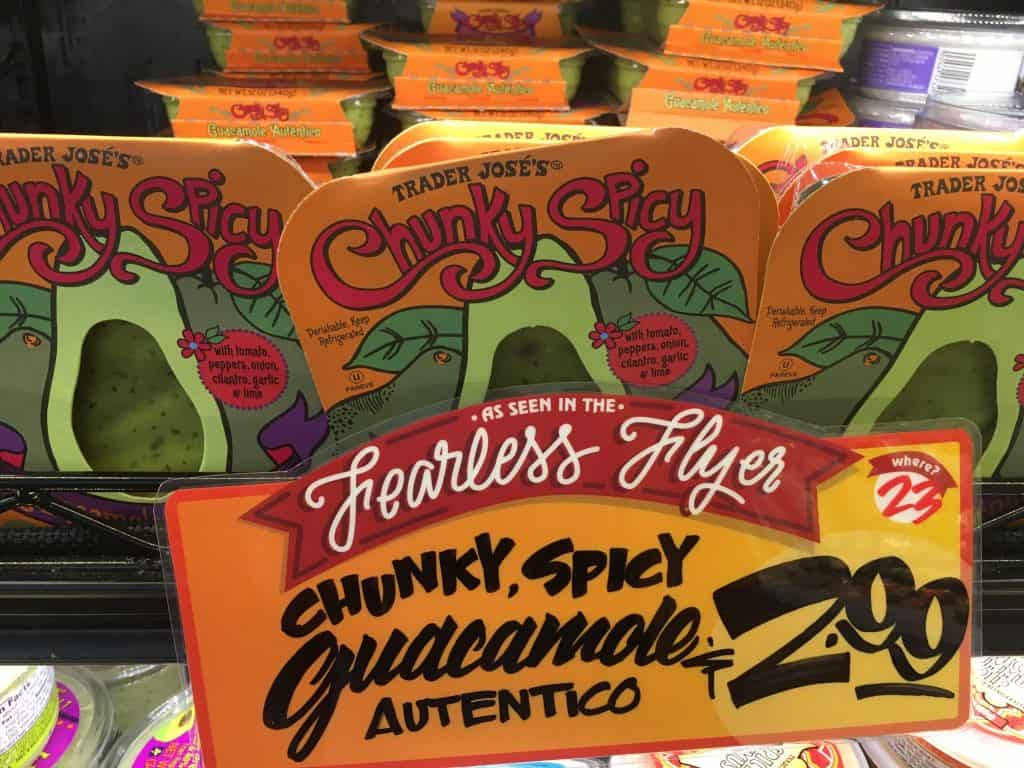 Chunky Spicy Guacamole Autentico
A 12 ounce package of guac with clean ingredients for $2.99 – SOLD! That's about the same price as buying just one whole avocado…and then you've got to do all the work! This guac includes all the normal guacamole fixins, like onions, cilantro and lime, but adds three different spicy peppers to give it some heat. I bought a bag of Plantain Chips and used those as dippers instead of traditional corn tortilla chips.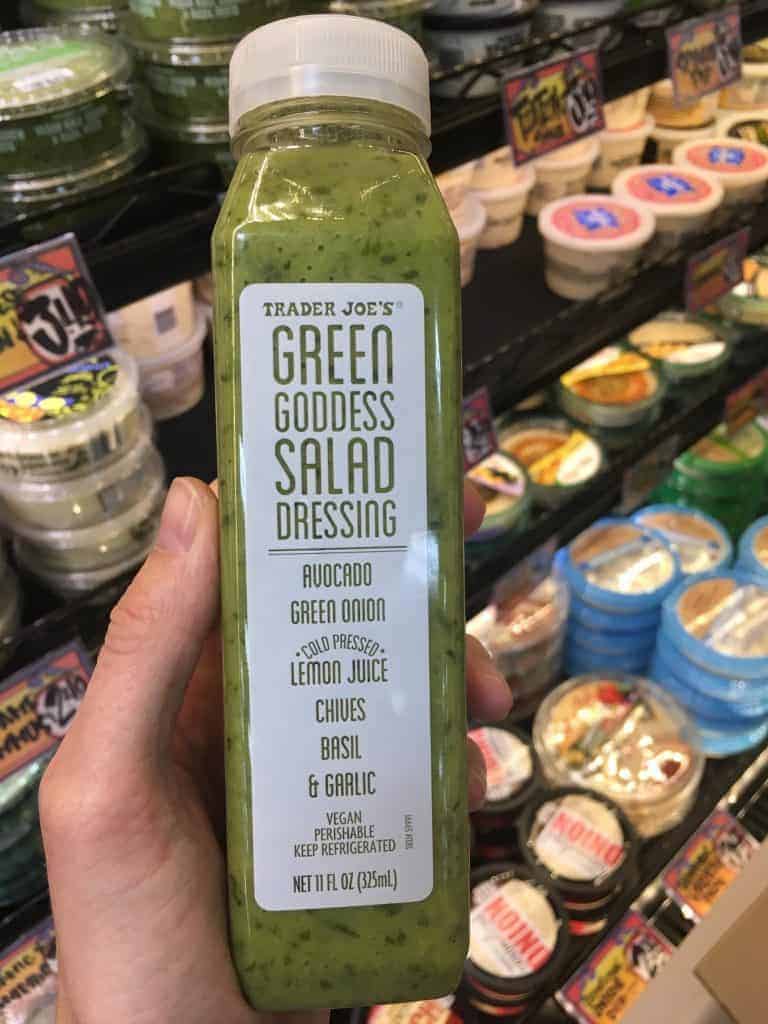 Green Goddess Salad Dressing
Clean-ingredient store-bought salad dressings are hard to come by! They're typically loaded with junk like refined vegetable oil, sugar and weird preservatives. I prefer to make my own at home using the recipes in my ebook, however it's great to have TJ's Green Goddess Salad Dressing around on weeks I don't have time. The ingredients are: water, avocado, apple cider vinegar, green onions, lemon juice, chives, parsley, olive oil, yellow onion, basil, garlic, sea salt and black pepper. Two tablespoons is only 20 calories and 0 grams of sugar!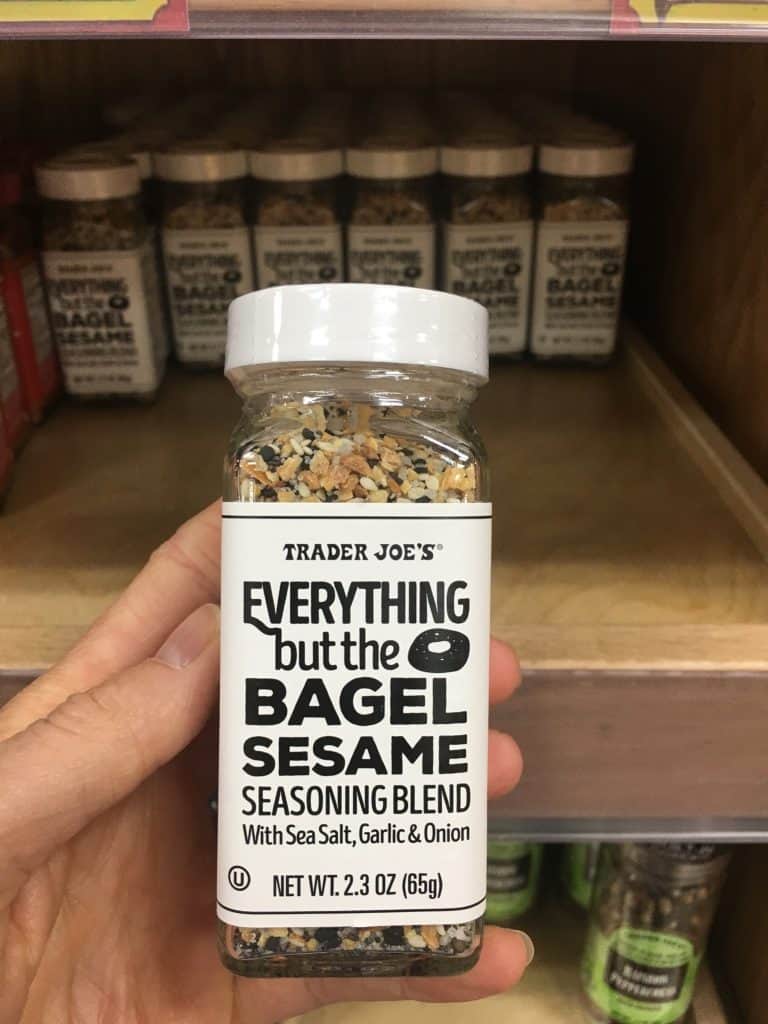 Everything but the Bagel Seasoning Blend
A delicious blend of all the goodies normally found on an everything bagel: white and black sesame seeds, poppy seeds, dried garlic, onion and sea salt. I plan to use this delicious mixture on avocado toast, grilled chicken, mixed into hummus, sprinkled on pureed veggie soups and salads.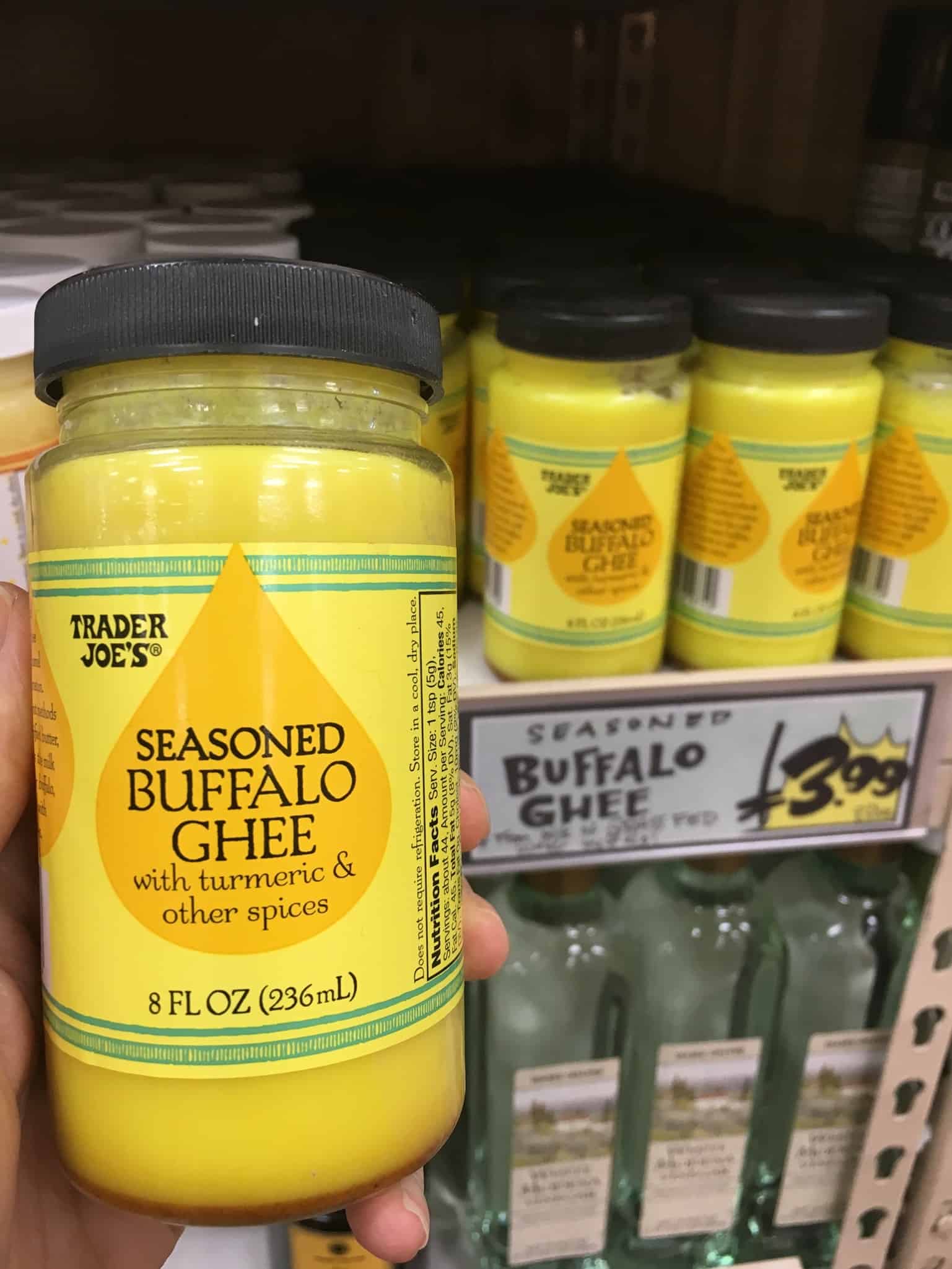 Seasoned Buffalo Ghee
Ghee is one of my favorite cooking fats. It works well for high-heat cooking and imparts a delicious buttery flavor without the dairy. I was excited to find ghee from grass-fed water buffalo (like, what!?) and even more excited to see that it's blended with traditional Indian spices – turmeric, black mustard seed, fennel seed, cumin, coriander, ginger, cinnamon and cardamom. Perfect for adding a ton of flavor and anti-inflammatory benefits to curries, scrambles, roast chicken and veggie sautés!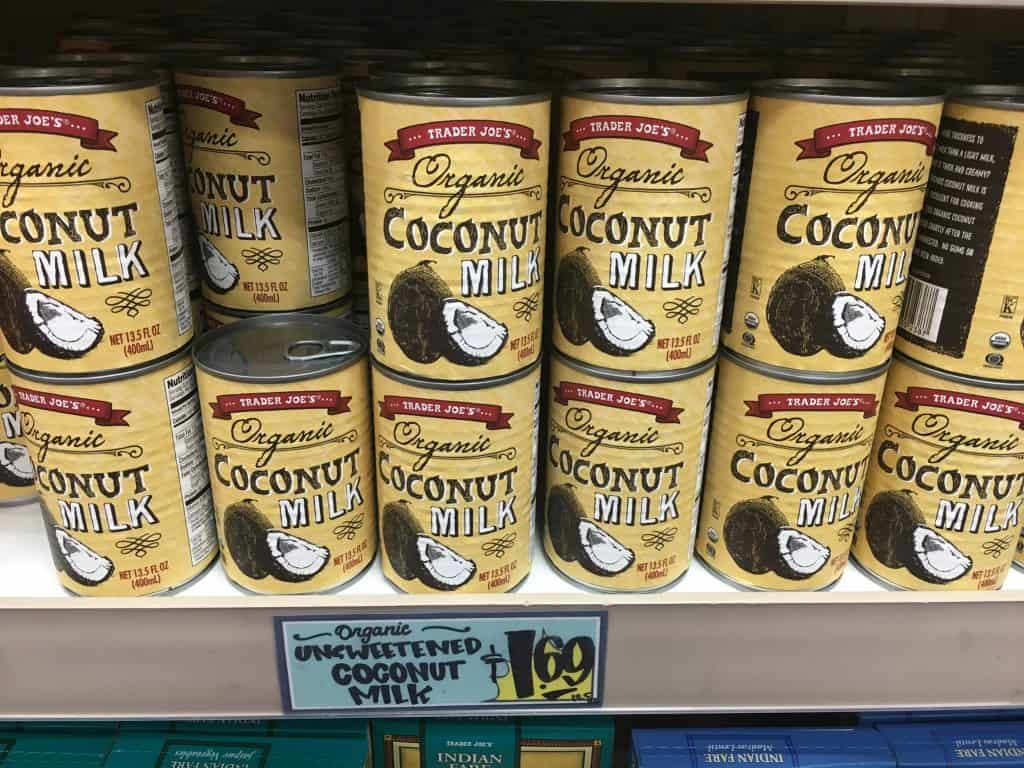 Organic Canned Coconut Milk
Milk made from naturally sweet, creamy coconuts is by far my favorite dairy-free milk. I use it in matcha lattes, curries, soups and paleo desserts. I prefer canned coconut milk to cartons because it contains fewer ingredients. Most canned varieties contain coconut, water and guar gum so I was stoked to find that TJ's brand doesn't include guar gum – the ingredients are just water and organic coconut. While it's not quite as silky smooth as those with guar gum, I think it tastes way better!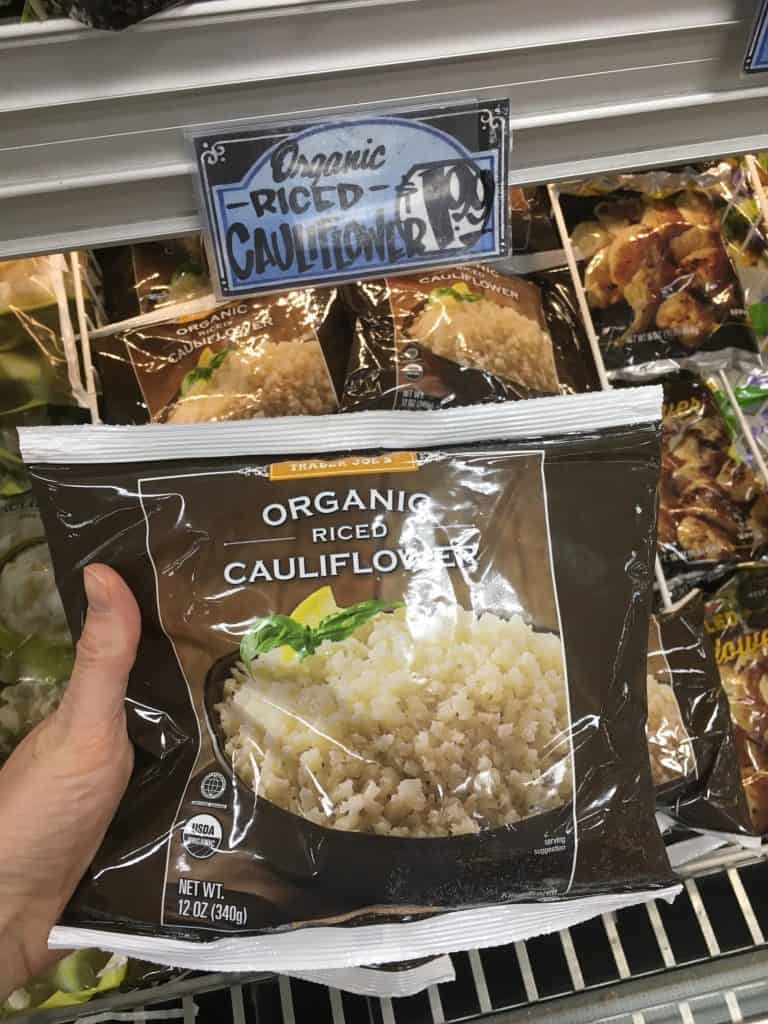 Organic Riced Cauliflower
They make it too easy! I usually make my own cauli rice, but it's nice to have a bag in the freezer for impromptu meals. I use mine for fried rice, burrito bowls, pizza crust, fritters, tabbouleh and even breakfast porridge!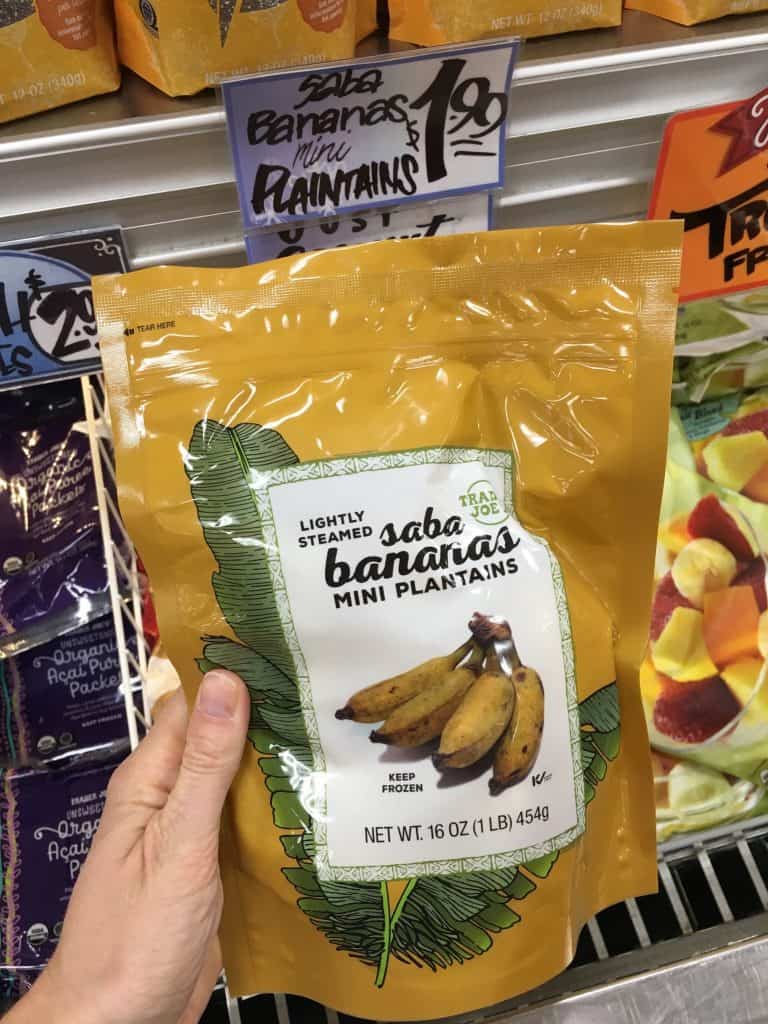 Frozen Mini Plantains
Plantains are in the same family as bananas but less sweet. They're a staple in Latin American cooking and a wonderful source of resistant starch which feeds the good bacteria in your gut. These little mini guys have been lightly steamed and frozen. I plan to use them for plantain mash and adding creaminess and fiber to smoothies.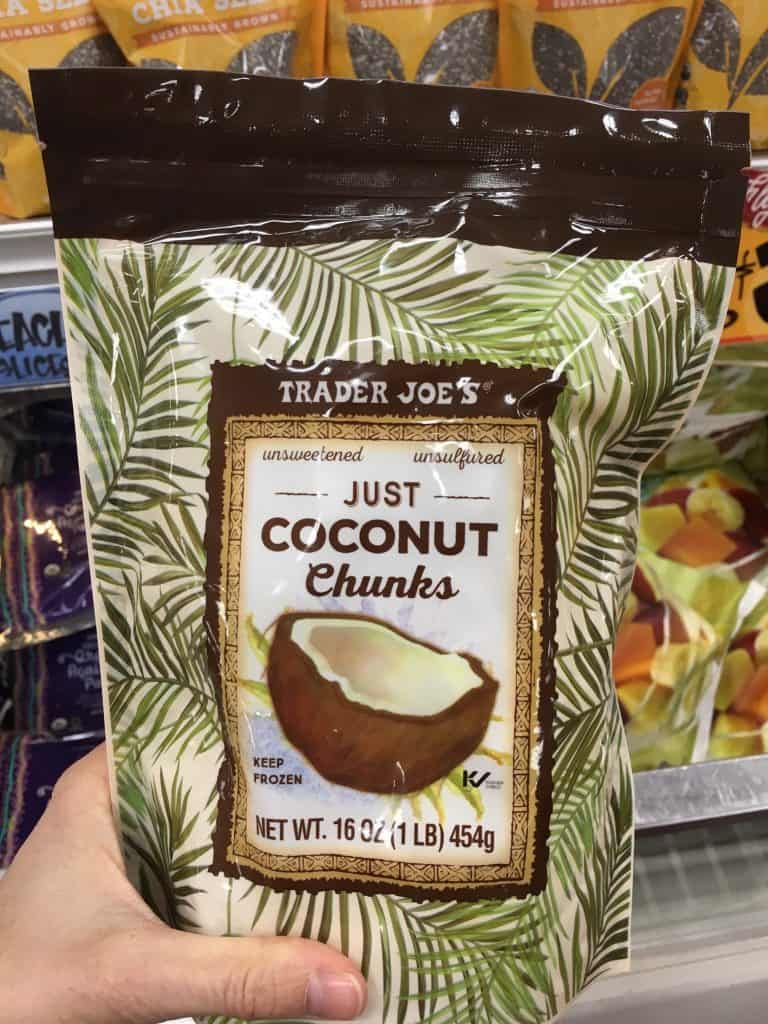 Frozen Just Coconut Chunks
No surprises here – literally, just frozen chunks of coconut! These chunks are from mature coconuts so they're higher in fat (the good kind!) than Inner Eco's frozen young coconut flesh. You can defrost these chunks and eat them as a snack, use them instead of ice in smoothies, or perhaps make a creamy and delicious chocolate coconut pudding.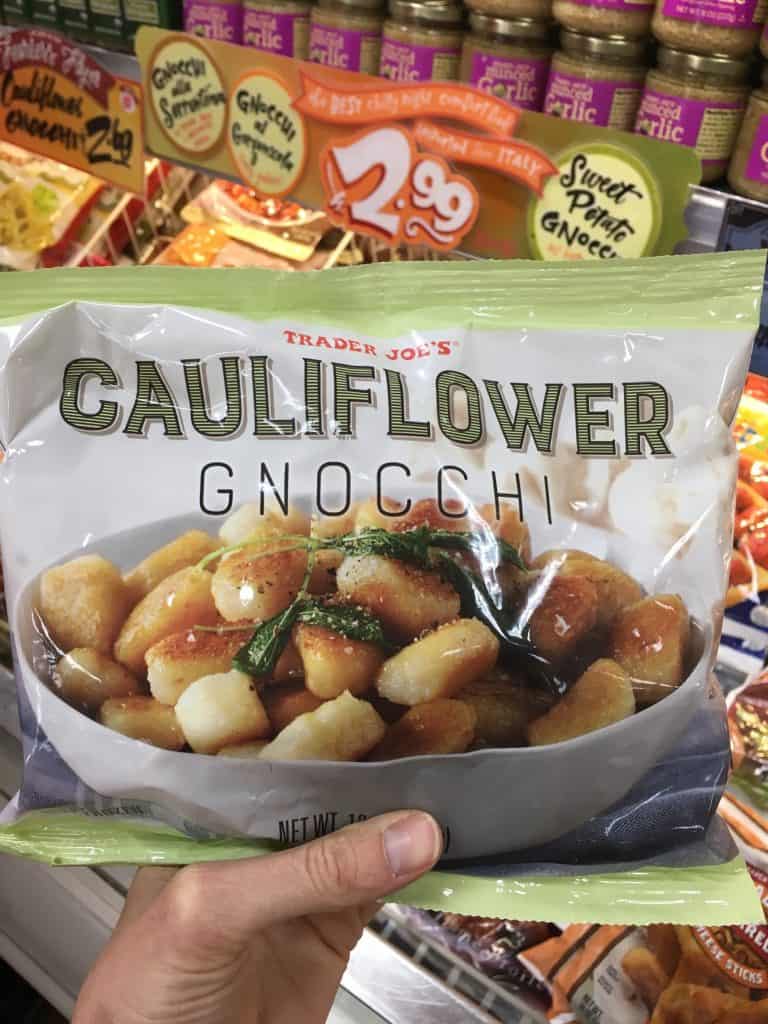 Frozen Cauliflower Gnocchi
Cauliflower is hands down the most versatile brassica! You can rice it, mash it, "steak" it, make pizza crust from it, add it to smoothies for thickness and, thanks to TJ's, eat it as gnocchi! Trader Joe's Cauliflower Gnocchi swaps the traditional potato for cauliflower and combines it with only four other ingredients (cassava flour, potato starch, extra virgin olive oil and sea salt) to make gluten-free, dairy-free and egg-free gnocchi! To cook, there is no need to thaw; just sauté in a skillet until crisp, which is great for quick weeknight meals.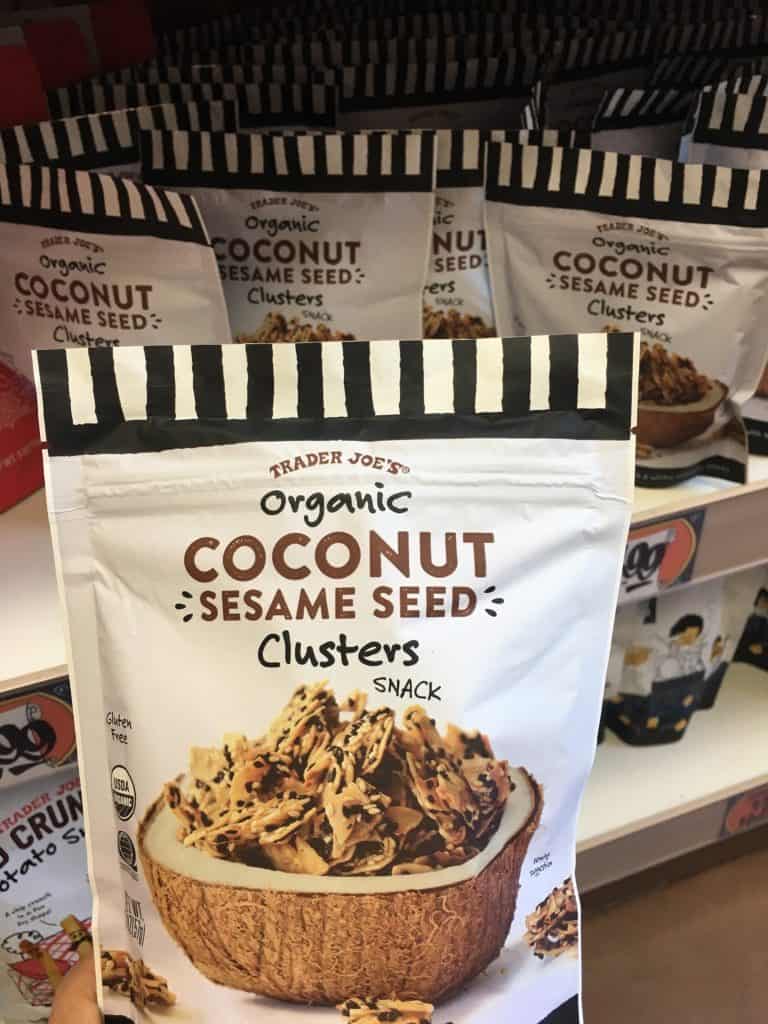 Coconut Sesame Seed Clusters
Crunchy, sweet and savory: a trifecta that summons all your willpower to not eat the whole bag in one sitting! Toasted coconut flakes are combined with sesame seeds, coconut sugar and sea salt making these clusters very snackable! One serving is 4 grams of sugar (which equates to approximately 1 teaspoon) so make sure you portion it out. I ate mine by the handful, but this would be delicious sprinkled over yogurt (like as a paleo granola), on top of a smoothie bowl or as a crunchy topping for dairy-free ice cream.
221