Do you ever struggle with tummy troubles but can't quite pinpoint the cause? Or, do you know for sure that you feel better when you eliminate gluten, yet you don't have a diagnosis of celiac disease?
A good friend of mine was like this. Her favorite food in the entire universe was macaroni and cheese, yet she knew she was lactose intolerant. And while she felt awful whenever she ate gluten-containing foods, she'd had an intestinal biopsy done to test for celiac disease, and it came back negative. Over the years, the list of foods that triggered painful digestive troubles grew longer and longer: red peppers, beans, cashews…, and it went on and on.
And then, after years of struggle, she identified the one food that was at the root of the problem: onions. And onions are in everything! So, of course, it seemed like the list was growing. But once she identified the problem and eliminated onions from her diet, it was a total game changer.
Increasingly, it is thought that those suffering from digestive discomfort and nonceliac gluten intolerance might actually be intolerant to one or more foods that are high in FODMAPs [source]. And yes, onions are among those foods!
What are FODMAPs
?
FODMAP is an acronym for fermentable oligo-, di-, and mono-saccharides and polyols. That's a lot to remember, so most people just stick with FODMAP.
FODMAPs are a class of nutrients that, as the name says, are highly fermentable.
F = fermentable. Fermentable carbohydrates are sugars that are broken down and digested by the friendly bacteria in our intestines, which produces gas as a by-product.
O = oligosaccharides. These are short chains of carbohydrate molecules that are linked together. For example, fructans, a chain of fructose (fruit sugar) molecules, are a type of oligosaccharide that humans are not able to break down properly for digestion.
D = disaccharides. A disaccharide is two carbohydrate molecules linked together. For example, lactose, the naturally occurring sugar found in milk, is made up of glucose and galactose.
M = monosaccharides. These are carbohydrate molecules that comprise a single sugar. For example, fructose, the naturally occurring sugar in fruit, is a monosaccharide.
AND
P = polyols. Polyols, also known as sugar alcohols, are a type of carbohydrate that humans can only partially digest and absorb. Examples include sorbitol and xylitol, sugar alcohols that are often used as low-calorie sweeteners.
Most people tolerate most or all high-FODMAP foods just fine, and they're not inherently harmful, but other folks experience a range of gastric discomforts (bloating, abdominal pain, gas, diarrhea, and constipation) when they consume FODMAP-containing foods [source].
These symptoms are typical in people who have irritable bowel syndrome (IBS) and, more critically, in those with celiac or Crohn's disease, but many who don't have a formal diagnosis also feel better when eliminating some or all FODMAP-containing foods from their diets [source].
Although FODMAPs don't themselves cause digestive disorders, exposure to them can trigger symptoms in folks with sensitive or troubled digestive systems. When FODMAPs reach the small intestine, they draw fluid into the bowel, where normal gut bacteria ferment the FODMAP carbohydrate molecules, which then produces gas. The presence of liquid and gas stretches the intestine, causing pain and discomfort, and this sometimes triggers other symptoms in those with IBS [source].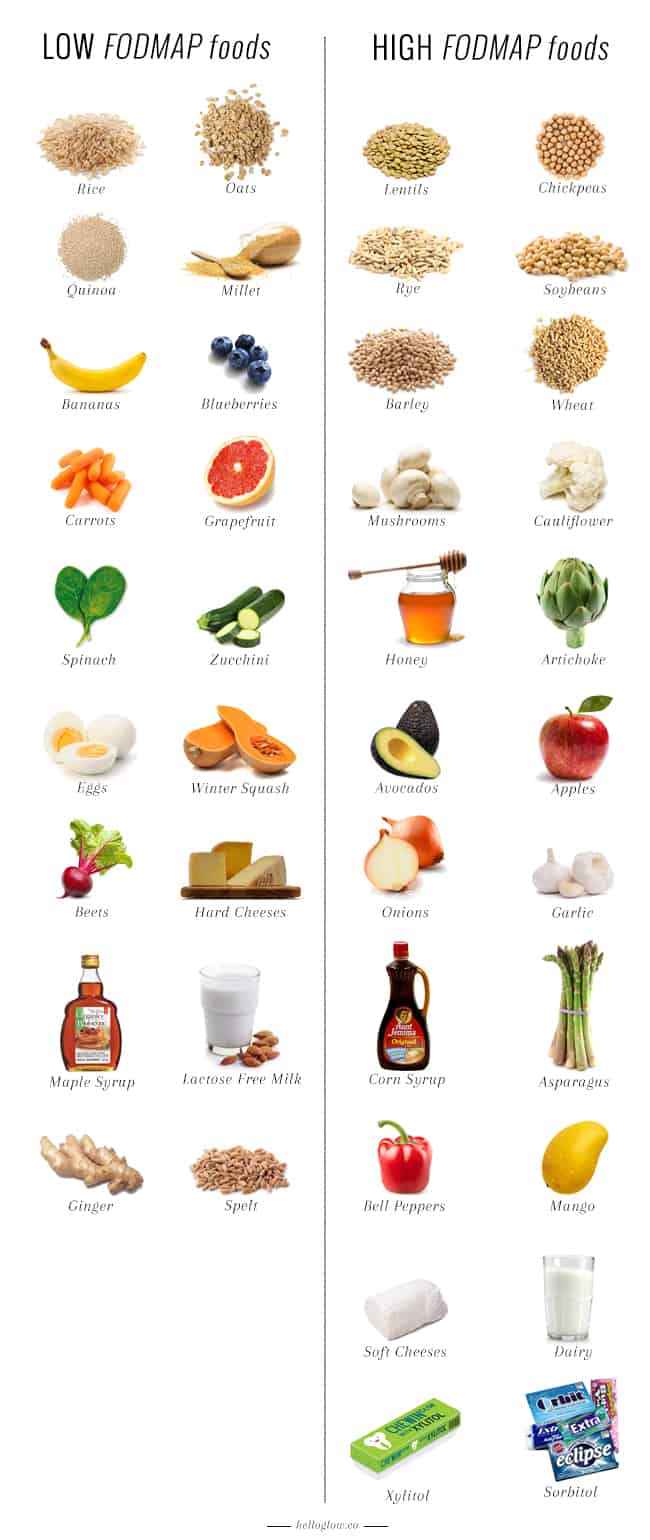 If you think that FODMAPs may be the key to your tummy troubles, speak to your healthcare professional. The first step is typically an elimination diet, which should be done with the guidance of a dietitian or qualified nutritionist.
A FODMAP elimination diet is referred to as a "learning diet." This means it isn't intended to be a life-long elimination diet the way a gluten-free diet would be for people with celiac disease. Rather, with the help of your clinician, high FODMAP foods are eliminated for 4 to 6 weeks to allow the digestive tract to settle, and then a carefully controlled re-introduction program is followed while monitoring symptoms.
Not always, but often enough, a FODMAP elimination diet offers a therapeutic "reset" to your digestive system, and some people can go back to eating all FODMAP-containing foods. Others may choose to continue to avoid certain trigger foods—like onions in the case of my friend—but are able to reintroduce many others without their previous effects. Getting back to a healthy and more inclusive diet as your symptoms will allow is more beneficial for your gut microbiome [source].
Keep in mind that many high-FODMAP foods like avocados, lentils, and apples are healthy and provide a good amount of valuable nutrients. So if you are able to slowly reintroduce them to your diet without discomfort, it's recommended that you do.
34