Healthy fat is the macronutrient everyone is talking about these days. Ketogenic diets, butter coffee, fat balls and MCT oil are all the rage. MCT oil, in particular, has been getting a bunch of attention in the health and wellness world so let's get clear on what the benefits of MCT oil are and how we should use it in our diet.
First things first: what is MCT oil? MCT stands for medium-chain triglyceride. MCTs are a special class of fats that are derived from coconut oil and/or palm oil. These triglycerides have a unique chemical structure so your body metabolizes MCTs differently than short-chain and long-chain triglycerides.
Normally, when you eat a food that contains fat, it is broken down in the small intestine with the help of bile and lipase, a pancreatic enzyme. MCTs are able to skip this step and head straight for the liver to be quickly converted to ketones to fuel your brain and body. Ketones put you into ketosis, which is when you burn fat (instead of sugar) for fuel.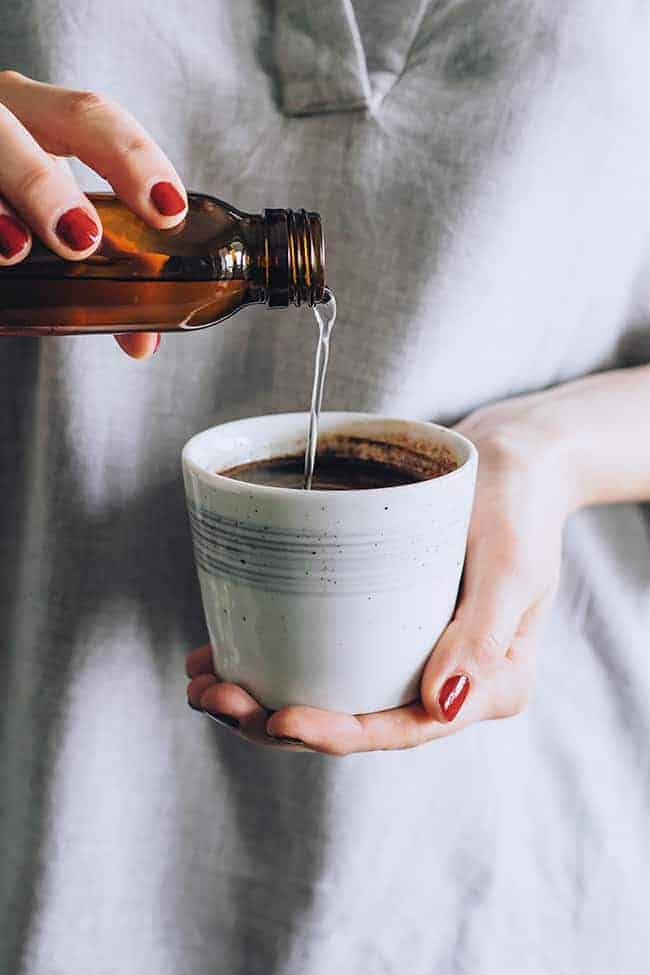 The benefits of MCT oil
Why is burning fat for fuel so awesome? Here are 5 excellent reasons:
1. Appetite suppression
Ghrelin is a hunger hormone that is released when the stomach is empty, sending the message to your brain that you need to eat. MCT oil turns into ketones and ketones suppress ghrelin production. MCTs also increase CCK, a hormone that tells your body you're full. So when you add MCT oil to your drinks and meals, you'll feel satisfied, stay full longer and won't need to snack.
2. Fat burning and weight loss
Ketones boost your metabolism, make the body burn fat for fuel and reduce fat storage. Studies show MCTs help you burn about 460 extra calories a day for men and about 190 extra calories for women (so unfair, I know!).
3. Mental clarity
Dr. Mark Hyman calls MCTs "super fuel for your cells." This is particularly true for brain cells. Ketones quickly provide your brain with the fuel it needs for you to feel sharp and clear-headed.
4. Boost workouts
If you're looking to increase endurance and stamina in your workouts, MCT oil might be your new go-to pre-workout fuel.
5. Immune support
MCT oil contains potent antioxidant and anti-microbial properties which support healthy immune function.
Types of MCT Oil
Pretty cool stuff, right? So it makes sense why everyone seems to be jumping on the MCT oil bandwagon! But before you run out to the store to grab a bottle, there is a little more you need to know about MCT oil.
There are four kinds of MCTs: C6, C8, C10 and C12. Depending on the amount of carbon atoms in its molecular structure, the different MCTs behave slightly differently in the body–some are more effective than others. The best ones are C8 and C10. My personal preference is C8 (like Bulletproof's Brain Octane) because it converts to ketones much more rapidly (we're talking minutes!) and is easier on digestion.
Another good option is a combo of C8 and C10 (like Bulletproof's XCT oil). C10 takes a little longer to turn into ketones but you'll still get the brain and fat-burn benefits and the combo is a little lighter on the wallet. Before buying MCT oil, be sure to check the label to ensure you're getting the right MCTs!
Also, I know you're keen to get all those benefits ASAP but a word of caution–start slowly and ramp up your intake of MCT oil over time (several weeks) once your tolerance of fat increases, otherwise you could get stomach upset and loose stools. I recommend starting with 1 teaspoon daily in your coffee or smoothie and working your way up to 1-2 tablespoons depending on your individual needs.
Why add MCT oil to coffee and smoothies?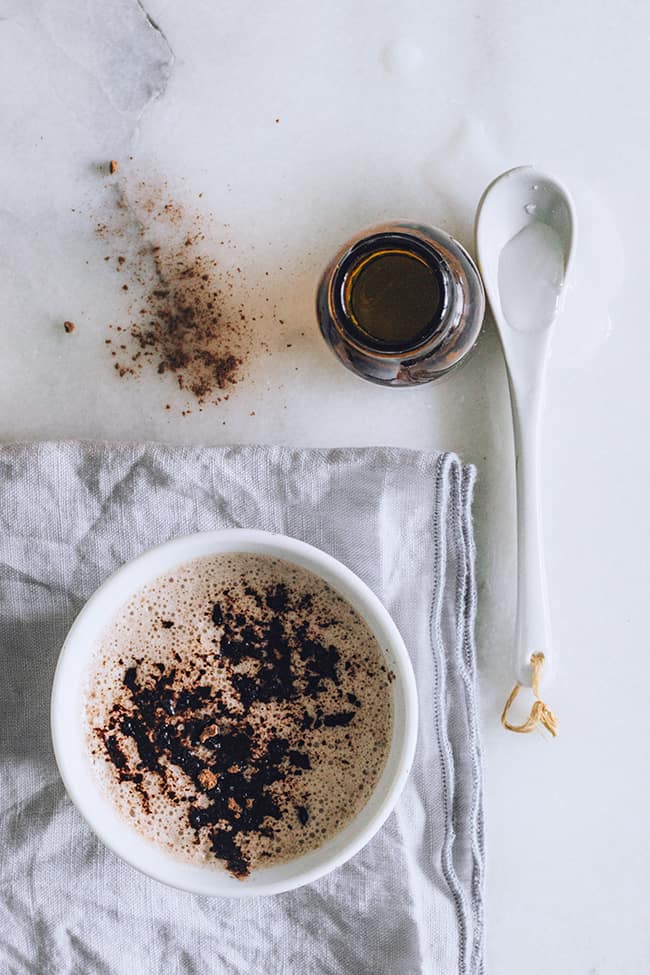 In addition to its bevy of health benefits, one of the things I love most about MCT oil is that it's odorless and tasteless which makes it super easy to add to coffee (or tea), smoothies and salad dressings. You can even take it right off the spoon!
MCT oil is the perfect antidote to cravings and hangry-ness as its rapid conversion into clean-burning fuel will prevent you from reaching for alllll the chocolate. Having a spoonful of MCT oil as a snack or part of a meal will quickly turn into ketones which will suppress your hunger and enhance fullness. You'll be good as gold, burning fat, for a couple hours until your next meal.
This is my favorite fat-burning smoothie recipe. This smoothie is great for breakfast or as a pre- or post-workout snack.
Here's how to make an official bulletproof coffee with MCT oil and grass-fed butter. If dairy doesn't agree with you, I recommend using ghee (which doesn't contain lactose) or leaving out the butter entirely. For non-coffee-drinkers, you can do the same recipe with matcha green tea. And for homemade MCT salad dressings, you can swap out the olive oil for MCT oil to bump up the fat-burning and brain-fueling effects.
7