As the mother of a toddler, there are countless instances where I need to wipe away a mess – quickly! I try my best to maintain a paper towel-free kitchen in our home, but sometimes it's useful to have a quick solution for wiping up sticky messes without having to grab a cleaning towel and spray bottle. The solution? Homemade cleaning wipes.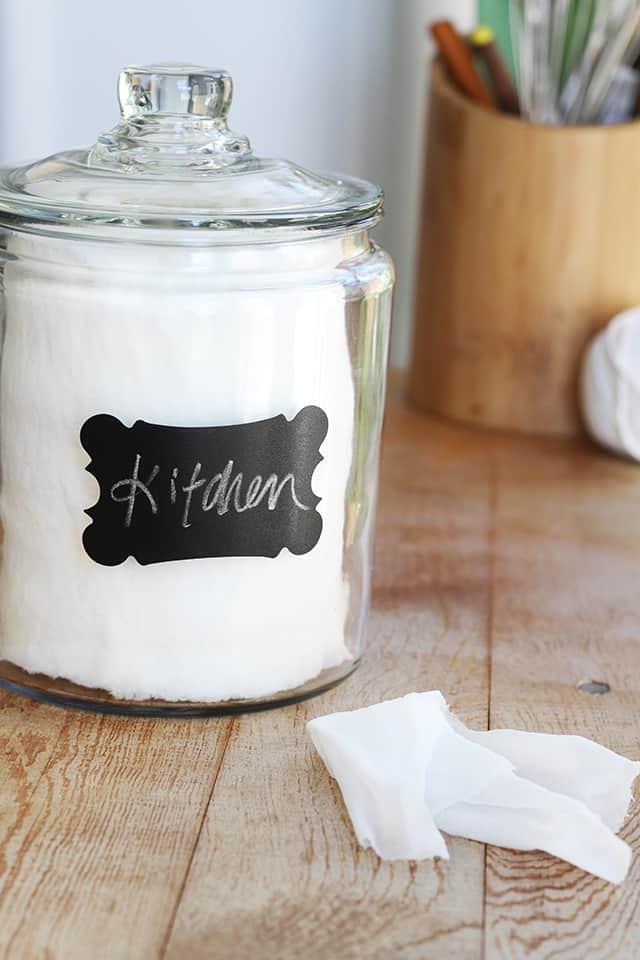 With homemade cleaning wipes, I can quickly wipe away the peanut butter my son spread on the table, or the dirty fingerprints left behind on light switches. It's a great cleaning hack that's very easy to DIY.
How to Make Homemade Cleaning Wipes
What You'll Need:
Step 1: Combine Your Liquid Ingredients
Combine your all-purpose cleaner, water, and tea tree oil in a large measuring cup. Tea tree oil has antibacterial properties, making it a fantastic addition to this cleaning recipe. Swirl the ingredients together well to combine.
Step 2: Cut the Paper Towel Roll
Use a serrated bread knife to cut your paper towel in half widthwise. This is not easy to do gracefully, so be very careful! After you cut the roll in half, brush off the cut edge to remove as much paper dust and loose fibers as possible before the next step.
Step 3: Combine
Place your cut roll of paper towels into your lidded storage jar. Slowly pour the cleaning solution that you just mixed into the jar. Cover as much paper towel surface area as possible while you pour. You want every piece of paper towel to have a chance to absorb the cleaning solution.
Step 4: Remove Cardboard Roll
After your paper towels have had a chance to absorb most of the liquid, try to pull out the center cardboard roll. If it doesn't come out easily, give it a few more moments to soak in the liquid then try again.
Step 5: Label
Label your storage container so other family members or roommates know what these paper towels are used for. Chalkboard labels are great for this purpose.
How to Use Natural Cleaning Wipes
Pull natural cleaning wipes out from the center of the roll. Once you grab your wipe, there are so many ways to use it. Here are a few suggestions:
Wipe off countertops and dining room tables in-between meals.
Wipe down toilet seats for a quick clean.
Wipe off children's high chairs or toys.
Wipe grime off of doorknobs.
Wipe grunge off of light switches.
Making Your Natural Cleaning Wipes Last
Make sure to keep the lid on this jar of cleaning wipes. If you or someone else in your home forgets to replace the lid, these wipes will inevitably dry out.
If (or should I say when?) that happens, you can add ½ a cup of water to the jar to make the wipes damp again and ready to use.
42